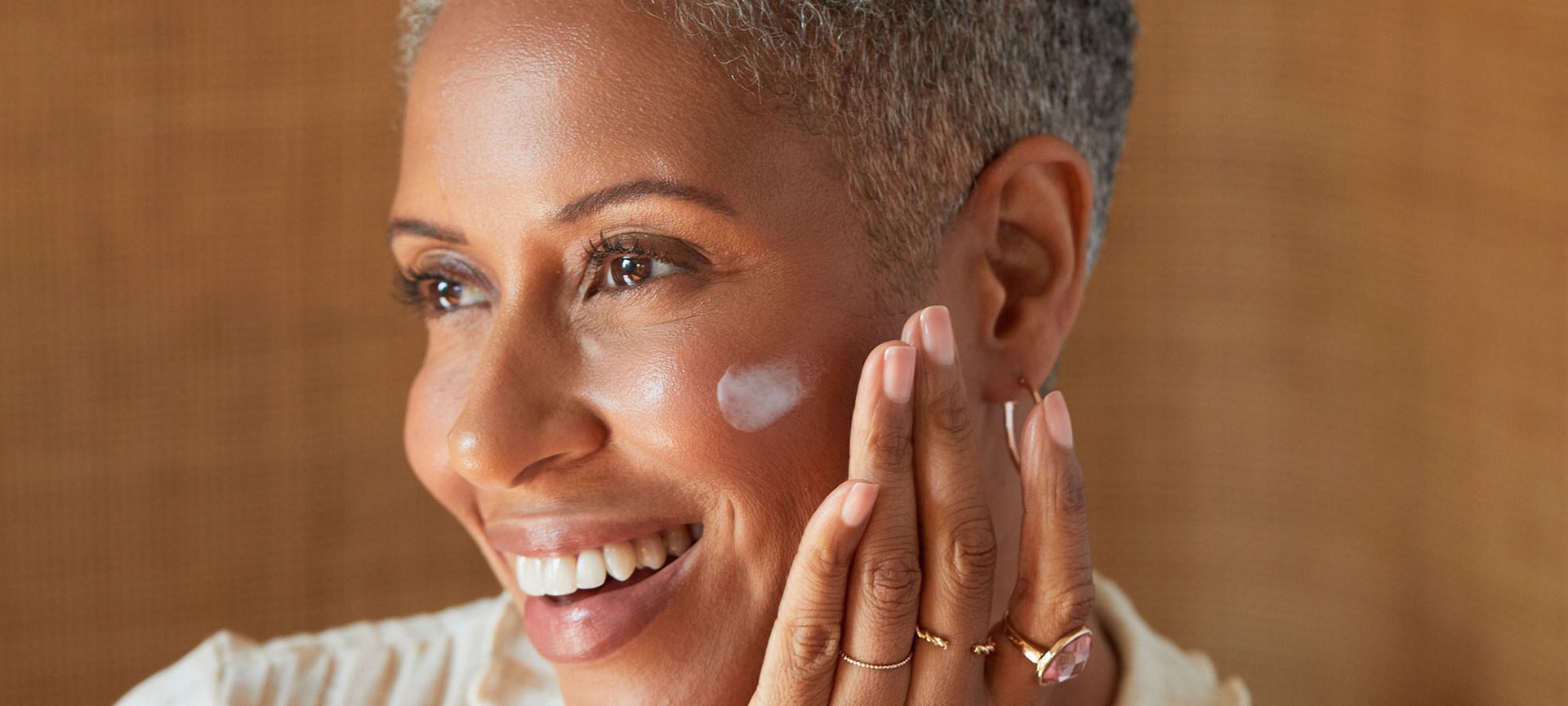 anti aging
The Single-Ingredient Moisturizers Your Aging Skin Needs
Simple and affordable for every stage and every age.
When it comes to choosing the best moisturizer for our skin care concerns we often look for options that include a bevy of what we consider the top ingredients. And while a combination of anti-aging ingredients, or anti-inflammatories can be effective, a moisturizer with one key ingredient can also give your maturing skin exactly what it needs. With so many powerful skin care frontrunners—including calcium, collagen and peptides—finding that special moisturizer is easier than ever. Check out some of our favorite skin strengthening ingredients and the moisturizers that include them for every stage in your anti-aging skin care journey.
Calcium
As you age, calcium levels decrease as per the National Center for Biotechnology Information (NCBI). This is important because calcium is a key nutrient that not only strengthens bones, but also helps the blood vessels move blood throughout the body for necessary functions. When it comes to the skin in our faces, necks and chest, blood circulation is highly important for keeping a youthful look.
The L'Oréal Paris Wrinkle Expert 55+ Age Defense Lotion SPF and L'Oréal Paris 55+ Wrinkle Expert Moisturizer are both formulated with calcium to strengthen thinning skin and improve smoothness. Over time the appearance of wrinkles is visibly reduced, density loss is improved as well as the look of sagging skin. The day lotion also includes SPF 30 for added sun protection against damaging UV rays that contribute to skin aging.
Retino-Peptide
A combination of peptides and a stable form of retinol, this anti-aging powerhouse combines the benefits of both to give the skin a real treat. You may already know by now that retinol is a dermatologist go-to for reducing the appearance of wrinkles and that peptides, those amino acid chains that naturally occur in the body, can have positive effects on your skin when introduced through topical formulations.
The L'Oréal Paris Wrinkle Expert 45+ Moisturizer works to improve skin smoothness and firmness while combating dryness and visibly reducing the look of wrinkles. It has a non-greasy feel and is suitable for even the most sensitive skin.
Collagen
While you may not have many visible signs of aging in your 30s, it's an essential time to incorporate effective anti-aging ingredients into your skin care regimen. Collagen is one of the most widely known and popular anti-aging ingredients for good reason. According to the NCBI, it has been proven to improve skin elasticity, provide increased skin hydration, smooth skin texture and improve skin density. A moisturizer that includes collagen can be a true benefit to your skin care regimen as your skin matures.
The L'Oréal Paris Wrinkle Expert 35+ Moisturizer is a collagen moisturizer that can be used morning and night to help improve skin elasticity, reduce the appearance of fine lines and combat dryness. Layer it on before your sunscreen during your morning skin care routine, and as the last step in your nighttime regimen.
Next: Meet The Collagen Must-Haves Your Sagging Skin Is Craving
Written by: Shalwah Evans, Photography: Chaunte Vaughn, Senior Art Direction: Melissa San Vicente-Landestoy, Senior Visual Designer: Hannah Packer, Associate Creative Producer: Becca Solovay, Makeup Artist: Jonet Williamson, Hair Stylist: Akihisa Yamaguchi, Wardrobe Assistant: Victoria Ochoa, Digital Tech: Kyle Thompson, Model: Roxanne Hancock
{ "@context": "https://schema.org/", "@type": "WebPage", "speakable": { "@type": "SpeakableSpecification", "cssSelector": ["speakable-content"] }, "url": "https://www.lorealparisusa.com/beauty-magazine/skin-care/anti-aging/best-single-ingredient-moisturizers" }
Discover more tips & tricks
Keep your skin happy
See all articles
Improve your routine
Show your new look more love:
makeup
{ "@context": "http://schema.org", "@type": "BreadcrumbList", "itemListElement": [ { "@type":"ListItem", "position": 1, "item": { "@id": "/", "name": "Home" } } , { "@type":"ListItem", "position": 2, "item": { "@id": "https://www.lorealparisusa.com/beauty-magazine", "name": "Beauty Magazine" } } , { "@type":"ListItem", "position": 3, "item": { "@id": "https://www.lorealparisusa.com/beauty-magazine/skin-care", "name": "Skin Care For Every Age" } } , { "@type":"ListItem", "position": 4, "item": { "@id": "https://www.lorealparisusa.com/beauty-magazine/skin-care/anti-aging", "name": "Anti Aging Skin Care" } } , { "@type":"ListItem", "position": 5, "item": { "@id": "https://www.lorealparisusa.com/beauty-magazine/skin-care/anti-aging/best-single-ingredient-moisturizers", "name": "best-single-ingredient-moisturizers" } } ] }