skin care concerns
Master The Basics: Here's How To Wash Your Face
November 13, 2020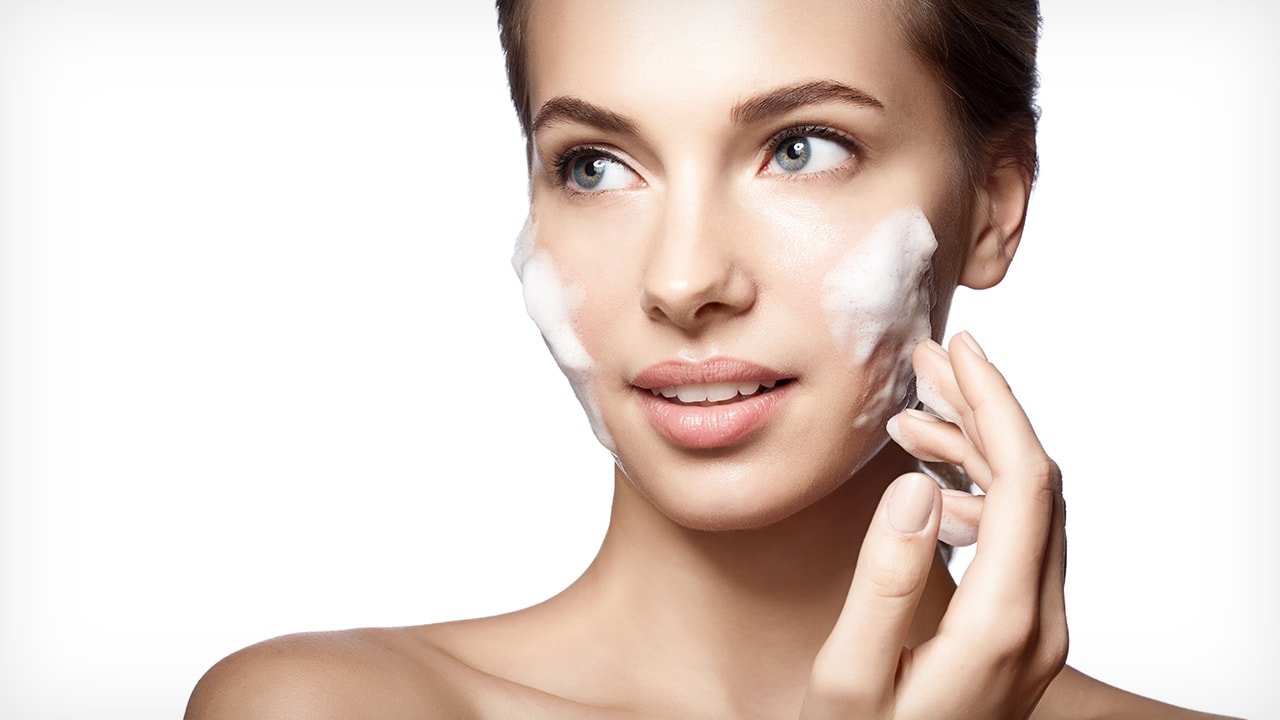 With a million types of facial cleansers on the market—and even more instructions on how to use them—you're probably wondering how to wash your face the right way. Sure, cleansing seems like a single step in your skin care routine, but knowing how to properly wash your face is crucial for healthy skin. So naturally, you don't want to get it wrong, and there are lots of questions that can pop up. It can all make your head spin—from how many times a day do you really need to cleanse to what skin care ingredients (such as glycolic acid) should you look for in a cleanser. That's why we're here to steer you in the right direction. Keep reading to learn how to wash your face.
HOW TO WASH YOUR FACE: 8 TIPS TO HELP YOU DO IT THE RIGHT WAY
While washing your face may seem like a no-brainer, here are eight things you definitely want to keep in mind during the process.
1. CHOOSE YOUR FACIAL CLEANSER WISELY
Like it or not, the soap you use on your body should not be used on your face. A cleanser that's actually designated for your face is the best option. And of course, you need a formula that's specifically designed for your skin type. For example, dry skin may benefit from using a cream facial cleanser, while oily skin may be better suited to a clay facial cleanser.
2. READ THE LABEL ON YOUR FACIAL CLEANSER
All facial cleansers are not created equal. Some skin care products require specific application (hello, micellar water), so be sure to familiarize yourself with the instructions. This will give you the best chance at achieving the intended result: clean skin.
Reading labels is also a must so that you can understand what makes up the formula of your facial cleanser. Whether you want a paraben-free cleanser or are seeking an option with a trendy skin care ingredient in its formula, always make sure you are looking at the labels. There are also certain ingredients you may want to avoid based on your skin type—for example, the American Academy of Dermatology recommends avoiding alcohol-based toners if you have dry, sensitive skin—so don't forget to do your due diligence.
3. TURN DOWN THE TEMPS
You're probably wondering if it's better to wash your face with cold or warm water. And the truth is, hot water strips your skin of essential oils, which leaves you with dry skin. So, always turn down the dial and use lukewarm water to rinse.
4. BE MINDFUL OF HOW YOU APPLY YOUR CLEANSER
Think about it like this: You're using a cleanser to help replenish your skin, so no harsh rubbing is necessary. Instead, gently massage your facial cleanser onto your skin using your fingertips. Think of this process as a mini facial massage and you can make cleansing a more enjoyable experience.
5. PAT YOUR SKIN DRY
The same way you shouldn't be aggressive in applying cleanser, you also shouldn't be harsh when it comes to drying your face. Simply pat away excess water after rinsing off. You can even use a clean cotton T-shirt or soft microfiber cloth as gentler options for drying off.
6. DON'T OVER-WASH
While washing your face should be an essential step in your daily skin care routine, it is possible to overdo it. Keep your cleansing frequency to twice daily (once in the morning and at night), plus after any intense sweat sessions. Cleanse more than that and you're likely to dry out your complexion.
7. REACH FOR A TONER
Once you've washed your face, you want to reach for a toner. The right toner comes in handy to prep your skin to absorb moisturizing products, remove leftover cleanser, and hydrate your skin for a radiant visage. Grab the L'Oréal Paris HydraFresh Toner, which is formulated with beta-hydroxy acid and pro-vitamin B5. It gently sweeps away dull, tired-looking skin, protects against moisture loss, and refreshes and brightens the skin for a soft and supple finish. To use, saturate a cotton ball or pad with the formula, then gently sweep the toner across your face and neck.
8. ALWAYS MOISTURIZE AFTER CLEANSING
Once you've washed your face, it's time to reach for a moisturizer. Seriously, don't skip this step! Choose your moisturizer match based on your skin type. Have your pick from the L'Oréal Paris Hydra Genius Daily Liquid Care - Normal/Oily Skin, L'Oréal Paris Hydra Genius Daily Liquid Care - Normal/Dry Skin, and L'Oréal Paris Hydra Genius Daily Liquid Care - Extra Dry Skin, all of which are formulated with hyaluronic acid and aloe vera water and help provide long-lasting hydration.
Editor's tip: Smooth whichever moisturizer you choose on while your skin is still damp to lock in hydration.
HOW TO PICK THE BEST FACE WASH FOR YOUR SKIN
Now that you have the face washing process down pat, you can kiss your old skin care routine goodbye. To put the tips we've shared to use, all you need now is the best face wash for you. Below, we're outlining four face wash options we love.
L'Oréal Paris Pure-Clay Cleansers: Your skin may be dirtier than you think. Just going about your normal day, dirt, oils, and pollution—ick—can build up on the surface of your skin. Thankfully, you can wash all of that away with the right cleanser. They're formulated to seamlessly transform from clay to mousse and remove everyday impurities from the surface of skin without over-drying. The facial cleansers in this line can be used to purify the surface of your skin of dirt, oil, and pollution. The L'Oréal Paris Pure-Clay Detox & Brighten Cleanser and L'Oréal Paris Pure-Clay Exfoliate & Refine Cleanser are formulated with pure clays, which as you may already know are majorly trendy in the skin care world.
L'Oréal Paris Revitalift Bright Reveal Brightening Daily Scrub Cleanser: If your uneven skin tone has you feeling less than radiant, this may be your cleanser match. You can buff away dead skin cells and impurities from skin's surface with this exfoliating cleanser formulated with glycolic acid and gentle micro-pearls to help reveal a smoother, more refined texture.
Be sure to take sun protection measures after using this cleanser—including applying a broad-spectrum sunscreen with an SPF of 15 or higher as directed, limiting your amount of time in the sun (especially during the peak hours of 10 a.m. to 2 p.m.), seeking shade, and covering up exposed areas with long sleeves, pants, a broad-brimmed hat, and UV-blocking sunglasses—as alpha-hydroxy acids like glycolic acid may increase your skin's sun sensitivity.
L'Oréal Paris Revitalift Derm Intensives 3.5% Glycolic Acid Cleanser: This cleansing gel is also formulated with glycolic acid—3.5% pure glycolic acid, to be exact. It also contains salicylic acid and works to gently dissolve dirt, oils, and impurities that hold dead cells together to reveal smoother and brighter skin.
L'Oréal Paris Ideal Clean All Skin Types Foaming Gel Cleanser: When you really want that squeaky-clean feeling, a foaming cleanser is the way to go. This foaming facial cleanser formula can help purify the skin while helping to minimize the look of pores. It gently removes makeup and buffs away impurities like dirt and oil from skin's surface.
L'Oréal Paris Micellar Cleansing Water Complete Cleanser Waterproof – All Skin Types: The magic of micellar water is that there's no need to rinse when cleansing your skin. It has the ability to gently lift away makeup and dirt from the surface of skin in one step.
Next up: If you think we've exhausted the topic of cleansing, think again. Turns out, there's always more to learn. Here are 8 Face Cleanser Hacks For Cleaner Skin.
Discover more tips & tricks
Keep your skin happy
See all articles
Shop Featured Skin Care products
Discover More