skin care essentials
How to Stay Dry When You Wash Your Face
January 17, 2020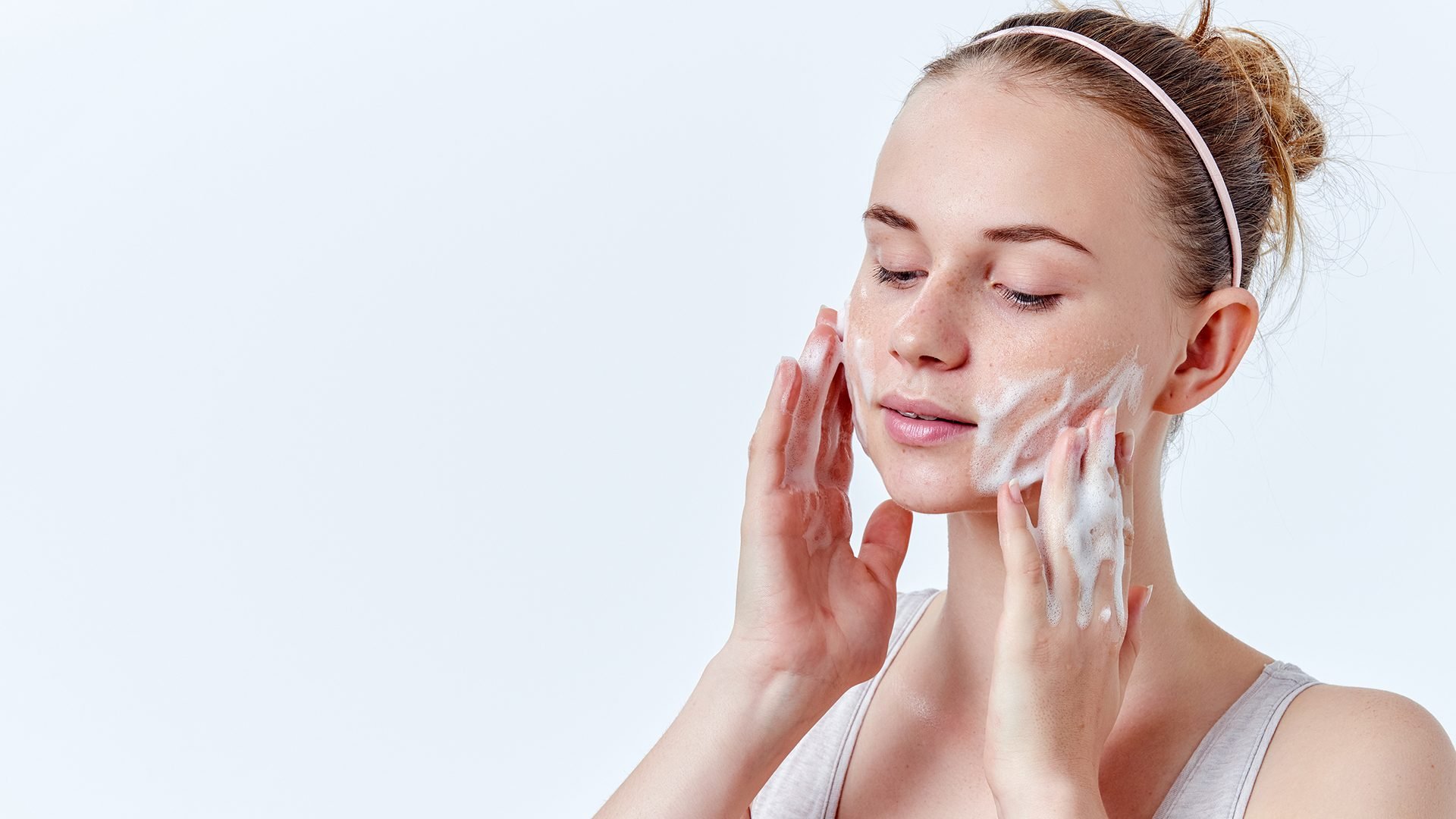 We're sure you know that washing your face morning and night is a must, but it sure can be a hassle. Sometimes it seems as though it's nearly impossible to do so in a neat and tidy fashion while thoroughly removing every trace of cleanser. And don't even get us started on having to clean up the crime scene of water left at your sink—not to mention a wet shirt and hair. Ugh! Wondering how to master this skin care must? Read on for four tips on how to wash your face without getting your hair and shirt wet.
TIP #1: USE A NO-RINSE CLEANSER
Thought you had to face your fears of rinsing cleanser off with water? Think again! If you didn't already know, no-rinse cleansers are a thing—and they're kind of a holy grail when it comes to washing your face sans that aforementioned water massacre. Simply cleanse, and that's it! You can even do so while lounging in bed binging your favorite TV show. Sold? Take your pick from one of our no-rinse cleansing options below.
L'Oréal Paris Micellar Cleansing Water Complete Cleanser Waterproof - All Skin Types: This micellar water is powered by micelle molecules that cluster together to surround and lift away impurities and makeup—even waterproof mascara. The formula completely cleans skin in one step, leaving it feeling hydrated and purified.
L'Oréal Paris Micellar Cleansing Water Complete Cleanser - Normal To Oily Skin: With oily skin, over-cleansing and exfoliating to remove excess sebum can strip the skin. This no-rinse micellar water is gentle on skin but removes makeup, dirt, and excess oil in one step, leaving skin looking purified and mattified.
L'Oréal Paris Ideal Clean All Skin Types Makeup Removing Towelettes: These ultra-soft towelettes gently yet effectively remove all traces of makeup, mascara, and even long-wear makeup. Dirt and oil are dissolved for clean and visibly tightened pores without drying out your skin.
L'Oréal Paris Revitalift Radiant Smoothing Wet Cleansing Towelettes: These towelettes are specially formulated to nourish skin and boost radiance while gently exfoliating and removing all traces of impurities and makeup. Skin looks smoother, brighter, and more refined.
TIP #2: PUT YOUR HAIR UP
What about if you don't want to use a no-rinse cleanser? Well, there are tips for that, too! First up? Put your hair up! The easiest way to avoid wet hair when washing your face is to get it out of the way. Smooth your strands into a high, messy bun so they won't be hanging in the sink. No need to worry about getting your hair wet now! If you have shorter face-framing layers or bangs, you may find it helps to turn to hair clips, bobby pins, or a non-slip headband to keep your hair out of harm's (aka the water's) way.
TIP #3: WEAR A TOWEL
A towel can be used to guard your shirt and your hair. Wrap one around your shoulders, allowing it to drape over the front of your shirt. Feel free to clip it at the back with a claw clip, so you don't have to stress about it moving while you wash your face. You can also use a towel to protect your locks by throwing them into a towel turban just as you would after hopping out of the shower!
TIP #4: USE SCRUNCHIES
Ready for a beauty hack that will blow your mind? Before you wash your face, slip a scrunchie around each of your wrists. If water always flows down your arms and gets your sleeves wet while you wash, this simple trick is a total lifesaver. The scrunchies will catch the water and keep it from soaking your shirt. Remove the scrunchies after you've finished cleansing, and leave them to dry by the sink until next time!
TIP #5: TAKE YOUR TIME
Most importantly, the key thing for avoiding water getting, well, everywhere is to take your time. When you're in a rush, it's all too easy to splash away without a care in the world—only to spend way too much time cleaning up the mess you've made. Bend down low to the sink, gently use your hands to cup water, and rinse your face little by little. Sure, it'll make the initial process longer, but it'll keep that unnecessary aftermath from occurring in the first place!
Discover more tips & tricks
Keep your skin happy
See all articles
Shop Featured Skin Care products
Discover More