makeup trends
Our Best Drugstore Makeup Products For 2021
November 08, 2019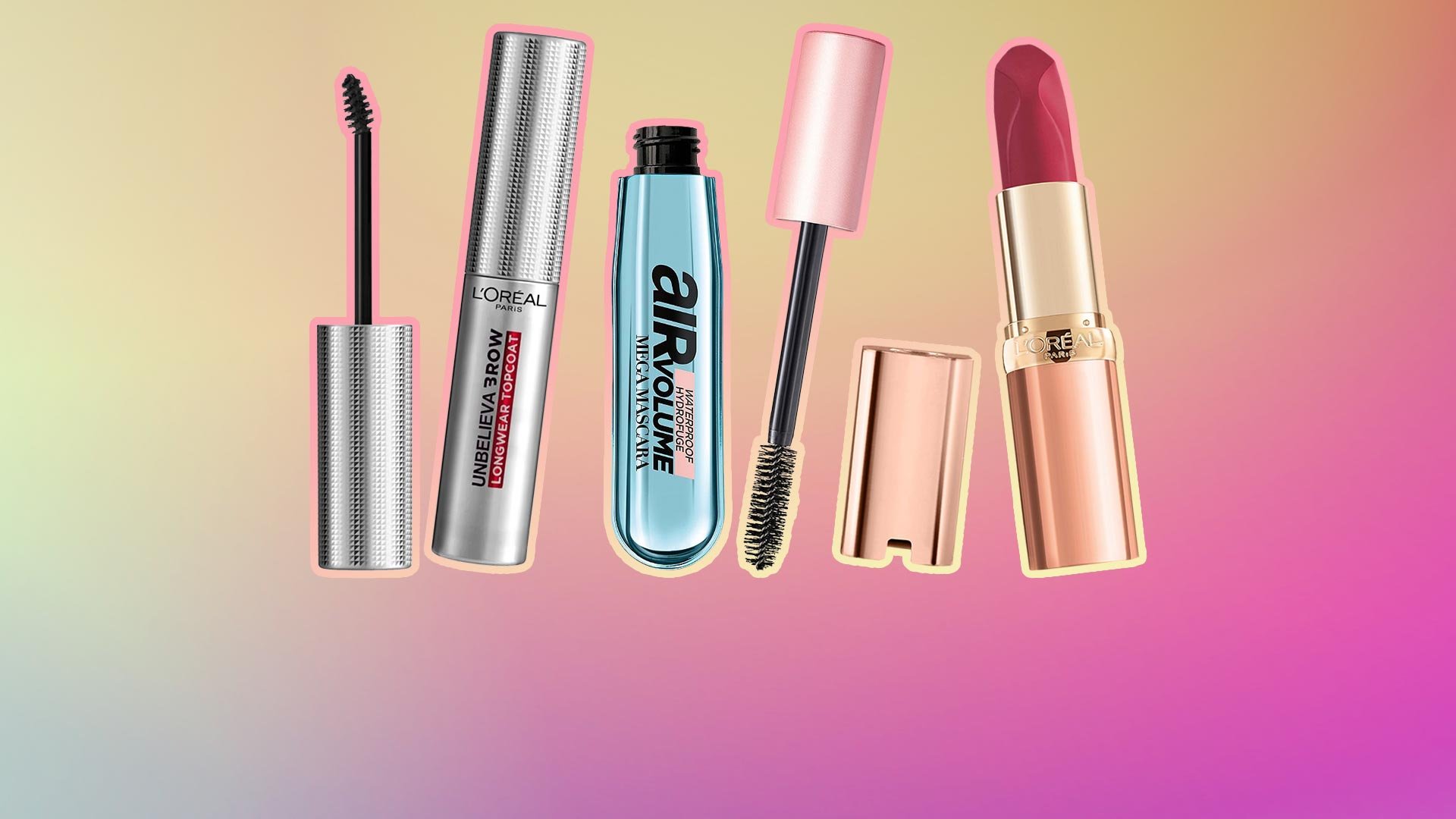 With mask mandates changing and the possibility of going cheeks out for the summer becoming more tangible each day, we can't help but get excited about makeup again. One thing that doesn't excite us about rediscovering different makeup looks is how quickly the cost of new products can add up. Fortunately that doesn't mean you can't restock your makeup bag with some good and fresh finds. All you need to do is take a trip to the drugstore (online or IRL). With the best drugstore makeup products, you can indulge in the latest makeup trends without busting your budget. Below, we're naming some of our best drugstore products—including our best drugstore mascara and drugstore foundation—to buy in 2021.
OUR BEST DRUGSTORE EYE MAKEUP FOR 2021
Want to create an eye-catching look? Make room for these five drugstore eye makeup products in your arsenal.
For dramatic lashes that take any look from simple to stunning, grab this TikTok sensation. With an air-whipped formula that gives your lashes length, lift and a lightweight feel, this mascara will have you excited to experiment with different eye makeup looks.
This tried-and-true mascara continues to top the must-have list with its silky smooth formula that doesn't flake, clump or smudge. The soft, wavy-bristle brush delivers the perfect amount of mascara for lashes that are long and voluminous.
This drugstore classic is known for its ability to build volume for a full, bold look without clumping. And since 2021 is all about playing with color, including colored mascara, try it in deep violet for a look that's both on-trend and scroll-stopping. There's no better time to switch up your fringe.
While you're experimenting with colored mascara, why not pair it with a colored eyeliner too? Try a cool graphic liner look in blue jersey or violet wool to spice up your makeup this summer. The smooth, flake-proof formula glides on easily and stays put with high-impact color that lasts.
This high-impact eyeshadow can not only be found at the drugstore but will also be a game-changer in your makeup routine. With both shimmer and matte shades available, the rich pigment gel-to-powder colors are as easy to apply as they are striking.
OUR BEST DRUGSTORE EYEBROW MAKEUP FOR 2021
Since no eye look is finished without polished brows, here are two eyebrow makeup products to add to your makeup bag, too.
In case you haven't heard, eyebrow gels are quite popular these days and this clear, waterproof formula is the next level in the gel experience. It's the perfect topcoat to extend the wear of your eyebrow pencil for that on-trend natural look. It will keep your brows sealed and in place for up to 30 hours—score!
Not sure brow gel is your thing? No problem! This ultra-fine tip eyebrow pencil makes filling in your eyebrows with a hair-like effect easy. The waterproof formula won't fade and the spoolie lets you comb and blend your strokes for a perfectly defined look.
OUR BEST DRUGSTORE FACE MAKEUP FOR 2021
Want to upgrade your complexion? Add these drugstore face makeup products to your collection.
Natural foundation finishes are just what you need as your face finally comes from underneath a protective face mask. Our best drugstore foundation not only offers a natural-looking finish, but it also has a weightless, breathable feel, so you won't even notice that you're wearing it! The formula provides full buildable coverage that lasts all day while resisting heat, sweat, water, and transfer. Consider it your new go-to for a healthy-looking complexion that lasts.
We couldn't give a foundation recommendation without following up with a concealer. On days when you want a little extra coverage or simply need to brighten up your under-eye area, this concealer will be your best friend. The full-coverage, waterproof formula has a flawless matte finish—just remember that a little goes a long way!
Lock in your makeup with the help of one of our best drugstore setting sprays. The lightweight formula is suitable for all skin types and helps keep your look in place without settling into fine lines. The best part? It's oil-free and non-comedogenic so you don't have to worry about unwanted shine or clogged pores.
We'd argue that multitasking beauty products are a must-have, especially if you're trying to save a few bucks—and this face mist is no exception. The mist can be used to prime, set, and refresh your makeup (really, what more could you ask for?). Formulated with quenching coconut water and brightening vitamin C, it'll provide your skin with a boost of healthy hydration.
OUR BEST DRUGSTORE LIP MAKEUP FOR 2021
Pucker up! Here are our best drugstore lip products for 2021.
In a post-vax era it'll be fun to explore lipstick again, so make sure you do it with options that offer pretty color payoff along with comfort. One application of this drugstore lipstick will let you make a statement with your look. It's available in 12 richly-pigmented colors with a soft creamy formula that won't dry out your lips.
Heavy lipsticks that crack and dry down to a painful degree got you down? Then this lightweight, matte stain is a must. The formula delivers a stain-like feel and the color impact of a liquid lipstick so you can rock your favorite lip colors with a weightless, bare lip sensation. With more than three dozen fun colors to choose from, you'll have plenty of options to add to your collection.
Lip glosses are still on their comeback so get into the trend by picking up this long-lasting gloss. The plumping formula instantly gives lips a fuller, more enhanced look. It's also infused with hyaluronic acid for a hydrating feel that leaves lips feeling nourished and soft.
Photo Design: Sarah Duvivier
Next:10 Pretty Products For An Instagram-worthy Shelfie
{ "@context": "https://schema.org/", "@type": "WebPage", "speakable": { "@type": "SpeakableSpecification", "cssSelector": ["speakable-content"] }, "url": "https://www.lorealparisusa.com/beauty-magazine/makeup/makeup-trends/best-drugstore-makeup-products" }
Discover more tips & tricks
Keep your skin happy
See all articles
Shop Featured Makeup products
Discover More
{ "@context": "http://schema.org", "@type": "BreadcrumbList", "itemListElement": [ { "@type":"ListItem", "position": 1, "item": { "@id": "/", "name": "Home" } } , { "@type":"ListItem", "position": 2, "item": { "@id": "https://www.lorealparisusa.com/beauty-magazine", "name": "Beauty Magazine" } } , { "@type":"ListItem", "position": 3, "item": { "@id": "https://www.lorealparisusa.com/beauty-magazine/makeup", "name": "Makeup Tips For Every Look" } } , { "@type":"ListItem", "position": 4, "item": { "@id": "https://www.lorealparisusa.com/beauty-magazine/makeup/makeup-trends", "name": "Makeup Trends" } } , { "@type":"ListItem", "position": 5, "item": { "@id": "https://www.lorealparisusa.com/beauty-magazine/makeup/makeup-trends/best-drugstore-makeup-products", "name": "best-drugstore-makeup-products" } } ] }