makeup looks
10 Graduation Makeup Ideas For 2021
April 26, 2019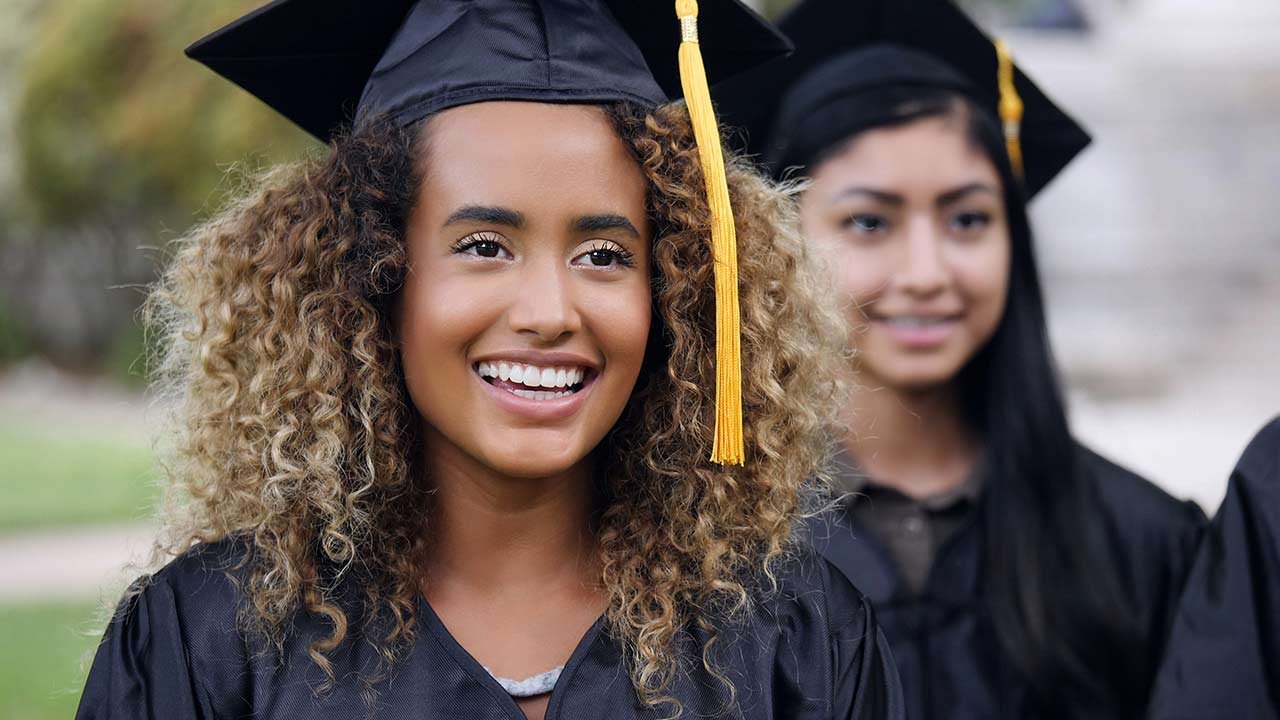 It's graduation season, which means dress shopping, graduation hairstyles, and endless inspirational makeup looks on social media will all be in effect. And since your graduation photos are meant to last a lifetime, you'll definitely want to plan for your makeup look ahead of time. Whether you want the focus to be on your luminous skin, a gorgeous statement eye, or on a power lip that indicates what a boss babe you are, we can help. Below, we're sharing 10 beautiful graduation makeup ideas, complete with transfer-proof foundations and concealers to consider. Read on and choose your favorite—or mix and match a few!
Makeup Idea #1: Glowing Skin
Glowy skin is a must for graduation and you can achieve that by using the right skin care routine. Use a face scrub like the L'Oréal Paris Revitalift Bright Reveal Brightening Daily Scrub Cleanser to help remove dirt, oil, and build-up. Then follow up with a facial serum day and night, like the L'Oréal Paris Age Perfect Cell Renewal Midnight Serum, which will help keep your skin hydrated thanks to its dose of hyaluronic acid.
Follow up with a moisturizer like the L'Oréal Paris Hydra Genius Daily Liquid Care for Normal/Dry Skin to lock in hydration. Be sure to add a highlighter to your moisturizer to get a natural glow. Squeeze a few drops of the L'Oréal Paris True Match Lumi Glow Amour Glow Boosting Drops onto a makeup blender and mix it with your moisturizer.
Makeup Idea #2: Colorful Graphic Winged Eyeliner
A great way to up the ante on a classic winged liner is to make it more graphic. Reach for a bold, colorful shade from the L'Oréal Paris Infallible Pro-Last Waterproof, Up to 24HR Pencil Eyeliner collection and create a graphic winged eyeliner look. From layered hues to negative space designs, there are plenty of graphic eyeliner looks to choose from. Check out our article, 6 Cool Ways To Wear Winged Eyeliner, for inspiration on your graduation style.
Makeup Idea #3: Bold Brows
Your brows can make or break your makeup look, which is why it's essential to use the right tools to shape and fill them in. Create stunning bold brows that won't budge throughout your ceremony by swapping your traditional brow pencil for the L'Oréal Paris Brow Stylist Definer Waterproof Eyebrow Mechanical Pencil. It has an ultra-fine tip that makes sculpting your desired brow shape a breeze. Just fill in sparse areas and use the spoolie on the other end of the brush to comb through your brows for a natural-looking finish.
Makeup Idea #4: No Makeup, Makeup Look
Skinminamlism has rocked the beauty world this year and if you approach your beauty routine with a "less is more" attitude, this look is for you. Apply the L'Oréal Paris Infallible Pro-Glow Lock Makeup Primer all over your face to prep your skin. Then, instead of reaching for your go-to foundation, reach for the L'Oréal Paris Skin Paradise Water Infused Tinted Moisturizer to create a hydrated and glowing complexion. Next, dab concealer, like the L'Oréal ParisTrue Match Eye Cream in a Concealer, 0.5% hyaluronic acid onto dark under-eye circles. Its formula will work to cover your dark circles while hydrating your under-eyes and improving the look of the area over time.
Makeup Idea #5: Rose Gold Eyeshadow
As soon as the weather starts warming up, you'll notice that lighter eye makeup shades begin trending. Our favorite for graduation? Rose gold eyeshadow of course! This shade tends to look great on just about everyone because the metallic hue has both warm and cool qualities. To create a rose gold eyeshadow look on yourself, grab the L'Oréal Paris Infallible Paints Metallics Eye Shadow in Rose Chrome and apply it all over your lids. For a full tutorial, check out our article, How to Pull Off Rose Gold Makeup Looks.
Makeup Idea #6: Matte Face Makeup
Matte makeup has long been lauded for its shine-free finish, which means you won't have to worry about looking like a glazed doughnut midway through your graduation ceremony (and not in a good way). For an all-over matte look, start with a primer like the L'Oréal Paris Infallible Pro-Matte Lock Makeup Primer, to help keep shine at bay. Then reach for a matte foundation, like the L'Oréal Paris Infallible Up to 24H Fresh Wear in a Powder, and apply it with the sponge applicator included for a seamless finish. Complete your look by swiping on a few coats of the L'Oréal Paris Infallible Pro-Matte Gloss. Its whipped formula has a lush, velvety texture that feels soft for all-day comfort, and it comes in 10 high-impact shades, ranging from Hollywood red to deep plum.
Editor's Tip: Try out the L'Oréal Paris Virtual Makeup Genius Try-On Tool, which allows you to try shades from any of the L'Oréal Paris foundation lines right from the comfort of your home! All you have to do is upload a selfie or click on the live try-on button which will automatically connect to your computer's camera.
Makeup Idea #7: Neutral Cut Crease Eyeshadow
Want to add a professional makeup artist touch to your graduation makeup? Look no further than the cut crease. Using the colors of your choice, grab a creamy eyeliner, a few eyeshadows in the same color scheme, and an almost-white shadow to use as a highlight. Try the L'Oréal Paris Colour Riche Pocket Palette Eye Shadow in Boudoir Charme to create your cut crease using pretty neutral brown hues. For a full tutorial read our article, How to Create a Cut Crease.
Makeup Idea #8: Bronzed Goddess
Celebrate your freedom and the start of a sun-filled season with a bronzed makeup look. Start by creating a flawless, natural-looking complexion with the help of a lightweight,
full-coverage foundation
, like the
L'Oréal Paris Infallible Up to 24HR Fresh Wear Foundation, Lightweight
. Then add bronze touches to your face by applying the
L'Oréal Paris True Match Lumi Bronze It Bronzer
to the hollows of your cheeks, your temples, and your jawline. Read our article,
3 Bronze Makeup Looks That Are Perfect for Summer
, for tutorials on bronzy makeup looks.
Makeup Idea #9: Glossy Eyeshadow
Shine bright on stage by rocking a glossy eyeshadow look. With either an eye gloss or a little eyeshadow and clear lip gloss, this wet eyeshadow look is easy to achieve at home. Reach for a few metallic eyeshadow hues from the L'Oréal Paris Infallible Metallics Eye Shadows or the L'Oréal Paris Infallible Crushed Foils Metallic Eye Shadows line. For a full tutorial on creating this look, read our article, How to Rock a Glossy Eyeshadow Look.
Makeup Idea #10: Red Lips
Pucker up, grad, it's time to kiss your school days goodbye—while wearing bold lipstick. And when it comes to bold lip colors, we love using matte formulas because they stay in place all day. Grab the L'Oréal Paris Rouge Signature Matte Lip Stain in Empowered—just as the name suggests, it will immediately command the attention of everyone in the room. It has a long-lasting matte formula that goes on creamy and feels light on your lips. For the best results, use the precision applicator to shape and outline your lips first, then glide the brush across to fill it in with color.
Editor's Tip: Prefer a shiny pout? Reach for the L'Oréal Paris Brilliant Signature Shiny Lip Stain Lipstick in Be Powerful. Its lightweight formula glides on smoothly and gives off a high-shine, gloss-like feel with the color impact of a liquid lipstick. It also won't smear or feather throughout the day.
Photo Credit: Cristina Rada, @cristinaradaaa
Discover more tips & tricks
Keep your skin happy
See all articles
Shop Featured products
Discover More