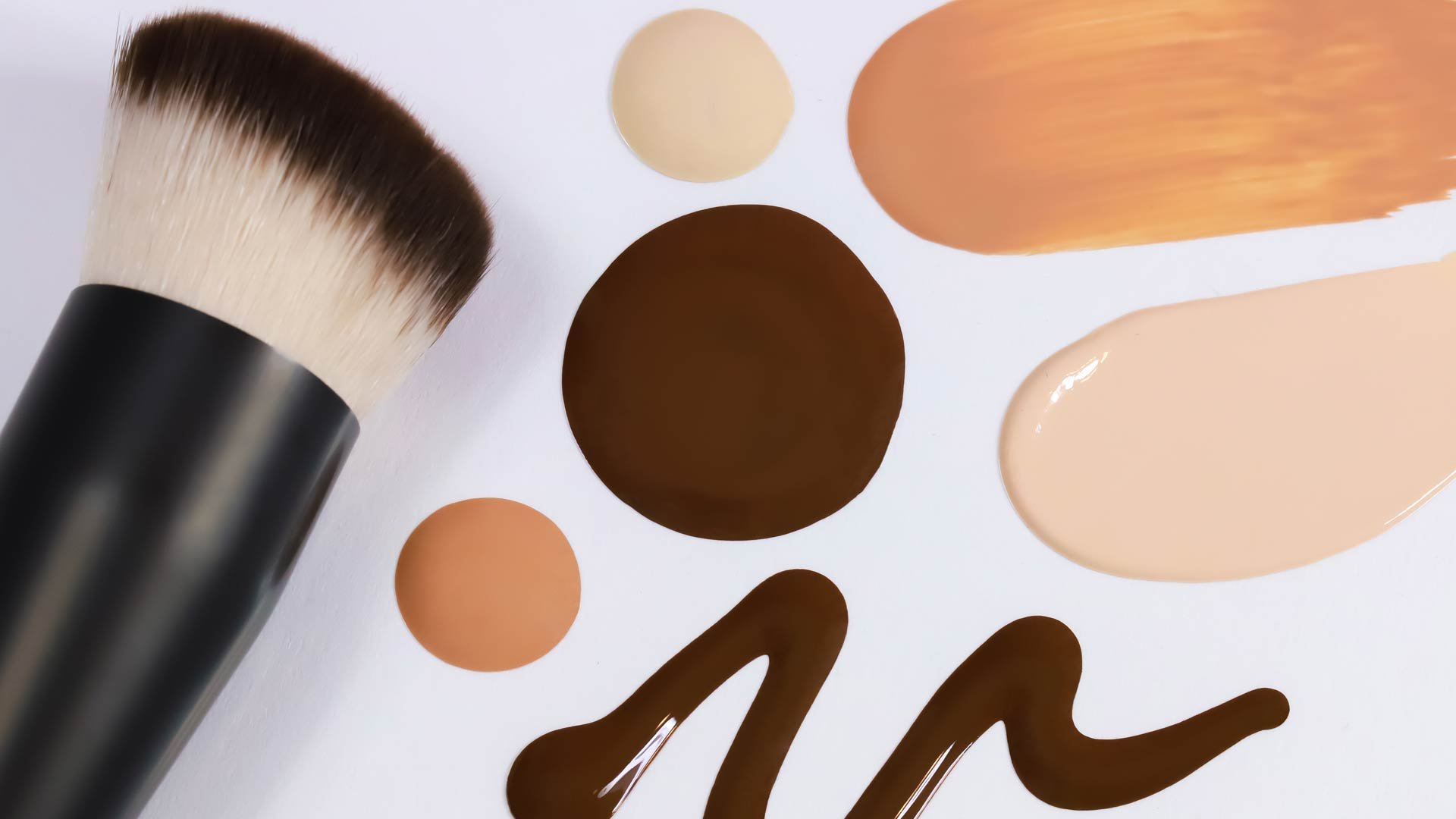 face makeup
Why Your Foundation Separates And How To Prevent It
You've just finished expertly applying a full face of makeup only to notice your foundation separating before you've even had the chance to step out the door. There are few things more frustrating than putting in the time and effort to polish your look and end up with a messy face because your foundation has migrated. You might feel like you're better off not wearing makeup at all. The truth is, you're not alone—foundation separation is common. So we've gathered what you need to know about what causes foundation to separate and how you can prevent it. Read on to put foundation separation on nose, cheeks, and anywhere on your face in the past.
What Causes Foundation To Separate And How To Prevent It
Before you can prevent your foundation from separating it's important to know the causes behind it. Here are five culprits to make note of, followed by easy to adopt solutions that you can use to stop your foundation from separating on your face and nose.
Cause #1: Using Formulas That Don't Complement Each Other
Finding the right foundation for your skin type may seem like a no brainer, but you also need to find the right primer for your foundation. Just like oil and water don't mix, your primer and foundation won't wear well together if they have conflicting formulas. Prevention Solution: Use a primer that's compatible with your foundation. So, if you're using a water-based foundation, it's a smart idea to also use a water-based primer instead of a silicone-based primer.
Cause #2: Dry Skin
If you're prone to having dry skin—especially skin that is patchy or flaky—this could be the reason for your foundation separating. Applying foundation on top of skin that is already patchy can cause it to have that cracked, separated appearance. Prevention Solution: Keep your skin moisturized! As a general rule of thumb, you should moisturize your skin prior to doing your makeup, but especially if you suffer from dry skin. Apply the L'Oréal Paris Hydra Genius Daily Liquid Care - Normal/Oily Skin, L'Oréal Paris Hydra Genius Daily Liquid Care - Normal/Dry Skin, or L'Oréal Paris Hydra Genius Daily Liquid Care - Extra Dry Skin, to your skin, then wait a few minutes before reaching for your makeup primer.
Cause #3: Oily Skin
Just like dry skin can cause foundation separating on the nose and face, oily skin can also be a culprit. This is especially true if you aren't following a skin care regimen for your skin type or using a foundation that will help keep that excess oil and shine at bay. Prevention solution: Find the right foundation for your skin type. Whether you have dry or oily skin, using a foundation formula that is meant for your complexion is key. If you have dry skin, it's important to look for a foundation with a hydrating formula that won't dry out your complexion further. We recommend our L'Oréal Paris Infallible Pro-Glow Foundation, which has a radiant and hydrating formula, or our L'Oréal Paris Age Perfect Radiant Serum Foundation with SPF 50, which is formulated with a hydrating serum for all day hydration.
On the flip side, those with oily skin will need to look for foundations to help minimize shine and excess oils. The L'Oréal Paris Infallible Up to 24H Fresh Wear in a Powder, matte finish has a weightless, creamy texture that is specifically meant for oily and acne-prone skin types. It's sweat-, water-, and transfer-proof and has a natural matte finish.
Cause #4: Neglecting Regular Exfoliation
Over time, dead skin cells and impurities build up on your skin. If exfoliation isn't part of your regular skin care routine, this build-up can cause your foundation to apply unevenly and separate throughout the day. Prevention Solution: Start to exfoliate regularly. Some people can handle daily exfoliation, while others can only exfoliate once per week. The frequency of your exfoliation regimen is dependent on your skin—just make sure you don't skip it entirely! Consider adding a gentle face scrub, like the L'Oréal Paris Pure-Sugar Nourish & Soften Cocoa Scrub, to your routine. Apply the scrub to dry, clean skin, massage over your face with wet fingers, then rinse thoroughly with lukewarm water.
Cause #5: Over Applying
It may be tempting to load up on foundation in an attempt to mask every imperfection, but applying too much can actually be the reason behind your foundation separating. Not to mention, layering on an excess amount of product can also cause your complexion to appear cakey. Prevention Solution: Remember less is more! Instead of piling on product right away, start with a small amount of foundation. You can always apply more to specific areas where needed if you'd like more coverage.
Photo Credit: Melissa San Vicente-Landestoy
Discover more tips & tricks
Keep your skin happy
See all articles
Shop Featured products
Discover More