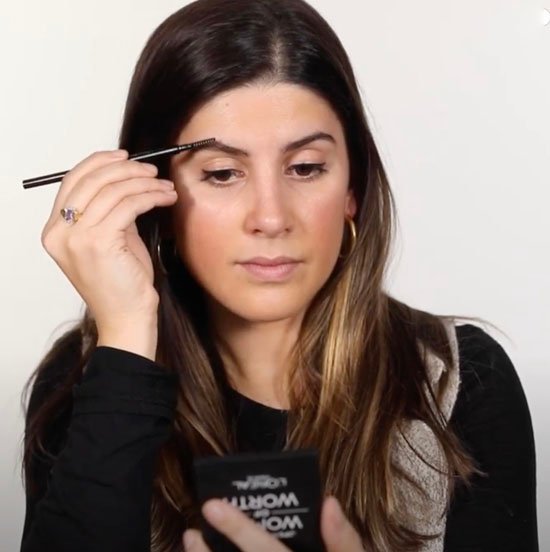 eye makeup
How to Shape Your Eyebrows Based on Your Face Shape
It's probably safe to say that you know thick eyebrow shapes are trending. Yep, gone are the days of over-plucking and drawing on your eyebrows with eyeliner. These days, it's all about finding the perfect brow shape to complement your face shape. That's right—the extremely angular eyebrows you see all over your social media feeds might not be what suits your face shape best. You have to learn how to shape your eyebrows based on your own face shape. Below, we're sharing how to shape, groom, and fill in eyebrows so you can have the ultimate arches.
HOW TO SHAPE EYEBROWS
First thing's first, let's talk grooming! Like we said, every face shape has an eyebrow shape that's best suited to it—it's certainly not a one-size-fits-all deal! Here's what to do to find your shape.
STEP #1: BRUSH YOUR BROWS
Use a spoolie to brush out your brows and prep them for grooming.
STEP #2: DETERMINE THE RIGHT BROW SHAPE
While your best eyebrow shape is based on your face shape, there are some general rules you can follow. To determine where the front of your brows should start, align an eyebrow pencil vertically from the outside of your nose, and create a mark. For your arch, pivot the pencil so it's aligned with the outside of your iris and, once again, mark it! Lastly, for the tail of your brows, line your pencil up with the outer corner of your eye and make a small mark. Of course, things can get more specific…
Eyebrow Shapes for Round Faces
If your face is circular with plump cheeks and a soft jawline, then you have a round face shape. An angular eyebrow shape can help balance out the fullness of your face. Creating strong lines can aid in counteracting softness and a lack of definition, giving the appearance of more defined bone structure.
Eyebrow Shapes for Oval Faces
When it comes to having an oval face shape, the world is practically your oyster. As the most balanced face shape, the rules rarely apply. You'll find that almost any eyebrow shape will complement your face shape. Since having too many options can be overwhelming, try accentuating your symmetrical shape even more with a soft angle.
Eyebrow Shapes for Square Faces
While square face shapes may not quite look like a cube, the resemblance should be clear. When working on coordinating your eyebrow shape with your face shape, take a moment to remember this oft-stated piece of wisdom: opposites attract. Pairing a rounded eyebrow shape with a prominent, angular jaw can help soften your features.
Eyebrow Shapes for Heart-Shaped Faces
Despite being blessed with high cheekbones (seriously, jealousy-inducing), when you have a heart-shaped face, there's still work for your eyebrows to do. Choose a controlled shape with a high arch. By adding height to your eyebrows, you can lengthen the look of a shorter jaw.
Eyebrow Shapes for Diamond Faces
Think of what you know about diamonds. Sure, they're shiny and expensive, but they're also known for their cut. The harsh edges and facets of your favorite jewels are exactly what makes them comparable to a diamond face shape. With a pointed chin and a narrow hairline, this face shape is marked by harsh features that can be softened with curves. Follow the natural curve of your brow bones to make wide cheekbones appear narrower.
Eyebrow Shapes for Long Faces
Looking long in the face may be associated with sadness, but with the right brows, there's no reason to tear up. Keeping your eyebrows horizontal will help stop the eye from traveling downward, thus making your face seem shorter. You're not done yet! Extend the tails of your eyebrows straight to the side to add visual width to your face.
STEP #3: OUTLINE YOUR BROW SHAPE
Let's play connect the dots! Using light, feathered strokes, outline your brow shape by connecting the marks you made.
STEP #4: TWEEZE AWAY
It's time to pluck away any stray hairs! Now that you've determined your brow shape, you can use your tweezers to remove any eyebrow hairs that don't fall inside your outline.
STEP #5: BRUSH AND PREPARE TO FILL
One last time, use a spoolie to brush through your brows and get ready to fill them in! Which brings us to…
HOW TO FILL IN YOUR EYEBROWS
Now that you know the best way to balance your face shape with your eyebrows, you'll need to pick a product for filling them in—and learn how to use it.
If you're partial to an eyebrow gel…grab the L'Oréal Paris Unbelievabrow Longwear Waterproof Brow Gel and use the doe-foot applicator to fill in any sparse areas, then use the angled brush to outline your brow shape and define your arch. Finally, comb through your brows with a spoolie for a blended, seamless look.
If you're partial to an eyebrow pencil…start with clean, brushed eyebrows. Use the L'Oréal Paris Brow Stylist Definer Waterproof Eyebrow Mechanical Pencil to outline for precise lines. Shade with the flat side for even coverage and define the tail using the tip.
If you're partial to an eyebrow pomade…dip a brush into the L'Oréal Paris Brow Stylist Frame & Set, then outline the eyebrow and define the arch. Draw in eyebrow hairs in sparse areas, filling in to your desired intensity. Comb and blend with the included spoolie to style your final look.
If you're partial to an eyebrow mascara…use the angled skinny brush of the L'Oréal Paris Brow Stylist Boost & Set Brow Mascara in short, upward strokes to boost volume and build eyebrows to your desired intensity and shape. (You can also use a clear eyebrow mascara to set your brows after filling in with an eyebrow pencil or eyebrow pomade!)
If you're partial to an eyebrow marker…reach for the L'Oréal Paris Brow Stylist Micro Ink Pen by Brow Stylist, Up to 48HR Wear. Place the comb tip applicator at the front of your brow and brush upward and outward. Repeat this motion toward the tail until you reach your desired appearance.
Can you ever have enough eyebrow-centric beauty tips? We don't think so! Next, check out our articles, 9 Eyebrow Hacks for Gorgeous Arches and All the Different Eyebrow Shaping Techniques.
Discover more tips & tricks
Keep your skin happy
See all articles
Shop Featured Makeup products
Discover More