face makeup
This Hydrating Concealer Is a Must For Dry Skin
December 02, 2020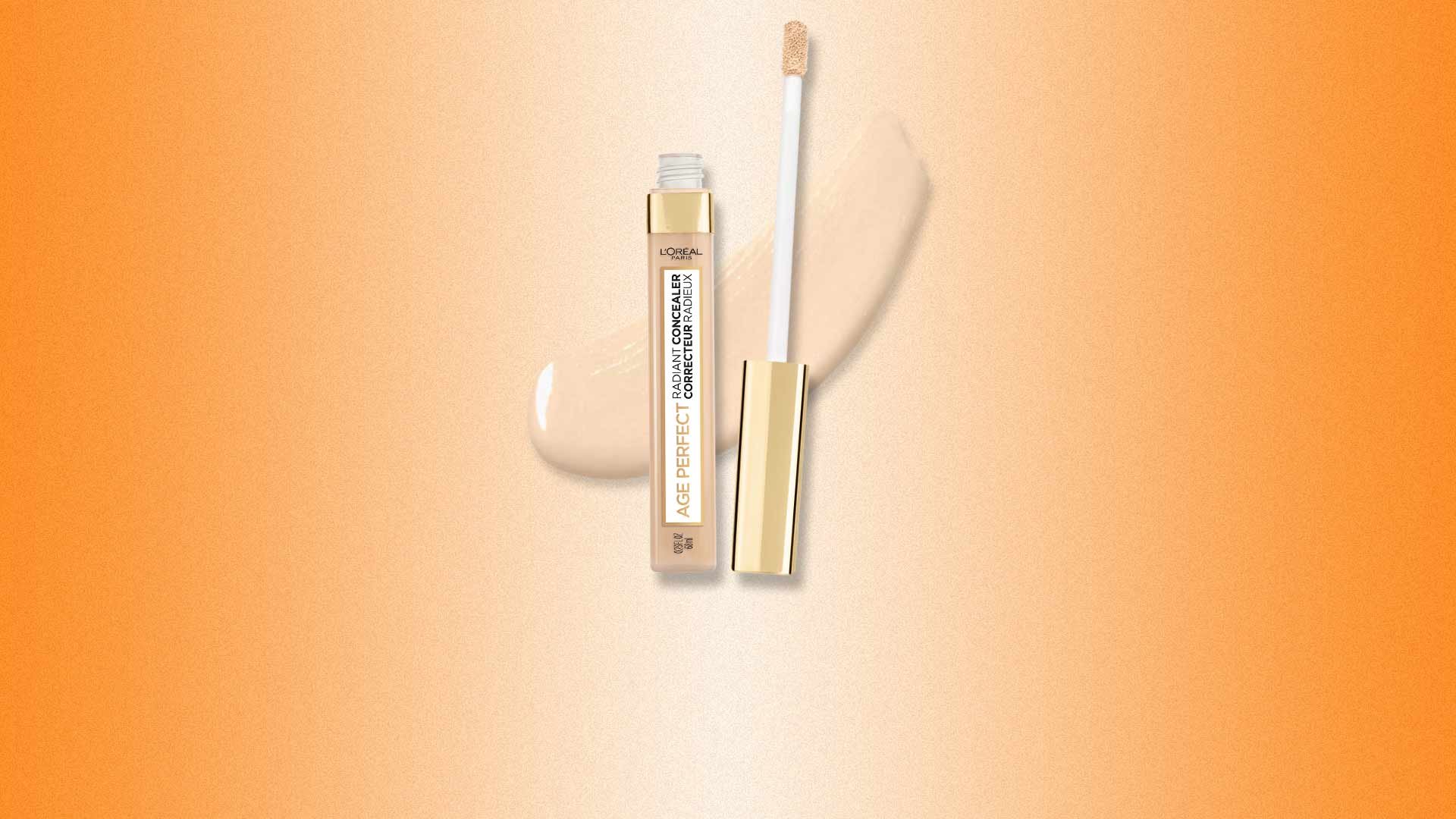 You begin to apply your trusty concealer to blemishes and your under-eye area to disguise your lack of sleep from the night before, only to blend it out to a flakey, patchy finish. Dealing with dry skin can be frustrating as it is, but the wrong makeup products can emphasize your dry complexion. That's where a hydrating concealer comes in. This handy product is specifically formulated to camouflage imperfections while moisturizing—meaning you can put your dry skin concealer woes to rest. To help you add this essential to your makeup bag, we're sharing our best hydrating concealer and how to use it below.
Our Best Hydrating Concealer
We won't waste any time. Allow us to introduce you to our best hydrating concealer, the L'Oréal Paris Age Perfect Makeup Radiant Concealer with Hydrating Serum. This radiant concealer contains a hydrating serum and glycerin. It's specifically formulated to illuminate and hydrate dry, mature skin. It also minimizes imperfections and brightens dark circles for a luminous complexion. Not to mention, the concealer won't settle into lines, so there's no need to worry about unwanted creasing from forehead wrinkles or smile and laugh lines.
How To Use a Hydrating Concealer In Your Face Makeup Routine
Using a hydrating concealer is easy: apply it just as you would any other formula. That said, to really get the most out of using a moisturizing offering, it's a smart idea to pair it with other hydrating products. Here's a step-by-step face makeup routine for your hydrating concealer.
Step #1. Prime Your Face
Using a makeup primer is essential for prepping your skin for the rest of your face makeup. This product helps to prevent your look from fading, while also blurring imperfects and creating an even canvas. Make sure to use one that has a hydrating formula, like our L'Oréal Paris Infallible Pro-Glow Makeup Lock Primer, to keep your dry skin happy.
Step #2. Apply Foundation
Next up: foundation. Try the L'Oréal Paris Infallible Pro-Glow Foundation, which has a lightweight, creamy and hydrating formula that offers medium coverage. You can apply it using the L'Oréal Paris Infallible Blend Artist Foundation Blender for a seamless glow finish.
Step #3. Dot On Concealer
It's time to reach for our best hydrating concealer. Use the doe foot applicator to apply the formula directly to any blemishes. You can also apply it in an upside-down triangle under each eye to help disguise the look of under-eye bags and brighten dark circles. Make sure to blend well using a makeup blender or concealer brush for flawless coverage.
Step #4. Color Your Cheeks
Your face makeup isn't done just yet. While you may have a perfected base, you'll want to add a bit of color to your complexion. This will help define your cheekbones and leave you with a beautiful faux flush! As with the rest of your routine, it's important to use a blush that has a hydrating formula that won't appear patchy on your dry skin. We recommend the L'Oréal Paris Infallible Longwear Blush Shaping Sticks or L'Oréal Paris Age Perfect Makeup Radiant Satin Blush with Camellia Oil. Both options have creamy formulas that your dry complexion will thank you for. Swipe your shade of choice onto the apples of your cheeks for a healthy dose of color.
Step #5. Set Your Look
You're almost done! To finish off your face makeup, reach for a setting spray—a hydrating one, of course. The L'Oréal Paris True Match Lumi Shake Glow Dew Mist contains vitamin C and coconut water. The formula will provide your skin with quenching hydrating while also setting your look for a dewy glow that lasts. Shake well before misting it over your complexion.
Next up: Now that you know all about our best hydrating concealer, let's talk about another hydrating makeup product worth adding to your arsenal. Click over to our article, Why Serum Foundation Is a Must-Have Hybrid Product, to learn more.
Discover more tips & tricks
Keep your skin happy
See all articles
Shop Featured Makeup products
Discover More