eye makeup
8 Creative Ways To Wear White Eyeliner
January 29, 2021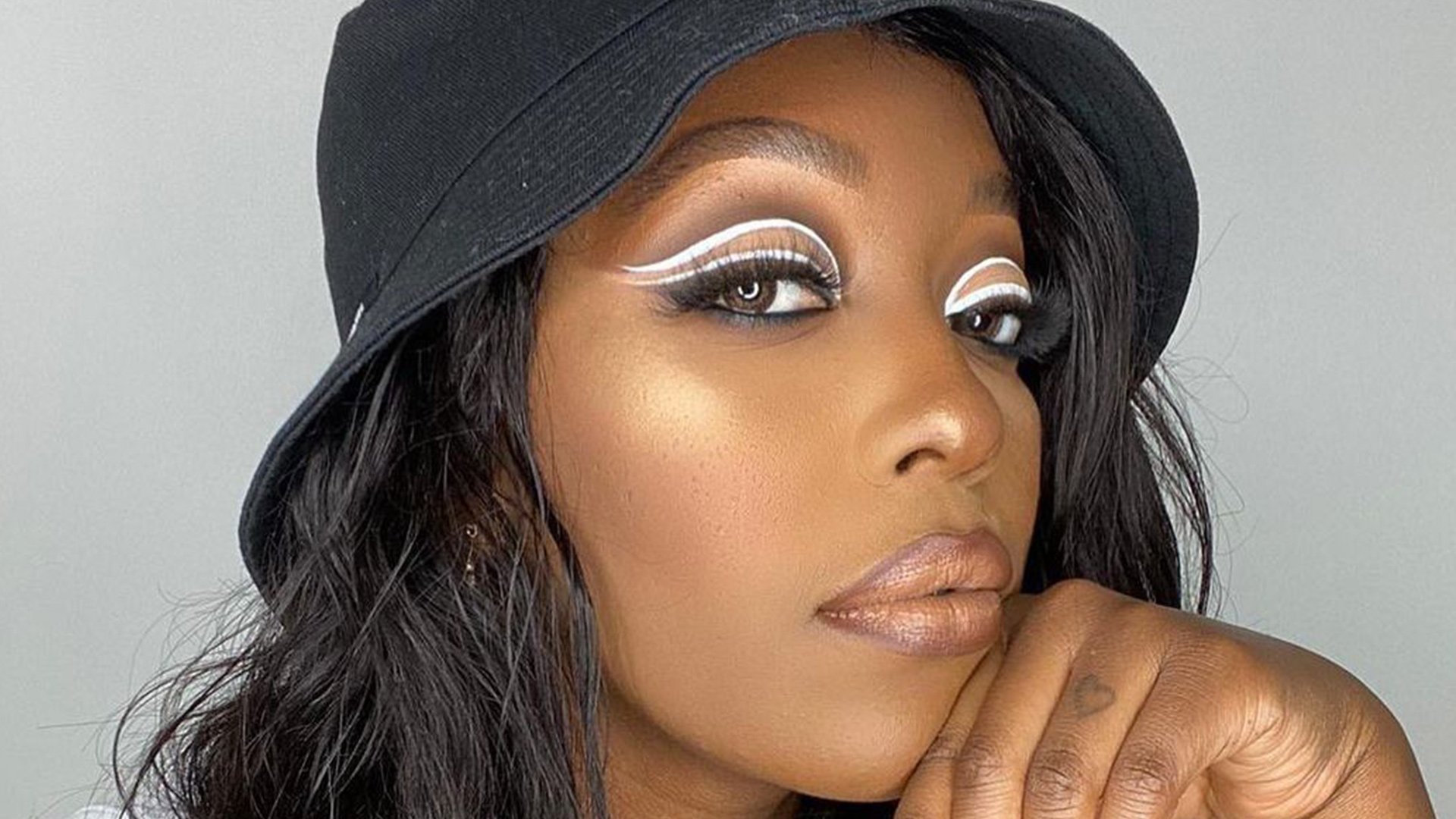 You can believe us when we say, we get how important it is to wear black eyeliner. It's a trusty color that can complement every makeup look and it's been a staple beauty essential for years. But if black eyeliner has been the only color you've ever tried, we're here to tell you that you're missing out. It's time to switch things up and try out a different color instead—enter white eyeliner. Before you start giving us the side eye, we have news for you: white eye makeup is the new black. It doesn't have to be too drastic and wearing white eyeliner can help you achieve a brighter, wide-eyed look.
Still not sure you're ready to try white eyeliner? Check out these inspirational looks that we love, tips on how to try them at home, and the affordable products that will help get you there.
1. White Cat Eye
A traditional cat eye looks especially eye-opening when created with white eyeliner, as it can help brighten the overall look of your peepers. To recreate your own version of this favored trend, line your upper lid with your white eyeliner pencil and flick the liner outward at the corner of your eye. If you're struggling to create the flick, grab a piece of tape and angle it up at the outer corner of your eye. This is a great trick to make a sharp and neat cat eye.
Editors Tip: If you have hooded eyes, be sure to draw your cat eye while your eyes are open. This can help ensure it doesn't disappear in the hidden crease of your eye.
2. Double Liner
If you're not quite ready to say goodbye to your trusty black eyeliner, don't! Instead, draw your eyeliner on as per usual, using the L'Oréal Paris Matte Signature Liquid Dip Eyeliner, Waterproof in Black. Then, top it off by tracing along the top of the black eyeliner with a white eyeliner. It's the best of both worlds!
3. White Inner Corners
We love a good highlight, whether it's used to fake high cheekbones or, in this case, highlight your inner eye corners. Start by tracing the inner corner of your eye with a thin line of white eyeliner. For extra brightening drama, smudge it out with a tiny brush underneath the inner corner to give off a brighter look. Then highlight your brow bone by sweeping on some of the L'Oréal Paris Colour Riche Monos Eyeshadow in Petite Perle. Don't forget to spruce up your lashes with a few coats of the L'Oréal Paris Air Volume Mega Mascara, Lightweight Mega Volume Washable in Blackest Black.
4. White Waterline
One of the easiest ways to help make your eyes look more awake is by lining your waterline with your white eyeliner pencil. This is also the perfect trick to try if you want your eyes to look bigger. To do so, line your waterline with a skinny line of white eyeliner using a steady hand (we know, it's easier said than done!). Keep applying as much product until you get your desired look. For this look, you can also extend the white liner into your inner corners, creating a small arrow shape for a fun twist!
Editors Tip: Place your arm on a steady surface like a desk or table to help keep your hands from shaking while applying eyeliner.
5. Layered Between Eyeshadow
For a more dramatic white eyeliner look, layer the eyeliner between two other eyeshadow shades on the lid. To recreate this look sweep the L'Oréal Paris Colour Riche Monos Eyeshadow in Quartz Fume and Sunset Seine across the lids and smoke out the same colors under your bottom lashes. Take the white liner across the top off your crease and slightly out past the lid. Finish it off by creating dark and voluminous lashes using the L'Oréal Paris Air Volume Mega Mascara, Lightweight Mega Volume.
6. Thick Block Liner
Instead of a thin line, trace a very thick straight line of white eyeliner along your top eyelid. If you want to make the white pop even more, use a small eyeshadow brush and go over the white eyeliner by pressing on some of the L'Oréal Paris Colour Riche Monos Eyeshadow in Petite Perle. The result is basically a color-blocked white look that instantly brightens up your eyes.
7. Underline Your Liner
Let white liner enhance your makeup look by drawing attention to the parts accented with white. Create a gorgeous look like this one by sweeping on the L'Oréal Paris Infallible 24 Hr Eye Shadow in Smoldering Plum into your crease, and then apply some glitter to your lids using the L'Oréal Paris Brilliant EyesShimmer Liquid Eyeshadow Makeup in String of Pearls. After creating a black winged line, underline it with your white eyeliner and use it to trace along the inner corner of your eyes as well.
8. Abstract Crease Lines
Level up your eye makeup game by going for two lines of white eyeliner on your lids. Start by using the L'Oréal Paris Colour Riche Pocket Palette Eye Shadow in Silver Couture. Highlight your brow bone with the lightest shade and blend out the darkest matte shade into your crease. You can also use that dark shade to create a smoked out winged liner across your top lid and apply it to the bottom lid. Then outline your crease with a white eyeliner and create another winged liner closer to the lash line.
Photo: @Blairrx
With so many different ways to use white eyeliner, it's a color that has definitely proven to be just as important as its black counterpart. Refer back to these looks when you're in need of some eyeliner inspo for any colored eye look.
Next: The Best Makeup Techniques for Different Eyeliner Styles
Discover more tips & tricks
Keep your skin happy
See all articles
Shop Featured products
Discover More