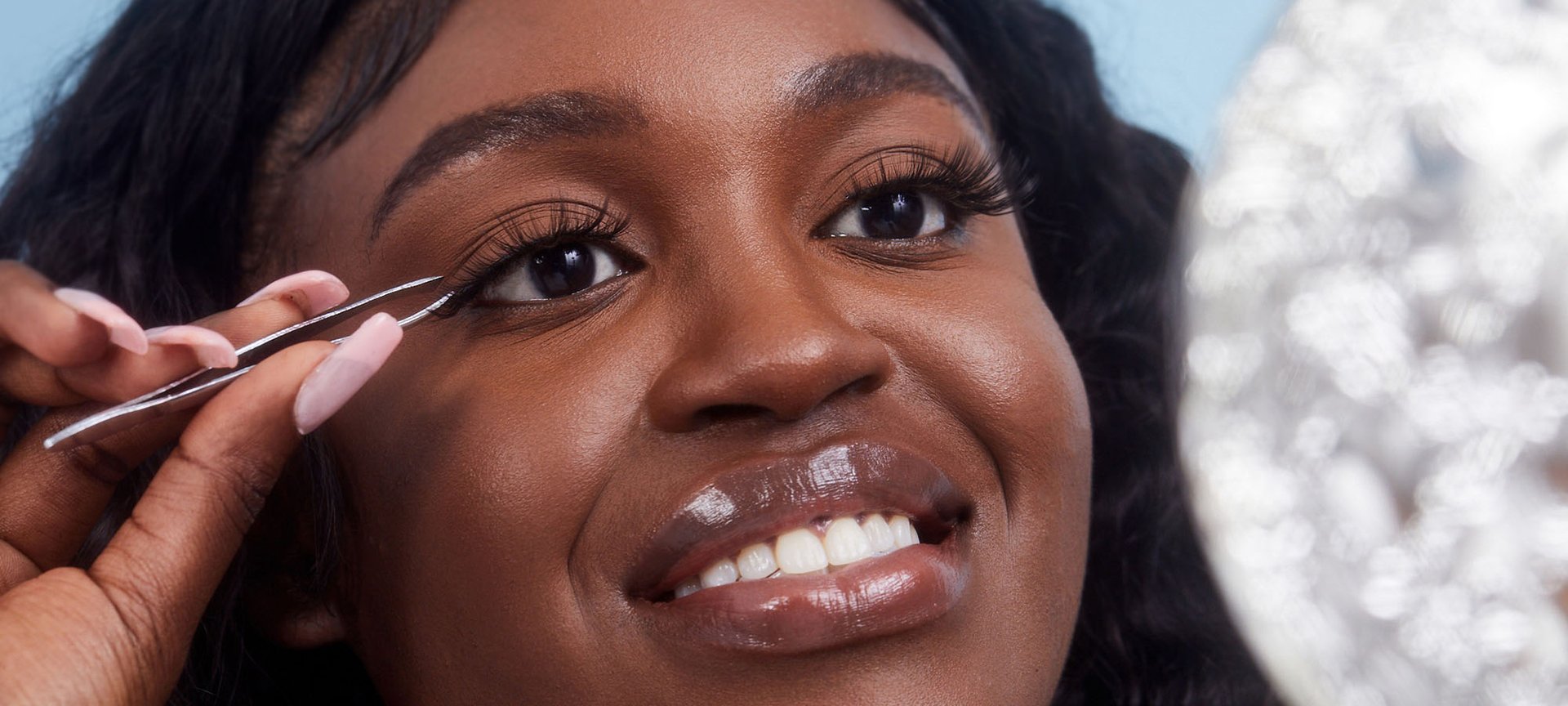 eye makeup
How To Use Mascara With False Eyelashes
Your eyelash upgrade just got an upgrade.
When you love a dramatic lash, there isn't much you won't try to get your desired look. From volumizing mascara to false eyelashes and eyelash extensions, there's likely a plethora of options in your makeup bag to make your eyes pop. But have you ever tried combining those different options to give your eyelashes even more flair? When you layer mascara with your falsies it can take your eye makeup look from fab to phenomenal. And you don't need to be a skilled makeup artist to do it either. Read on for five simple tips on how to apply mascara with false eyelashes to give you the stunning lashes of your dreams.
1. Choose The Right Mascara
The first step to applying mascara with false eyelashes is choosing a mascara formula that brings out your lashes and won't ruin them for reuse. You want an option that also has a brush that won't clump and smudge the formula, but instead lets your natural lashes blend seamlessly with your falsies. We love the L'Oréal Paris Telescopic Original Mascara for this. The lengthening mascara has a brilliant, patented two-sided flexible brush for precision blending. Avoid using a waterproof mascara so it'll be easier to clean your lash strips so that they can be reworn and stun another day.
2. Apply Your False Lashes In The Right Place
One key to applying mascara with falsies—and for applying false eyelashes the right way in general—is placing the strip in the right spot. In an attempt to get the perfect look, some people will glue their falsies too high up on their eyelid and not close enough to their lash line, creating a gap of visible skin between their falsies and real lashes. In order to blend the two with mascara you need to perfect the placement. If you're using a single strip try placing it down in the center first, and then use tweezers to adjust the sides.
3. Use The Mascara Layering Technique
When it comes to applying mascara with fake eyelashes, use the mascara layering technique as your guide. Going from root to tip while avoiding the base of the strip, comb a thin layer of mascara through your lashes. Wait for the first swipe to dry and build on another as you see fit, the same as you would do if you were layering different types of mascara formulas. Keep in mind, fake eyelashes already enhance your look, so several coats of mascara may not be needed to achieve your desired look.
4. Look Down Into Your Mirror
This mirror technique is helpful in placing false eyelashes in the right spot with ease, and it's helpful when adding mascara after the fact. Simply put, it lets you get a better look at your lash line so you know if you're starting at the right spot with your application.


5. Add Some Color
While this is less of an application point and more of a style tip, you'll be happy to have this in your makeup arsenal. If you have dark colored eyelashes, adding a bright pop can seem impossible, especially sans loads of primer. But adding primer plus mascara to lashes can cause them to get clumpy and give them that unwanted scary tarantula look. Grab some blonde eyelash extensions instead. That way, you can brush on a colored mascara like the L'Oréal Paris Voluminous Original Washable Bold Eye Mascara, to give your falsies a beautiful tint while blending them with your natural lashes.
Next: The Best L'Oréal Paris Mascara For Your Lash Type
Written by: Shalwah Evans, Photography: Chaunte Vaughn, Art Director: Hannah Packer, Associate Creative Producer: Becca Solovay
Discover more tips & tricks
Keep your skin happy
See all articles
Improve your routine
Show your new look more love:
makeup