eye makeup
How to Make Eyeliner Out of Eyeshadow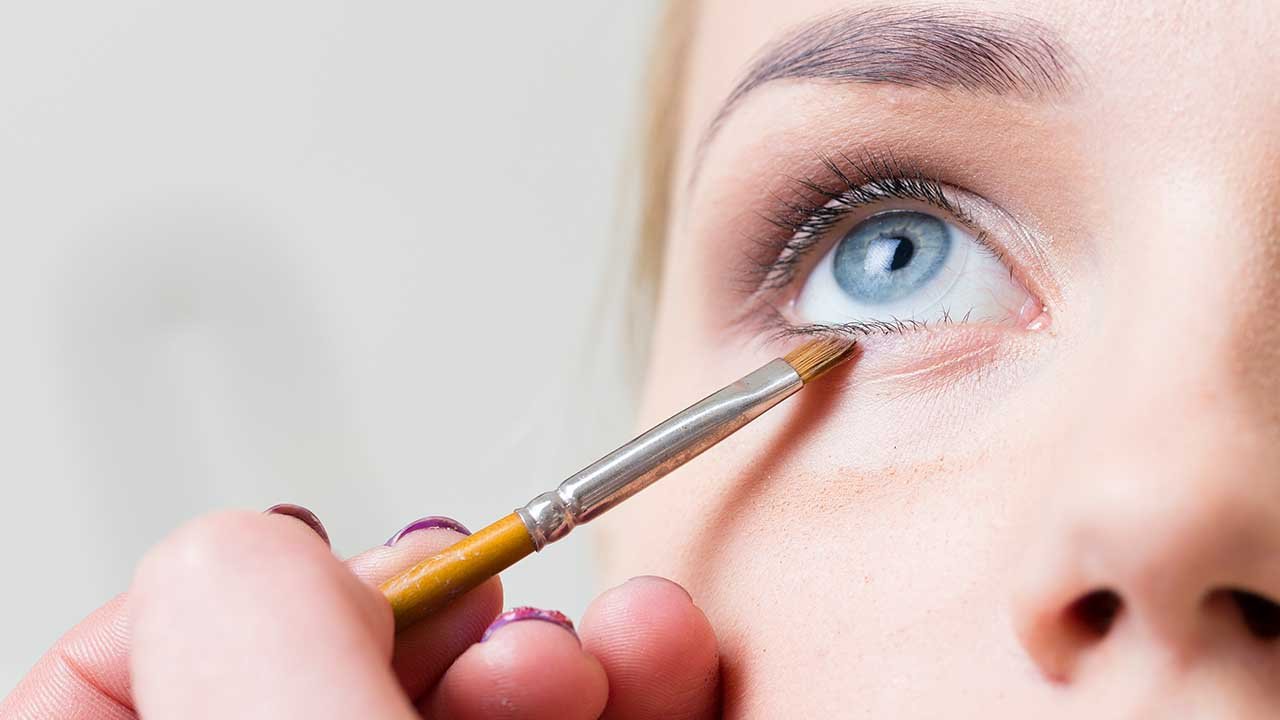 Whether you're short on eyeliner, stocked up on old eyeshadow palettes you never use, or have a favorite shade of eye shadow you've been dying to see on your lash line, there are a number of easy ways you can turn any eye shadow into an eyeliner. You'll only need a few products (ones you probably already have on hand) to experiment with endless different eyeliner-centric eye makeup looks—without running out to purchase any new makeup. It's an easy and super fun way to mix up your regular makeup routine and try out a new beauty look. So, what are you waiting for? Read on for five ways to make eyeliner out of eyeshadow.
DIY Eyeliner Option #1: H2O
Never underestimate the power of a bit of water! This is probably the easiest and most convenient option. Just run your angled brush under a bit of tap water, then pick up your favorite shade of eye shadow with the brush. It'll chalk up into a paste-like consistency, which you can easily swipe across your upper and lower eyelids just like you would a liquid liner.
DIY Eyeliner Option #2: Setting Spray
If you've got some makeup setting spray in your beauty arsenal already, this is another good option for turning any powder eye shadow into an eyeliner. Just soak your brush with a few spritzes of your go-to setting spray, swipe across your eye shadow shade of choice and voila!
DIY Eyeliner Option #3: Eye drops
Yes, that's right—you can also use eye drops as a mixer. It makes sense when you think about it: eyedrops are already eye safe, likely in your medicine cabinet, and also easy (and precise) to dispense. Squeeze a few droplets onto your brush then dip into a shadow and apply like a regular liner.
DIY Eyeliner Option #4: Nothing!
Even if all you have available is a single shadow and a brush (or even a sponge tip applicator), you can still make eyeliner out of almost nothing. While it's true you won't be able to get a super sharp liquid liner-esque look, you can achieve a smudged eyeliner effect—which is just as good. We recommend using an eye shadow with a creamy consistency, but really, any old shadow will do—cream shadows will just be extra easy to blend and smudge. Simply dip your angled brush into your shadow color of choice and smudge across your upper lid and underneath your lower lash line. To get inspired to smudge, head over to our article, How to Wear Smudged Black Eyeliner.
5 DIFFERENT EYESHADOW SHADES TO TRY OUT AS LINER
Now that you know the basics, it's time to test out your favorite eyeshadows and see how they look as liners! Below, we've got five shade suggestions that are sure to have everyone asking where they can get your eyeliner—and you get the satisfaction of telling them it's totally custom!
For…a bold, bright blue
Try the L'Oréal Paris Colour Riche Pocket Palette Eyeshadow in Avant Garde Azure. Ready to branch out from wearing black and brown eyeliners? Blue is one of the best shades to experiment with! A pop of blue pairs nicely with any natural makeup look and can really draw attention to your eyes—especially if yours are a beautiful brown color.
For…a sophisticated, metallic sheen
Try the L'Oréal Paris Infallible Crushed Foils Metallic Eye Shadow in Crushed Stone. We can't say this enough: metallics are in. So, why not add a touch of glam to your look with a metallic liner?
For…a crystal-inspired glow
Try the L'Oréal Paris Colour Riche Quads in Stacked Heels. Eye shadow palettes are especially amazing for creating DIY liners since they offer you multiple shades to line with. The more options the merrier! This purple palette is particularly perfect since purple is the color of the year.
For…a gorgeous green
Try the L'Oréal Paris Infallible 24HR Eye Shadow in Golden Emerald. As far as fun colors go, green is the neutral of vibrant hues. That means it looks good on everyone and isn't too out there, it's just enough color to make your eyes pop without looking over the top.
For…a deep, oceanic blue
Try the L'Oréal Paris Colour Riche Monos Eyeshadow in Grand Bleu. We think it's time to put your winged liner skills to use and turn this pretty blue hue into a cat eye.
Now that you've got your liner set, it's time to move onto perfecting your brows! Read our articles How to Fill in Your Brows—and Make Them Last and How to Contour Your Eyebrows for all the details.
Discover more tips & tricks
Keep your skin happy
See all articles
Shop Featured products
Discover More