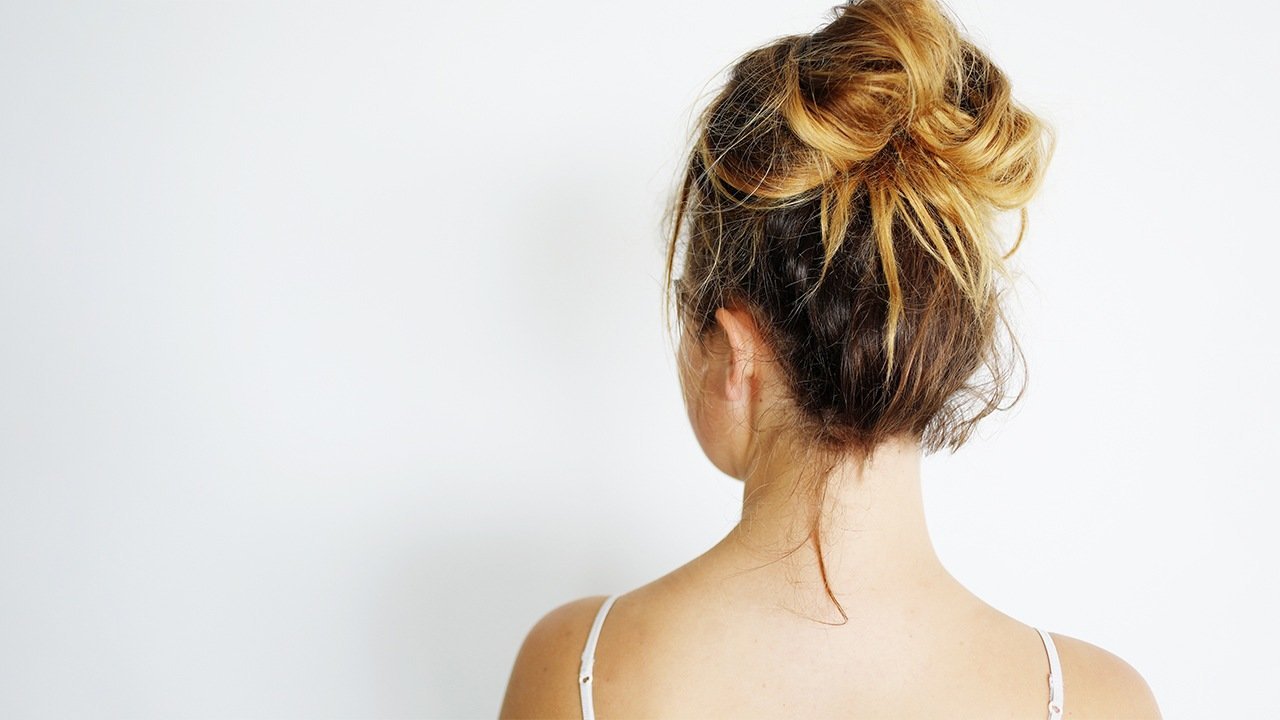 Bad hair days: Ah, they happen to the best of us. Whether it's the weather that's making your hair not look its best, or your new haircut didn't exactly turn out the way you thought it would, the occasional bad hair day is inevitable. And when you wake up and are unhappy with the way your hair looks, it can put a damper on your entire day. Ugh. But that doesn't mean you have to hide under the covers. Before you reach for that oversized hat in hopes of going incognito for the day, try one of these 15 hair hacks to salvage a bad hair day without taking a toll on your overall beauty look. No one has to know you're not totally in love with your mane at the moment!
BAD HAIR HACK #1: ROCK A DOUBLE PONYTAIL
In the case of a bad hair day, two ponytails are better than one! This style is super chic and easy to create.
What you'll need:
Hair ties
L'Oréal Paris Elnett Satin Hairspray Strong Hold
Get the look by following these simple steps:
STEP 1: CREATE YOUR FIRST PONY
Gather the hair above your ears to create a half ponytail, then tie it up with a hair elastic.
STEP 2: FLIP YOUR HAIR
Take the ponytail you just created and flip it forward, over the top of your head, to get it out of the way.
STEP 3: DOUBLE UP
Create a second ponytail using the remaining bottom section of hair. Make sure to secure the second ponytail directly below the base of the first one so that it will be effectively hidden once you flip your first pony back into place. After that, spritz on a little hairspray to finish off the style. See, it's that easy!
BAD HAIR HACK #2: TEASE YOUR ROOTS
Flat roots the bane of your existence? We have a quick fix that can spice up your strands: teasing your roots. All you need to do is backcomb your hair to amp up the volume and give your mane a bit of texture. Now you have a full hairstyle that instantly looks more pulled together.
BAD HAIR HACK #3: WHEN ALL ELSE FAILS, PUT ON A HEADBAND
Rushing to get out of the door, and none of your hairstyles are cutting it? Throw on a giant headband, which will hide frizz and any hairs that are out of place. From a solid-colored headband to one that's bedazzled, there are plenty of options to choose from.
BAD HAIR HACK #4: REACH FOR DRY SHAMPOO
There is a reason why dry shampoo reigns supreme in the beauty world. Not only does it come in handy when you don't have time to give your strands a nice wash, but it can save your mane from the bad day hair blues. Simply spray dry shampoo onto your hair, making sure to concentrate on your roots to soak up oils that are making your hair look greasy.
BAD HAIR HACK #5: TWIST YOUR HAIR INTO A DUTCH CROWN BRAID
The good news is, undone hairstyles are totally in, so you don't have to worry about perfecting your hairstyle on days when your strands aren't quite working with you. Try donning a messy version of a Dutch crown braid for an on-trend look.
What you'll need:
Get the look by following these simple steps:
STEP 1: CREATE TWO DUTCH BRAIDS
Use an underhand braiding technique to create a Dutch braid on each side of your head. Don't worry about making your braids flawless, think: perfectly imperfect.
STEP 2: PIN THE BRAIDS TO THE OPPOSITE SIDE
Wrap the braids around your head and secure both (using your bobby pins) at the nape of your neck. Two steps and that's it!
BAD HAIR HACK #6: ROCK A TOP KNOT
When in doubt, throw your mane into a top knot! There are so many ways to do this classic hairstyle, and it's the perfect way to pull your strands up and out of your face when they aren't behaving as you hoped. Check out our article, 7 Top Knots for Every Day of the Week, for some inspo.
BAD HAIR HACK #7: PUT IT HALF UP
A few things that could be behind your bad hair day? Oily roots, frizz, or hair that simply won't lay the right way. If any of those apply to your locks, a half-up hairstyle is the hack for you. Need some ideas? Head on over to our article, The Best of Both Worlds: 31 Half-Up Hairstyles to Try.
BAD HAIR HACK #8: WEAR A TRENDY HEAD WRAP
Not a fan of headbands? Head wraps are one of the latest hair accessory trends, and they're the perfect way to disguise a disastrous hair day. Here's How to Wear a Trendy Head Wrap.
BAD HAIR HACK #9: TRY A TEASED BUN
When you're having a bad hair day, we bet that the last thing you want to do is wear your hair down. Well, you can't go wrong with putting your hair in a teased bun. Plus, this hairstyle is always on-trend.
What you'll need:
Hair tie
L'Oréal Paris Advanced Hairstyle LOCK IT Fine Control Hairspray
Teasing brush
Bobby pins
Get the look by following these simple steps:
STEP 1: CREATE A PONYTAIL
Gather your hair into a high ponytail, and use a hair tie to secure it.
STEP 2: ADD SOME VOLUME
Spray one-inch sections of your ponytail with a little bit of hairspray, then go through and tease your pony in small sections.
STEP 3: CREATE YOUR BUN
Wrap the ponytail around its base to form a bun, and secure it in place with a few bobby pins.
STEP 4: SEAL THE DEAL
Spray your bun with more hairspray, and you're good to go.
BAD HAIR HACK #10: OPT FOR A MARLEY BRAID HAIR BUN
Calling all natural hair girls! The Marley bun can quickly transform your strands from bad to fab. Best of all, it only takes minutes to pull together. Simply apply a hair gel like the L'Oréal Paris Studio Line Clean Gel to your roots and brush your strands toward the center of your head. Gather your hair into a ponytail and secure with a hair elastic. Wrap the length of your ponytail around the base to form a bun. Next, you'll want to wrap Marley braid synthetic hair around the bun and pin the hair in place as you go. Once complete, mist hairspray evenly over your head, and you're ready for your day.
BAD HAIR HACK #11: SPORT A MESSY BEDHEAD HAIRSTYLE
Rather than fight against your bad hair day, embrace it with a messy bedhead hairstyle! This mussed-up 'do is totally on-trend.
What you'll need:
L'Oréal Paris Studio Line Overworked Hair Putty
Get the look by following these simple steps:
STEP 1: GRAB A POMADE
Take a pomade or paste and gradually work it through your mane to create a textured, piece-y look. Feel free to scrunch your locks to amp up the messy vibes. That's it—hello, messy bedhead!
BAD HAIR HACK #12: WHIP OUT THE HEAT TOOLS
Is your hair still not behaving? It may be time to turn to your flat iron or curling iron. Heat tools can be a saving grace when you need to manipulate your locks. Just don't forget to apply a heat protectant first! Check out our article, The Complete Guide to Heat-Styling Tools, for everything you need to know about utilizing the power of heat.
BAD HAIR HACK #13: WEAR A SLEEK PONYTAIL
If your strands just don't seem to look good any way you twist them, a sleek ponytail will be your saving grace. This slick look will smooth down any unruly strands and look like a completely intentional part of your beauty look—not a bad hair day fix!
What you'll need:
L'Oréal Paris Advanced Hairstyle LOCK IT Clean Style Gel
Hair elastics
Flat iron
Get the look by following these simple steps:
STEP 1: SLICK BACK YOUR STRANDS
Take a small amount of hair gel and apply it to the top of your mane, slicking your hair toward the back of your head in the process. Remember: less is more. Start with a little bit of product and gradually add more to create your desired look.
STEP 2: CREATE YOUR PONYTAIL
Grab a hair elastic and pull your hair back into a low ponytail. Make sure there aren't any bumps!
STEP 3: STRAIGHTEN YOUR PONY
For an even sleeker look, straighten your ponytail with a flat iron. Easy, peasy!
BAD HAIR HACK #14: SWITCH UP YOUR PART
Sometimes all it takes to turn your bad hair day around is to switch up your part. If you're a stickler for a middle part or obsessed with a side part, experiment with a different part. This may help you find that your hair has more volume or a better shape to work with.
BAD HAIR HACK #15: BRAIDED BANGS
As much as you love your bangs, sometimes they can stick up and completely ruin your look. Instead of attempting to wield your flat iron in a way that will allow you to perfect your bangs, keep things simple with a gorgeous hairline braid. To get the look, split your bangs into three equally-sized pieces and weave a braid to the ends. Pin the end of the braid behind your ear with bobby pins, and you're all set. If your bangs aren't quite long enough to braid back, you can blend your bangs with a longer section of hair from the front of your mane and weave it all together.
Next up: Sometimes, your hair looking wild isn't so bad. We're talking about crazy hair days, of course. If your school or office is having one, try one of our 50 Hairstyle Ideas for Crazy Hair Day.
{ "@context": "https://schema.org/", "@type": "WebPage", "speakable": { "@type": "SpeakableSpecification", "cssSelector": ["speakable-content"] }, "url": "https://www.lorealparisusa.com/beauty-magazine/hair-style/updo-and-bun-hairstyles/how-to-hide-a-bad-hair-day" }
Discover more tips & tricks
Keep your skin happy
See all articles
Shop Featured Hair Style products
Discover More
{ "@context": "http://schema.org", "@type": "BreadcrumbList", "itemListElement": [ { "@type":"ListItem", "position": 1, "item": { "@id": "/", "name": "Home" } } , { "@type":"ListItem", "position": 2, "item": { "@id": "https://www.lorealparisusa.com/beauty-magazine", "name": "Beauty Magazine" } } , { "@type":"ListItem", "position": 3, "item": { "@id": "https://www.lorealparisusa.com/beauty-magazine/hair-style", "name": "Find Your Next Hot Look" } } , { "@type":"ListItem", "position": 4, "item": { "@id": "https://www.lorealparisusa.com/beauty-magazine/hair-style/updo-and-bun-hairstyles", "name": "Updo & Bun Hairstyle" } } , { "@type":"ListItem", "position": 5, "item": { "@id": "https://www.lorealparisusa.com/beauty-magazine/hair-style/updo-and-bun-hairstyles/how-to-hide-a-bad-hair-day", "name": "how-to-hide-a-bad-hair-day" } } ] }