hairstyle trends
15 Hairstyle Ideas for Brides with Natural Hair
Forget the flatiron on your big day.
July 01, 2022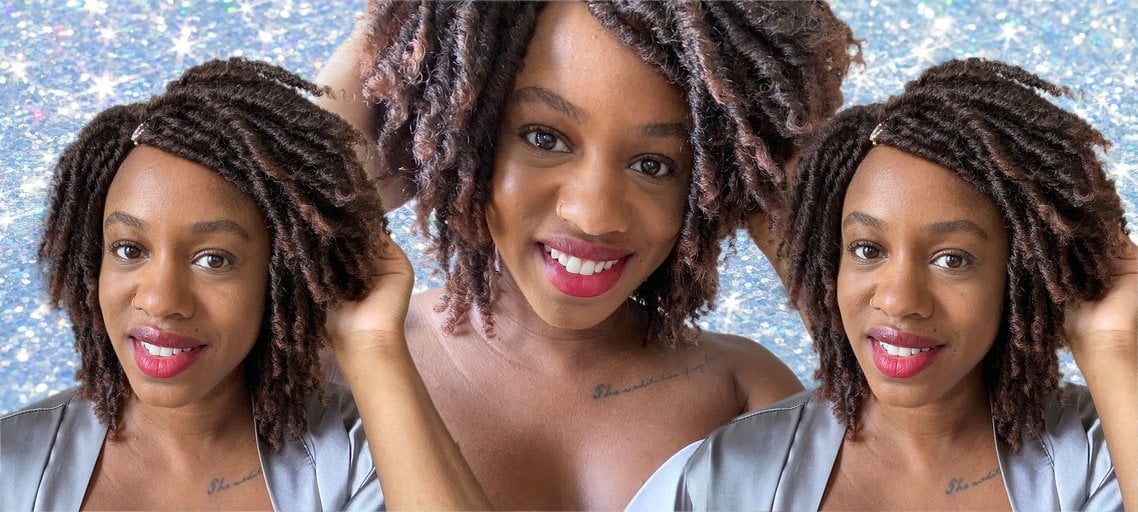 June marks the beginning of summer, but it's also the start of another season — summer wedding season. If you're the lucky one getting hitched, You may be trying to find inspiration for anything wedding-related, including venues, dresses, and even hairstyles.
If you have a natural hair texture and want to go heat-free for your big day, you're certainly not limited on bridal hairstyle ideas that work for your hair type. Keep reading to discover 15 of the best wedding hairstyles for natural hair.
Voluminous Flower Bun
This luxe updo is perfect if you can't decide between a ponytail or bun. You can also easily add a veil or an intricate headpiece to complement this low bun style.

High Puff
A high puff is a classic natural go-to style, but there are many ways to make it wedding appropriate. You can add extra hair that matches your texture for a more dramatic puff, adorn it with pearls or other embellishments, or add a bridal headpiece around the hair tie.
Twist Out
A twist out is always a great style if you want to wear your natural hair out, even for your wedding day. Don't be afraid to add extra hair for more length or bridal hair accessories throughout your mane.
Twisted Updo
This regal style is perfect for naturals if you're going for a traditional bridal look. Add a jeweled hair piece for some extra sparkle.
Blown Out Afro
If you don't mind using a little heat (we promise, it's minimal!) and are looking for a soft but dramatic look, this hairstyle will be perfect for you. Simply blow dry your hair, pulling the blow dryer outwards (instead of blow drying downwards) for a voluminous style for your big day. Don't forget to use a heat protectant, like the L'Oréal Paris EverPure Sulfate-Free Weightless Blow Dry Primer, Heat Protectant, beforehand.
Parted Half-Up, Half-Down
This style works for all types of natural hair, whether you want to rock your curly texture or blow it out. For more volume, curl or pick your hair out to fluff it up some.
Crown Braid
If you want to keep your hair out of your face on your big day while still looking chic, try this stylish crown braid. For extra elegance, gel down your edges with the L'Oréal Paris Studio Line Mega Gel. You can also add bridal accessories, such as a flower crown or lace, to give it more interest.

Defined Curls
If you want your hair out on your wedding day, you can make your curls more defined by styling them with flexi rods. If you prefer a loose curl, brush out your curls gently after removing the flexi rods for a soft, voluminous look.
Goddess Braids
Goddess braids have been one of the most popular natural hair trends this year, but they can actually make for a stylish and feminine wedding look. Take two front pieces of hair to tie back with a hair ribbon or bridal piece to make the style look more formal.
Top Knot
Since natural hair has more volume, a top knot can make an elegant bridal updo. Tie your hair into a high ponytail, then wrap the hair around itself in a bun to create your easy wedding hairstyle.
Locs Bob
If you already have locs, clipping them into a bob for your wedding day is a great way to switch up your look. Pull a piece of hair to the side with a sparkly clip or barrette for a festive addition.
Editor's tip: You can also try this with faux locs if you're not rocking locs already and want to get the look for your big, romantic day.

Low Twisted Bun
If you love the look of your hair in twists, you can tie them together in a low twisted bun for a simple, sophisticated look. Make sure to apply a hydrating leave-in conditioner, like the L'Oréal Paris Elvive Dream Lengths Curls Non-Stop Dreamy Curls Leave-in Conditioner before twisting your hair so they look shiny and moisturized.
Braided Bantu Knots
This look is great if you already have locs or box braids. Simply create medium sections all over the head, twisting each section carefully counterclockwise to form a neat Bantu knot. Lay your baby hairs to make the look more stylish.
Zipper Twist
Try this intricate style for your wedding if you're looking for an updo that's anything but ordinary. To perfect the look, use a rat tail comb for a clean part, and a hydrating hair serum — like the L'Oréal Paris Elvive Dream Lengths Dream Lengths Frizz Killer Serum Leave-In — so that your hair is able to slick down easily.

Braided Pompadour
If you usually rock braids but want to try something a little different, a braided pompadour will make the perfect bridal look. Sweep your braids into an updo at the crown of your head and into a pompadour style. Secure it with pins so your style stays in place through every vow, dance and kiss.
Next: Try One of These Versatile Half-Up, Half-Down Looks on Your Wedding Day
Written by: Shannon Stubbs, Photo Credit: Shalwah Evans, Design by: Crystal Simone
Discover more tips & tricks
Keep your skin happy
See all articles
Improve your routine
Show your new look more love:
makeup