short hairstyles
How to Style a Quiff Haircut
December 21, 2018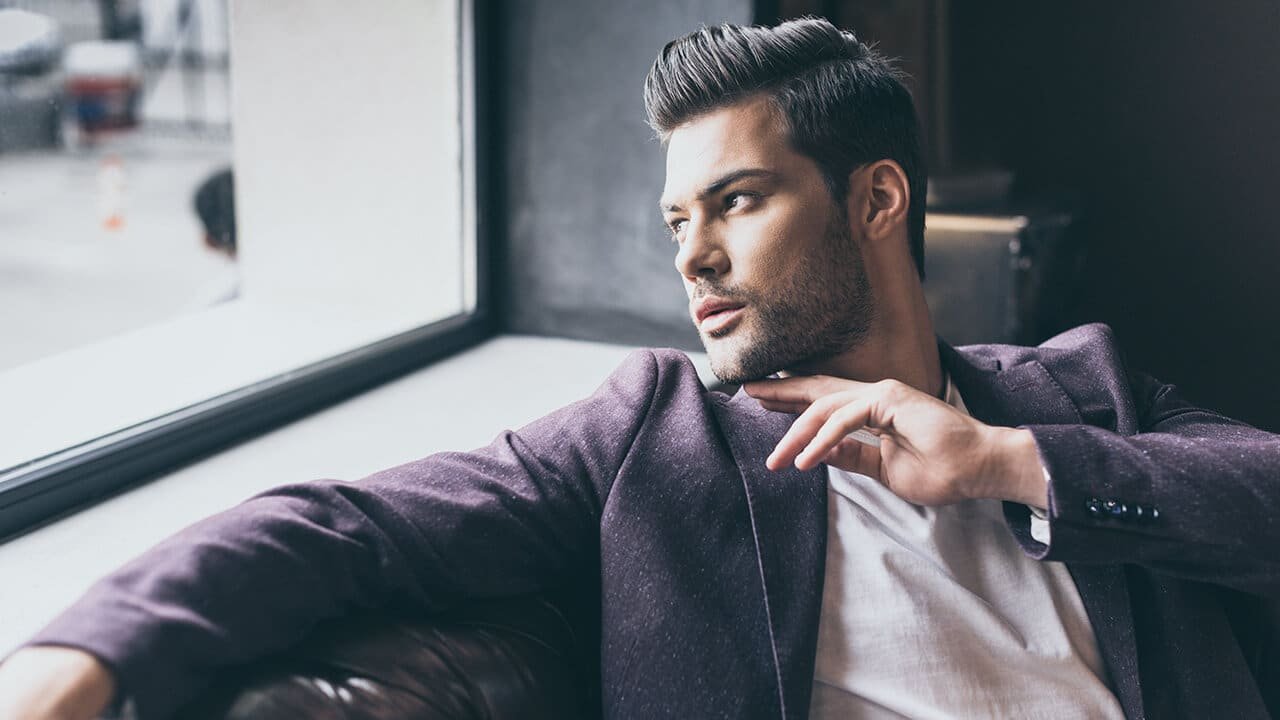 Hey guys, listen up: When it comes to your hair care and hair styling routine, you might feel like your options are limited, but you'd be wrong. Whether you want to switch up your cut or learn some new styling tips, there are plenty of hairstyle options—for both short and long hair. Today, we're focusing on the ever-popular quiff haircut. A modern take on the classic pompadour, the quiff haircut is a major hairstyle trend these days. Not sure what it is or how to style a quiff haircut? Read on to learn all about what a quiff haircut is and how to style this popular look. Plus, we're sharing multiple styling options and our best hair styling product recommendations for each.
WHAT IS A QUIFF HAIRCUT?
First things first, what is a quiff haircut? You've likely already seen this haircut sported by many professional athletes, actors, and musicians—yes, it's that popular! And no, you don't have to be famous to give the look a try. The quiff haircut is, like we said earlier, basically a modern take on the pompadour. The two 'dos are similar in that both cuts require short hair on the sides of the head and longer strands up top, but the quiff is more textured and messier looking than the pompadour. In simple terms, it's a tapered haircut with plenty of length on top—but the length on top isn't precise, it's sort of messy and rugged-looking. The quiff haircut also doesn't require as much volume up top as the pompadour. The good news is, since the quiff style is so on-trend, if you ask your hairstylist for one, they'll know exactly what you want.
HOW TO STYLE A QUIFF HAIRCUT
Ready to become a quiff styling pro? Here are three ways to style a quiff:
QUIFF STYLING OPTION #1: TEXTURED EDGINESS
One of the best ways to style a quiff haircut is by adding just the right amount of texture to the hair. Since you've got the length up top, go ahead and play around with this cool, messy look. To do so, you'll want to reach for a hair putty, like the L'Oréal Paris Studio Line Overworked Hair Putty. Start by towel-drying your clean strands until they're damp, then apply a quarter-sized amount of product and work it through your hair, focusing primarily on your longer strands on top. This is your chance to play around with your hair and decide how much volume, height, and texture you want to have. For a messy, edgy look, you'll want to work the hair putty through your damp strands, using your fingers to ever-so-lightly scrunch your hair before letting it dry.
Editor's tip: If you have fine or thin hair (or simply need to lock your look into place), spritz your quiff hairstyle with a lightweight, non-sticky hair spray (like the L'Oréal Paris Advanced Hairstyle LOCK IT Fine Control Hairspray) after your hair is almost completely dry.
QUIFF STYLING OPTION #2: SLEEK and SLICK
If you're rocking your quiff haircut for an important work meeting, or you're just a fan of a sleek, slicked-back look (as are we!), then this styling technique is for you. It also works wonderfully with a deep side-part on either side, but that's up to you—it can even be styled without any part at all.
Basically, the idea here is to achieve a completely slicked-back look, with all of your strands pulled back and held in place. It's a very handsome look! To try it out, you'll want to start with damp, clean hair. First, decide whether or not you're going to part your strands, and if you are, go ahead and use your fine-tooth comb to make a deep side-part on one side of your head. Next, reach for a non-sticky hair gel, like the L'Oréal Paris Advanced Hairstyle LOCK IT Clean Style Gel. Squeeze a dime-sized amount into your hands, then apply evenly throughout your damp strands before combing through to shape and style your hairdo.
QUIFF STYLING OPTION #3: JUST A TOUCH OF VOLUME
The overall goal of styling a quiff haircut is volume, so this styling option is a no-brainer. A dollop of volumizing hair mousse can give your quiff the perfect boost it needs to stand out without looking as if you're trying too hard. First, you'll want to start with freshly washed, towel-dried hair. Spritz your hair with a volume-boosting spray, like the L'Oréal Paris Advanced Hairstyle Boost It Air-Blown Texture Mist, focusing on the roots. Next, reach for the L'Oréal Paris Advanced Hairstyle BOOST IT Volume Inject Mousse and apply the mousse to your hair, focusing mainly on the lengths and ends.
Editor's tip: If you want to get an extra, extra boost of volume, use your blow-dryer and a round-barrel hairbrush to blow-dry your hair while pulling it back and upward to pump up the volume.
Want to learn about other men's hairstyles and cuts? Here are The Best Short Haircuts and Hairstyles for Men.
Discover more tips & tricks
Keep your skin happy
See all articles
Shop Featured Hair Style products
Discover More