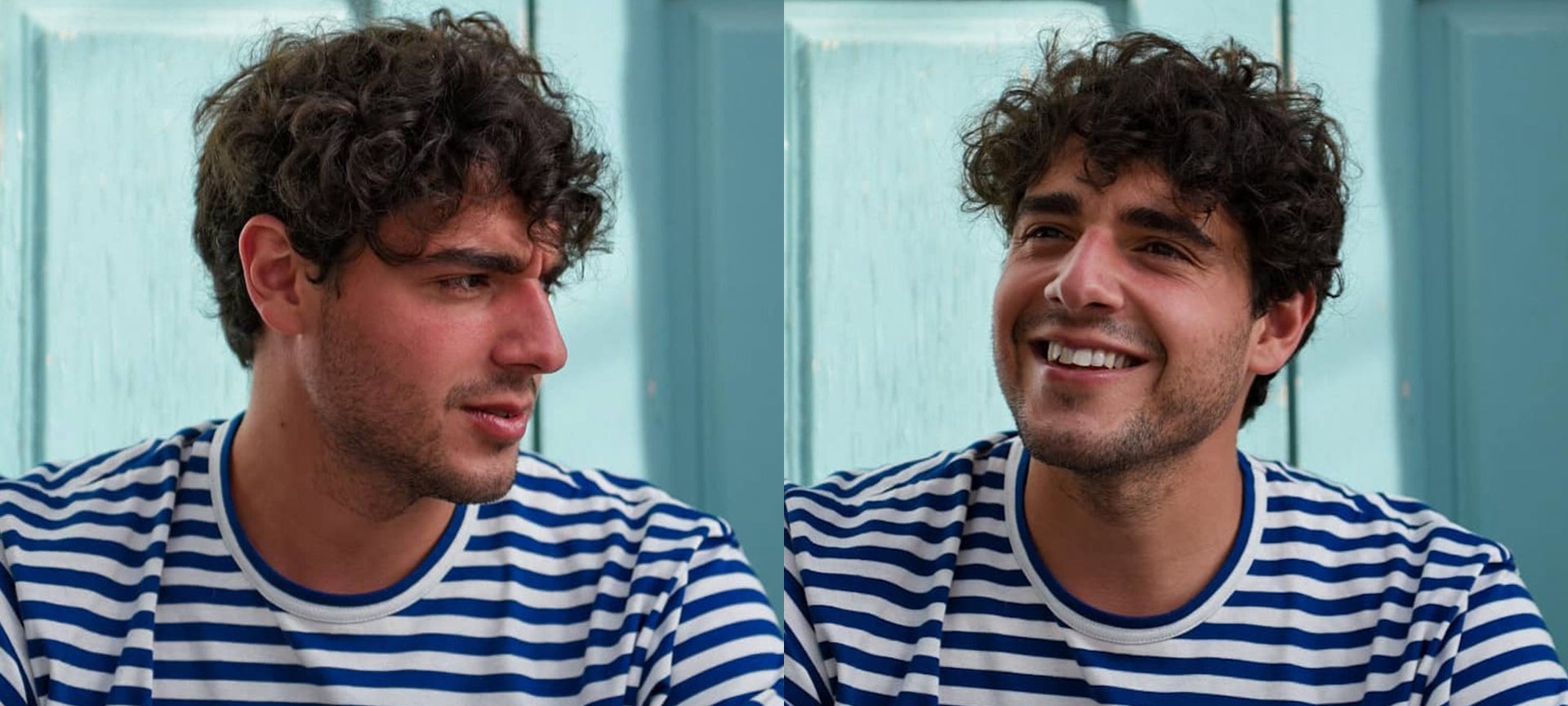 medium hairstyles
The Best Medium Length Hairstyles For Men
It's time for new hair, dude.
From shaggy to slicked back locks, medium-length hairstyles options for men are endless. This in between length is great because you can play with styles that aren't too long but also don't require you to rush to get a cut. Being in the middle never felt so good, has it ? Keep reading for eleven of our favorite haircuts and hairstyles for men and boys with medium-length hair.

Medium-length Hairstyle #1: Tousled Waves
Tousled tresses look completely effortless and require almost as little work as they appear to. Give your length a tiny trim to get rid of dead ends and start using a volumizing hair care system. Try the L'Oréal Paris EverPure Volume Shampoo and L'Oréal Paris EverPure Volume Conditioner. To style, spray damp hair with the L'Oreal Paris Advanced Hairstyle Curve It Curl Elastic Mousse, then twist pieces to create waves and obtain that perfectly imperfect look.

Medium-length Hairstyle #2: Slicked-Back Undercut
While undercuts are considered to be an edgy look, adding slicked-back strands into the mix gives it a polished appearance that's fit for almost any occasion on your agenda. This well-groomed men's hairstyle has a distinct line of buzzed hair beneath longer locks on top. Instead of letting your hair flow freely, apply a dollop of hair gel, like the L'Oréal Paris Studio Line Clean Gel to the lengths of your hair. Comb it straight back towards your crown so that it will dry into a super-sleek look.

Medium-length Hairstyle #3: Varying Layers
If you're a no-fuss kind of person, consider opting for long layers. Lengthy layers don't require a longer men's hairstyle—they just refer to adding multiple layers that are only slightly different in length. Layers can help add volume and body to any medium-length men's haircut and don't require constant touch-ups. Use a bit of texturizer to mess up your style, working the L'Oréal Studio Line Overworked Hair Putty through your strands for a messy, piecey effect.

Medium-length Hairstyle #4: Short Twists With An Undercut
Equal parts stylish and understated, this hair design allows you to flaunt your length at the top while keeping the back and sides of your head cut low for a play on angles. Part your hair into an inch-wide section, add a touch of hair gel and split into two equally-sized strands. Criss-cross both strands until you reach the ends and secure with a hair elastic.

Medium-length Hairstyle #5: Traditional Spiky Fringe
When it comes to keeping things classic, you can't go wrong with a traditional spiky fringe. This style creates a windblown look—sans the bad weather—for a style that enhances your facial features. It is also particularly flattering on men with square-shaped faces and defined facial features.

Medium-length Hairstyle #6: Classic Fade With Finger Waves
Faded hairstyles are always on-trend, but if you want to take your style up a few notches, finger waves are the perfect way to add definition to your look. Leave the sides of your hair faded and add a soft wave to the top with a dime-sized amount of hair putty. Rub the putty in your palms and work through the hair. You can even use a comb to create the wavy detail. Complete the look with L'Oréal Paris Elnett Precious Oil Satin Hairspray for a soft and shiny finish.

Medium-length Hairstyle #7: Slicked-back Straight
Switch your medium-length locks from shaggy to smooth with a little TLC and hair gel. Put some life back into those strands with a restoring shampoo and conditioner like the L'Oreal Paris Elvive Dream Lengths Restoring Shampoo and L'Oreal Paris Elvive Dream Lengths Super Detangling Conditioner. Next, slick still-wet strands back with a comb, and add in a gel for hold. Try the L'Oreal Paris Studio Line Clean Strong Hold Hair Gel for flexible control without stiffness or build-up.

Medium-length Hairstyle #8: Asymmetrical Curls
While you might be inclined to stick with what you know and avoid haircuts that are anything but even, there's no reason to fear asymmetrical styles. Leaving your hair longer on one side can be the perfect technique for adding volume and height to thin hair. Give natural curls an asymmetrical cut to create envy-inducing body, then shape and condition your new style using the L'Oréal Paris Elvive Dream Lengths Super Curls Cream Leave-In.

Medium-length Hairstyle #9: Long Quiff Haircut
A modern take on the pompadour, a quiff haircut is a tapered cut with extra, messy length on top. Requiring slightly less volume than the pompadour, a quiff haircut is perfect for guys looking for a low-maintenance—yet still totally on trend—hairstyle. To style this cut, use a light-hold hair gel or cream, like the L'Oreal Paris Studio Line Clean Strong Hold Hair Gel.

Medium-length Hairstyle #10: The Flat Top Cut
Ready to take your hair to new heights? The combo of a flat-top high with a tight side haircut is a great option. Great for medium lengths, this style is designed with a horizontal cut that allows your strands to stand upright for a distinct finish. It's oh so '90s! Since this look requires your hair to stay in place, we recommend using the L'Oreal Paris Studio Line Mega Extreme Hold Hair Gel.

Medium-length Hairstyle #11: The Surfer Undercut
Keep your length longer on the top with what we like to call the surfer undercut. To really sell the look, bleach the top of your hair for a totally sun-kissed vibe. Since this look requires bleaching, it's essential to take care of your color by using a color-safe shampoo and conditioner, like the L'Oréal Paris EverPure Blonde Sulfate Free Shampoo and L'Oréal Paris EverPure Blonde Sulfate Free Conditioner

Next: 7 Hair Care Tips for Men
Photo Credit: Leo Kharfan, IG/@leokharfan
{ "@context": "https://schema.org/", "@type": "WebPage", "speakable": { "@type": "SpeakableSpecification", "cssSelector": ["speakable-content"] }, "url": "https://www.lorealparisusa.com/beauty-magazine/hair-style/medium-hairstyles/best-medium-length-hairstyles-for-men" }
Shop Featured Hair Style products
Discover More
{ "@context": "http://schema.org", "@type": "BreadcrumbList", "itemListElement": [ { "@type":"ListItem", "position": 1, "item": { "@id": "/", "name": "Home" } } , { "@type":"ListItem", "position": 2, "item": { "@id": "https://www.lorealparisusa.com/beauty-magazine", "name": "Beauty Magazine" } } , { "@type":"ListItem", "position": 3, "item": { "@id": "https://www.lorealparisusa.com/beauty-magazine/hair-style", "name": "Find Your Next Hot Look" } } , { "@type":"ListItem", "position": 4, "item": { "@id": "https://www.lorealparisusa.com/beauty-magazine/hair-style/medium-hairstyles", "name": "Medium Hairstyles" } } , { "@type":"ListItem", "position": 5, "item": { "@id": "https://www.lorealparisusa.com/beauty-magazine/hair-style/medium-hairstyles/best-medium-length-hairstyles-for-men", "name": "best-medium-length-hairstyles-for-men" } } ] }