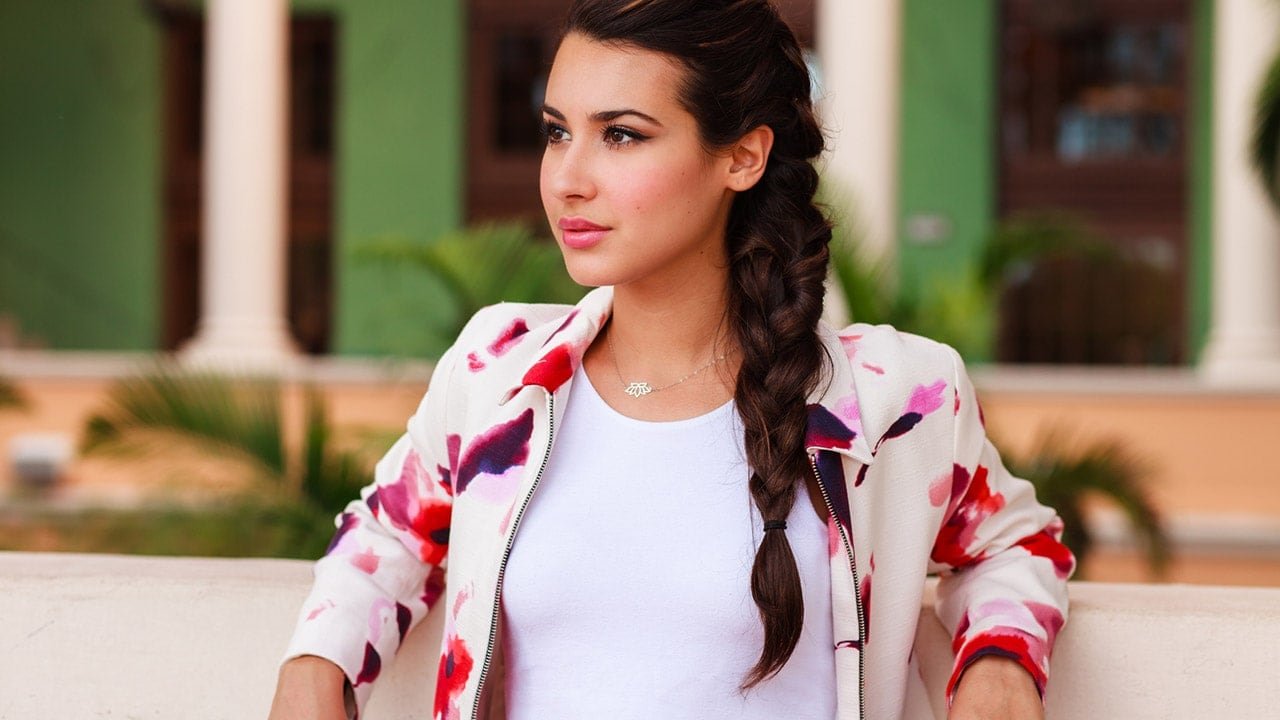 French braids are one of the most classic kinds of plaits—but creating one can be challenging. One thing's for certain though: the French braid hairstyle won't be going out of style any time soon. Whether you're going back to in-person work or having a socially distanced girls' night out, a French braid is fit for just about any occasion. So, if you want to learn how to create this type of braided hairstyle, you're in the right place. We're sharing step-by-step instructions for French braiding hair along with styling tips to take your French braid to the next level.
HOW TO FRENCH BRAID YOUR HAIR
Follow our step-by-step tutorial below to weave a classic French braid.
STEP 1: BRUSH YOUR HAIR
One of the most stressful parts of braiding is encountering tiny knots that cause you to have to start all over. To save yourself time and effort, remove any tangles with a brush before you begin braiding.
STEP 2: DIVIDE THE HAIR AT YOUR HAIRLINE INTO THREE SECTIONS
To give yourself enough length to work with, gather three small sections of hair at your hairline. Hold the right section in your right hand, the left section in your left hand, and the middle section between your thumb and forefinger of either hand.
STEP 3: MAKE YOUR FIRST STITCH
Begin your braid by crossing the right section over the middle section, followed by the left section over the right section, which is now really the middle section. Be sure to smooth each section as you go to prevent any lumps and bumps forming along the way.
STEP 4: ADD HAIR AS YOU GO
With each new stitch, add a little more hair into your braid. This is what will give your French braid that woven look. The woven look of a French braid differs from that of a Dutch braid because when creating a Dutch braid, the strands are woven over each other rather than underneath the middle piece. When creating a French braid, the middle section goes under the right and left sections.
STEP 5: REPEAT UNTIL THE ENDS
Continue this back and forth process all the way down to the ends of your hair. When there's no more hair to add to your braid, you can simply weave a traditional three-strand braid. Once you reach the ends, fasten your braid with an elastic.
STEP 6: PRACTICE MAKES PERFECT
When you have the directions in front of you, French braiding seems pretty simple, doesn't it? Now all you have to do is practice, practice, practice and you're sure to get the hang of it!
HOW TO ENHANCE YOUR FRENCH BRAID
If you want to learn how to make your French braid look even better, keep scrolling for a few super-simple ways to perk up your plaits.
1. ADD SOME VOLUME
If you want to add some volume to your French braid, use your fingers or comb to gently tug at each weave of your braid. When pulling, be sure to not tug too hard, as this can cause your braid to unravel. If in the process a strand or two pops out of place, don't stress. Slightly undone hairstyles are in these days. What's more, if you only want to pancake (that's what this technique is actually called) some weaves and not others, that's totally okay too. Effortless, undone braids are super chic and of the moment.
2. EMBRACE BOHO VIBES
If you love all things boho and you're looking for ways to add a touch of glam to your French braid, pick up a pack of hair rings. To incorporate these small rings into your French braid, slip one around a few strands of hair before moving between each stitch.
3. USE TEXTURE TO YOUR ADVANTAGE
One of the best ways to create an eye-catching French braid is to weave it on hair with lots of texture. That's because the added grit and texture can make it look effortless and beachy. Just spritz on the L'Oréal Paris Elvive Dream Lengths Air Volume Dry Shampoo before styling. Dry shampoo is great for adding volume and texture as well as soaking up any excess oil. If you want your braid to be more sleek and have a better hold, you can add a little bit of gel like the L'Oréal Paris Advanced Hairstyle LOCK IT Clean Style Gel to your hair to keep it in place.
Photo Credit: Alanna Martine Kilkeary
Next: 10 Jumbo Braided Hairstyles That Are Perfect For Any Season
{ "@context": "https://schema.org/", "@type": "WebPage", "speakable": { "@type": "SpeakableSpecification", "cssSelector": ["speakable-content"] }, "url": "https://www.lorealparisusa.com/beauty-magazine/hair-style/braid-hairstyles/how-to-french-braid" }
Discover more tips & tricks
Keep your skin happy
See all articles
{ "@context": "http://schema.org", "@type": "BreadcrumbList", "itemListElement": [ { "@type":"ListItem", "position": 1, "item": { "@id": "/", "name": "Home" } } , { "@type":"ListItem", "position": 2, "item": { "@id": "https://www.lorealparisusa.com/beauty-magazine", "name": "Beauty Magazine" } } , { "@type":"ListItem", "position": 3, "item": { "@id": "https://www.lorealparisusa.com/beauty-magazine/hair-style", "name": "Find Your Next Hot Look" } } , { "@type":"ListItem", "position": 4, "item": { "@id": "https://www.lorealparisusa.com/beauty-magazine/hair-style/braid-hairstyles", "name": "Braids Hairstyles" } } , { "@type":"ListItem", "position": 5, "item": { "@id": "https://www.lorealparisusa.com/beauty-magazine/hair-style/braid-hairstyles/how-to-french-braid", "name": "how-to-french-braid" } } ] }