all hair types
28 Natural Hair Trends Every Curly Girl Needs to Know About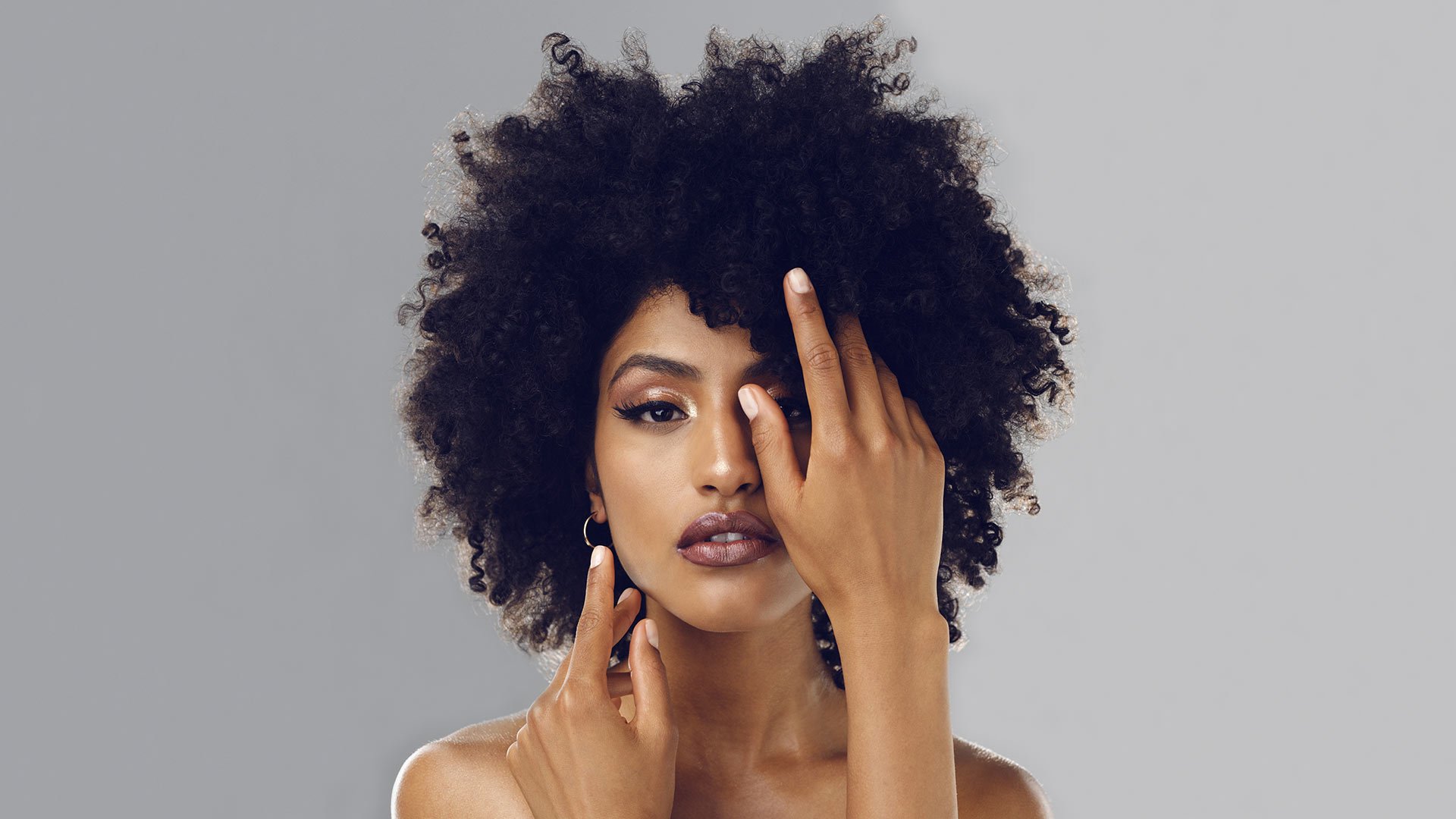 If you have natural hair, you likely make it a point to keep an eye on hairstyle trends and hair care tips designed with curly textures in mind. Since it can be hard for your locks to retain moisture—which can get in the way of your desired hairstyles—it's essential to lock down the hair trends that will complement your mane. Lucky for you, there is a myriad of options to choose from including, braid styles and moisturizing techniques, ensuring you'll find the right trend to give your strands the TLC they need. Ready to explore the world of natural hair care techniques and styles? Follow along as we give you the lowdown on 28 natural hair trends to add to your curly hair repertoire.
1. TEENY WEENY AFRO (TWA)
Want to call attention to your short strands? There is no better way to make your hair the star of your beauty look than with a teeny weeny afro (TWA). Just because your strands are short doesn't mean you can't flaunt major style. Jazz up your hair a bit with clips and other accessories for a standout look.
If you prefer a sleek option, simply slick down the front of your TWA with a hair gel, like the L'Oréal Paris EverCurl Sculpt & Hold Cream-Gel, to flatten volume and define your curls.
2. AFRO
If you're looking for a style that will showcase your texture in all its glory, a traditional afro will meet your standards. A great way to allow your curly strands to do their thing, this look is all about highlighting your natural texture for the ultimate carefree style. All you need to do to bring this look to life is wash your strands with a shampoo and conditioner formulated for curly hair, like the L'Oréal Paris Elvive Extraordinary Oil Curls Shampoo and L'Oréal Paris Elvive Extraordinary Oil Curls Conditioner. When your hair is completely dry, use an afro pick to achieve maximum volume.
Once or twice a week, you can also reach for a hair mask like the L'Oréal Paris Elvive Extraordinary Oil Curls Re-Nourish Mask to help nourish and redefine your curls for a bouncy afro.
3. SIDE FLAT TWIST WITH AFRO
Looking to add some personality to your afro? Feast your eyes on the side flat twist with an afro. This fabulous trend is all about playing up your natural texture while creating a beautifully woven headband out of your hair. To get the look, create a deep side part on one side of your head. Gather the parted section and split it into two parts and form a twist, making sure to add hair as you go. Once you reach the middle section of your head, secure the twist with bobby pins. Fluff your natural strands and top off the look with shine spray, like the L'Oréal Paris Elnett Precious Oil Satin Hairspray, to seal the deal.
4. BENTONITE CLAY
While your go-to natural hair care routine may come in handy to nourish your strands, sometimes your ringlets need extra care. One of the easiest ways to give them just that is to add bentonite clay to your wash sessions. Known to deeply cleanse and soften hair, it's no surprise that curly girls can't stop swooning over this hair care trend. Whether you use bentonite clay masks as a pre-poo treatment or a rinse, your hair will still reap all of the benefits. Head on over to our article, Bentonite Clay for Natural Hair is Trending, for more information.
5. MOHAWK
Down to take a walk on the bold side with your curly mane? Let your curls do all of the talking with a mohawk. Equal parts versatile and chic, this hairstyle is super easy to maintain, making it a standout pick for minimalists. Simply ask your stylist to shave down the sides of your hair, leaving length and volume in the middle of your head. Comb the remaining hair, apply a curl-taming cream like the L'Oréal Paris Advanced Hairstyle CURVE IT Elastic Curl Mousse, and you can be out the door and on your way.
If you're not one to shy away from color, take your mohawk to the next level with temporary hair color from the L'Oréal Paris Colorista Hair Makeup Temporary 1-Day Hair Color or L'Oréal Paris Colorista Hair Makeup Temporary 1-Day Hair Color Spray lines.
6. FAUX HAWK
Speaking of bold natural hair trends, it's only right that we put the faux hawk on your radar, too. This rocker-inspired 'do offers the perfect amount of edge and sass for a hairstyle that will turn heads with ease. To get the look, simply apply a small amount of hair gel, like the L'Oréal Paris Studio Line Clean Gel, on one side of your mane. Brush your hair toward the middle of your head and secure with bobby pins. Repeat on the other side, and your trendy look is complete.
7. FAUX LOCS
Another natural hair trend that's gaining major traction in the beauty world? Faux locs. An easy pick for curly girls who love protective styles, faux locs consist of braiding your natural hair, then wrapping additional hair around the braid from the root to ends to create a style that resembles locs. This is a great option for test driving the look if you've ever considered getting permanent locs.
8. BANTU KNOTS
There is something extra special about Bantu knots. Not only does this style give you gorgeous mini buns to flaunt, but it also helps to keep your curly strands stylishly tucked away. To get the look, part your hair into an inch-wide section, then roll and twist the hair so that it winds on top of itself to create a mini knot. Once you get to the end of the rolled section, tuck it under the knot and secure with a hair elastic. Repeat all over your mane.
If you find yourself struggling to achieve the look, head on over to our article, How to Do Bantu Knots for a step-by-step tutorial.
9. BANTU KNOT OUT
In the mood to give your curls a tighter and more defined look? Well, now is the perfect time to get acquainted with Bantu knot outs. After rocking Bantu knots, simply unravel your mini buns to reveal deliciously defined texture. It's just that easy—in other words, it's a curly-haired girl's dream!
10. LOC METHOD
There's no denying that it can be hard for your curly locks to retain moisture. If it feels like you've tried everything under the sun to no avail, it may be time to try your hand at the LOC method. This natural hair technique involves applying a liquid (or leave-in conditioner), oil, and cream to your strands, in that order, to help lock in moisture. Natural hair gurus can't get enough of this technique, so it's easy to see why this trend shows no signs of slowing down. Head on over to our article, LOC Method: Moisturizing Hair Care for Natural Hair for all of the details.
11. LCO METHOD
If you find that the LOC method is not the right choice for your curly strands, there is another variation of the trendy technique that can do your curly strands justice: the LCO method. This technique switches things up by using a liquid or leave-in conditioner, cream, then oil to provide your strands with long-lasting moisture. Sounds like a natural hair trend you'd like to try? Check out our article, Your Guide to the LCO Method, to see if it's right for you.
12. TWIST OUT
Wavy hairstyles your forte? If so, you may need to add the signature twist out to your must-try list! This popular style consists of installing twists throughout your hair, letting them sit overnight, and unraveling in the morning to reveal a gorgeous wavy pattern. Learn how to master the trend with our article, How to Do a Twist Out on Natural Hair.
13. LACE FRONT WIG
There's no shame in wanting to give your curly strands a break from everyday styling. After all, being able to pare down your morning routine is a win in and of itself. If protective styles are your calling, you can't go wrong with jumping on the lace front wig bandwagon. Designed to give you the ability to experiment with various cuts, hairstyles, and trendy hair colors, this style is just what you need to shake things up in the natural hair department. Head on over to our article, How to Install a Lace Front Wig, for a whole new you.
14. U-PART WIG
Now that wigs have entered the natural hair trend chat, you may want to give U-part wigs a chance. Another fabulous way of experimenting with different styles and textures, this look allows you to incorporate your own hair for a natural-looking hairline. You also have free reign to remove a U-part wig unit as you please, which gives you more access to your hair for easy wash days. Ready to see what all the hype is about? Check out our article, How to Wear a U-Part Wig, for the ultimate master class.
15. MAXIMUM HYDRATION METHOD
One thing we love about natural hair trends is learning different ways to shower your strands with moisture. One of our favorite techniques is none other than the maximum hydration method. Designed with low porosity hair in mind, this method consists of a five-step routine, which includes using the cherry lola treatment, to welcome a mix of nourishing ingredients to your strands and boost moisture. Read our article, Your Guide to the Maximum Hydration Method to learn how to amp up the hydration.
16. PINEAPPLE
If flat curls are the bane of your existence, you need to try the pineapple trend on for size. Pineapple hairstyles work double-duty to keep your curls in place while adding plenty of style to your look. Best of all, you can craft this hairstyle in just a few minutes. All you need to do is gather your curly strands into a super-high ponytail, secure with a hair elastic, and position your strands so they fall forward over your forehead. Fluff your curls and voila!
17. HIGH PUFF
In the mood to add some serious height to your curls? Look no further than a high puff hairstyle. The true epitome of a carefree style, you can pull this updo together in little to no time. Perfect for tightly coiled and curly hair textures, this look will make you fall in love with your mane all over again while highlighting your gorgeous features. Add a touch of hair gel to your roots and brush your strands toward the top of your head. Gather your mane in a high ponytail, secure with a hair tie, spritz on a bit of shine spray, and you're as good as gold.
18. WASH-AND-GO
Calling all low maintenance hairstyle lovers! The wash-and-go look may be your perfect match. A great way to rock your natural curl pattern, this style is all about keeping things simple and stylish. It also works wonders to protect your hair from breakage and dryness. Head on over to our article, 19 Wash-and-Go Hairstyles for Low Maintenance Hair, to transform your strands.
19. NATURAL CURLS
It truly doesn't get much better than a mane full of natural curls. Flaunting your natural curls requires very little styling product, just a touch of curl mousse to help them spring into action. Start by washing your strands with the L'Oréal Paris EverPure Moisture Shampoo and L'Oréal Paris EverPure Moisture Conditioner. Follow up with an egg-sized amount of mousse, scrunch your strands, and call it a day. As a result, you'll have soft and bouncy curls to play with!
20. TAPERED CURLS
A little curly hair detailing never hurt anybody! Tapered curls have become one of the hottest natural hair trends for short hair. This look adds shape and structure to your mane for a polished look. Like other minimalist styles, all you need is curl mousse to create this look. Use an egg-sized amount of mousse, scrunch evenly throughout your strands, and let air dry.
21. CURL SPONGE
Attention short-haired baddies! If you're struggling to give your strands the curly, defined look you desire, it may be time to switch things up on the hair tool front and use a curl sponge. Featuring holes and grooves, curl sponges are great for enhancing curls, coils, and twists with ease. All you have to do is rub the side of the sponge that's textured over the top of your mane, moving it in circular motions to create definition. Sounds like a tool that deserves a spot in your collection? Head on over to our article, How to Use a Curl Sponge to Style Natural Hair.
22. CORNROWS
Want to grow out your curly strands? A gorgeous set of cornrows will do the trick. This trendy style allows you to flaunt a beautifully woven pattern while keeping your strands out of your face—a win-win if you ask us! Start by gathering a one-inch section of hair starting at your hairline, then split the section into three even pieces. Braid your hair using an underhanded method and add more hair to each strand as you continue to braid. Once you reach your neck, continue braiding normally down the length of your hair before securing with a clear elastic. Repeat this process until you have a full head of cornrows.
23. LOW TEXTURED BUN
If you're looking for swoon-worthy natural hair trends, you'll love a low textured bun. This hairstyle works to highlight your texture while giving you a polished and put-together look. Add an egg-sized amount of curl mousse to damp strands, scrunch, and let air dry. Once your hair is fully dry, gather it into a low ponytail. Wrap the length of the ponytail around its base to form a bun. Secure with bobby pins and finish the look with a misting of shine spray.
24. BOX BRAIDS
Box braids are the gift that keeps on giving. Perfect for any length of hair, this style is another pick that adds a versatile touch to your look. Whether you're in the mood for a half-up hairstyle, an updo, or prefer to let your braids hang free, the options are limitless with box braids. Check out this step-by-step tutorial: How to Create Box Braids.
25. KNOTLESS BOX BRAIDS
Let's stick with braids a little bit longer. Knotless box braids are a foolproof choice if you prefer braids that are not too heavy on your scalp. Knotless box braids are similar to regular box braids, but this trend incorporates the feed-in braid technique to give your braids a flatter appearance. Read our article, What Are Knotless Box Braids?, to create this on-trend style.
26. CROCHET BRAIDS
Another one of our favorite natural hair trends? Crochet braids! Crochet braids refer to the style in which hair extensions are woven into your braided hair. First, your hair is braided in cornrows. Then, the hair extensions are crocheted into your cornrows using a latch hook tool. The style may seem a bit intimidating, but the results are worth it. We also love that this option is an excellent match for those who may not want to risk damaging their hair with clip-ins. Head on over to our article, 5 Crochet Braids Hairstyles You'll Love for inspiration.
27. PASSION TWIST
When it comes to growing out your curly hair without the fuss, the passion twist hair trend fits the bill. A nice change of pace from braided looks, this trend helps you flaunt a gorgeous two-strand twist look that amps up your texture for a winning hairstyle. So, it's no surprise that this trend continues to be a top pick for natural hair lovers. Check out our article, How to Get a Passion Twist Hairstyle, to liven up your 'do.
28. FULANI BRAIDS
Last but certainly not least, we have Fulani braids. This style features a cornrow braid down the center of the head, as well as one cornrow along each side of your head that's braided from the back to the front with additional braids styled around the perimeter of your head. Ideal for those who want to elevate their braid game, this trend offers the stylish twist you need. Here are 11 Trendy Fulani Braid Hairstyles for 2020 to give a try.
Discover more tips & tricks
Keep your skin happy
See all articles
Shop Featured Hair Care products
Discover More