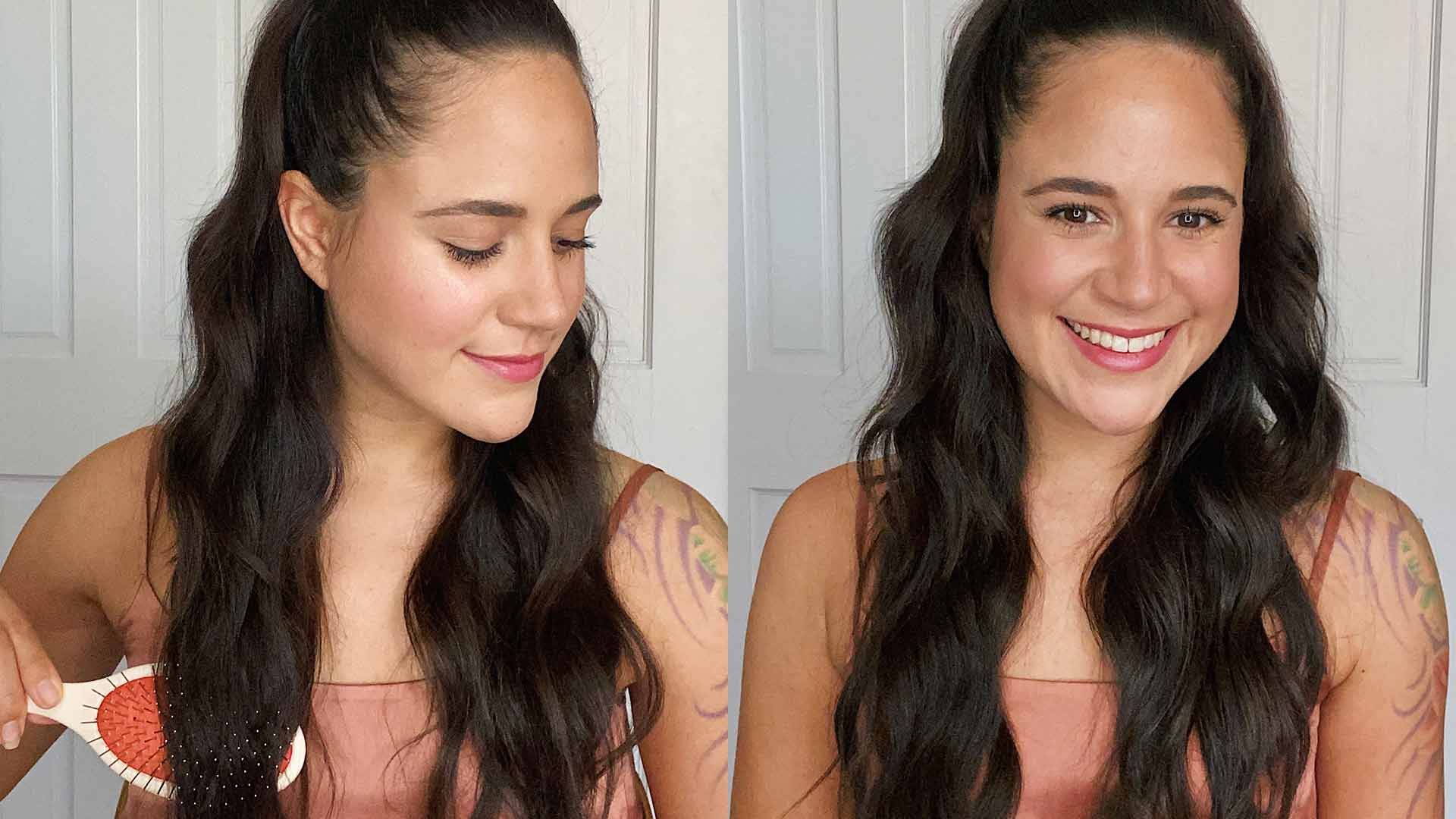 We all love the look and ease of short hair, and would never miss an opportunity to indulge in a #shorthairdontcare selfie moment. But if you find that after a big chop or a full year of the pixie you begin to miss your long locks, you could end up in an endless Google search on how to grow your hair back quickly. But with so much information to sift through, it's easy to get overwhelmed in a whirlwind of open tabs, myths, and scientific terms you can't even pronounce. Want to cut to the chase? Below, we're sharing the truth about how to grow hair faster, whether vitamins for hair growth and strength are the real deal, along with hair care tips to promote a long, healthy mane.
CAN YOU GROW YOUR HAIR FASTER?
Whether it's on social media or you're hearing it while in the salon chair, there are so many thoughts on what to use to grow your hair. But how do you know what's true and what's just old wives tales? There's been research—including a study from the National Center for Biotechnology Information (NCBI)—that certain herbs and vitamins can promote hair growth, though more research needs to be done to verify their effect. Bummer, right? Well, not exactly. According to the American Academy of Dermatology (AAD), your hair grows about six inches a year, meaning you have about half an inch of hair growth a month—which is not a bad start! But overall, your best bet for fast hair growth is to follow a healthy hair care routine.
DO HAIR GROWTH VITAMINS WORK?
You've likely heard about vitamins for hair growth and strength, but do they really work? Biotin, a B vitamin, is one vitamin that's no stranger to the beauty world. According to the National Institutes of Health (NIH), biotin is an essential nutrient in our bodies, and biotin deficiency can actually be a cause of hair loss and hair thinning. This is why biotin supplements are often associated with promoting hair growth, though the NIH states that there are only a few small case reports and studies to support that claim.
There are other vitamins your body may lack that may lead to hair loss. A study from the NCBI found that zinc and iron supplements in deficient patients can result in hair growth, though it's important to keep in mind that too much of these vitamins can cause toxicity, which in some cases may actually cause hair loss. Long story short? If you have a biotin, zinc, or iron deficiency (including anemia), taking these supplements might help support hair growth, but you'll want to consult with a doctor to make sure you're taking the right amount. If your vitamin levels are fine, stick to a hair care routine that will help maintain healthy-looking tresses as they grow.
5 TIPS FOR HAIR GROWTH
You can put these tips to use to help grow strong and healthy tresses no matter what length you desire.
HAIR GROWTH TIP #1: START WITH SCALP CARE
Healthy hair starts with a healthy scalp. According to the Cleveland Clinic, endocrine disorders can be the cause of hair that's falling out from the roots. But a lack of proper scalp care can also stifle hair growth. Incorporating a scalp targeting product to your wash routine can help you care for the skin up there. Reach for the L'Oréal Paris EverPure Sulfate-Free Scalp Care + Detox Scrub before your shampoo and conditioner to clear away excess oil, dirt, product build-up and other impurities from the scalp.
HAIR GROWTH TIP #2: USE A STRENGTHENING HAIR CARE SYSTEM
Consider swapping your usual shampoo and conditioner for a system that promotes strong strands, like the L'Oréal Paris Elvive Dream Lengths Restoring Shampoo for Long, Damaged Hair and L'Oréal Paris Elvive Dream Lengths Conditioner for Long, Damaged Hair. Together, the duo helps to strengthen long, damaged hair and help seal split ends, protecting your length.
Another hair care system worth trying? The L'Oréal Paris EverPure Sulfate Free Bond Strengthening Color Care Shampoo and L'Oréal Paris EverPure Sulfate Free Bond Strengthening Color Care Conditioner, which strengthens hair from the inside out by reinforcing weak hair bonds. Each product is great for colored, damaged or bleached hair that needs replenishing.
HAIR GROWTH TIP #3: TRIM REGULARLY
Think it's counter-productive to cut your strands if you're trying to grow them out? Think again. In order to promote healthy hair growth, go for regular trims—a common recommendation is every eight to twelve weeks.
HAIR GROWTH TIP #4: USE A SPLIT END TREATMENT
It's hard to grow your hair out when pesky split ends are playing defense against your progress. So using a treatment that fights split ends and other types of damage are key for your long hair goals. Try the L'Oréal Paris Elvive Dream Lengths No Haircut Cream Leave In Conditioner, from the Dream Lengths line. This treatment helps seal split ends and prevent heat damage from styling with its 450-degree heat protection so you can save every inch!
You can also try the L'Oréal Paris Elvive Total Repair 5 Damage Erasing Balm Rinse-Out Treatment to conditioner and reinforce previously damaged hair while also strengthening and protecting it from future damage.
HAIR GROWTH TIP #5: ROCK PROTECTIVE HAIRSTYLES
Protective hairstyles do just as their name suggests—protect your strands from constant styling, manipulating and elements in the environment that could potentially damage your hair. Damaged hair can slow down your hair growth, so keep your locks protected by throwing your mane into a protective hairstyle some of the time. Just ensure that you're maintaining the delicate hair along your hairline and choosing low tension styles so that your protective style is actually protecting your hair.
Photo Credit: Jasmine Burnside
{ "@context": "https://schema.org/", "@type": "WebPage", "speakable": { "@type": "SpeakableSpecification", "cssSelector": ["speakable-content"] }, "url": "https://www.lorealparisusa.com/beauty-magazine/hair-care/all-hair-types/how-to-grow-hair-faster" }
Discover more tips & tricks
Keep your skin happy
See all articles
Shop Featured Hair Care products
Discover More
{ "@context": "http://schema.org", "@type": "BreadcrumbList", "itemListElement": [ { "@type":"ListItem", "position": 1, "item": { "@id": "/", "name": "Home" } } , { "@type":"ListItem", "position": 2, "item": { "@id": "https://www.lorealparisusa.com/beauty-magazine", "name": "Beauty Magazine" } } , { "@type":"ListItem", "position": 3, "item": { "@id": "https://www.lorealparisusa.com/beauty-magazine/hair-care", "name": "All Things Healthy Hair" } } , { "@type":"ListItem", "position": 4, "item": { "@id": "https://www.lorealparisusa.com/beauty-magazine/hair-care/all-hair-types", "name": "All Hair Types" } } , { "@type":"ListItem", "position": 5, "item": { "@id": "https://www.lorealparisusa.com/beauty-magazine/hair-care/all-hair-types/how-to-grow-hair-faster", "name": "how-to-grow-hair-faster" } } ] }