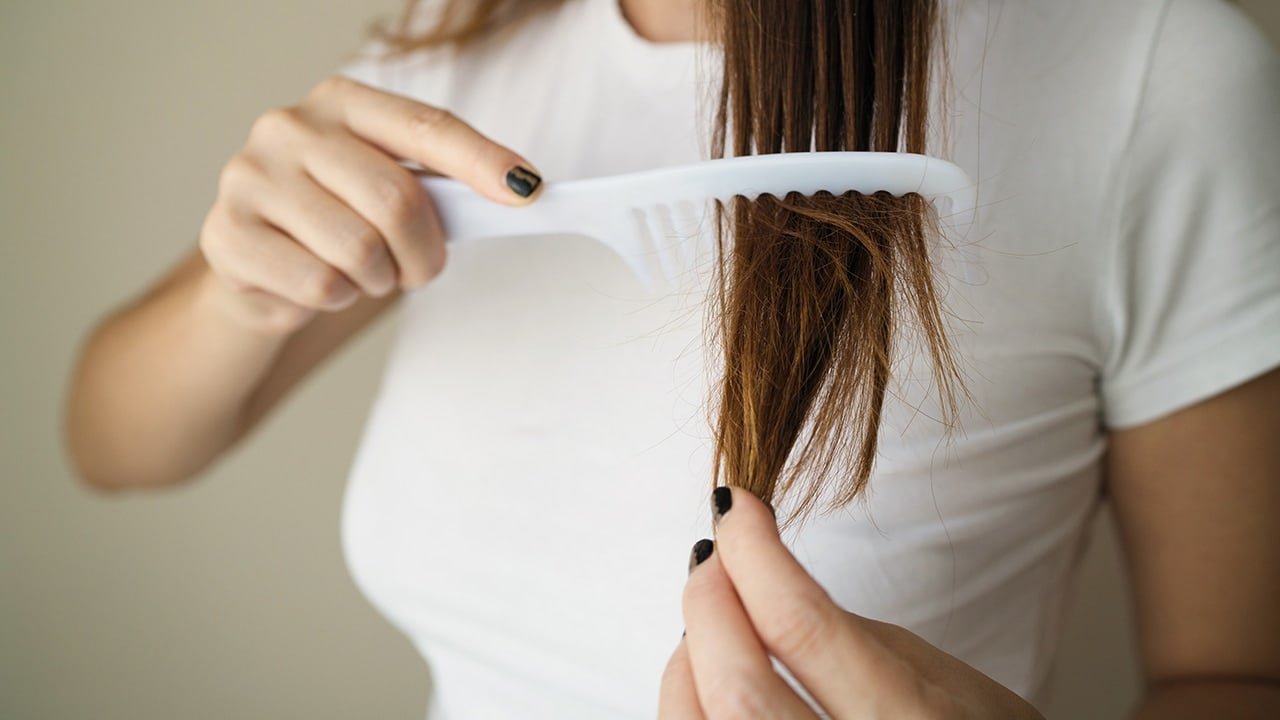 all hair types
How Much Can Hair Grow in a Month?
How fast does hair grow? Good question! We've all been there, questioning whether our hair will ever grow out, after falling victim to a haircut disaster or thinking short hair was for us—only to instantly miss having long hair. It's easy to become impatient over the idea of waiting months for your strands to grow—no doubt resulting in the search for ways to grow hair faster. Does your recent Google search history include "how much does hair grow in a month" and other questions about growth? In that case, you've come to the right place. Read on to find the answer to one of the most popular hair growth queries, then soak up a few tips and tricks to upgrade your hair care routine in 30 days or less.
HOW FAST CAN HAIR GROW IN A MONTH?
Believe it or not, hair grows relatively fast. According to the American Academy of Dermatology (AAD), the only part of your body that grows faster than your hair is bone marrow—AKA the soft stuff inside your bones. So, how fast is fast? The AAD states that the hair on your head grows about six inches a year, meaning each month your hair grows approximately half an inch. Of course, what that growth looks like is dependent on your hair type. If you have curly hair, half an inch of growth will likely be much less noticeable than half an inch of growth on straight hair, due to its texture.
Editor's note: Learn more about the relationship between hair length and hair type in our article, Our Hair Length Chart: Understanding Hair Length and Type.
HOW TO UPGRADE YOUR HAIR CARE ROUTINE IN A MONTH
While your hair can only grow so fast within a month, there are steps you can take in your hair care routine to achieve your most beautiful mane in the same timeframe. Yes, upgrading your hair care routine over the course of the month can make a serious difference in the appearance of your strands! Wondering how? Take note of the tips below for a mane makeover in right around 30 days.
HAIR TIP #1: SWITCH UP YOUR SHAMPOO AND CONDITIONER
While you may have a holy grail shampoo and conditioner, switching up your go-to options can give your strands the boost they need. Not to mention your hair's needs likely change over the course of the year, depending on the season. So, swap your usual shampoo and conditioner for a new duo to use over the course of the month.
HAIR TIP #2: SHOW EXTRA LOVE WITH A DEEP CONDITIONER
Everyone deserves a little TLC—including your hair. Our favorite way to do just that? Deep conditioning! When you notice your hair could use some extra love, switch your regular conditioner for a daily deep conditioner. Choose from the L'Oréal Paris Elvive Extraordinary Oil Rapid Reviver Deep Conditioner, L'Oréal Paris Elvive Total Repair 5 Rapid Reviver Deep Conditioner, or L'Oréal Paris Elvive Color Vibrancy Rapid Reviver Deep Conditioner, making your pick based on your hair's needs.
HAIR TIP #3: TREAT YOUR STRANDS TO A HAIR TREATMENT
Another way to pamper your hair is by using a hair treatment. Give the L'Oréal Paris EverPure 10-In-1 Elixir, which delivers 10 benefits in one product including smoothness, hydration, and shine, a try.
HAIR TIP #4: TAKE A BREAK FROM HEAT STYLING
While there's no denying that hot tools offer a totally stunning way to style hair, taking a break (especially a month-long one) can make a big difference in the appearance of your strands. After all, excessive heat damage can lead to split ends and breakage. Give your hair a break from heat styling for a month and bask in the difference it makes in the health and appearance of your hair. Of course, just because you give up heat styling doesn't mean you have to give up on beautifully styled hair. Rather, use a heat-free styling option, like the L'Oréal Paris Advanced Hairstyle AIR DRY IT Wave Swept Spray, which will leave you with effortless, heat-free waves.
Next up: Get a lesson on the structure of hair in our article, What is Hair Made Of?
Discover more tips & tricks
Keep your skin happy
See all articles