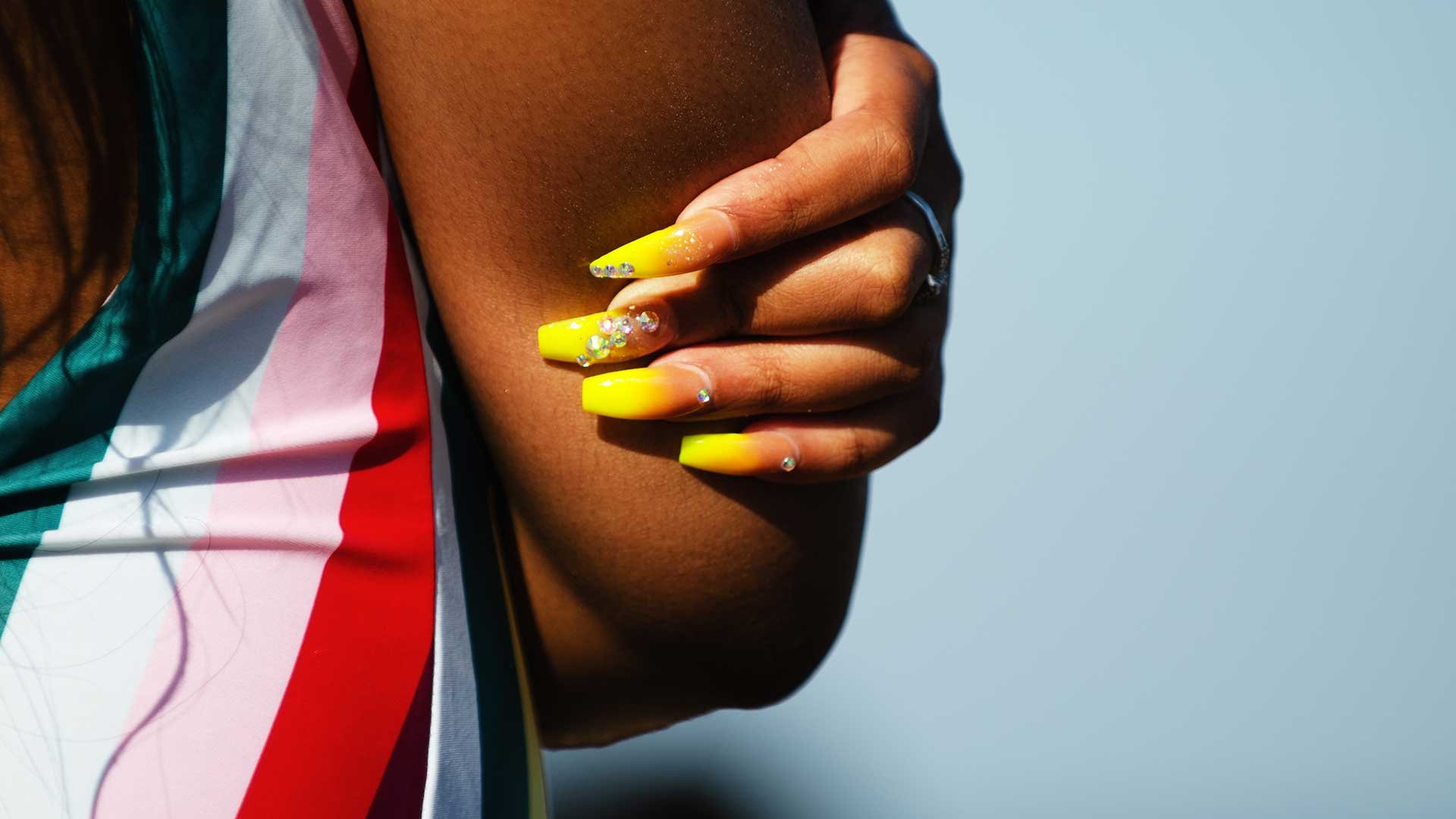 beauty trends
16 Nail Colors That Pop Against Dark Skin
It's no secret that your skin tone plays a large role in helping curate the perfect beauty look. From finding your most flattering hair color to determining your ideal skin care routine, your complexion is a factor you should always consider. This also extends to your nails! Yup, there are nail colors for dark skin that just so happen to look particularly stunning against a deep complexion. That's why Black girl nails trend on Pinterest. Interested in learning more? Read on to find your ideal mani with these 16 ideas for nails for dark skin.
#1. COBALT BLUE
Bold, bright colors look amazing on dark skin tones—whether we're talking makeup, clothes, or nails. For a royal manicure, consider giving cobalt blue nails a try. We particularly love this look during the spring and summer months, but it can be worn at any time of year! To spice things up, play with a lighter shade of blue, water, and a toothpick to create an intricate blue marble nail design.
#2. CREAM
We love a beauty look that's full of contrast, and manicures are no exception. One of our favorite nail colors for dark skin is cream. Unlike your fair-skinned friends, a light cream nail polish won't wash out your skin tone. Rather, it'll emphasize the deep, rich tones of your complexion. Plus, this neutral manicure option will match any outfit. Need we say more?
#3. JELLY NAILS
Want a fun and trendy nail design to try? Look no further than jelly nails! This look involves wearing see-through acrylics in bright colors that will beautifully pop against your deep complexion. Learn everything you need to know about the trend—including how to get it—in our article, Jelly Nails Are Our New Favorite Nail Trend.
#4. TAUPE
As far as fall nail colors for dark skin go, taupe is at the top of this list. This brown-meets-gray color will create contrast against your deep skin tone similar to cream nail polish but subtler. Consider pairing it with a gold glitter accent nail for a touch of glitz.
#5. BRIGHT ORANGE
Can you tell bold nail colors are a dark-skinned gal's best friend? When it comes to vibrant colors, you can't go wrong with bright orange. This is another color that tends to wash out those with pale skin, but if you have dark skin, it'll only highlight your rich tone!
Editor's note: Whichever Black girl nail look you choose, make sure to keep your hands hydrated. Dry hands can put a serious damper on your trendy mani! Keep the L'Oréal Paris Age Perfect Hydra Nutrition Manuka Honey All Over Balm - Face, Neck, Chest and Hands in your bag for on-the-go moisturizing whenever you need.
#6. MODERN FRENCH MANICURE
A simple French manicure looks great on dark skin, but if you want to take things up a notch, we recommend giving the modern French manicure a try. There are actually quite a few takes on this nail trend, and all of them are a simple and polished option for your dark skin.
#7. CHOCOLATE
Monochromatic makeup is continuing to have a moment in 2020. To translate the trend into your nail look, consider using chocolate nail polish in a shade that closely resembles your skin tone for a seamless manicure. While chocolate nails won't literally pop against your skin, their likeness will make a statement of its own.
#8. BABY PINK
As with bright, bold shades, soft pastels also create a beautiful contrast against dark skin tones. Try a pretty in pink nail look with baby pink polish. You can even rock a half-and-half baby pink and nude accent nail for some subtle detail.
#9. BURGUNDY
Another fall nail color for dark skin, burgundy is a deep and powerful shade for the colder months of the year. Pair it with a gold or silver metallic accent nail for a manicure that's ready for the holiday season.
#10. TIE-DYE NAILS
Are you a fan of trying the latest nail trends? You'll be happy to hear that tie-dye nails are oh-so-pretty against a deep complexion. A mix of rainbow colors truly pops against dark skin tones like no other and is perfect for those who like the experiment with their nail look. To DIY it, here's How to Do Tie-Dye Nails.
#11. GRAY
Whether you prefer light gray or charcoal, varying shades of gray are a great option for dark skin tones. Light gray will create a neutral contrast against your deep skin, while charcoal will further emphasize its dark tone. Consider combining the two shades into a two-toned gray manicure for the best of both worlds!
#12. RUST
If you love the idea of an orange manicure but want something that's more suited for the colder seasons, look no further than rust nails. One of our favorite fall nail colors for dark skin, rust has been having a moment in so many areas aside from nails—from lips to corduroy jackets.
#13. LILAC
Another pastel hue we're huge fans of, lilac is a beautiful nail color for dark skin during the spring and summer months. Oh, and remember that modern French manicure we talked about earlier? Instead of painting your nails a full coat of lilac, try creating lilac French tips in place of the traditional white.
#14. PASTEL RAINBOW
There's no denying light, soft shades are striking against dark skin tones. If you're torn between the pastel hues we've mentioned thus far, we're here to let you know that you don't have to choose. Instead, rock a different pastel shade on each nail for a fun, colorful pastel rainbow manicure. Don't forget to snap a picture for Instagram!
#15. WHITE
A classic option, white makes for a foolproof and timeless nail look. The crisp, clean shade will contrast against your deep skin without overpowering, allowing you to play with color elsewhere should you desire.
#16. NEON YELLOW
You can't get much brighter than neon yellow, and that earns it major points. Fluorescent yellow acrylic nails will certainly draw attention, in the best way possible. Our favorite way to take this look to the next level is with an ombré nail design, fading from neon yellow to nude. Going from the brightest hue to the most neutral makes for the perfect juxtaposition.
Discover more tips & tricks
Keep your skin happy
See all articles