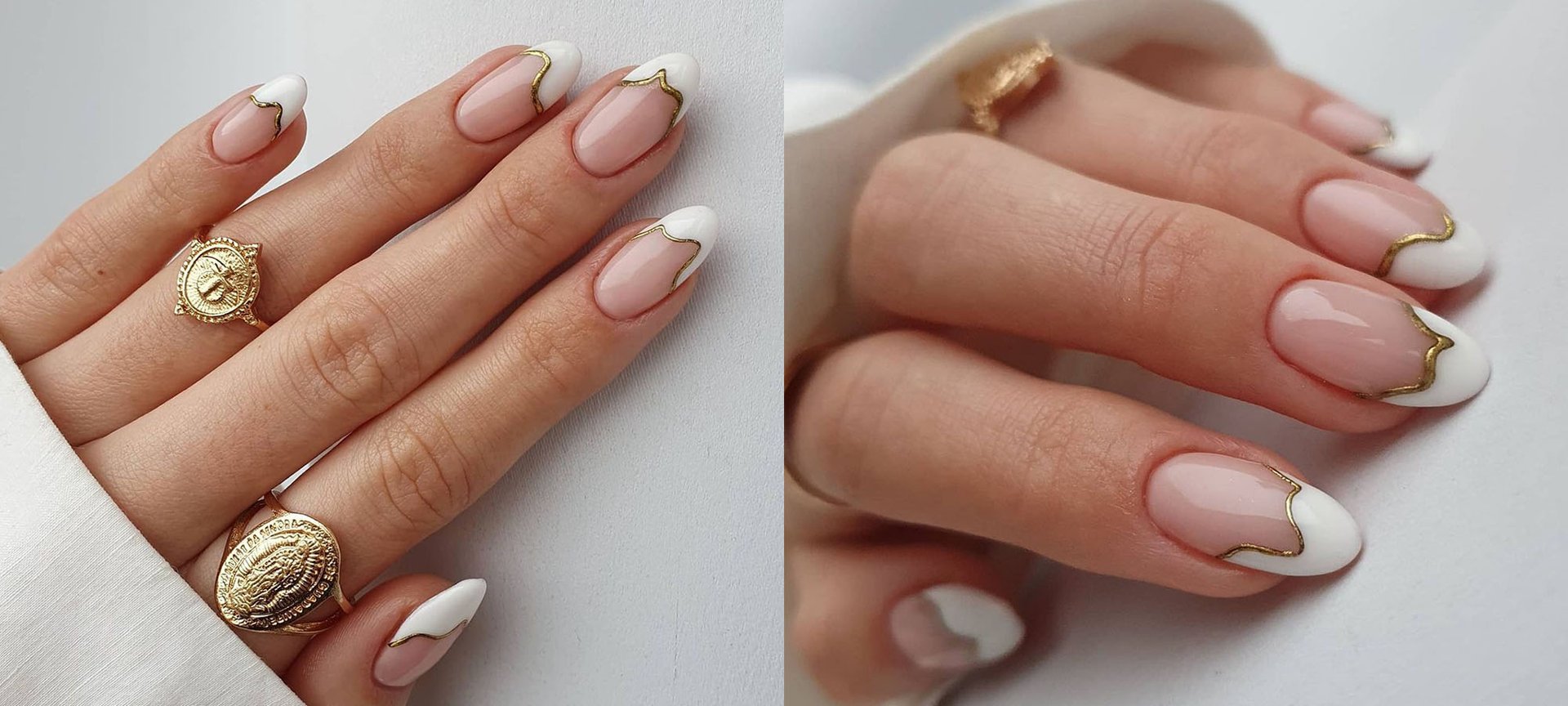 beauty trends
12 Manicure Ideas That Are For Perfect A Bride
Move over French tips, these designs are nailing it.
When it comes to her wedding day beauty, any bride will tell you that it doesn't just stop at hair and makeup. You want your shoulders to sparkle, your legs to shimmer (yes, even underneath your gown) and of course, you want your nails to look amazing too. The bridal manicure is a key element that pulls your look together—it's a big focus when it comes to the ring exchange, cake cutting and it's a highlight in all your wedding photos. So it makes sense why nailing the perfect manicure for your special day might be top of your list. Here, we've rounded up some manicure ideas to help you complete your wedding day beauty look. Move over classic French manicure, these designs are sure to be crowd pleasers.
1. Crystal Embellishments
Whether you love the simple look of one crystal at the base of your nail, or you prefer an all-over embellished accent nail, you can't go wrong with some stunning bling. Your crystals will catch the light wonderfully in all your photos as you exchange your I dos.
2. Silver Metallic Polish
Keeping it simple doesn't mean you have to skimp on impact. Try a vivid silver nail polish since metallics go well with all things white and luxe. Add a design like contrasting gold stars or hearts to take this style up a notch.
3. Crushed Glitter
Think disco ball chic meets a neutral base and you've got the perfect manicure for your bridal beauty. While this look might be a bit daring for a super-traditional bride as nails go, it's the perfect look for someone who wants to add some spice to her look in a subtle way. Fill the entire nail or go halfway up, or keep the design concentrated to the center for a geometric take on it.
4. French Manicure With A Twist
Okay, so we couldn't really leave this timeless option off the list completely—it's just too perfect for a bridal manicure. Give the classic French manicure a modern twist by changing up the base, adding gold to the tips, or giving the shape a new spin. Either way it's sure to be chic and romantic, just like the rest of your day!
5. Crystal Reverse French Manicure
Speaking of twists on the French mani, this look is so stunning we had to single it out as a must-have for a bride-to-be. Equal parts edgy and elegant, the crystal reverse French includes gorgeous half moon-shaped ornamentation near the cuticle. Have your nail tech place as many (or as little) crystals onto each nail until you get your desired effect.
6. A Pastel Manicure
Pastels are soft, feminine and generally very lovely so they make for a great bridal manicure. Whether you prefer pink, coral, blue, green or a lilac manicure, there's a pretty pastel out there for you. It all depends on your style (well, your dress) but if you can't decide which shade is right for you, a pale pink is always a very enchanting way to go.
7. White Florals
A white manicure looks polished and elegant any day of the week, so it's especially fitting for your wedding day. It works even if your dress isn't white. To give it that true wedding feel, paint white flowers onto a neutral base to mimic the look of a beautiful bridal bouquet.
8. Matching Bouquet
If your bouquet is filled with vibrant colors, try a manicure that matches. Whether your dress is white, blush or a champagne color, red, green, blue and purple flowers will not only match your style, but they'll remind you of your distinct bouquet every time you gaze upon your nails.
9. Nude Almond-Shaped Nails
When it comes to simple nails that scream wedding day luxe, nude nails are a big go-to. And when done in an almond-shape, they have the grace and charm that every bride wants associated with her special event.
10. Copper Squoval
If you're looking for opulence that can also be understated, try copper nail polish in a squoval shape. On its own the pretty hue complements any wedding look. As part of a subtle design it packs just the right amount of punch without being over the top.
11. A Shimmery Border
Adding just a small touch of sparkle to your look can quite literally take your wedding day ensemble from beautiful to brilliant. After you apply your base coat, add some shimmer around the border of your nail using either glitter or bold metallic nail polish and a striper brush.
12. Marble Nails
Elegant and sophisticated, marble nails have been taking over our social media feeds for good reason as of late. You can customize the design to match any dress color, and choose from a plethora of marble styles to suit your taste. Just finish it off with a gel topcoat so that your mani has the type of staying power that'll get you through the honeymoon.
Next: 10 Best Gender Reveal Nail Ideas We Love


Written by: Shalwah Evans, Photo Credit: Alexandra Teleki, IG/@thehotblend
Discover more tips & tricks
Keep your skin happy
See all articles
Improve your routine
Show your new look more love:
makeup