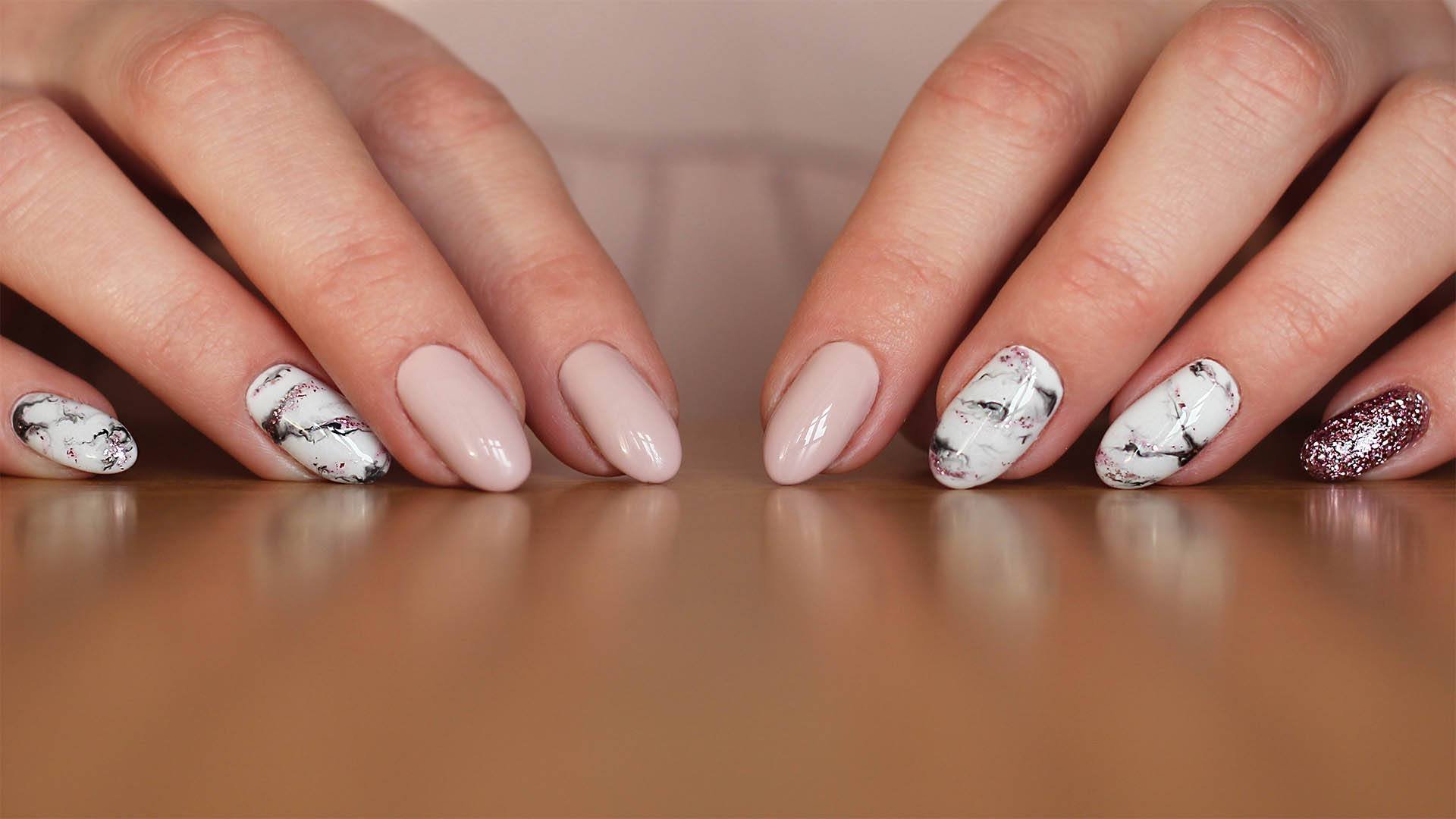 beauty trends
27 Fall Nail Colors and Designs for the Perfect Autumn Manicure
A new season calls for new nail art! If you've been scouring your social media platforms for the best fall nail designs and autumn nail colors for 2020, you can stop your search. Whether you're looking to get acrylic nails at the salon or DIY some cute fall nails, we have 27 fall nail ideas that'll give your hands their own beauty upgrade that's fit for the season. Grab your nail polish, and let's get to it!
FALL NAIL IDEA #1: OLIVE AND GOLD
One of the hottest colors for fall, it's no wonder that olive is included in our list of cute fall nails. More specifically, olive and gold! This color combo looks absolutely beautiful together. For a simple take on the idea, paint all of your nails an olive hue—excluding your accent nail, which should be painted in a sparkly gold hue. Prefer something a little more intricate? Instead of doing a gold accent nail, use your gold polish to create leaves for an autumn nail look worth falling for.
FALL NAIL IDEA #2: CHOCOLATE
Love a minimal, neutral nail? When it comes to autumn nails, look no further than chocolate nail polish. This rich brown hue looks particularly stunning on those with medium to deep skin tones.
FALL NAIL IDEA #3: MAROON
We'd consider maroon to be a cult classic shade for fall nail polish colors. Resembling some of our favorite fallen leaves, we'd bet money that this deep red hue never goes out of style when it comes to fall beauty trends. Incorporate it into your look with a swipe of maroon nail polish, which also happens to pair beautifully with gold.
FALL NAIL IDEA #4: BABY BLUE
Dreamy and elegant fall nail polish colors on your wish list? Prepare to turn heads with baby blue nails. Offering a muted and soft look, this creamy shade will bring on the chill factor you love with a gorgeous pop of color.
Editor's tip: Baby blue nails and dry cuticles don't go together. On second thought, nail colors and art and parched hands aren't a match at all. Make sure to nourish your cuticles and hands with the L'Oréal Paris Age Perfect Hydra Nutrition Manuka Honey All Over Balm - Face, Neck, Chest and Hands.
FALL NAIL IDEA #5: DARK TEAL
You may normally reserve blue-green nails for your summer nail color collection, but you can totally incorporate this shade into fall nails. Instead of going for a lighter sea-inspired hue, switch things up with a darker shade to bring on the super-cool fall vibes.
FALL NAIL IDEA #6: JELLY NAILS
Thought jelly nails were only for summer? Think again! This translucent nail look is translating over to fall in hues of orange, red, and mustard. Not sure what jelly nails are? Click through to our article on the topic to learn why Jelly Nails Are Our New Favorite Nail Trend.
FALL NAIL IDEA #7: MULTICOLORED
Who says fall nails can't be colorful? While you may be swapping out bright, fun summer hues for more subdued alternatives, you can still rock a multicolored nail look. We love the way emerald, mauve, and mustard pair together. Get creative with your color palette!
FALL NAIL IDEA #8: MILKY OMBRÈ
If subtle, eye-catching autumn nail designs are your forte, milky ombré nails should definitely be on your radar. A foolproof pick for those who like the idea of rocking two shades in one, this design can't be beat. To get the look, paint your nails with a milky off-white shade, then use a makeup sponge to blend a sheer glitter shade onto the tips of your nails. Carefully build up the color until you have a seamless gradient.
FALL NAIL IDEA #9: SINGLE-STRIPE NAILS
Love the idea of minimalist autumn nail designs? You may find nails with a single stripe to be your perfect match for the season. Think about it: It's versatile, chic, stylish, and pretty easy to create. Simply paint your bare nails with a diagonal or straight line for a trendsetting look.
FALL NAIL IDEA #10: TAUPE
If you're a fan of nude, barely-there nail colors, taupe is the fall nail color for you. This light brown hue has gray undertones that perfectly coordinate with the cool temperatures of the season.
FALL NAIL IDEA #11: OFF-WHITE
Speaking of muted colors, you may find that off-white nails tickle your fancy. An ideal pick for those who want to rock a fresh and cool take on the neutral trend with a bit of added fall flair, this shade will become your favorite in no time. Not to mention, you can totally pair it with a white eyeshadow look to really seal the deal.
FALL NAIL IDEA #12: MATTE BLACK
Sure, black may seem a little goth, but it's actually seriously on-trend for fall. One way we recommend switching up this edgy color? Opting for a matte finish. Bonus: Your nails will match every outfit!
FALL NAIL IDEA #13: TWO-TONED NAILS
Can't decide on the right fall nail color? Two-tone nails will come to the rescue. Perfect for anyone looking to spice things up on the nail front, all you have to do is pick two shades that complement each other and paint half of each nail with one polish and the other half with your remaining shade.
FALL NAIL IDEA #14: INK BLOT NAILS
If you're game for stepping outside of the box with your autumn nail designs, ink blot nails are where it's at! A sophisticated way to incorporate nail art into your look, this design is all about using a nail brush and black nail polish to create the perfect ink blots. Whether you decide on small or big ink blots, you'll be sure to make a statement.
FALL NAIL IDEA #15: RUST ORANGE
It's no secret that orange makeup has been making quite the name for itself, including variations like orange eyeshadow and orange lipstick. While we're all about incorporating this hue into your makeup look for fall, we can't help but gush over rusty orange nail polish. Talk about autumn vibes!
FALL NAIL IDEA #16: EMERALD
Your friends are sure to be green with envy over this fall nail color! Emerald green nails are just as luxurious as their color suggests. For a ritzy nail look, consider picking up a rich, deep green hue that demands attention without being over-the-top.
FALL NAIL IDEA #17: GOLD TIPS
While we love a solid, simple nail look, sometimes it's all in the details. That's exactly the case with this fall nail idea. Rather than focusing on your nail color, consider focusing on the accent—or in this case, the tips of your nails. Use a gold sparkle nail polish to paint the tips of your nails in an imperfect manner. Pack the color onto the tip of your nail, then allow a few sparkles to stray toward the middle. You'll be left with a glamorous, ombré effect.
FALL NAIL IDEA #18: MIXED PATTERN NAILS
Ready to up the ante with your fall nail designs? Consider it done with mixed pattern nails! This trend allows you to play with colors, animal prints, patterns, and more for a seriously chic mani. Talk about a game-changer!
Editor's note: Need help creating animal prints? Read our article, Animal Print Nails: How to Do Leopard, Zebra, and Cow Print.
FALL NAIL IDEA #19: CRYSTAL MANICURE
There is no better way to call attention to your manicure than with a sparkly touch. And that's what you get when you give the crystal manicure a try. Equal parts glamorous and luxurious, this mani combines neutral nail shades with gorgeous stones for an unforgettable look. Paint your nails in a neutral hue then stick one crystal at the base of each nail to complete the look.
FALL NAIL IDEA #20: MAUVE
By now, you probably know the importance of having a mauve lipstick in your collection, but what about mauve nail polish? It seems this dusty rose hue is popular for more than just the lips!
FALL NAIL IDEA #21: COPPER ACCENTS
Aside from gold, there's another metal hue that's perfect for fall. We're talking about copper! Whether you decide to paint all of your nails in a copper shade or use some copper polish as an accent in your nail look is up to you.
FALL NAIL IDEA #22: PLUM
Plum, anyone? This deep purple shade is on-trend in the hair color world as of late and is now popping up as a trending nail color for fall. How royal!
FALL NAIL IDEA #23: CHARCOAL
If black is slightly too edgy for you, but you still prefer a dark, muted nail look, charcoal nails may be up your alley. Swipe on a few coats for a simple look or take things up a notch with a gold or silver accent nail.
FALL NAIL IDEA #24: MARBLE NAILS
Marble nails are a gorgeous way to take your nail game to the next level. This unique design mimics the look of marble surfaces for an ultra-feminine and luxurious style. Use a small detail brush to paint grey veining onto white nails, then seal everything in with a thick top coat. You can rock a full set of marble nails, opt for an accent nail, or mix it up to make this look your own.
FALL NAIL IDEA #25: HALF-DIP NAILS
Fall nails are all about showing off your personality, and half-dip nails won't disappoint. This look flaunts a sheer color on one half of your nail with a bright color on the other side for a seriously stylish look. To start, simply paint each nail from the halfway point down to the tip. Layer a sheer polish or top coat on top and voila!
FALL NAIL IDEA #26: REVERSE FRENCH TIP
Switch up the traditional French manicure with reverse French tips! Picture this: A nude nail with a thin line of black just along your cuticle. Pretty trendy, right? Think of it as a negative space cut crease for your nails!
FALL NAIL IDEA #27: THIN FRENCH TIP
A thin French tip is another way to revamp the classic design. Boasting the well put-together and clean-cut look you love, this style consists of thin, double contrasting lines of color at the free edge of your nail. Keep things timeless with black and white or play with color—it's all up to you!
Want to pair your fall nails with an upgraded nail shape? Next, find out How to Choose the Right Nail Shape.
Discover more tips & tricks
Keep your skin happy
See all articles