beauty looks
9 Dark Nail Polish Colors To Add To Your Year-Round Collection
February 17, 2021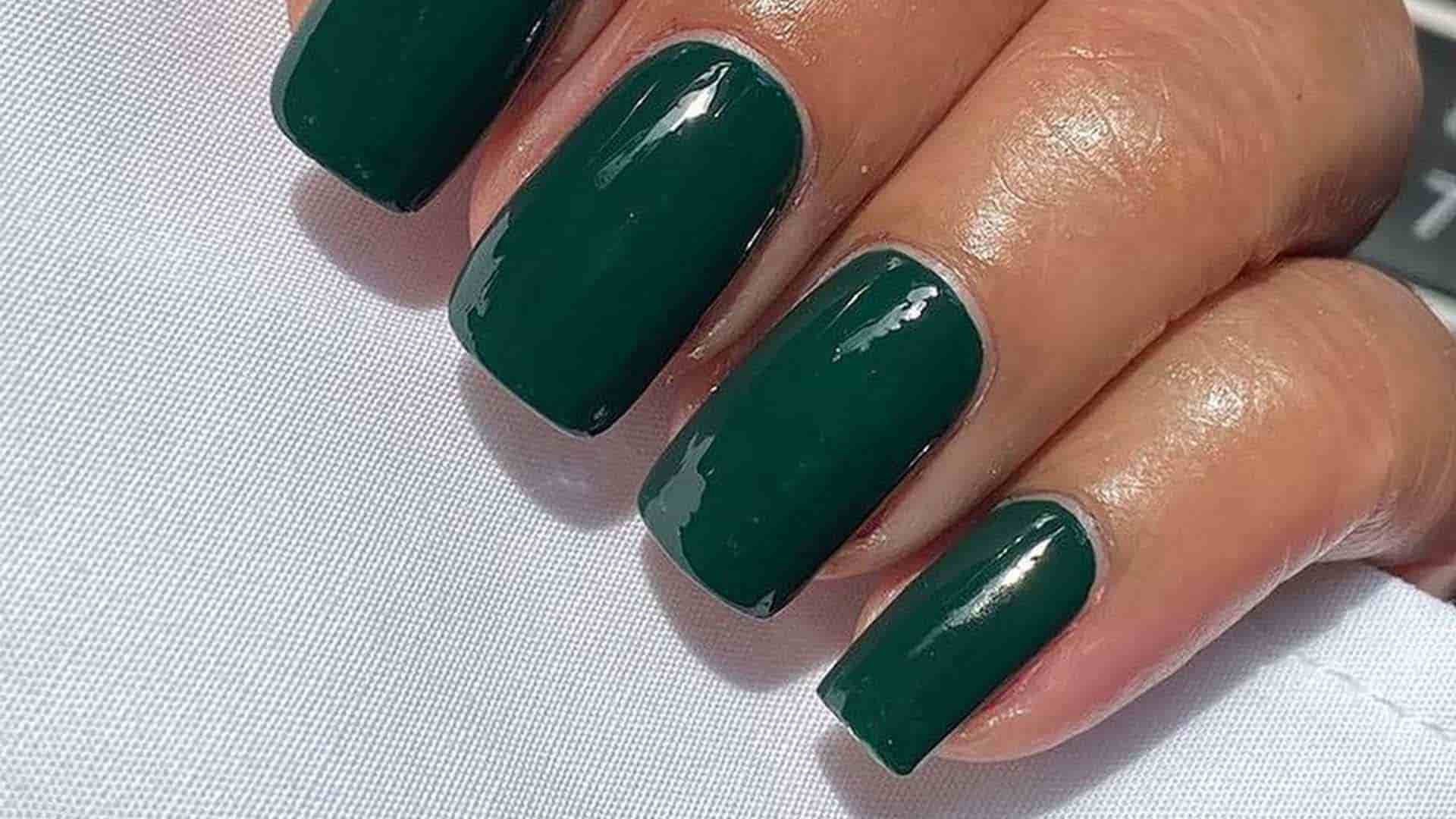 There are myriad ways to switch up your manicure. You can try a cool nail art design like snake nails, play with the shape of your nails (an almond-shape looks great on everyone) or change your color palette for the season. When the cold weather kicks in, we find ourselves gravitating toward dark nail polish colors. And we're absolutely loving them right now—especially for those at-home DIY manicures. But deep jewel tones and muted colors don't have to be reserved for the wintertime. If you're looking for some shade inspiration for your year-round collection, we've got you covered. Ahead, find nine options, including different shades of dark green nail polish and your favorite purple hues, to level up your mani for the winter and beyond.
1. Hunter Green Nail Polish
Why we love it: There is a range of dark green shades to indulge in, from burnt olive hues to hunter green, that make playing with dark green nail polish so fun. You can choose one color for your manicure or wear a few for something totally unique. Hunter green is especially enchanting because it's bold but it pairs well with various hues on the color wheel. How to wear it: Take your dark green nail polish look up a notch by pairing it with gold French tips. It's a lux way to upgrade a traditional French nail design.
2. Black Cherry Nail Polish
Why we love it: When it comes to dark red nail polish, there are so many hues to try. We also love that red is a power color that makes a statement on any skin tone. A black cherry hue is not only sophisticated and stylish, but it's not flashy, making it a solid choice for a video interview or an important work-from-home presentation. How to wear it: Opt for an all-over dark red manicure. The color will speak for itself, giving you a bold look that won't go unnoticed. To further embrace the power shade, pair it with a statement nail shape like stiletto or coffin nail.
3. Dark Indigo Nail Polish
Why we love it: You could say blue has become the new black in many ways. A deep blue shade looks beautiful against all complexions, and we adore indigo. The blue tone reminds us so much of the winter season evening sky and the rich shades of the ocean in the summer. How to wear it: Pair your deep blue nail polish with a silver accent nail or layer some strokes of silver on top of your indigo nails with a striper brush.
4. Deep Amethyst Nail Polish
Why we love it: Purple is known as a royal color, making a deep amethyst nail polish the perfect choice for year-round mani made for a queen. Shades like wine, eggplant, mulberry, and plum are amongst a few of our other purple favorites to try. How to wear it: Try wearing an all-over dark amethyst shade paired with a square nail shape for a sleek look.
Editor's note: To keep your hands and nails looking their best, don't forget to apply a hand cream a few times a day. Give our L'Oréal Paris Age Perfect Hydra Nutrition Manuka Honey All Over Balm - Face, Neck, Chest and Hands a try.
5. Black Nail Polish
Why we love it: It's an edgy way to fully embrace a dark nail polish look. After all, it doesn't get darker than black! For an all the way vampy beauty look pair your black nail polish with black lipstick. How to wear it: Since this color is bold on it's own, rock an all-over black manicure with a short squoval nail shape for a look that won't go unnoticed. If you can't live without your stiletto nails, add a gold design or accent nail to break up the black.
6. Gunmetal Gray Nail Polish
Why we love it: If black is just slightly too dark for you, gunmetal gray is a close, subtler alternative. The deep gray shade can be considered a statement neutral. We don't love the name, but we love the way it pops against all skin tones. How to wear it: While a shimmering finish in this shade is most common and reminiscent of the mineral graphite, it's also pretty in matte.
7. Chocolate Brown Nail Polish
Why we love it: Dark brown nail polish can be worn as a contrasting shade against pale skin tones or as a beautiful neutral on those with darker complexions. We love a deep, warm brown like a salted caramel or milk chocolate. Yummy! How to wear it: Keep things simple by sporting a dark brown manicure with rounded tips for a minimalistic look.
8. Mauve Nail Polish
Why we love it: Mauve is one of the hottest shades in the beauty world, and we can't get enough of mauve nail polish. The dusty pink shade isn't as dark as the other hues on our list, making it a solid option for those who want to test the waters with a dark manicure slowly. How to wear it: Ask your nail technician to pair the shade with a dark purple nail polish (either as an accent or as part of an ombré nail look) for an overall darker manicure. If you want to brighten it up, swap the purple out for a light pink shade that plays well with its dusty counterpart.
9. Emerald Nail Polish
Why we love it: Jewel-tones will always make a statement—whether added to your makeup look or your wardrobe—and your nails are no different. Emerald nail polish adds a touch of richness to your nails without actually costing you a paycheck. How to wear it: Mix this luxe hue with some foil designs for an over-the-top look that unapologetically drips of opulence. You deserve it!
Main Photo: @yodeebs on Instagram and TikTok

Discover more tips & tricks
Keep your skin happy
See all articles