beauty looks
15 Fun Nail Designs For Almond-Shaped Nails
Get creative with your next mani.
October 09, 2020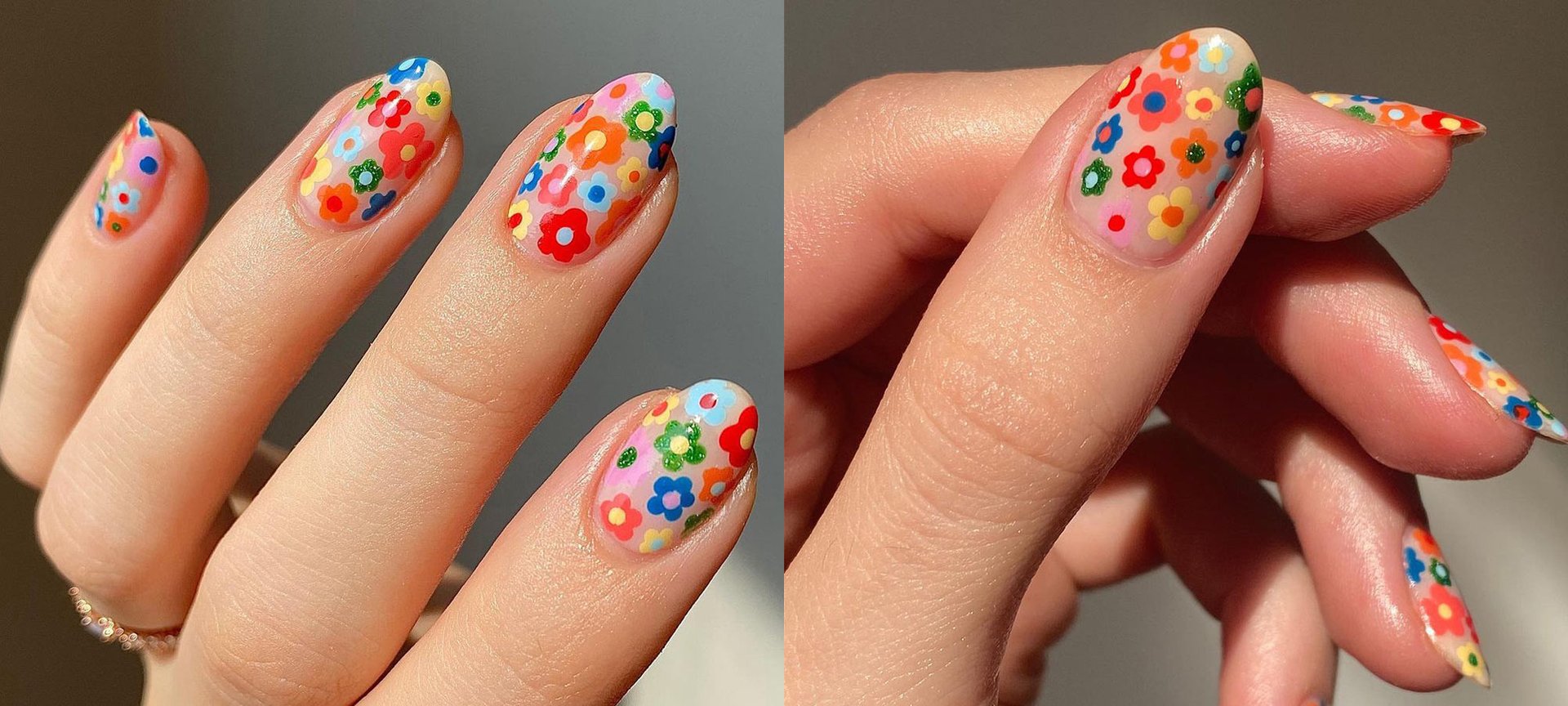 Social media is full of incredibly talented nail artists sharing their latest work and it's hard not to be inspired to get creative with your next manicure as you scroll. If you're into keeping a classic nail shape, but want to opt for a funky nail design next time you go to the salon, check out these stunning nail design ideas for almond shaped nails, below.

Reverse French Manicure
A traditional French manicure is classic, but if you want to switch it up while still maintaining a simple design, a reverse French mani is perfect for you. Make it even more playful by alternating the accent color on each nail.

Colorful Cow Print
Cow print nail art had its moment, and while the classic black and white colorway is gorgeous, creating a colorful version takes it up a notch. Whether you choose to alternate colors on each nail or keep it consistent throughout, it's a simple nail design that adds a bit of flair to any manicure.

70's Floral
If there's one thing we know for sure, it's that trends come back around. From Y2K fashion to '80s hairstyles and more, beauty inspiration is often taken from the past. Create groovy, bold floral patterns from the '70s on your nails and they'll be looking like a chic blast from the past.

Fancy Feline
If you're an animal lover, this design is for you. On top of a creamy, white base color, have your nail tech illustrate little tigers in blue and black, making sure to create thin, delicate lines. When the design is done, it will resemble the intricate designs on fine china.

Gold Dipped
If bold, intricate nail designs are outside of your comfort zone, a simple look with a touch of metallic is perfect for you. Shimmery gold French tips beautifully elevate a traditional mani without being over the top.

Basic Blooms
Simple leaves are easy to recreate and yet they add a beautiful, chic look to the nails. If you want to put a fall spin on the design when the seasons change, opt for a deep base color like black or burgundy.

Fiery Flames
If deep, statement nails are what you're after, give a smoky manicure a go. A neutral take on common red and orange fiery designs, a black and gold iteration packs punch while remaining wearable for all skin tones.

Emoji Expressions
If you view nail art as a form of self expression, no design is more fitting for you than one boasting emojis. Inspired by the many facial expressions of our beloved emojis, the look is bold, fun, and funky.

Dripping Glitter
Metallic nails are in, and opting for dripping glitter is a unique take on the drend. The glitter drips over a solid base color create a cool contrast. Make it look your own by opting for fun a base color of your choice.

Delicate Daisies
Floral designs will always be classic in the world of nail art, and if you want to create one at home, simple daisies are the way to go. You can easily customize the look by creating it with new hues beyond the simple yellow and white.

Pastel Multi-Color Blocking
Pastels are trending in everything from makeup to clothing, pastel hair and nails. Get in on the trend by sporting a multi-colored pastel mani in a chic color blocking style that's equal parts fun and polished.

Simple Swirls
Sometimes the best nail art is simple. Swirl nail designs are popping up everywhere from social media to runway shows and understandably so. They're chic, trendy and flattering no matter what nail length you're working with. The bonus: they're easy to do right at home.

Two-Tone Nails
If you can't decide which color to paint your nails, there's no need to choose. Go halfsies with each color on your next mani by creating a two-tone look on your nails.

Hearts Galore
Hearts are a go-to for nail designs and given how cute and easy they are to create, it makes total sense. For an ultra-simple look, you can add one or two hearts to your mani, or for a more impactful design, keep adding them on until you're satisfied.

Stitched Border
This ultra-simple design makes quite the impact. Creating a border to resemble stitches around your nails not only brings attention to your nail shape, but it creates an eye-catching design with minimal skill required.
Next: How to Choose the Right Nail Shape

Photo Credit: Nail Artist: Stefanie @polished_yogi, Design: Cara @polishedprettythings
{ "@context": "https://schema.org/", "@type": "WebPage", "speakable": { "@type": "SpeakableSpecification", "cssSelector": ["speakable-content"] }, "url": "https://www.lorealparisusa.com/beauty-magazine/beauty-tips/beauty-looks/almond-nail-designs" }
Discover more tips & tricks
Keep your skin happy
See all articles
Improve your routine
Show your new look more love:
makeup
{ "@context": "http://schema.org", "@type": "BreadcrumbList", "itemListElement": [ { "@type":"ListItem", "position": 1, "item": { "@id": "/", "name": "Home" } } , { "@type":"ListItem", "position": 2, "item": { "@id": "https://www.lorealparisusa.com/beauty-magazine", "name": "Beauty Magazine" } } , { "@type":"ListItem", "position": 3, "item": { "@id": "https://www.lorealparisusa.com/beauty-magazine/beauty-tips", "name": "Pro Ideas For Your Unique Look" } } , { "@type":"ListItem", "position": 4, "item": { "@id": "https://www.lorealparisusa.com/beauty-magazine/beauty-tips/beauty-looks", "name": "Beauty Looks" } } , { "@type":"ListItem", "position": 5, "item": { "@id": "https://www.lorealparisusa.com/beauty-magazine/beauty-tips/beauty-looks/almond-nail-designs", "name": "almond-nail-designs" } } ] }