beauty trends
Grab Your Phone: These Trendy Acrylic Nail Looks Are Worthy Of Instagram
December 11, 2020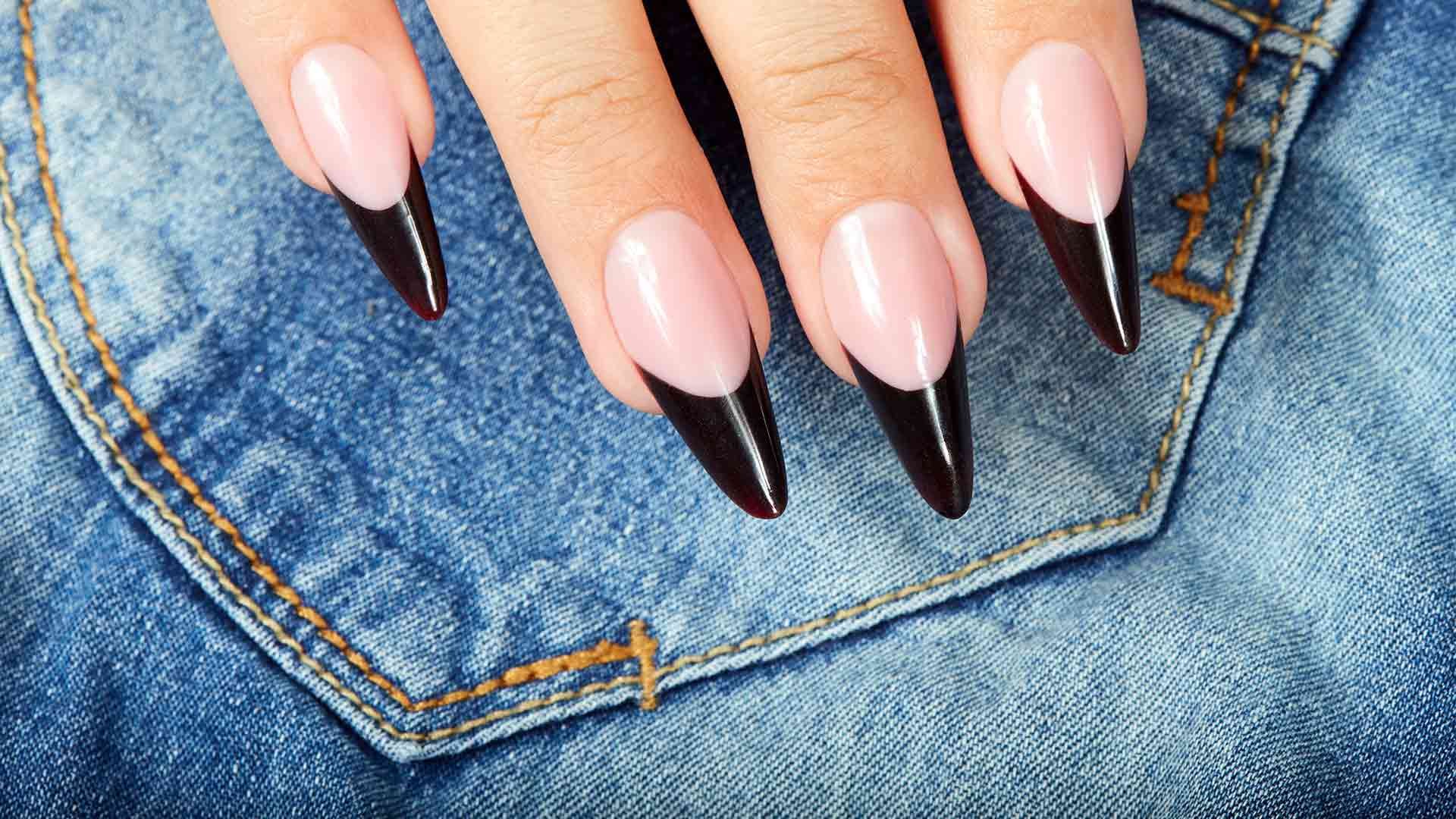 One quick scroll through Pinterest or Instagram and you're sure to come across some trendy acrylic nails. Social media is a useful way to get the scoop on what's creating buzz in the world of manicures, which is why most of us would like to create some noise of our own with trendy cute acrylic nails. Instead of saving pins to your board and attempting to DIY the look on your own, let this be your guide to eight trendy acrylic designs—and how to create them.
1. Black French Tips
Why we love it: The modern French manicure is trendy as it is, but switching things up with black French tips adds an edgy, rocker-chic vibe into the mix. It's an easy way to wear black nail polish without a full goth aesthetic.
How to get the look: Paint your nails with a sheer nude nail polish. Apply a piece of tape or French manicure tip guide to your nails, separately the base of your nail from the tip. Swipe black nail polish onto your tips. Once dry, remove the guides to reveal your black French tips. Seal with a top coat.
2. Snake Nails
Why we love it: Another option for edgy and trendy acrylic nails is snake nails. There are two ways to rock this look: either snakeskin print nails or by painting a slithering reptile making its way across your manicure.
How to get the look: You can bring this trendy acrylic nail design by first painting your nails white. Then, you'll need to embrace your artistic skills and a small nail art brush to paint your snake. You can find a step-by-step guide to doing just that in our article, Snake Nails Are Our Latest Obsession: Here's How To Get The Look.
Editor's tip: Don't forget to hydrate your hands post-manicure with the L'Oréal Paris Age Perfect Hydra Nutrition Manuka Honey All Over Balm - Face, Neck, Chest and Hands.
3. Baby Blue Acrylic Nails
Why we love it: Whether you're looking for inspiration for winter or trendy summer acrylic nails, baby blue is an evergreen shade that works all year long. The pastel shade will let you play with color without going too bold.
How to get the look: Simply apply two to three coats of your favorite baby blue nail polish. Smooth on a top coat to increase the lifespan of your look.
4. Sheer Tips
Why we love it: If you consider yourself a minimalist, this manicure option is for you. You can wear sheer tips on trendy short acrylic nails or longer claws. The idea is exactly what it sounds like: a sheer polish that shows your tips through a few coats. Think jelly nails but with a more neutral color palette.
How to get the look: Reach for a sheer or jelly nail polish in a neutral shade like baby pink or tan. Swipe on a few coats, then seal your manicure with a top coat.
5. Holographic Nails
Why we love it: As far as trendy summer acrylic nails go, holographic nail polish is at the top of our list. This reflective manicure pairs well with the fun, bold colors that pop out in the summer season.
How to get the look: Use a holographic polish to paint your nails. Apply a super shiny top coat to finish the look.
6. Gold French Tips
Why we love it: This look adds a seriously luxe touch to a traditional French manicure. We particularly love gold French tips for the holiday season.
How to get the look: Apply a nude base coat. Once dry, place tape or French manicure tip guides onto your nails. Paint your tips with a metallic gold polish. After the gold polish has dried, remove your guides and swipe on a top coat.
7. Milky White Nails
Why we love it: This look meets in the middle between sheer and opaque white nails. The result is ever so see-through and trendy yet minimalistic.
How to get the look: Milky nails require a bit of finessing to create (you'll need to use the ombré nail technique). For a step-by-step tutorial, here's Milky White Nails Are The Simplistic Trend You've Been Waiting For.
8. Hole Punch Nail Art
Why we love it: Hole punch nail art lets you get creative with different shapes for trendy acrylic nails that reflect your personal style.
How to get the look: Use a hole punch in your shape of choice to create a design at the tip of your acrylics. Apply the fake nails and paint them in your color of choice. Don't forget to seal the look with a top coat!
Next up: If you want to part ways with your trendy mani, here's How To Remove Acrylic Nails.
Discover more tips & tricks
Keep your skin happy
See all articles