beauty trends
12 Ways to Rock Brown Nails This Fall
Welcome autumn with some new nail art.
September 19, 2022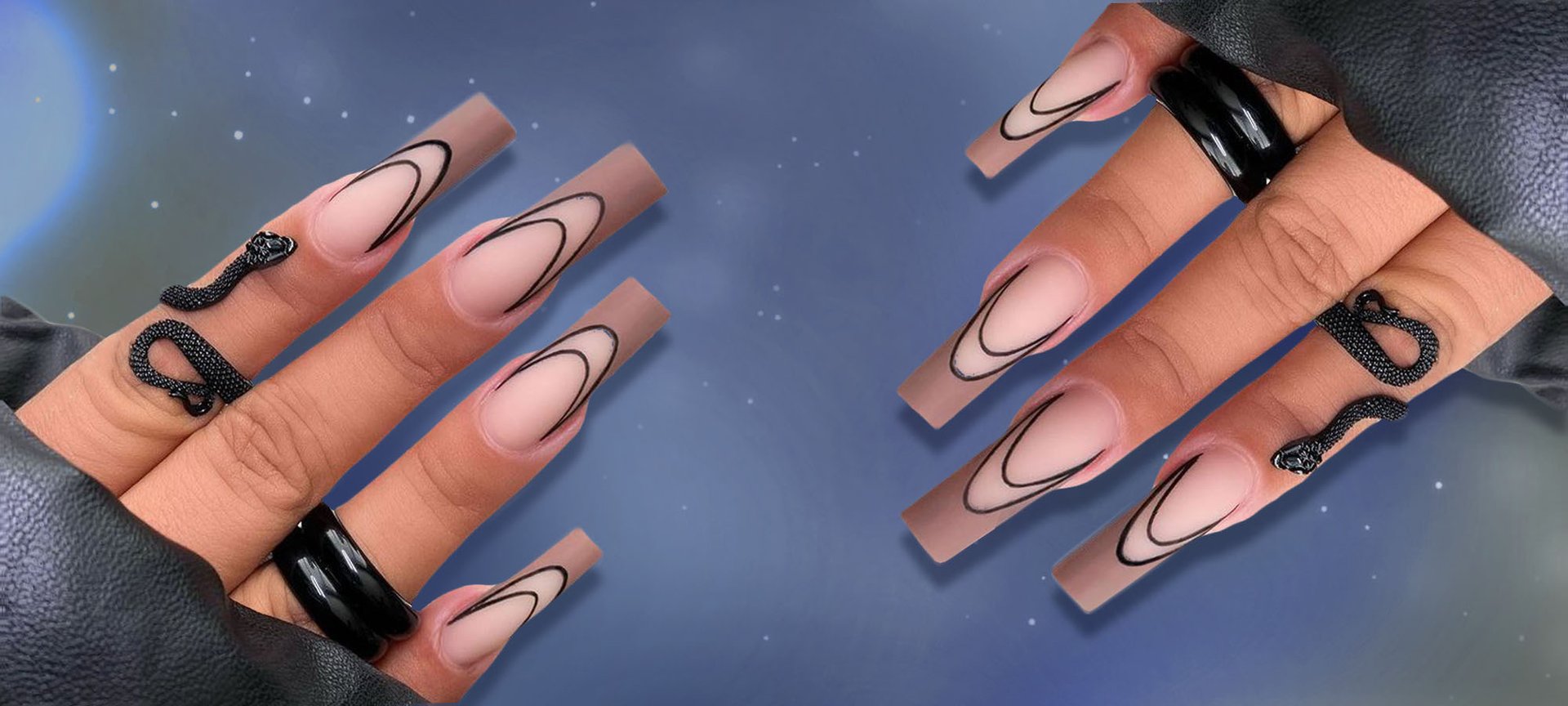 One of the best things about the yearly change in seasons is the way color palettes reflect in beauty trends, with fashion, hair color, and makeup looks all getting an aesthetic refresh. That also rings true for nail designs, as winter nail looks tend to skew a very festive white, red, and gold, while summer sees orange, hot pink, and neons in all shades.
Autumn is no different, and as the leaves fall you can expect to see maroon, pumpkin, and hunter green on fingertips. Brown nail designs tend to also reign this time of year, with shades of taupe, khaki, and chestnut flooding our timelines.
But just in case you need some inspiration for your next mani, we're rounding up some of the best brown nail art online. Keep reading for 12 brown nail designs that will make your fall warm and toasty, just like the season itself.
1. Brown French Tips
There's a reason why
French tip nails
are timeless, and the brown color adds a very appropriate fall element to the classic design. Add a cartoon outline for a playful twist.
2. Brown Swirls
Part optical illusion, part artistic expression, the twists and turns of a swirl pattern are beautiful in any color, but when paired with brown, the options are endless. For this one, feel free to ask your nail technician to freestyle a swirly pattern on each nail for a unique look.
3. Brown Red-Bottom Nails
The allure of a red-soled stiletto can extend to much more than just shoes.: this design may seem tame at first look, but with a flick of your fingers, everyone will get a peek at the red undersides of your manicure, much like the shoe.
4. Brown Crystals
The richness and warmth of a brown nail design creates the perfect canvas to showcase rhinestones, crystals, or any other kind of
bling
onto your fingertips. The beauty of crystals is that they can also be paired with any other design, including ombré, French tips, and more.
5. Brown Animal Print
Brown naturally occurs in animal skins, including cheetah, leopard, and tiger, so a brown nail design featuring these prints is a popular pick. Want something subtle? Opt for the print on one or two nails. Feeling bold? Go for a full set where every finger boasts a design.
6. Brown Plaid
Plaid is a fall favorite for scarves, jackets, and socks, so there's no reason why your fall nails can't follow suit. Anything from a chunky plaid to a gingham print works here, so you'll have options all autumn long.
7. Brown Ombré
An ombre design is a great option when you're in the mood for something subtle, and toffee brown paired with a deeper brown is a great way to get double the impact. Also, this brown design can be paired with other manicure favorites like glitter, chrome, and crystals.
8. Brown Polka Dots
Polka dots are another option that offers a lot of space to be creative, as you can take the design as big or small as you want. And if you're taking the DIY approach for your nails, you can easily just use the tip of a bobby pin, straight pin, or the bottom of a paintbrush or makeup brush to create the perfect polka dot.
9.
Brown Florals
Florals aren't just for spring, and your brown nail design can take inspiration from nature and the changing colors outside. The beauty of this design is that you can opt for a painted flower or for a real flower encapsulated in your nails.
10. Brown Hearts
Hearts are just as sweet on nails in brown, especially when paired with complementary colors. You can also play with shapes here, from square to coffin to oval.
11. Brown Marble
Marble is always a luxe, elegant choice, and brown elevates the design even more. For fall, go for a deeper brown for a lot of contrast and use white nail polish to make the marble print.
12. Brown Chrome
While
chrome
seems to be reserved for gold or silver looks, most people don't know that the manicure add-on can be used on any color, including brown. The shiny design is the perfect accessory for any fall outfit, and a stiletto shape just ups the ante.
Discover more tips & tricks
Keep your skin happy
See all articles
Improve your routine
Show your new look more love:
makeup