skin care essentials
Should You Be Using An Occlusive Moisturizer?
Get the goods on this skin care staple.
September 17, 2021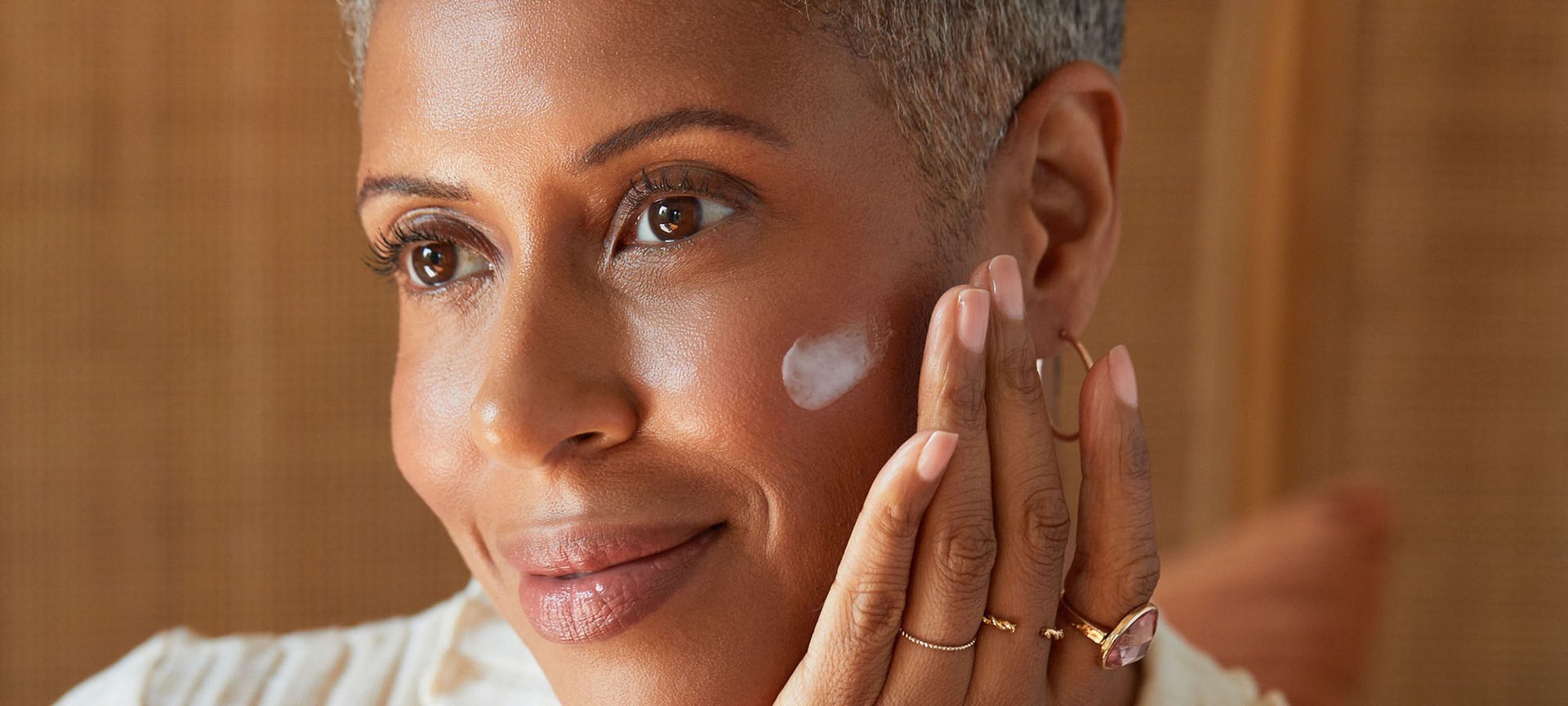 When it comes to perfecting your skin care routine, knowledge is the most powerful tool you can have. Whether you're curious about a new facial serum or trying out a night cream — before you apply it, you've got to know what's inside of it. Of course, understanding the language of skin care labels is often easier said than done. When looking for a facial moisturizer, there are a few common ingredients that usually stand out. But there are also certaintypes of ingredients like emollients, humectants, and occlusives, you might not know about. Below, we're sharing all you need to know about what occlusives are and our best occlusive moisturizers to add to your skin care routine.


What Are Occlusives?
Essentially, occlusives create a barrier over the skin to keep moisture from escaping. When applied to the skin, occlusive substances work to physically block transepidermal water loss, as the National Center for Biotechnology Information (NCBI) explains. Common occlusives you may be familiar with include mineral oil, cetearyl (cetyl) alcohol, squalene, beeswax, and petroleum jelly.


Our Best Occlusive Moisturizers
If you take a scan of your skin care cabinet, you might already have a moisturizer with occlusive ingredients in its formula. Typically, they'll contain other super hydrating ingredients such as aloe vera, and have a thicker, cream-like consistency. Due to their ability to keep moisture from leaving your skin, occlusive moisturizers are an ideal option for those with dry skin. But every face can benefit from hydration. So based on your skin type and needs, there's an occlusive moisturizer that fits into your skin care routine.


This day cream is formulated with a combination of glycolic acid, vitamin C, Pro-Retinol, and broad-spectrum SPF 30. The formula not only hydrates, but reveals brighter skin, helps correct uneven skin tone and reduces the appearance of wrinkles. The SPF 30 sunscreen will also help protect against the sun's aging UVA/UVB rays, which your skin may be extra sensitive to after using products with glycolic acid.

Formulated with cetyl alcohol, this anti-aging occlusive moisturizer checks off more than one box on our moisturizer list. It also contains three of the top proven anti-aging ingredients: Pro-Retinol, vitamin C, and hyaluronic acid to help hydrate and brighten the skin.


As you get older, your skin becomes drier due to a decrease in oil production. That's where occlusive moisturizers, like this one formulated with cetyl alcohol, come in. This daily face cream works to gently exfoliate dull, sallow skin and revive skin's natural rosy tone, helping to promote a younger-looking, smooth complexion.


This intensely hydrating face cream is made with powerful collagen peptides and niacinamide to help retighten, rehydrate and redensify maturing skin. Recommended by dermatologists, peptides are the building blocks of collagen that give skin its volume, firmness, and bounce. It's also formulated with broad- spectrum SPF 30 to help protect against two types of UV rays that cause skin damage and premature aging.

After 50, the skin's collagen production slows, which can lead to loss of volume and increase skin sagging. This lightweight night cream provides all-night hydration with a daily boost of collagen peptides and niacinamide to intensely rehydrate and firm maturing skin. In the morning, skin is intensely hydrated. Over time, the skin looks tighter and firmer and overall the complexion looks younger and healthier.
Next: The Benefits Of A Face Moisturizer With SPF



Written by: Lauren Paige Richeson, Photography: Chaunte Vaughn, Senior Art Direction: Melissa San Vicente-Landestoy, Senior Visual Designer: Hannah Packer, Associate Creative Producer: Becca Solovay, Makeup Artist: Jonet Williamson, Hair Stylist: Akihisa Yamaguchi, Wardrobe Assistant: Victoria Ochoa, Digital Tech: Kyle Thompson, Model: Roxanne Hancock
{ "@context": "https://schema.org/", "@type": "WebPage", "speakable": { "@type": "SpeakableSpecification", "cssSelector": ["speakable-content"] }, "url": "https://www.lorealparisusa.com/beauty-magazine/skin-care/skin-care-essentials/occlusive-moisturizer-guide" }
Discover more tips & tricks
Keep your skin happy
See all articles
Shop Featured Skin Care products
Discover More
{ "@context": "http://schema.org", "@type": "BreadcrumbList", "itemListElement": [ { "@type":"ListItem", "position": 1, "item": { "@id": "/", "name": "Home" } } , { "@type":"ListItem", "position": 2, "item": { "@id": "https://www.lorealparisusa.com/beauty-magazine", "name": "Beauty Magazine" } } , { "@type":"ListItem", "position": 3, "item": { "@id": "https://www.lorealparisusa.com/beauty-magazine/skin-care", "name": "Skin Care For Every Age" } } , { "@type":"ListItem", "position": 4, "item": { "@id": "https://www.lorealparisusa.com/beauty-magazine/skin-care/skin-care-essentials", "name": "Skin Care Essentials" } } , { "@type":"ListItem", "position": 5, "item": { "@id": "https://www.lorealparisusa.com/beauty-magazine/skin-care/skin-care-essentials/occlusive-moisturizer-guide", "name": "occlusive-moisturizer-guide" } } ] }