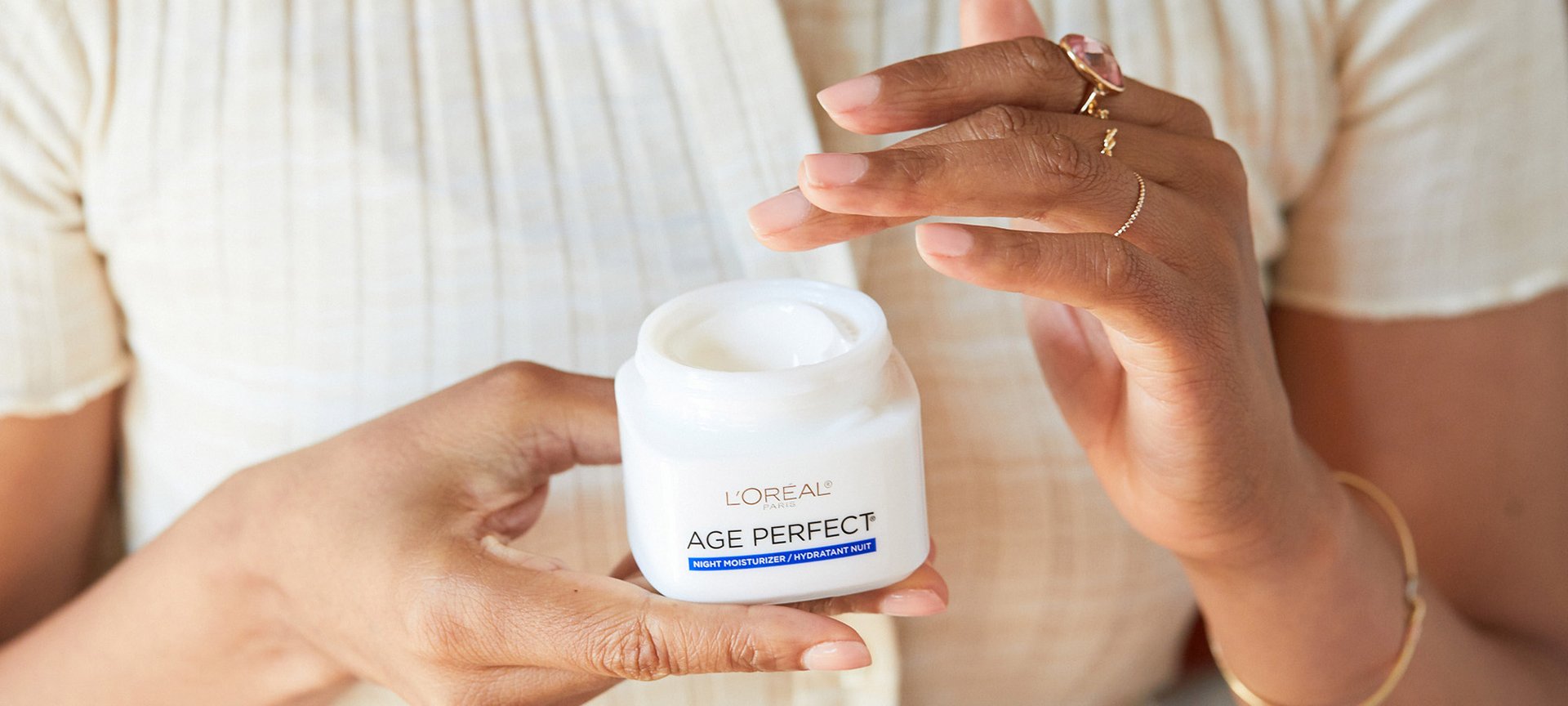 anti aging
Meet The Collagen Must-Haves Your Sagging Skin Is Craving
Say goodbye to sagging skin.
The word collagen has been a buzz in the beauty world for decades. From face cream to skin supplements, there are so many options that it's never been easier to fit collagen into your skin care routine. Collagen is a natural protein abundantly present in the skin that provides skin's strength, firmness, and bounce. As we age, the skin's collagen production slows down, which can lead to loss of volume and sagging. There are several ways to make up for collagen loss, including collagen formulated skin care products like The Age Perfect Collagen Expert skin care line. Here, we're introducing two of the newest nourishing collagen creams designed to leave you looking radiant with revived skin.
Over time, the skin's ability to renew surface cells slows down, causing the complexion to become dull. This hydrating face moisturizer provides a daily boost of collagen peptides and niacinamide to intensely rehydrate mature skin. It's made with a patented antioxidant and vitamin E formula to defend the skin against damaging external aggressions and help boost its natural renewal process while protecting it from the sun's harmful rays with broad-spectrum SPF 25. It leaves skin soft to the touch with no greasy or sticky finish, so it's great to layer under makeup. Every morning, smooth the moisturizer gently onto your clean face using circular motions.
As you sleep, your skin goes into repair mode, making it an optimal time to enlist the help of your most potent anti-aging ingredients. This night moisturizer is formulated with collagen peptides and an exclusive Antioxidant Recovery Complex that helps to recover the skin's antioxidant reserves night after night. So you can still reap anti-aging benefits in your sleep. With continued use, new cells are revealed, and skin appears younger with fewer wrinkles. Every night, smooth this cream onto your face in an upward motion until thoroughly absorbed.
Next: How The Age Perfect Cell Renewal System Takes You From Day to Night
Written By: Lauren Paige Richeson, Photography: Chaunte Vaughn, Senior Art Direction: Melissa San Vicente-Landestoy, Senior Visual Designer: Hannah Packer, Associate Creative Producer: Becca Solovay, Makeup Artist: Jonet Williamson, Hair Stylist: Akihisa Yamaguchi, Wardrobe Assistant: Victoria Ochoa, Digital Tech: Kyle Thompson, Model: Roxanne Hancock
{ "@context": "https://schema.org/", "@type": "WebPage", "speakable": { "@type": "SpeakableSpecification", "cssSelector": ["speakable-content"] }, "url": "https://www.lorealparisusa.com/beauty-magazine/skin-care/anti-aging/best-collagen-moisturizer" }
Discover more tips & tricks
Keep your skin happy
See all articles
Improve your routine
Show your new look more love:
makeup
{ "@context": "http://schema.org", "@type": "BreadcrumbList", "itemListElement": [ { "@type":"ListItem", "position": 1, "item": { "@id": "/", "name": "Home" } } , { "@type":"ListItem", "position": 2, "item": { "@id": "https://www.lorealparisusa.com/beauty-magazine", "name": "Beauty Magazine" } } , { "@type":"ListItem", "position": 3, "item": { "@id": "https://www.lorealparisusa.com/beauty-magazine/skin-care", "name": "Skin Care For Every Age" } } , { "@type":"ListItem", "position": 4, "item": { "@id": "https://www.lorealparisusa.com/beauty-magazine/skin-care/anti-aging", "name": "Anti Aging Skin Care" } } , { "@type":"ListItem", "position": 5, "item": { "@id": "https://www.lorealparisusa.com/beauty-magazine/skin-care/anti-aging/best-collagen-moisturizer", "name": "best-collagen-moisturizer" } } ] }