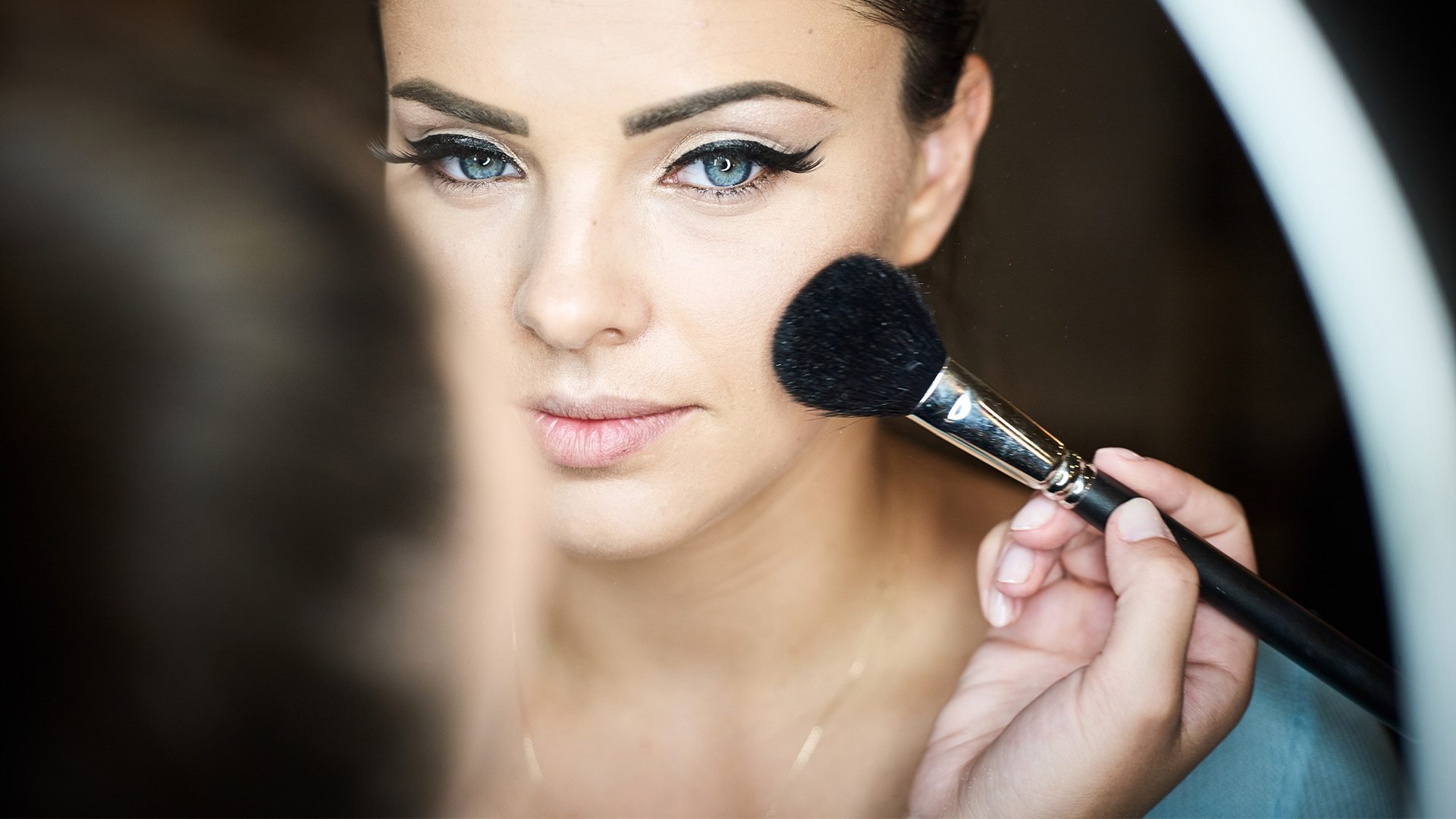 makeup trends
21 Makeup Terms Everyone Should Know
New trends in makeup are introduced almost every day, and it can be hard to keep up with the lingo. From baking (your face, not a birthday cake) to hitting pan (no, not banging on kitchen appliances), popular makeup terms can be confusing. Luckily, we're here to clear things up and explain what some of these different terms actually mean. Not only will you be more in the know, but you'll also learn tricks for using eye makeup to look more awake, lip liner to make your lips look fuller, and so much more. Here are the 21 makeup terms you need to know.
MAKEUP TERM #1: CONTOURING
Contouring involves using makeup to give the illusion of shape to one's facial features. It's a technique for enhancing certain features—for example, creating the appearance of higher cheekbones or a smaller nose. By placing contrasting dark (bronzer, foundation, contour sticks) and light makeup (concealer, highlighter) in key areas, you can sculpt your face. If you want to learn how, check out our article, How to Contour Like a Pro Makeup Artist in 8 Easy Steps.
MAKEUP TERM #2: HIGHLIGHTING
Makeup is all about enhancing your natural beauty, and highlighting takes things up a notch. Highlighting works to attract light to your face to help accentuate your features for an illuminated effect. Typically, makeup junkies apply highlighter to the bridge of the nose, cupid's bow, the inner eye corners, and above the cheekbones. Head on over to our article, How to Apply Highlighter, for tips on how to score a glowing highlight.
MAKEUP TERM #3: BAKING
While warm chocolate chip cookies may come to mind when you hear "baking," this is actually the process of applying translucent face powder to your skin and allowing your body heat to melt the product, creating a flawless finish.
To try this technique, start by applying your normal foundation and concealer. Then, use a makeup blender to press powder on overtop. Let it sit for about 10 minutes. Essentially, the heat of your skin will work its magic and set your foundation and concealer while you wait. After you've waited out the clock, dust off the translucent powder for a crease-free finish.
Product pick: L'Oréal Paris Infallible Pro-Sweep & Lock Loose Setting Face Powder
MAKEUP TERM #4: KABUKI BRUSH
A kabuki brush is a dense makeup brush used to apply loose powders. The name comes from a Japanese form of theater, kabuki theater. These brushes usually have a short stem and are most often used to apply foundation, blush, bronzer, and setting powder.
MAKEUP TERM #5: FAN MAKEUP BRUSH
A fan makeup brush is a soft brush that's used to lightly dust powder products onto your face. Perfect for those who have a heavy hand, this brush comes in handy—especially when applying highlighter—to apply just the right amount of product for a seamless finish. Head on over to our article, How to Use a Fan Makeup Brush, to elevate your beauty look.
MAKEUP TERM #6: STIPPLING BRUSH
A stippling brush is a dense makeup brush that works small dots of liquid and cream products onto your skin to achieve an airbrushed effect. These brushes typically feature two sets of bristles, white fibers at the top and dense black fibers at the bottom that work to build coverage and blur harsh lines. This brush is often used to apply foundation, cream blush, and bronzer.
MAKEUP TERM #7: OVERLINING
Overlining your lips means drawing outside of your natural lip line to make your lips appear fuller. This accentuates your pout—just be careful not to go overboard. Even going just a hair past your lip line will make your lips look fuller—there's no need to completely draw on a new pair of lips.
Product pick: L'Oréal Paris Infallible Never Fail Lip Liner
MAKEUP TERM #8: CUT CREASE
Simply put, a cut crease means using eye shadow in the crease of your eye to create a more dramatic appearance. With this technique, the crease above your eyelid is "cut" sharply with a contrasting shadow to add depth to the look and enhance your eye shape. What sets a cut crease apart from a standard eye shadow look is that the crease shade is only blended upward, which means there's what would normally be considered a harsh line between your crease and lid. It's a more defined look that makes your eyes look extra lifted. If you want to learn how to get the look, read our article, How to Create a Cut Crease.
MAKEUP TERM #9: HALO EYE
A halo eye is when your eye makeup features a pop of shimmery color on the center of the lid with darker eyeshadow that radiates outward. The result? The illusion of bigger and rounder eyes. A great way to practice your blending skills, this trend will complement your beauty look with ease. Click over to our article, What Is Halo Makeup? Here's How to Rock This Buzzy Makeup Trend, to give it a try.
MAKEUP TERM #10: FOILING
Foiling means you're applying your wet eyeshadow to your lids to create a shiny, metallic-like finish. Simply mist your eyeshadow brush with a makeup setting spray before dipping into your eyeshadow or powder of choice to create a creamy consistency. Blend until even.
MAKEUP TERM #11: DRAPING
Draping refers to contouring your face with blush. Instead of your usual blush application, you sweep the product from your temples to the apples of your cheeks for a youthful look.
MAKEUP TERM #12: HITTING PAN
Hitting pan means you're starting to run out of a product and can now see the bottom of the container. Makeup junkies don't see hitting pan as a bad thing; it's actually a point of pride for them! In fact, there are Instagram accounts and online communities dedicated to sharing when you've hit pan and showing your progress on how much of the pan is visible.
MAKEUP TERM #13: FALLOUT
Fallout is when you're applying eyeshadow and particles fall on other areas of your face such as the bridge of your nose, the tops of cheeks, and pretty much anywhere you wouldn't want it. To get around this issue, it's best to apply eyeshadow first to avoid messing up your face makeup.
MAKEUP TERM #14: TRANSFERRING
Transferring involves having your makeup rubbed onto your clothing, which is one of the things that seems to happen at the worst time. The key to preventing your makeup from transferring is always applying primer before the rest of your makeup, setting your makeup with powder and setting spray, and blotting your face as needed.
MAKEUP TERM #15: TIGHTLINING
Tightlining is when you fill in the base of your lashes with eyeliner to define your lash line. This will make your lashes look thicker, and who doesn't want that?
Product pick: L'Oréal Paris Infallible Pro-Last Waterproof, Up to 24HR Pencil Eyeliner in Black
MAKEUP TERM #16: WATERLINE
Your waterline is the "wet" part of your eyelid between your lash line and your actual eyeball. To add definition to any makeup look, line this area with a dark eyeliner. To make your eyes appear bigger and more awake, use a white or flesh-toned eyeliner on your waterline. Be careful when applying any product to your waterline—you don't want to poke yourself in the eye!
Product pick: L'Oréal Paris Infallible Pro-Last Waterproof, Up to 24HR Pencil Eyeliner
MAKEUP TERM #17: ROOT STAMPING
Root stamping is an easy way to make your lashes appear thicker. Just press your mascara wand against the root of your lashes before swiping up. Be gentle to avoid getting clumpy lashes. This is also a great way to look more awake immediately.
Product pick: L'Oréal Paris Bambi Eye Waterproof Mascara, Lasting Volume
MAKEUP TERM #18: STROBING
Strobing is the opposite of contouring. Instead of emphasizing the shadows on your face, strobing puts the focus on the high points. Just apply a highlighter to areas of your face where the sun would naturally hit—cheekbones, brow bones, bridge of the nose—to achieve a youthful, natural-looking glow.
Product pick: L'Oréal Paris True Match Lumi Shimmerista Highlighting Powder
MAKEUP TERM #19: FACE BEAT
A face beat simply means achieving the perfect makeup look! As long as you follow the right makeup application techniques and use the right products, you'll craft the perfect face beat with every look.
MAKEUP TERM #20: MONOCHROMATIC MAKEUP
Monochromatic makeup is the art of using one hue to enhance your eyes, face, and lips for a gorgeous look. An excellent option for those who are new to the makeup world or are in need of a quick and easy look, we have a feeling monochromatic makeup will become your favorite in no time. Get ready to bring beautiful monochromatic makeup looks to life with the help of our article, 5 Trendy Monochromatic Makeup Looks.
MAKEUP TERM #21: SETTING YOUR MAKEUP
Setting your makeup should always be the last step of every makeup routine. After all, you want your gorgeous makeup look to go the distance. In order to keep your makeup in place all day long, you'll need to seal it all in with a makeup setting spray.
Product pick: L'Oréal Paris Pro-Spray and Set Make-Up Oil-Free Setting Spray
Next up: Now that you've expanded your makeup vocabulary, it's time to focus on skin care. Head on over to our article, 9 Skin Care Terms Everyone Should Know, for another lesson.
Discover more tips & tricks
Keep your skin happy
See all articles
Shop Featured Makeup products
Discover More