makeup trends
21 Makeup Terms All Beauty Enthusiasts Should Know
Consider this your beauty encyclopedia.
May 13, 2022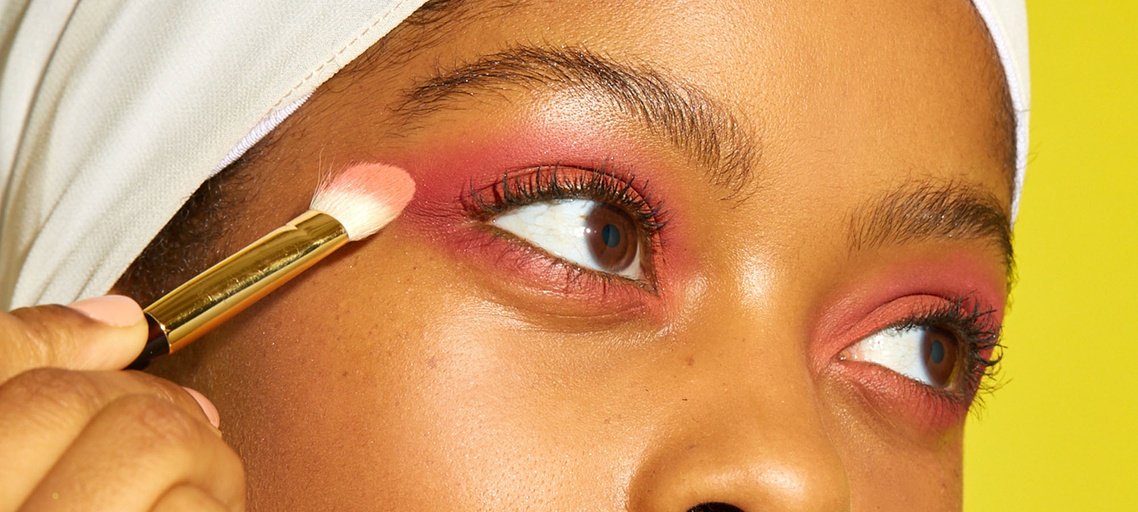 Between TikTok makeup trends, formula innovations and the abundance of creativity and talent in the makeup industry, it seems that new makeup terms are constantly arising. And if you're a beauty enthusiast or an aspiring beauty expert, then being well-versed in these terms is likely on your to-do list.
However, we recognize that it can be difficult to differentiate — let alone remember — all of the many makeup terms. So we're sharing 21 makeup words and phrases to keep stowed in your mental beauty encyclopedia.
1. Contouring
Contouring involves using makeup to create the illusion of sculpted, defined or altered facial features. It's often used to fake the appearance of more defined cheekbones or a slimmer nose by placing contrasting dark and light makeup in key areas.
2. Highlighting
Highlighting is a makeup technique that works to draw light to your face to help accentuate your features and illuminate your complexion. A light or shimmering powder, cream or liquid product, like the L'Oréal Paris True Match Lumi Glotion Natural Glow Enhancer, is applied to the bridge of the nose, cupid's bow, the inner eye corners, and on the top of the cheekbones.
3. Baking
Baking has nothing to do with sweet treats — not in this case anyways. Baking is actually the process of applying a semi-thick layer of translucent face powder to your skin using a makeup sponge to set the foundation or concealer underneath. The powder is left on for a few minutes before being brushed away to reveal a smooth, matte finish. Give it a try with the L'Oréal Paris Infallible Pro-Sweep & Lock Loose Setting Face Powder.
4. Kabuki Brush
A kabuki brush is a dense makeup brush used to apply loose powders. The name comes from the Japanese kabuki theater. It usually has a short stem and is most often used to apply foundation, blush, bronzer, and setting powder. The large surface area makes it efficient for setting the face quickly.
5. Stippling Brush
A stippling brush is a makeup brush that works small dots of liquid and cream products onto your skin to achieve an airbrushed effect. It typically features two sets of bristles, white fibers at the top and dense black fibers at the bottom that work to build coverage and blur harsh lines. This brush is often used to apply foundation, cream blush, and bronzer.
6. Makeup Blender
A makeup blender is a sponge, like the L'Oréal Paris Infallible Blend Artist Foundation Blender, that is dampened and used to blend out liquid and cream products. It's great for people who are heavy handed because it soaks up excess makeup as it blends.
7. Overlining
Overlining your lips means drawing outside of your natural lip line to make your lips appear fuller. Even going just a hair past your lip line will make your lips look fuller — there's no need to completely draw on a new pair of lips. Try it out by using the L'Oréal Paris Colour Riche Lip Liner in a shade that closely matches your natural lip color.
8. Cut Crease
A cut crease is an eyeshadow technique where a lighter eyeshadow is packed onto the eyelid below the crease, and a deeper color is worked into the crease precisely to create a rounded,
more defined eye crease.
9. Halo Eye
A halo eye is an eyeshadow technique that features a pop of shimmery color on the center of the lid with darker eyeshadow that radiates outward. This creates the illusion of bigger and rounder eyes.
10. Foiling
Foiling means applying a wet eyeshadow to your eyelids to create a shiny, metallic finish. Simply mist your eyeshadow brush with a makeup setting spray before dipping it into a shimmery eyeshadow with a creamy consistency and blend onto your lids.
11. Draping
Draping — also referred to as blush draping — refers to contouring your face with blush. Instead of your usual blush application, you sweep the product from your temples to the apples of your cheeks for a lifted look.
12. Hitting Pan
Hitting pan means you're starting to run out of a product and can now see the bottom of the container. Stretch the use of your products by opting for palettes with multiple shades, like the L'Oréal Paris Colour Riche Pocket Palette Eye Shadow.
13. Fallout
Fallout is when you're applying eyeshadow and particles fall on other areas of your face, like the tops of cheeks. To prevent this, you can apply eyeshadow first to avoid ruining your face makeup.
14. Kickback
Kickback refers to the dust or eyeshadow particles that can accumulate when you tap your makeup brush into a powder product. This is not always a bad thing, it often just means that the product is loosely pressed.
15. Waterline
Your waterline is the wet part of your eyelid between your lash line and your actual eyeball. People often apply a dark eyeliner to this area for definition, or nude eyeliner, like the L'Oréal Paris Infallible Pro-Last Waterproof, Up to 24HR Pencil Eyeliner in Nude, to make the eyes appear more wide-awake.
16. Tightlining
Tightlining is when you fill in the base of your lashes at your waterline with eyeliner to define your lash line.
17. Root Stamping
Root stamping is an easy way to make your lashes appear thicker without using eyeliner. Just press your mascara wand against the root of your lashes before swiping up. Be gentle to avoid getting clumpy lashes. This is also a great way to instantly look more awake.
18. Strobing
Think of strobing like the opposite of contouring. Instead of emphasizing the shadows on your face, strobing puts the focus on the high points. Just apply a highlighter to areas of your face where the sun would naturally hit — cheekbones, brow bones, bridge of the nose — to achieve a youthful, natural-looking glow.
19. Pigmentation
Pigmentation refers to how bold or vibrant the color payoff is in a product. The more intense the pigmentation, the more vibrant it will appear.
20. Monochromatic Makeup
Monochromatic makeup refers to a makeup look that uses one color to enhance your eyes, face, and lips. It's a popular makeup style on the runways and it's a great option if you're in a rush and don't want to put effort into pairing makeup colors.
21. Transferring
Transferring involves having your makeup rubbed onto your clothing, chair or other surfaces. One of the ways to prevent your makeup from transferring is to set it with a makeup setting spray, like the L'Oréal Paris Infallible Pro-Spray and Set Make-Up Oil-Free Setting Spray, which will lock it in place.
Next: 30 Hair Color Terms You Should Know Before Your Next Salon Appointment
Edited by: Alyssa Kaplan, Image Credit: Chaunte Vaughn
Discover more tips & tricks
Keep your skin happy
See all articles
Shop Featured Makeup products
Discover More