face makeup
How To Drape Your Blush For A Gorgeous, Flushed Look
Contouring who?
January 30, 2018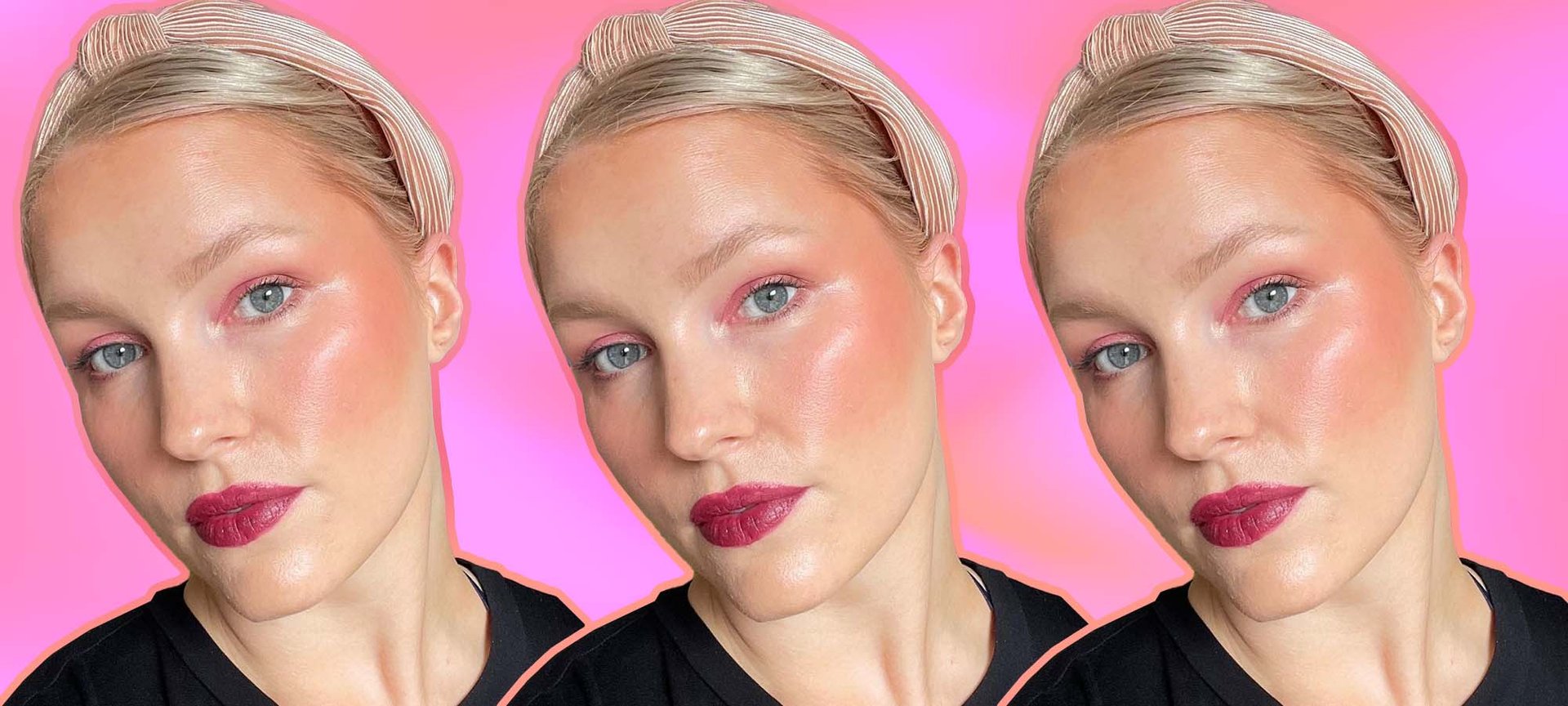 After years of taking a back seat to highlighter, blush has finally made a comeback 一 in a major way. The case can even be made that over the last year, blush has been one of the most beloved beauty items in our makeup kits. And not only has the product itself made its way back into people's makeup bags, but beauty lovers have even taken to experimenting with different application techniques 一 perhaps none more than blush draping.
What was once a popular blush style back in the '70s has become favored yet again. But if you're not familiar with what the technique is, keep reading because we're sharing what to know about blush draping and how to do it for a gorgeous, flushed makeup look.

What Is Blush Draping?
Rather than applying blush solely on the apples of the cheeks — which is how many of us were taught to apply it — blush draping (also referred to as blown out blush) consists of applying blush on the cheekbones to sculpt your features. The color will often start on the apples of the cheeks and be blended up the cheekbones and towards the temples. This creates the illusion of a more sculpted bone structure in contrast to the rounded look that more common blush application creates.
While the terms "blush draping" and "blown out blush" likely weren't used back then, this application technique was popular during the disco era when bronzer wasn't as common and blush was used to contour the face instead.

How To Drape Your Blush
If you're ready to join in on this popular makeup trend, we're sharing how to get the look below in five easy steps.

1. Apply Your Base Products
After cleansing and moisturizing your skin, apply a light layer of foundation, tinted serum or tinted moisturizer so the blush has something to stick to 一 especially powder blush. If you're planning on wearing bronzer and highlighter, apply those products before moving on to blush. This will make for a seamless, blown out blush look sans any harsh lines.

2. Select Your Shade
When opting for the draping technique, blush often becomes the focal point of a makeup look. Because of this, it's important to consider the shade you're using and whether or not it will pair well with the rest of your makeup. For example, if you're wearing a warm-toned eyeshadow look, choose a neutral or warm blush shade that complements it. When in doubt, go for a neutral shade like L'Oréal Paris Age Perfect Radiant Satin Blush with Camellia Oil in Rosewood or Amber.

3. Sweep On The Color
Start by applying the blush very lightly on the apples of your cheeks 一 with a brush if you're using powder or a sponge if you're using cream 一 and build up the application as you work your way up your cheekbones. This will create the illusion of an ultra-defined contour. Then, apply a bit more at your temples and at the highest point of your cheek bones just under the outer corners of your eyes. Applying it in this area makes the blush appear more natural 一 without it, it could look like one stark stripe on the cheeks.

4. Blend The Blush Into Your Eyeshadow
While you could absolutely forgo this step and you'd still be left with a stunning look, doing this can put a beautiful, high-fashion spin on the look. With a fluffy eyeshadow brush blend your blush into the crease of your eyes and connect it with the color on your temples.
{ "@context": "https://schema.org/", "@type": "WebPage", "speakable": { "@type": "SpeakableSpecification", "cssSelector": ["speakable-content"] }, "url": "https://www.lorealparisusa.com/beauty-magazine/makeup/face-makeup/what-is-draping" }
{ "@context": "https://schema.org/", "@type": "WebPage", "speakable": { "@type": "SpeakableSpecification", "cssSelector": ["speakable-content"] }, "url": "https://www.lorealparisusa.com/beauty-magazine/makeup/face-makeup/what-is-draping" }
Discover more tips & tricks
Keep your skin happy
See all articles
Shop Featured Makeup products
Discover More
{ "@context": "http://schema.org", "@type": "BreadcrumbList", "itemListElement": [ { "@type":"ListItem", "position": 1, "item": { "@id": "/", "name": "Home" } } , { "@type":"ListItem", "position": 2, "item": { "@id": "https://www.lorealparisusa.com/beauty-magazine", "name": "Beauty Magazine" } } , { "@type":"ListItem", "position": 3, "item": { "@id": "https://www.lorealparisusa.com/beauty-magazine/makeup", "name": "Makeup Tips For Every Look" } } , { "@type":"ListItem", "position": 4, "item": { "@id": "https://www.lorealparisusa.com/beauty-magazine/makeup/face-makeup", "name": "Face Makeup" } } , { "@type":"ListItem", "position": 5, "item": { "@id": "https://www.lorealparisusa.com/beauty-magazine/makeup/face-makeup/what-is-draping", "name": "what-is-draping" } } ] }