face makeup
This Full-Coverage Concealer Can Hide Anything
April 03, 2020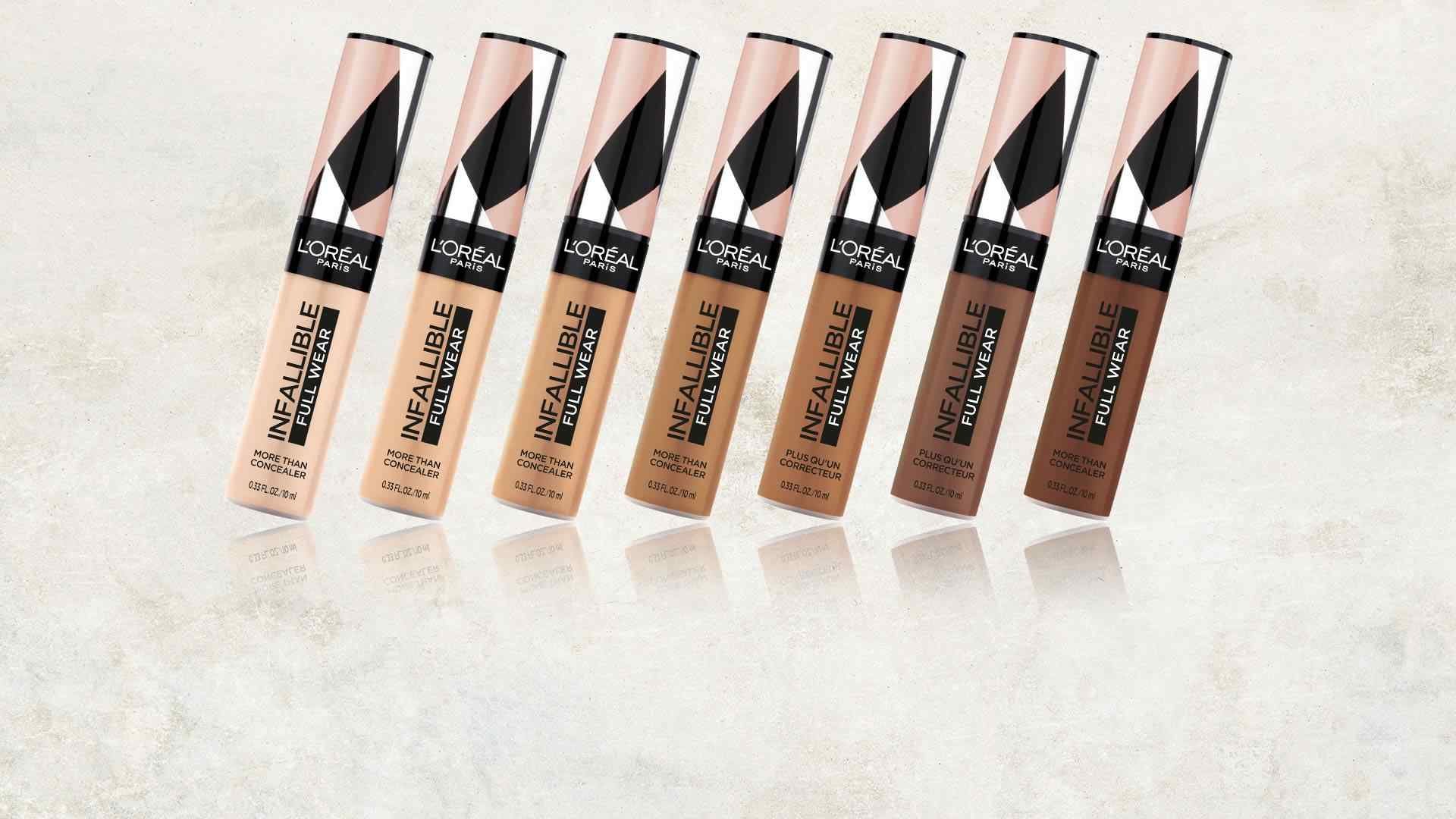 There are a few holy grail makeup staples everyone should have in their makeup bag, but we're here to talk about one in particular: concealer! The best full-coverage concealers can hide even the most challenging skin concerns, from dark spots to acne. Need we say more? If you're on the hunt for a concealer that surpasses them all, your search ends here. Below, we're sharing our best full-coverage concealer, along with how to use it in your routine.
OUR BEST FULL-COVERAGE CONCEALER
Without further ado, allow us to introduce you to our best full-coverage concealer, the L'Oréal Paris Infallible Full Wear Concealer Waterproof, Full Coverage. This concealer formula offers our highest coverage in our widest shade range ever (25 shades!), so it's no surprise it's a must for your makeup bag. The concealer provides full coverage with a matte finish, making it easy to mask imperfections, whether you're dealing with discoloration or blemishes. Aside from its coverage, the concealer features an extra-large applicator meant to help conceal under-eye circles, acne scars, and discolorations in one stroke.
Worried about your coverage fading throughout the day? The concealer has a waterproof, non-greasy formula that won't transfer, fade, or flake. Bonus: You can also use our best full-coverage concealer to give yourself a perfectly sculpted complexion by going one to two shades deeper to contour and one to two shades lighter to highlight and brighten.
HOW TO USE OUR BEST FULL-COVERAGE CONCEALER
Ready to put our concealer to use? It's as easy as 1, 2—that's it!
STEP #1. COVER UP
Apply the concealer directly onto imperfections using the doe-foot applicator. Remember: It's a full-coverage formula, so there's no need to lay it on thick.
STEP #2. BLEND
Of course, you'll likely want to keep your secret weapon, well, a secret. Make sure to blend the edges of the formula with your finger, a brush, or a makeup sponge. Imperfections? Where?
YOUR FULL-COVERAGE FACE ROUTINE
Want to use your concealer in a complete full-coverage face makeup routine? Follow the steps below and get ready for envious compliments over your flawless complexion.
STEP #1. PRIME YOUR FACE
Use a makeup primer to prep your skin, blur imperfections, and ensure your full-coverage makeup stays put. Smooth on the L'Oréal Paris Studio Secrets Professional Magic Perfecting Base to do just that.
STEP #2. COLOR-CORRECT
To ensure any discoloration doesn't show through, use a color-correcting concealer, like the L'Oréal Paris True Match Color-Correcting Crayon, to neutralize and even your skin tone. Use a green concealer on areas of redness, peach on dark spots, discoloration, and hyperpigmentation, and yellow on blue and purple areas.
Editor's tip: New to color correction? Head over to our article, Your Guide to Color Correcting, for everything you need to know.
STEP #3. APPLY FOUNDATION
Next up: foundation! This will help give you an overall flawless complexion. Look for one with a full-coverage formula that will work with your concealer, like the L'Oréal Paris Infallible Total Cover Foundation. Buff and blend the formula onto your skin with a makeup sponge.
STEP #4. CONCEAL
You know what to do! Use your full-coverage concealer to hide any imperfections and blemishes seamlessly.
Editor's tip: Want to disguise under-eye bags and dark circles, too? Use a color that's one shade lighter than your skin tone and apply it in an upside-down triangle under each eye. Don't forget to blend!
STEP #5. SET YOUR MAKEUP
You wouldn't want all of your hard work to go to waste, would you? To ensure your full-coverage face makeup stays put, you'll want to finish things off with a setting spray. Spritz the L'Oréal Paris Infallible Pro-Spray and Set Make-Up Oil-Free Setting Spray in "X" and "T" motions over your face for a "just applied" makeup look that lasts all day and night.
Next up: Now that you know all about our best full-coverage concealer, perhaps you'd like to add more makeup that's not lacking pigment to your collection. Here are Our Best, Most-Pigmented Eyeshadows.
Discover more tips & tricks
Keep your skin happy
See all articles
Shop Featured Makeup products
Discover More