face makeup
Our Best Foundation for Oily Skin
July 15, 2019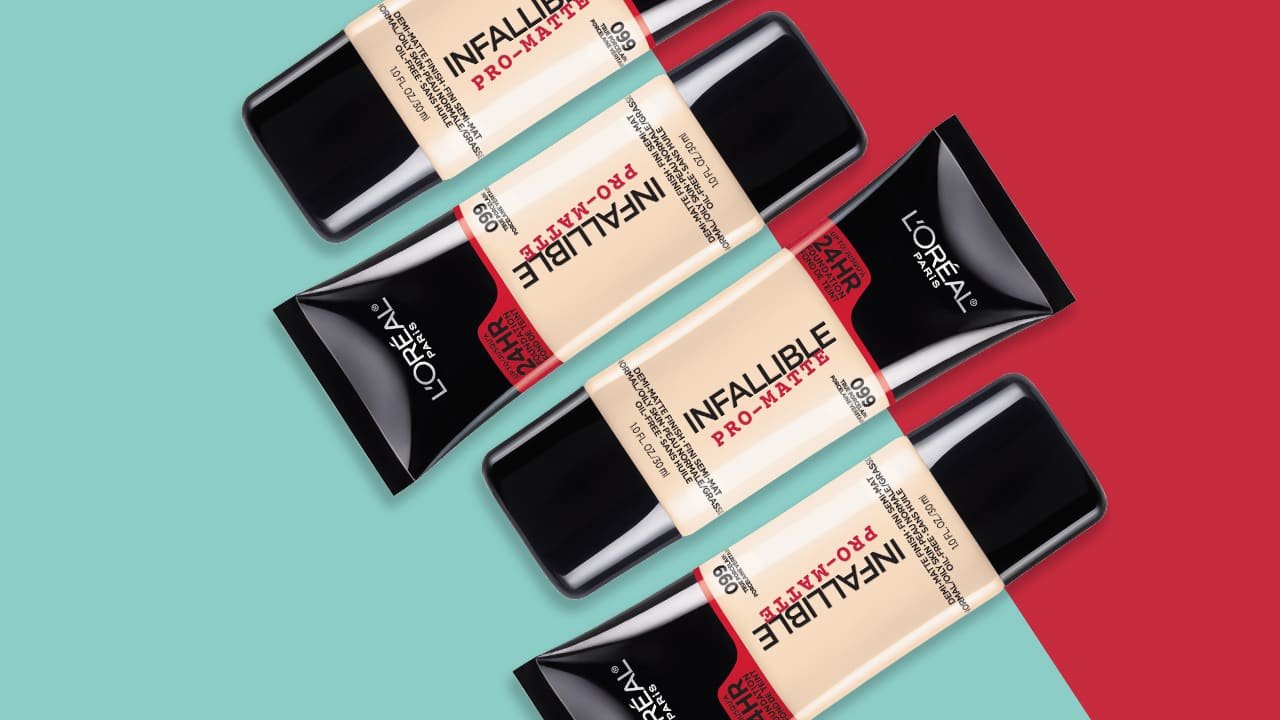 If you have oily skin, then you know just how tricky it can be to get your foundation to stay in place and not succumb to grease. Why is it that your complexion always starts to look greasy come midday? Well, it could be because you aren't using the best foundation for oily skin—AKA one with a matte, non-shiny finish. Here, we're sharing our best drugstore foundation for oily skin along with skin care and makeup tips for applying it. And, since we love a well-rounded beauty look, you'll also find all our favorite makeup products for oily skin to help perfect your shiny visage.
OUR BEST FOUNDATION FOR OILY SKIN
Have you searched high and low for the best foundation for oily skin with no luck? Well, we've got good news! The L'Oréal Paris Infallible Pro-Matte Foundation could be the foundation you've been searching for all along. It's oil-free, long-lasting, and has an air-light texture and demi-matte finish. This means it'll keep oil at bay without looking completely flat, allowing for a more natural-looking complexion.
THE BEST PREP FOR APPLYING FOUNDATION TO OILY SKIN
Finding the best foundation for oily skin is only half the battle—you've got to know how to apply it, too. Before you can move onto your makeup routine, cleansing, moisturizing, and masking is a must. Just as we told you to choose a matte finish foundation if you have oily skin, consider using mattifying skin care products, too. Here, follow our step-by-step skin care prep routine and you'll be well on your way to making the most of our best drugstore foundation for oily skin.
STEP 1: WASH WITH A MATTIFYING FACIAL CLEANSER
The first step of any skin care routine is cleansing. Instead of reaching for any old facial cleanser, be sure to look for one that has mattifying capibilites, like the L'Oréal Paris Pure-Clay Purify & Mattify Cleanser. This cleanser is formulated to seamlessly transform from clay to mousse and remove everyday impurities from the surface of your skin without over-drying. Immediately, skin is purified of dirt, oil, and pollution and left with a clean, clear look and a matte finish. Once a day, squeeze the cleanser into your hands and add water to transform it from clay to mousse. Gently massage the cleanser onto your face using circular motions, then rinse thoroughly with lukewarm water and pat dry.
STEP 2: EXFOLIATE TO MINIMIZE OIL
After cleansing, reach for an exfoliating skin care product to further cleanse skin. Try the L'Oréal Paris Pure-Sugar Purify & Unclog Kiwi Scrub, which is formulated with three pure sugars and kiwi and gently exfoliates away the buildup of dead skin cells, makeup, and impurities, not to mention pore-clogging oils, to reveal silky-smooth skin. For best results, exfoliate using this must-have sugar scrub three times a week.
STEP 3: PAMPER YOUR SKIN WITH A FACE MASK
Two to three times a week, treat your oily visage to a mattifying face mask. The L'Oréal Paris Pure-Clay Purify & Mattify Mask will do the trick. Day after day, impurities, dirt, makeup, and excess oils can build up on the surface of your skin, leaving your complexion looking overly oily. This clay mask helps draw out the buildup of impurities, dirt, and oils and reduce the look of excess shine. Apply an even layer to clean, dry skin, leave it on for 10-15 minutes, then rinse off with lukewarm water. Use three times a week for best results.
STEP 4: MOISTURIZE
Yes, you still need to use moisturizer on oily skin! The L'Oréal Paris Hydra Genius Daily Liquid Care - Normal/Oily Skin is a water-based moisturizer formulated with hyaluronic acid and aloe vera water to help provide long-lasting hydration along with a matte finish. Smooth it over your face and neck after cleansing.
HOW TO APPLY OUR BEST FOUNDATION FOR OILY SKIN
Now it's time for your makeup, including your oily skin foundation!
STEP 1: PREP WITH MAKEUP PRIMER
Once you've completed your skin care routine, it's still not time to apply foundation just yet. Before that, use a primer to help create a smooth base for your makeup application. The L'Oréal Paris Infallible Pro Matte-Lock Primer has a silky, lightweight formula that glides onto skin with a matte finish. Apply it all over your face or to targeted areas, such as an oily-looking T-zone. Not only will the primer help mattify your face and prep your skin for the rest of your makeup, but it will also help keep your makeup in place. Win, win, win.
STEP 2: COLOR CORRECT IMPERFECTIONS
Post-priming your pores, take note of your skin. Notice any discolorations? It's time to bust out the L'Oréal Paris True Match Color Correcting Crayons. Available in five pastel shades—green to combat the look of redness, peach, bisque, and orange to disguise dark circles on a variety of skin tones, and yellow to mask discolorations—you'll be able to quickly neutralize any complexion concerns. Just remember to use your shade(s) of choice sparingly, as a little goes a long way!
STEP 3: APPLY FOUNDATION
After color-correcting, squeeze some of your matte foundation onto the L'Oréal Paris Infallible Blend Artist Foundation Blender and gently blend it onto your face, working from the center out. And by blend, we mean to stipple the color into place, never rub it. When you rub your skin, it can cause irritation, disrupt your makeup, and even promote fine lines and wrinkles down the line.
STEP 4: CONCEAL ANY REMAINING SPOTS
The next step in your makeup routine for oily skin? Concealer! All you have to do is dot some of the L'Oréal Paris Infallible Full Wear Concealer Waterproof, Full Coverage into place to conceal any areas that need a touch more coverage.
STEP 5: CONTOUR
When you're working with oily skin, it always helps to draw the eye where you want it. Instead of drawing focus to your shine-prone pores, chisel your cheeks for a head-turning contour. To get the look, consider the L'Oréal Paris Infallible Longwear Foundation Shaping Sticks. You'll want to pick a hue that's two shades darker than your skin tone for contouring and another that's two shades lighter than your skin tone for brightening. Use a makeup sponge to apply the darker shade to the hollows of your cheeks for a chiseled look and a different sponge to apply the lighter shade beneath your eyes, down the bridge of your nose, and in the center of your forehead and chin. Don't be too surprised if you look like a flawless filter IRL after this step!
STEP 6: APPLY BLUSH
For blush, a powder formula will be best, as it will last longer on your oily skin. To add a touch of youthful radiance to the apples of your cheeks, reach for the L'Oréal Paris Paradise Enchanted Fruit-Scented Blush Makeup. You'll fall equally in love with the color as you will the scent.
STEP 7: HIGHLIGHT
There's no such thing as too much highlighter in 2019, but when it comes to oily skin, it is important to pick the right finish. Instead of reaching for a dewy highlighter, consider a powder option and steer clear of highlighting any spots where you tend to get oily. Some of our favorite powder highlighters include the L'Oréal Paris Infallible Crushed Foils Metallic Highlighter, L'Oréal Paris True Match Lumi Shimmerista Highlighting Powder, and L'Oréal Paris True Match Lumi Glow Nude Highlighter Palette.
STEP 8: SET
After putting that much work into your face makeup, you best believe you want it to last in all its shine-free glory. To ensure that it will, complete your face makeup with an all-over dusting of the L'Oréal Paris Infallible Pro-Sweep & Lock Loose Setting Face Powder. Designed to lock your look in for an all-day appeal, you'll want to stay stocked up on this trusty translucent powder.
BONUS STEP: TOUCH UP WITH POWDER
For quick touch-ups on the go, toss the L'Oréal Paris Infallible Pro-Matte Powder into your purse. It has a matte finish and is available in eight shades.
HOW TO COMPLETE YOUR MAKEUP LOOK
Now, while you could call it a day on your makeup routine and go about your day flaunting a flawless face of makeup without the slightest hint of oil in view, you may want to give the rest of your face the star treatment, too. If you do, start by priming your lids so that your eye shadow will stay put. This is especially important when you have oily skin as eyelids can get oily too!
After priming, have a little fun with your eye shadow and swipe the L'Oréal Paris Infallible Crushed Foils Metallic Eye Shadow onto your lids. Then, finish off your eyes with a razor-sharp line of the L'Oréal Paris Voluminous Lash Paradise Liquid Eyeliner in Black and a few coats of the L'Oréal Paris Voluminous Lash Paradise Mystic Black. Complete your eye makeup by shaping your brows using the L'Oréal Paris Brow Stylist Shape & Fill Mechanical Pencil.
Of course, you can't forget about your lips! Move south to your pout, starting with a lip scrub to buff away any buildup that could take away from the flawless lip look you're aiming for. Next, keep it simple with a sheer glossy lipstick, like the L'Oréal Paris Colour Riche Shine Lipstick in Sparkling Rose. Or, if you're feeling a bit more bold, make it matte with the L'Oréal Paris Infallible Pro-Matte Les Macarons Scented Liquid Lipstick in Dose of Rose.
Discover more tips & tricks
Keep your skin happy
See all articles
Shop Featured Makeup products
Discover More