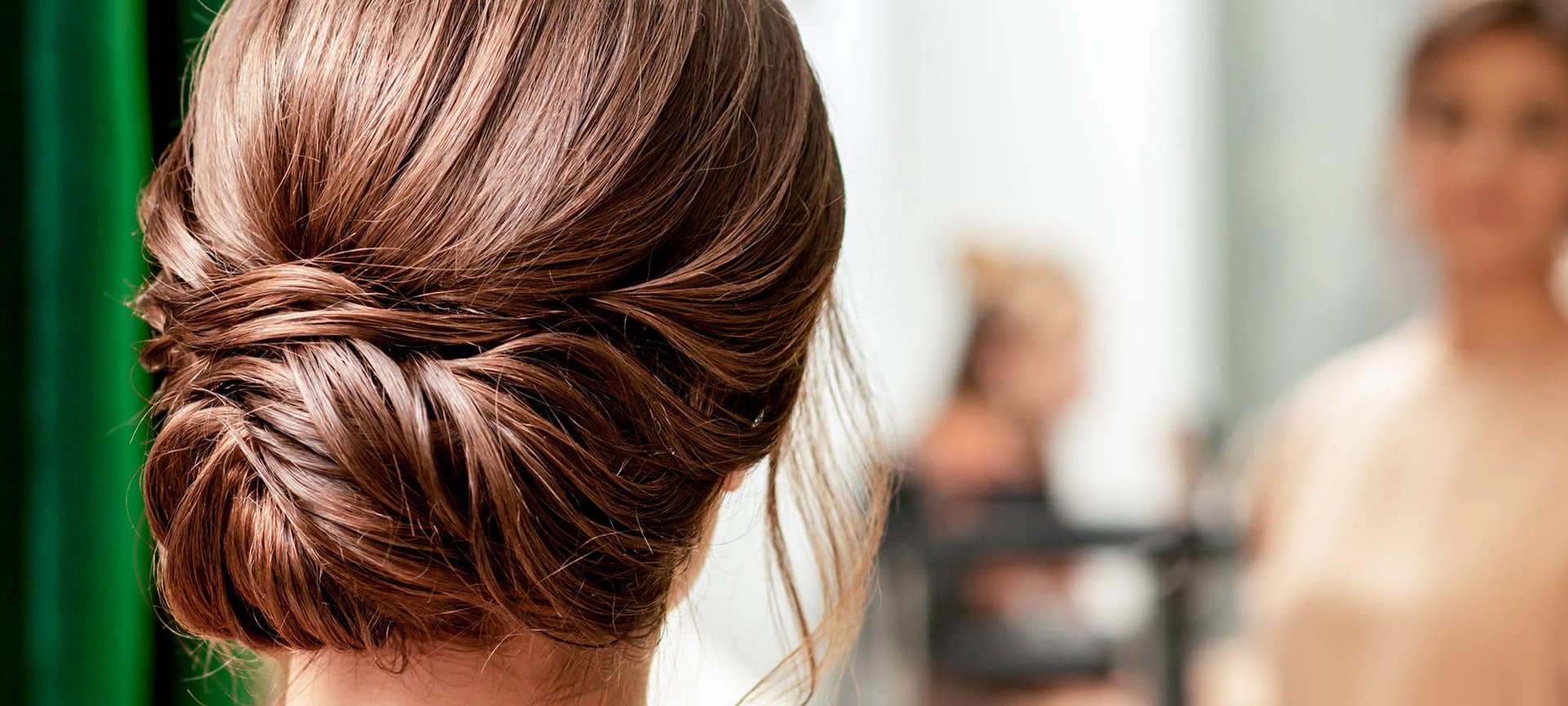 When it comes to hairstyle ideas, sometimes it's best not to reinvent the wheel—just throw some shiny rims on it. This is exactly what influencers and celebrity hairstylists had in mind when they put a new spin on one of favorite updo hairstyles: the French twist. Also known as the French roll, this hairstyle has seen its fair share of weddings, proms and other major events. It's a throwback that we constantly revisit for its versatility and ease of execution. And these days, we're especially loving its 4.0 version for totally Instagramable moments. Check out three of our favorite ways to make the classic French twist a modern French twist with just a few small changes.
1. Make It Messy
When it comes to upgrading your favorite 90s-inspired French twist, L'Oréal Paris expert and celebrity hairstylist Jonathan Colombini says to make it messy. Combining that sexy bedhead look with the polished look of the traditional French twist gives it a modern edge that can go from everyday hair to special occasion 'do. Follow these simple steps to get the look.
Step 1: Start with clean hair, so give your strands a quick cleanse and conditioning with the L'Oréal Paris EverPure Sulfate-Free Moisture Shampoo and L'Oréal Paris EverPure Sulfate-Free Moisture Conditioner for a touch of softness and shine. Then brush your hair to work out any knots.
Step 2: Since this version of the style has a messy effect, skip the hairspray and go straight to creating your updo. Follow the steps for creating a classic French twist and then spritz hair with the L'Oréal Paris Elnett Precious Oil Satin Hairspray.
Step 3: Finally, tousle some of the hair to make it messy. "Pull some hairline pieces out or after pinning the French twist, run your hands against the grain of the hair to create flyaways," Colombini says.
2. Double Twist It
Another way to modernize your French twist is to add another twist—literally! Giving the look a second twist not only adds dimension to the style, but it's a great way to give poofy, thick hair some structure or make thin hair look fuller. Want to get the look? Follow the steps below to perfect this style right at home.
Step 1: If you have thicker hair, start by adding a hair serum like the L'Oréal Paris Elvive Dream Lengths Frizz Killer Serum Leave-In to your strands to help tame frizz and static. If your hair is on the thinner side, help give it a boost of volume with the L'Oréal Paris Elvive Dream Lengths Air Volume Shampoo. Spray directly onto the roots to lift oil and dirt that can weigh down your already thin hair.
Step 2: Since you're creating two, you can use the palm method to make your twists. Separate your hair into two sides (clip one side while you work on the first one). Gather your hair in one hand and lay the other hand flat against your head palm up so that you can grab the hair. Then twist the hair around the open palm, and using the open palm grab it while twisting up. Add bobby pins to secure your new twist before moving on to the other side. Your hair length will determine whether you'll need to pin and tuck the remaining length under your twist.
Step 3: Add any barrettes of other accessories you want to adorn your double French twists before you spritz with hairspray for long-lasting hold.
3. Add Some Braids
Whether you're sporting your favorite knotless box braids and want to create a French twist, or creating new plaits to give your 'do some added flair, braids are the perfect accent for this style. It's an easy way to breathe new life into your protective style without getting back into the braider's chair. If you're sporting braids all over simply follow the classic French twist tutorial or do a single palm method twist and secure with pins. Want to add just a few braids to your roll? Here's how to get the look.
Step 1: Before you start your French twists, create three separate braids two inches apart on one side of your hair. Keep in mind that you'll want these braids to be visible on the outer layer of hair so make them about one inch wide. Use a bit of the L'Oréal Paris Advanced Hairstyle LOCK IT Clean Style Gel to give your braids some hold and keep flyaways at bay.
Step 2: Using the palm method to create your twists, gather your hair with one hand and lay the other flat against your head with the palm facing out. Grab your hair with the open palm and twist up, creating a voluminous roll, and use bobby pins to secure it.
Step 3: Tuck your lengths under the twist and use more bobby pins if you need to.
Editor's Tip: Adding pearl accents and beads to hair is easier with braids, making this a French twist that lends itself to fun embellishments and jewels.
Next: 7 Fun Ways To Wear Barrettes For Your Wedding
Photo Credit: iStock
{ "@context": "https://schema.org/", "@type": "WebPage", "speakable": { "@type": "SpeakableSpecification", "cssSelector": ["speakable-content"] }, "url": "https://www.lorealparisusa.com/beauty-magazine/hair-style/updo-and-bun-hairstyles/modern-french-twist-tutorial" }
Discover more tips & tricks
Keep your skin happy
See all articles
Improve your routine
Show your new look more love:
makeup
{ "@context": "http://schema.org", "@type": "BreadcrumbList", "itemListElement": [ { "@type":"ListItem", "position": 1, "item": { "@id": "/", "name": "Home" } } , { "@type":"ListItem", "position": 2, "item": { "@id": "https://www.lorealparisusa.com/beauty-magazine", "name": "Beauty Magazine" } } , { "@type":"ListItem", "position": 3, "item": { "@id": "https://www.lorealparisusa.com/beauty-magazine/hair-style", "name": "Find Your Next Hot Look" } } , { "@type":"ListItem", "position": 4, "item": { "@id": "https://www.lorealparisusa.com/beauty-magazine/hair-style/updo-and-bun-hairstyles", "name": "Updo & Bun Hairstyle" } } , { "@type":"ListItem", "position": 5, "item": { "@id": "https://www.lorealparisusa.com/beauty-magazine/hair-style/updo-and-bun-hairstyles/modern-french-twist-tutorial", "name": "modern-french-twist-tutorial" } } ] }