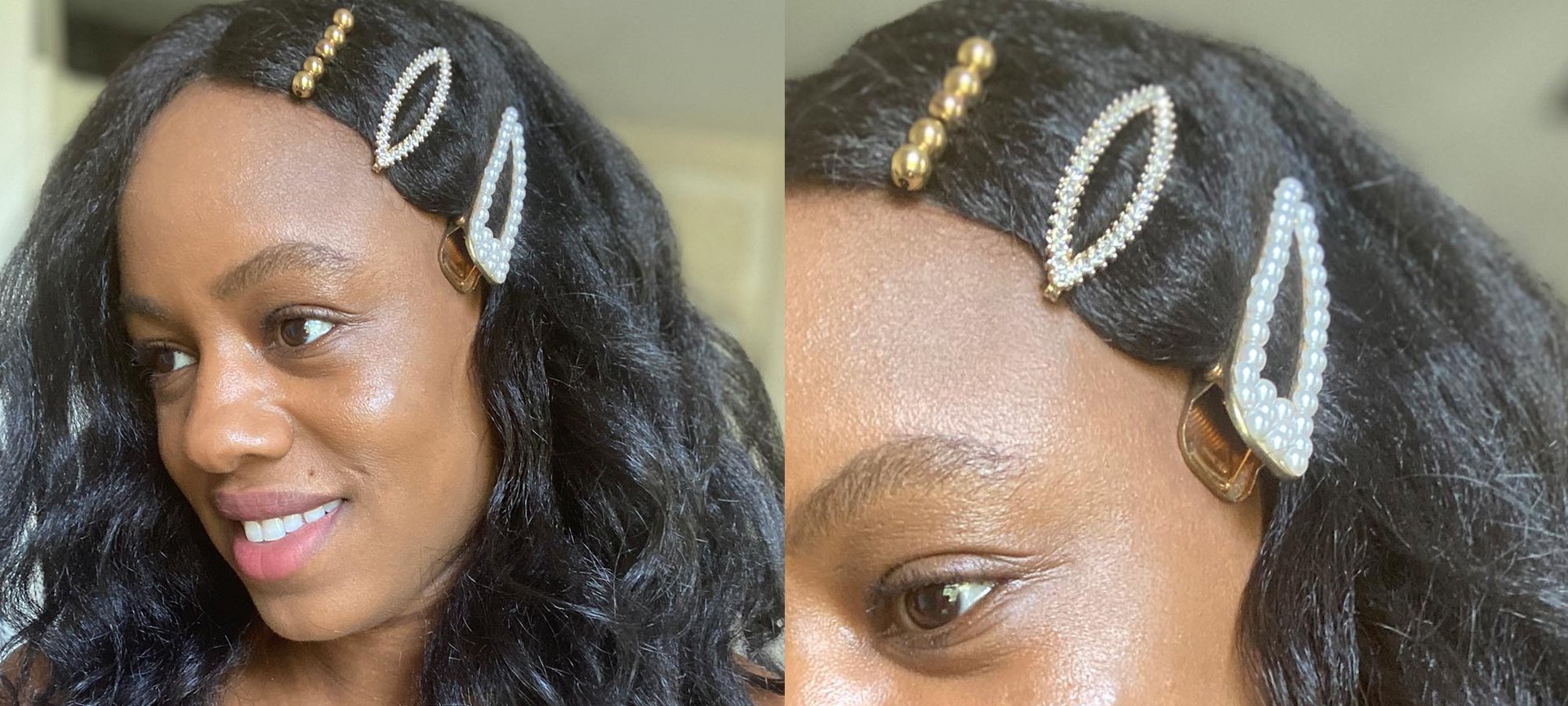 beauty looks
7 Fun Ways To Wear Barrettes For Your Wedding
They're not just for school girls.
When it comes to wedding hairstyles most professionals will tell you to keep it classic. We know brides love an updo like a traditional chignon or French roll for their big day, and even flowing curls for long hair make their way onto the list of approved styles. For the unconventional bride, though, barrettes are a fun way to put a creative spin on your wedding day hair. Sure, wearing barrettes is nothing new and there are plenty of traditional wedding barrettes out there. But, there are also many ways to wear barrettes for your wedding that let you show off your personality and panache that separates you from the next bride. Check out seven of our favorite ways to wear barrettes in your wedding hairstyle, below.
1. To Create An Old Hollywood Glam Style
Barrettes don't always have to look like those childhood baubles that your mom and grandma used to adorn your hair. In fact, they should take on a more sophisticated look—especially for your wedding. If you're sporting an old Hollywood glam style, a handful of barrettes can take the look up a notch. Before you add the pretty accessories, treat your mane to a few spritzes of the L'Oréal Paris Elnett Extra Strong Hold Volume to give your style an all-day hold.
2. To Add A Pop Of Color
Who says your bridal barrettes have to be in pearl, champagne or metallic hues? It's your day so you can wear your hair how you want to! And we love a bride unafraid to indulge in a pop of color via her accessories. Stick with one shade or a color gradient in the same family (perhaps to match with your bridesmaids or your groom's tie). No matter what, your hair will be a show stealer.
3. All Over For Drama
Adding a barrette or two to adorn and secure your updo is one way to go—but that's so traditional. An all over barrettes look is uber dramatic and creates a statement piece for your bridal 'do. The best part of this hairstyle idea is that it can be done on any length of hair, and looks especially charming on brides with short hair.
4. In A Pattern
Love zig zags and chevron patterns but think they're too over-the-top for your wedding hairstyle? Think again! The same way you can dare to wear a zipper braid for your nuptials, you can take that same unique flair with your barrettes. Opt for smaller size barrettes so that the style doesn't end up looking crowded and overly busy. Be sure to get your strands sleek first with the L'Oréal Paris Elvive Dream Lengths Frizz Killer Serum Leave-In for styling ease.
5. To Adorn Your Headwrap
We love a bride in a sleek and chic headwrap; it has an appeal that's vintage and avant garde at the same time. So what better way to level up a bridal headwrap than with a standout barrette? The accessories on accessories concept isn't new but for a bride it can be quite daring. Make sure your wrap is secured tightly before you add your barrettes so that you have the option to move them around if you want to play with different placements.
Check out our article How To Wear A Head Wrap Or Hair Scarf for more ways to pair a headwrap for a wedding and other occasions.
6. To Add Some Length To Your Hairstyle
Your barrettes can be beautiful and functional when you use them to clip some extra hair into your 'do. Try adding your barrettes over your clip-in extensions to blend them in and give them some extra security. After all, you don't want any hair malfunctions as you walk down the aisle. Your guests should watch in awe as you sashay towards your partner because you look breathtaking—not because your pony is falling. Your barrettes can help keep hair extensions tightly secured while giving your look some extra pizzazz.
7. To Tie Your Hairstyle And Dress Together
If you ask a bride what's more important between her wedding gown and her wedding hair, she'll probably say she can't choose (trust us, we asked). Honestly, it's your big day—your hair is just as important as your dress and you want them both to be stunning in the photos. Adding barrettes that match your dress helps you tie the two together. Have your dressmaker create some custom barrettes with leftover fabric from your dress or grab the extra fabric, a glue gun, and get ready to get into DIY mode.
Next: Your Pre-Wedding Skin Care Timeline

Photo Credit: Shalwah Evans
Discover more tips & tricks
Keep your skin happy
See all articles
Improve your routine
Show your new look more love:
makeup