short hairstyles
How to Curl Short Hair
April 03, 2020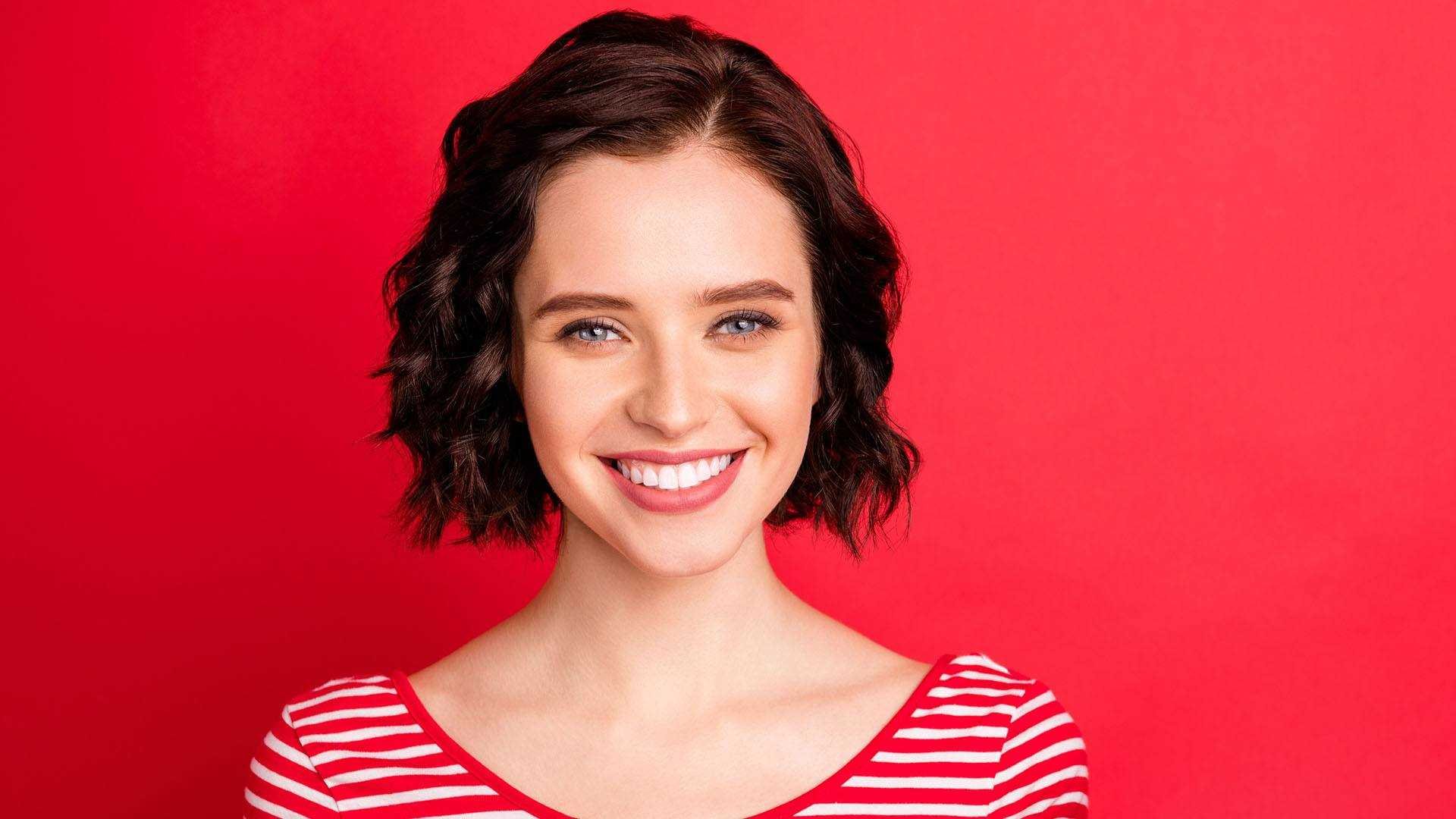 There is no denying that a chic set of curls instantly adds some pizzazz to your look. But if you're working with short hair, you may think that a curly mane is out of reach. Well, we're here to tell you that's simply not the case. The key to learning how to curl short hair relies on finding the right technique and tools. And of course, a bit of patience and persistence goes a long way.
If you're ready to transform your short hairstyles, you've come to the right place. Below, we're giving you the scoop on how to curl short hair with a flat iron, curling iron, and everything in between for a stunning beauty look.
HOW LONG DO CURLS LAST ON SHORT HAIR?
When it comes to figuring out how long curls last on short hair, there is no set answer. Styling products like hair mousse and hairspray help to keep curls in place, but everyone's hair holds curls differently. So, just because your BFF's curls don't drop all day, doesn't mean you can expect the same results, especially if you're working with a different texture.
WHY DOES MY SHORT HAIR NOT HOLD CURLS?
If it feels like your hair is too short to hold a curl, you're not alone! While you may think that something is wrong with your mane, there are many reasons why your hair won't hold curls. For starters, you may have too much product in your hair. Excess styling products can weigh your hair down, which can shorten the life of your curls. Always use the proper amount of product as noted on the packaging to keep your hair ready for curls.
Other reasons why your short hair may not hold curls can range from not fully drying your strands, using the wrong size curling tool, and not allowing your hair to cool for long enough. As long as you follow our tips below, you'll learn how to curl short hair like a pro. Speaking of…
HOW TO CURL SHORT HAIR WITH A FLAT IRON
Who would have thought that you can achieve bouncy curls with a flat iron? It's no wonder that this multi-functional heat-styling tool has become a beauty must-have. Follow our step-by-step routine below to work your way to gorgeous curls in no time.
STEP #1: PREP YOUR STRANDS
Before you reach for any heat-styling tool, you should always protect your hair with a heat protectant. Pick up the L'Oréal Paris Advanced Hairstyle SLEEK IT Iron Straight Heatspray, which works to calm frizz, seal in shine, and protect your locks from heat damage. To apply, mist evenly over your strands from root to tip.
STEP #2: PART YOUR HAIR
Using a rattail comb, create a section that's about an inch in size. Clip the rest of your hair out of the way.
STEP #3: CREATE YOUR CURLS
Grab your flat iron—ideally, one that doesn't have super wide plates—hold the tool downward and clamp the top section of your hair. Twist the flat iron away from your head and hold for a few seconds. Slowly drag the flat iron down toward the ends and release for an instant curl.
STEP #4: REPEAT
Continue parting your strands and curling each section until you're done. Be sure to alternate which way you twist your hair to help your curls blend and look natural. Voila!
HOW TO CURL SHORT HAIR WITH A CURLING IRON
Want to score a curly look the old-fashioned way? Consider it done! All you need is a curling iron that's perfect for short hair to get the job done. Learn how to use a curling iron on short hair below.
STEP #1: CHOOSE THE RIGHT CURLING IRON
Curling irons come in various sizes. Since you're working with a shorter length, you'll want to use a smaller curling iron size. If you stick with a barrel that's ¾-inch thick, you'll be able to curl your hair with ease.
STEP #2: WASH YOUR STRANDS
In order to create long-lasting curls, you'll want to kick things off with freshly washed hair. Use the L'Oréal Paris EverPure Frizz-Defy Shampoo and L'Oréal Paris EverPure Frizz-Defy Conditioner to help keep your strands nice and smooth.
STEP #3: BLOW DRY YOUR HAIR
You already know the drill! Apply a heat protectant, like the L'Oréal Paris Advanced Hairstyle BLOW DRY IT Thermal Smoother Cream, to damp hair before using heat. Then use a round brush to blow dry your locks.
STEP #4: CHECK YOUR CURLING IRON'S TEMP
Now it's time to test your curling iron's temperature. You'll want to find the right setting for your hair without using too much heat. Consider doing a strand test to see how your hair curls, adjust the temperature, and you're ready to roll.
STEP #5: SECTION & CURL YOUR HAIR
Part your hair in a one-inch section and clip the rest out of the way. Lightly clamp the curling iron near the root on your section of hair. Slide the curling iron down to the ends and close the clamp completely. Twist the curling iron up toward your roots, making sure to wrap the length around the section, and wait a few seconds for your hair to heat. Gently open the clamp to reveal your curl.
Editor's note: Looking for a different way to sculpt your curls? Instead of clamping and twisting your hair in a curling iron, wrap your strands around the barrel. After a few seconds, unravel your locks, and you'll have playful curls. This method comes in handy for those who prefer loose curls on short hair. All you need to do is curl bigger sections of hair to get the look.
STEP #6: REPEAT & SET
Follow the previous step until your curls are complete. Once you're sporting luscious curls, mist a bit of strong-hold spray, like the L'Oréal Paris Elnett Satin Hairspray Strong Hold, to keep your curls in place. Voila!
HOW TO CURL SHORT HAIR OVERNIGHT
Ready to wake up to a head full of stunning curls? Look no further! There are plenty of ways to get heatless curls while you sleep. Below, we're sharing three ways to curl short hair overnight.
1. PIN-CURLS
Pin-curls are a favorite for a good reason. Not only do they leave you with seriously stunning curls, but this technique is also heat-free. To get started, create sections that are about an inch in size on damp hair. Take the end of one of the sections, tuck your hair around one of your fingers, and roll up until you reach the roots. Secure the curl with a bobby pin. Continue this process until all of your hair is pinned up. Wrap your hair with a silk scarf and let it dry overnight. Once the a.m. hits, take out all of your pins, and you're ready to take on your day.
2. HAIR ROLLERS
Can't resist a mane full of bouncy curls? Hair rollers can take you there! Set the stage by parting your hair into a small section and clipping the rest out of the way. Apply a tiny dollop of curl mousse, like the L'Oréal Paris Advanced Hairstyle CURVE IT Elastic Curl Mousse to your hair. Comb through and roll your hair from the ends to the roots with the roller. Secure with a bobby pin. Repeat until you have a head full of rollers. Cover with a headscarf and let it sit overnight. In the morning, pull out your rollers, fluff your hair with a rattail comb, and you're all set.
3. BANTU KNOTS
Bantu knots perfectly combine the worlds of protective styling and defined curls, and they never go out of style. It's one of the best methods for learning how to create curls on short hair, because this style works for almost any hair length. Starting with freshly washed hair, create a one to two-inch section in your mane, and start twisting from the root to the ends. Tightly twist the section around itself, form a bun, and secure with a hair tie. Repeat until your Bantu knots are complete. Cover your head with a silk scarf and leave your Bantu knots in place overnight. Undo each knot in the morning and gently finger-comb your strands. Seal the deal with a touch of hairspray for a winning look.
Editor's note: Fancy loose curls on short hair? Create a three-inch section and build a Bantu knot as usual. Once you unravel, you'll have loose curls to play with.
Discover more tips & tricks
Keep your skin happy
See all articles
Shop Featured Hair Style products
Discover More