all hair types
How to Brush and Detangle Curly Hair
April 26, 2019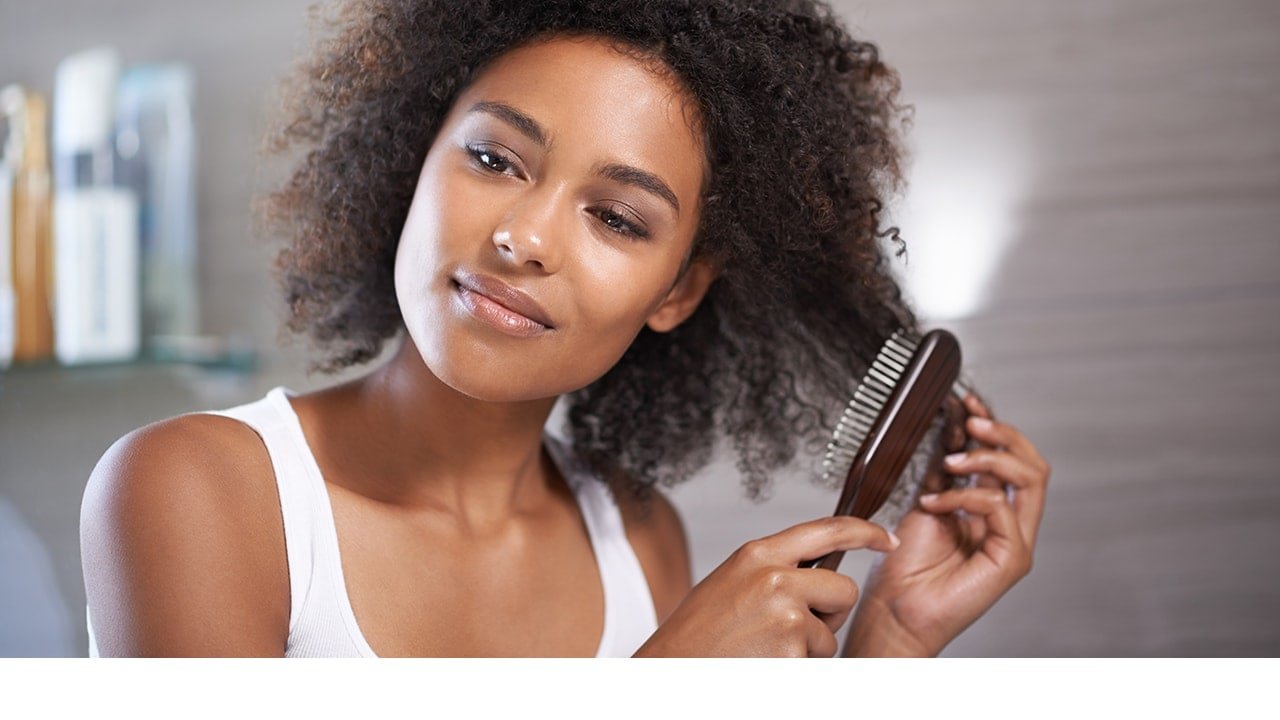 If you have naturally curly hair, then you know trying to run a brush through it can often be quite the challenge. You know what we're talking about: those dreaded tangles. Snagging and snapping and ouch! Yep, you've probably dealt with knots quite a bit if you have curly hair. And while they're certainly no fun, there is a right way to detangle curly hair—it's just all about knowing how to do it. But, should you try detangling your curly hair when it's wet or dry? And should you use a brush or a comb? And what are the best hair styling products to use when doing so? Follow along to learn our step-by-step instructions for detangling curly hair the right way—without breaking or ripping your strands or disrupting the shape of your spirals. Plus, we're also sharing some of our best hair care products for curly hair!
how to detangle curly hair
If your idea of detangling your curly strands involves simply picking up your hair brush and going at it—think again. Not only will that be painful, it can also cause your hair to snap and break! Instead, there's an easier and much less painful way to detangle your beautiful curls. Keep reading to learn how to best keep your curls tangle-free.
STEP 1: START WITH DAMP OR WET HAIR
First things first, detangling curly hair is easier when your hair is wet. If you've ever tried to force a brush through dry knots—something we don't advise—then you already know this. So, before you start detangling, hop in the shower and use shampoo and conditioner just like you normally would. Remember, however, that your hair is at its most fragile when it's wet, so you'll want to be extra gentle during the detangling process. That's where the next two steps come into play.
STEP 2: ADD LEAVE-IN CONDITIONER
After you've washed and conditioned your strands as usual, if you find that your curly hair is still especially tangled or difficult to comb through, spritz on a leave-in conditioner or detangling spray to help make the process more effortless. Focus on the mid-lengths to the ends of your hair.
STEP 3: GRAB A WIDE-TOOTH COMB
This isn't a job for your brush—the best tool to use to detangle curly hair would have to be a wide-tooth comb. Pick up your comb and move on to the next step.
STEP 4: WORK FROM THE BOTTOM UP
Think about it: Where are your tangles? They're probably toward the ends of your hair, right? So, starting from the top and combing downward will just make them bigger and more tangled. Instead, grab your wide tooth comb and gently glide it through your hair starting at the bottom. You'll have to work in small sections and be patient—but we promise it will pay off! With each small section of hair, start combing very gently, working from the bottom upward. Repeat this until your entire head is tangle-free and combed through.
STEP 5: Apply a hair serum
Once you've achieved tangle-free hair, you'll want to apply a nourishing hair serum onto your smooth strands. Doing so will help keep your strands healthy and, in turn, keep your curls looking their very best—which includes remaining as tangle-free as possible. Apply a dime-sized amount of the L'Oréal Paris Elvive Extraordinary Oil Deep Nourishing Treatment Serum onto the lengths and ends of your hair, then comb through again (or use your fingers) to make sure that the product is evenly distributed.
how to brush curly hair
Having curly hair doesn't mean you can never use a hair brush. After all, it likely won't be every day that you'll need to detangle your curls. Sometimes you'll simply want to use a brush as a styling tool. For those days, make sure your hair is completely dry before breaking out your brush. While combs are amazing tools for wet hair, using a brush on wet strands can result in breakage. As for the type of brush to use, if you have curly hair, skip plastic bristles. A natural bristle brush, on the other hand, will be perfect for your hair type. Once you have one in hand, start with a small section of hair and gently brush your ends, then work your way up slowly through your mid-lengths and finally up to your roots. Do this all over your head and there you have it—you've brushed your curly hair! As you likely know, brushing out your curls can cause them to frizz and become unruly. When this happens, turn to a leave-in hair gel or oil to help tame even the wildest of spirals.
OUR BEST PRODUCTS FOR CURLY HAIR
Now that you know how to detangle curly hair, perhaps you're realizing your hair care routine could stand to be revamped in other ways, too. If you're ready to make a few upgrades, consider adding some of our best curly hair products to your routine.
L'Oréal Paris EverCurl HydraCharge Shampoo + L'Oréal Paris EverCurl HydraCharge Conditioner: A proper curly hair care regimen starts in the shower, with the right shampoo and conditioner. If you prefer to forgo sulfates in your hair care routine, reach for this system, which gently cares for your curls, working to keep them hydrated and healthy without weighing them down. It's formulated with coconut oil to gently cleanse while also providing intense hydration. It quenches and softens, perfecting each curl's shape. With continued use over time, curls feel softer and more manageable.
L'Oréal Paris EverCurl Sculpt & Hold Cream-Gel: This curly hair styling product combines the care of a rich hydrating cream that conditions and a styling gel that shapes without weighing hair down. Curls remain smooth and hydrated. After using the above shampoo and conditioner, dispense one to two pumps evenly through clean, towel-dried hair, then let curls air dry or blow-dry with a diffuser. (Read our article, How to Blow-Dry Curly Hair, for more tips on getting that perfect blowout.)
L'Oréal Paris Elvive Extraordinary Oil Curls Shampoo + L'Oréal Paris Hair Elvive Extraordinary Oils Conditioner: Curly hair looking a little limp these days? We know just the thing! This hair care system instantly transforms lifeless curls into ones that are bouncy, defined, and lustrous. Just one wash is enough to help revive and re-nourish hair.
L'Oréal Paris Elvive Extraordinary Oil Curls Re-Nourish Mask: Hair of all types and concerns can benefit from a nourishing hair mask! Once or twice a week, swap out your regular conditioner for a hair mask that's formulated to hydrate curls and restore bounce. If you have curly hair, you'll want to choose a mask that's made specifically to keep your spirals bouncy and healthy, like this one.
L'Oréal Paris Advanced Hairstyle CURVE IT Elastic Curl Mousse: As healthy and hydrated as you keep your curls, you'll likely also want to style them. Consider doing so with a lightweight mousse, which can provide definition without weighing your curls down. This hair mousse, which is formulated specifically for curls, provides a strong hold and heat production—without any stickiness or build up.
Now you can curate a complete hair care routine for curly hair—including being able to detangle your curls like a total pro. Want more curly hair advice? We've got you covered. Check out our article on The 4 Best Hairstyles for Curly Hair.
Discover more tips & tricks
Keep your skin happy
See all articles
Shop Featured Hair Care products
Discover More