damaged hair
Should You Straighten Wet Hair?
Here's why you may want to proceed with caution.
December 28, 2022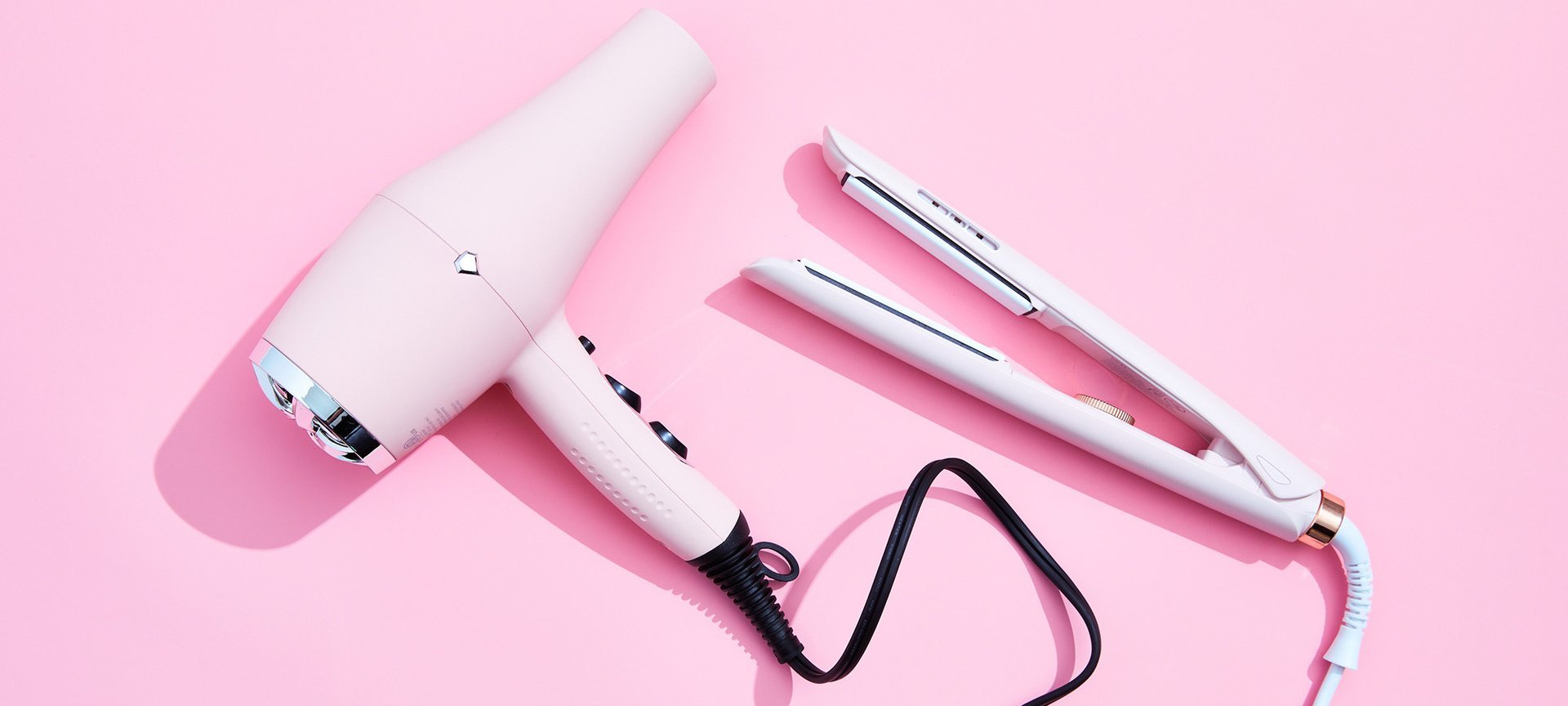 If you've ever straightened your wet hair, it's not something you forget easily. The sound of the crackling hair and the cloud of steam in the aftermath definitely raise panic and can lead to serious hair damage. If this sounds a lot like a certain wet-to-dry flat iron from your teenage years in the late aughts, here's to leaving that in the past and not looking back.
Today, wet-to-dry styling tools have gone through serious upgrades so you have more (and less damaging) options when it comes to coiffing your wet hair. With that said, there are always going to be precautions you want to take when applying heat to your hair, especially when it's wet. Read on as we share why flat ironing wet hair isn't the best idea, plus, tips for straightening wet hair the right way.
Featured Products
Is It Bad to Straighten Your Hair When It's Wet?
Running a flat iron through your dry hair is damaging enough, often leading to split ends, breakage and thinning hair when you overdo it. Your hair is in its most fragile state when wet, so, you can imagine the damage straightening wet hair with a normal flat iron can cause. If you can't, think of severe hair breakage and potentially even burning your hair off.
Using a normal flat iron to straighten wet hair should be avoided at all costs. Even if your hair is just slightly damp, your strands are still at risk for intense damage. Ultimately, the only time you should be picking up a flat iron to style your hair is when it's 100 percent dry.
You may be thinking, "What about blow dryers? They're used on wet hair." And that is true, but when you blow dry your hair, hot air is blown onto your strands to dry them at a distance. When you use a traditional flat iron on wet or even damp hair, your hair is clamped between super-hot plates that dry and shape your hair in a matter of seconds. This can cause even more damage to your hair than heat styling dry hair and it's not something that heat protectant can shield.
How to Straighten Wet Hair the Right Way
A simple way to style your wet hair straight is with a blow dryer, the concentrator nozzle attachment and a large round brush. As you blow dry, turn the brush and work it slowly down the length of your hair, rotating the brush to ensure every strand is dry and smooth.
If you're not skilled with your blow dryer, there are other ways to give your wet tresses a sleek and straight style. We mentioned that dreaded wet-to-dry flat iron from your teenage years that enveloped you in a cloud of steam every time you used it — well, we're not talking about that one.
Since then, wet-to-dry styling tools have gotten a much-needed upgrade with modern enhancements and innovative technology so they can straighten or even curl wet hair without putting it at immediate risk for breakage. Here are three tips to follow when heat styling wet hair.
1. Always Use Heat Protectant
As with any heat-styling tool, you'll always want to apply a heat protectant prior to use. Look for one that will aid in your straightening efforts and smooth hair, like the L'Oréal Paris EverPure Sulfate-Free Weightless Blow Dry Primer, Heat Protectant. If you have frizzy hair, use a few pumps of the L'Oréal Paris Elvive Dream Lengths Frizz Killer Serum Leave-In, a smoothing leave-in serum that tackles frizz and flyaways.
2. Air Dry Before Applying Heat
Using hot tools on dripping wet hair is a big mistake that many people make. First, you're not going to be very successful at drying your hair when it's soaked and second, it's going to take much longer. Instead, towel dry your hair and give it time to air dry a bit before you pick up a blow dryer or any type of wet-to-dry styler. Your hair is most vulnerable when it's wet so it's always better to apply heat to slightly damp hair over drenched hair.
If you don't have time to let your strands air dry, use your blow-dryer to rough dry your hair to about 80 percent dry. Once you've reached this point, then you can grab your round brush or a wet-to-dry styler to begin creating your style. Your blowout will look better and you'll be able to achieve it in half the time than if you styled it wet.
3. Finish With Hair Oil
Using heat to style your hair draws moisture out of your strands, which is why it can lead to split ends, breakage and dryness. After applying any type of heat to your hair, apply a hair oil, like the L'Oréal Paris Everpure Sulfate Free Simply Clean Sheer Oil, through the length, avoiding the roots. Not only will this rehydrate your ends, but it will also tame frizz and flyaways.
Next: The Best Serums to Tame Frizzy Hair
Photographer: Chaunte Vaughn, Art Director: Hannah Packer, Creative Producer: Becca Solovay, Visual Designer: Sarah Duvivier, Content Director: Shalwah Evans, Prop Stylist: Catherine Pearson, Prop Assistant: Lindsay Jones
Discover more tips & tricks
Keep your skin happy
See all articles
Shop Featured Hair Style products
Discover More