hairstyle trends
How to Style Your Bangs, According to a Celebrity Hairstylist
Cheers to a fabulous fringe.
May 25, 2022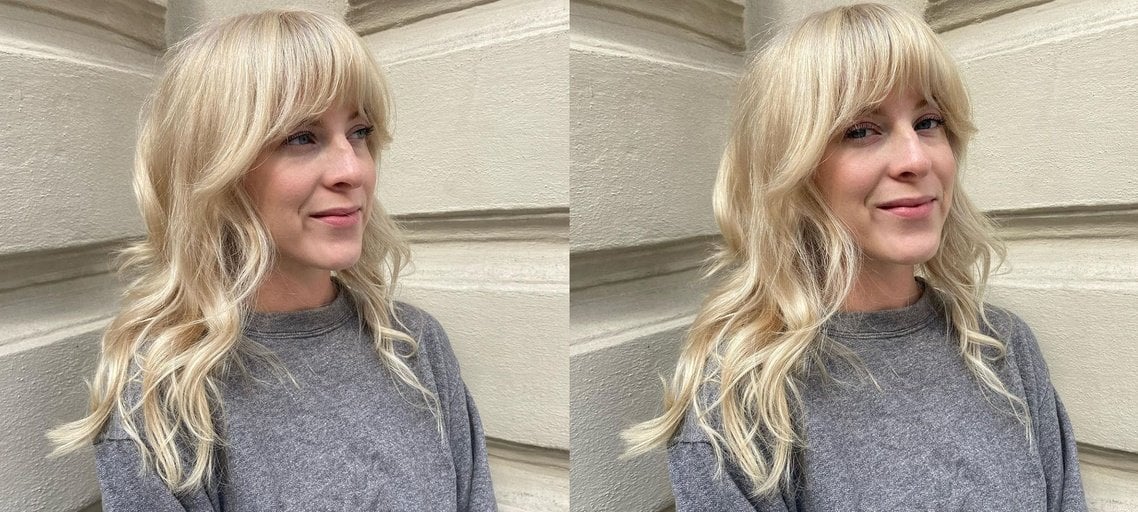 If you've scrolled through social media lately, then you know it's no secret that bangs are back. Well, they were never fully out of style, but it can be argued that they were sidelined for a while in favor of other haircuts and hairstyle trends.
But after the resurgence of
curtain bangs
along with other fun fringe styles, we're comfortable saying that bangs are here to stay. And if you're interested in trying out bangs for yourself, then perhaps you're in need of some styling tips. So, we consulted with
Jonathan Colombini
, L'Oréal Paris Celebrity Stylist, to share his tips on how to style bangs.
What Are Different Ways to Style Bangs?
How to style your bangs depends on your hair texture, your haircut and the look you're going for.
How to Style Curtain Bangs
According to Colombini, if you have pretty long bangs that fall at least a few inches beneath your eyebrows, the best way to style them is with a round brush. Using a blow dryer and round brush ensures that the bangs have plenty of movement and volume.
Editor's tip: Before you style your hair with heat, be sure to use a heat protectant, like the L'Oréal Paris EverPure Sulfate-Free Weightless Blow Dry Primer. It's a lightweight cream formula that provides up to 450-degree heat protection and frizz reduction.
Grab the front sections of your hair into a shape like a slice of pie — the point will be facing the back of your head. "Place a round brush on top of that section and blowdry — with a concentrator on the top — from underneath the section so as to blowdry your bang back," explains Colombini. "So once dry, they make a swoop going backward to feather or frame the face."
How to Style Fine Bangs
The biggest challenge when styling fine hair is creating volume. If you have fine hair and you're hoping to create voluminous bangs, Colombini suggests lightly teasing your hair at the roots and then spraying just a bit of the L'Oréal Paris Elnett Satin Extra Strong Hold, Light Hairspray Unscented to keep them locked in.
How to Style Curly Hair With Bangs
Considering that one of the best attributes of bangs is volume, people with curly hair have an advantage. If you're wondering how to pair your curls with bangs, Colombini recommends that you style your hair as you normally would.
"Every curly girl has their method, so stick to it," he says. "Once the hair is dry, pull apart the curls to create a full bang." If you're feeling like your curls need a refresh, spritz them with the L'Oréal Paris Elvive Dream Lengths Curls Refresh & Reshape Leave-in Spray to reshape them.
How to Keep Your Bangs Looking Their Best
Because bangs fall on the forehead, which tends to be one of the most oily parts of the face, the hair in this area can get greasy and weighed down. To prevent this from happening as much as possible, Colombini recommends applying heavy creams to your bangs and avoiding touching them so you don't transfer oils from your hands.
Next: 7 Tips To Get Poof-Free Fluffy Hair
Written by: Alyssa Kaplan, Photo Credit: IG/@pourtfolie
Discover more tips & tricks
Keep your skin happy
See all articles
Shop Featured Hair Style products
Discover More