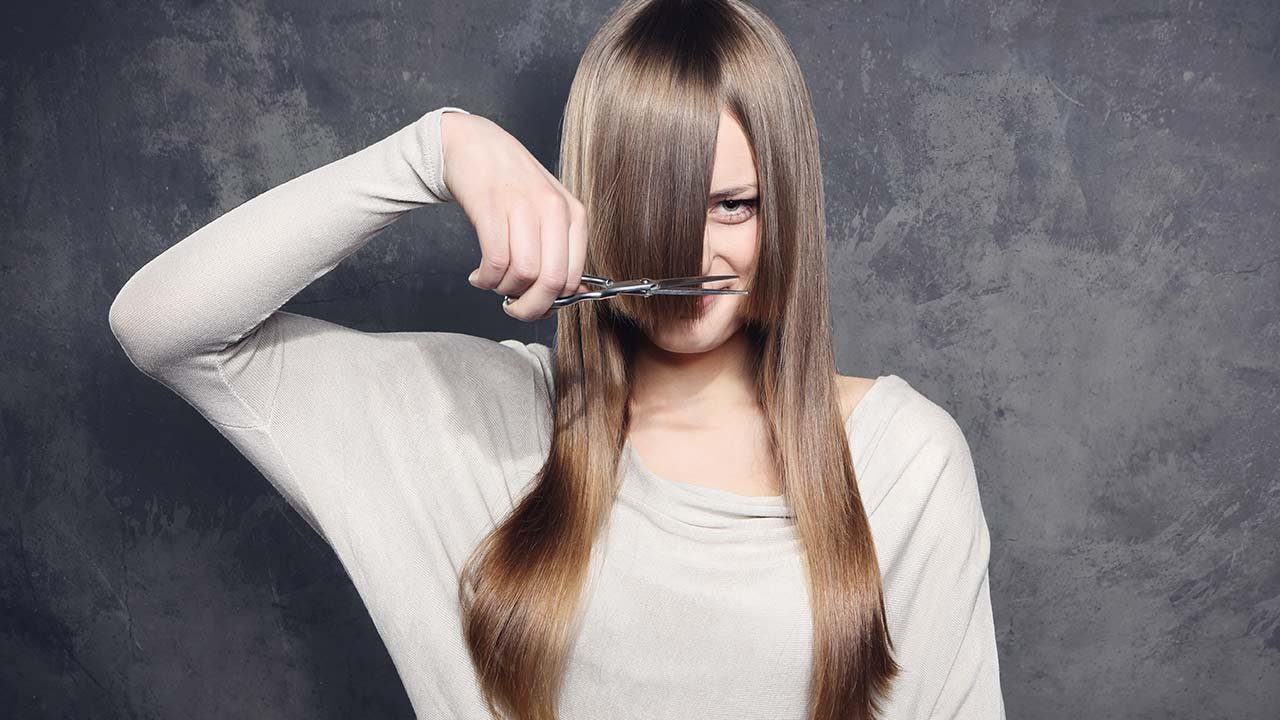 hairstyle trends
How to Style (and Trim) Your Own Bangs
Bangs can instantly transform your face and make any haircut seem just a little bit cooler. Whether you opt for blunt, side-swept, shaggy, or micro bangs, there's a style of fringe out there just waiting to frame your face to its fullest potential. Wondering which type of bang will flatter your face best? Here's how to find the right bangs for your face shape, plus tips on styling them (and even trimming them yourself!), since we know that can get tricky sometimes.
How to Match Your Bangs to Your Face Shape
With multiple face shapes and bang options out there, it might seem like this could get complicated, right? It doesn't have to be, though! Just keep the following in mind: If you have an oval face, a blunt fringe that hits just below your brows can help accentuate your facial features to help balance out width; if your face is slightly rounder or squarer, eyebrow grazing bangs can look gorg; and, last but not least, if you have a heart-shaped face, you can go for just about any style of bang you'd like!
4 Styling Tips to Make the Most of Your Bangs
Now that you know which bangs can complement your face shape, it's time to get schooled on four must-know hairstyling tips. Yes, bangs can sometimes take a little extra work—but the end result is really pretty, so it's worth it!
1. Don't be heavy-handed when it comes to using products. Bangs look great with some body, no question about it. But that doesn't mean you have to apply a ton of products. When it comes to styling your bangs, just remember that less is more. If you work loads of styling products through your bangs, you could wind up with a greasy midday look. Instead, pump a little bit of the L'Oréal Paris Advanced Hairstyle CURVE IT Elastic Curl Mousse into your palm and apply it to your entire head of hair, only using what's left over on your bangs.
2. Blow-dry your bangs ASAP. Usually, it's a good idea to wait until your hair is almost completely dry before you actually start blow-drying it. But because bangs are confined to a much small portion of your head, they can end up drying on their own pretty quickly. And, if you've ever had bangs before, you know that this can result in them ending up all over the place. So, grab a round boar bristle brush and blow-dry your bangs to help add some shape and body.
3. Use a thin flat iron. If you'd like to straighten your bangs, you can do so with a smaller flat iron. Pick up a one-inch wide flat iron to help create an ultra-sleek style.
4. Be mindful of how you moisturize. You know what an important role moisturizing should play in your skin care routine—but if you have bangs, you may have to readjust your technique. To help avoid your bangs getting greasy, make sure to pin them back—and don't take them down until your moisturizer has fully absorbed.
How to Trim Your Own Bangs
Let's face it: Sometimes, you're just not going to have the time to pop into the salon for a bang trim. With the right know-how, you can make a tiny little snip yourself. Follow these four steps to do so.
1. Comb your bangs. When your hair is dry, pull it into a ponytail and comb your bangs flat so that you have just your fringe to work with. (If you cut your bangs when they're wet, you're not seeing the full length of your hair, so they may end up shorter than you'd like.)
2. Start in the middle and move outward. Comb your bangs down to where you want them to hit on your forehead post-trim. When you have your fringe perfectly aligned, grab a pair of scissors and vertically snip at the excess fringe in the middle of your forehead, working your way outward to create a natural-looking trim. Keep in mind that the word "trim" sounds dainty because it is—or rather, it should be. When it comes to trimming your bangs, be sure to work in super-small snips—we're talking millimeters at a time. You can always cut more if you want to go shorter, but you won't be able to fix an unintentional micro fringe.
3. Trim a bit more…only this time diagonally. After you've made your first few vertical snips, go back to the sides and trim diagonally with the longer edges near the outermost part of your face and the shorter edges arching in towards the middle of your forehead. You want to use this technique so that your bangs can be straight across your forehead and gradually longer towards the edges in order to avoid a very blunt, choppy look.
4. Make sure they're even. After you've trimmed your fringe, you want to make sure that both sides are even and that there are no extra little bits straggling behind; if there are, snip them away.
Discover more tips & tricks
Keep your skin happy
See all articles
Shop Featured Hair Style products
Discover More