hair color tutorials
3 Ways to Wear Caramel Brown Hair
Your next hair color looks sweet.
April 22, 2022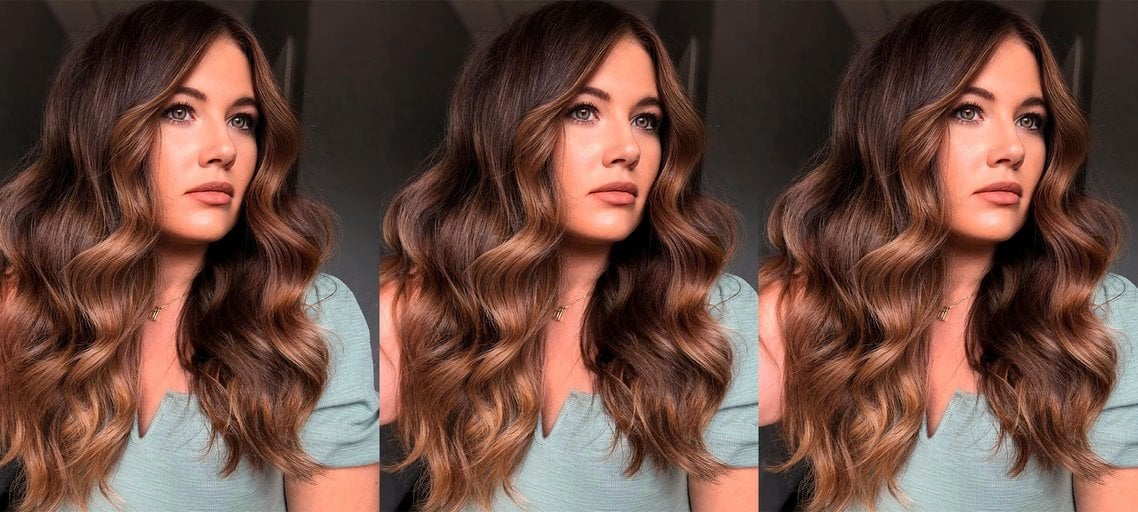 Warm hair colors are seeing a resurgence after cool tones ruled recently — and there's no better time to try one out than now as the weather heats up. If you don't want to go bold with a shade such as pumpkin spice or a pastel hair color, caramel brown might just be your perfect match.
The shade is just what the name suggests — a medium brown color with hints of amber and gold. It has tons of depth and dimension, making it flattering on a wide range of skin tones. If you're game to undergo a sweet hair transformation, we're sharing different ways to wear caramel brown hair, plus tips on how to keep your hair color looking fresh.
How to Get a Caramel Brown Hair Color
Caramel brown hair isn't one-size-fits-all — it can be achieved in a variety of ways. Below, we're sharing three ways to try caramel brown hair and our favorite at-home hair dyes to get the look.
1. All Over Caramel Brown
If you want a solid caramel color, you can transform your hair right at home. Reach for a permanent hair dye and follow the instructions on the box to achieve your new look.
For a light caramel color, try the L'Oréal Paris Féria in Light Golden Brown. It's a permanent color that delivers bold, shimmering results with a shiny finish.
If you prefer a medium caramel color, the L'Oréal Paris Excellence Créme Permanent Triple Protection Hair Color in Medium Golden Brown is perfect for you. Plus, this hair dye formula has 100 percent gray coverage, making it an excellent choice if you have stubborn gray hairs.
For a deep caramel shade, reach for the L'Oréal Paris Superior Preference Fade-Defying Shine Permanent Hair Color in Medium Chestnut Brown. It's a rich brown shade with subtle golden undertones, and the color lasts in the hair for up to eight weeks.
2. Caramel Brown Balayage
If you like your hair to have tons of dimension, heading to the salon for caramel balayage will be your best bet. You can leave your base color as is or opt to transform it into a rich brown shade to create intense contrast with the swept on highlights. The balayage will add natural-looking warm highlights to your hair that will grow out beautifully.
3. Caramel Money Piece
If you like the idea of making a big impact but with little effort, go for a caramel brown money piece. By opting for a money piece, you can leave the rest of your hair as is if you're happy with how it will pair with your caramel front sections.
Head to a professional who can give you a natural-looking money piece that will blend beautifully with the rest of your strands. This can be done using the balayage technique making it truly low maintenance.
How to Maintain a Caramel Brown Hair Color
Dyeing your hair is just the first step in your hair color switch-up. Maintaining it is equally as important. Below, we're sharing our tips on how to maintain your new color.
1. Use Color Safe Hair Care
Using products that are gentle on color is essential in order to keep your hair looking great. We love the L'Oréal Paris EverPure Sulfate-Free Glossing Shampoo, pH Balanced and the L'Oréal Paris EverPure Sulfate-Free Glossing Conditioner, pH Balanced because they're gentle on color and they have an acidic pH which helps to make the hair shiny.
In between the shampoo and conditioner, you can also use the L'Oréal Paris EverPure Sulfate-Free Glossing In Shower Acidic Glaze as a glossing treatment. It works to intensify the shine of color-treated hair in just a few minutes. After shampooing, spray it onto your hair and let it sit for three minutes before applying conditioner right on top of it.
2. Utilize the Power Of a Hair Mask
Bleaching and coloring can cause serious hair damage. Add a hydrating hair mask, like the L'Oréal Paris Elvive L'Oreal Paris Elvive Total Repair 5 Damage Erasing Balm Rinse-Out Mask into your hair care routine for extra nourishment. It works to deeply hydrate and condition the hair thanks to almond oil and protein in the formula, and it can be used after shampooing your hair in just three to five minutes.
3. Use a Hair Color Gloss
If you notice that your hair color appears to be fading or losing vibrancy, try an at-home hair color gloss, like the L'Oréal Paris Le Color Gloss One Step In-Shower Toning Gloss in Clear or Rich Brunette. It works to enhance your hair color and tone while deeply conditioning in just 15 minutes.
All you need to do is evenly distribute a generous amount to clean, damp hair and let it sit for five to fifteen minutes before rinsing it out. You'll be left with shiny, toned hair that looks and feels smooth.
Next: How to Pick L'Oréal Paris Féria Shades Based on Your Skin Tone
Written by: Alyssa Kaplan, Photo Credit: IG/@thathairmagic
Discover more tips & tricks
Keep your skin happy
See all articles
Shop Featured Hair Care products
Discover More