hair color tutorials
How to Create Prism Roots Using Our Colorista 1-Day Sprays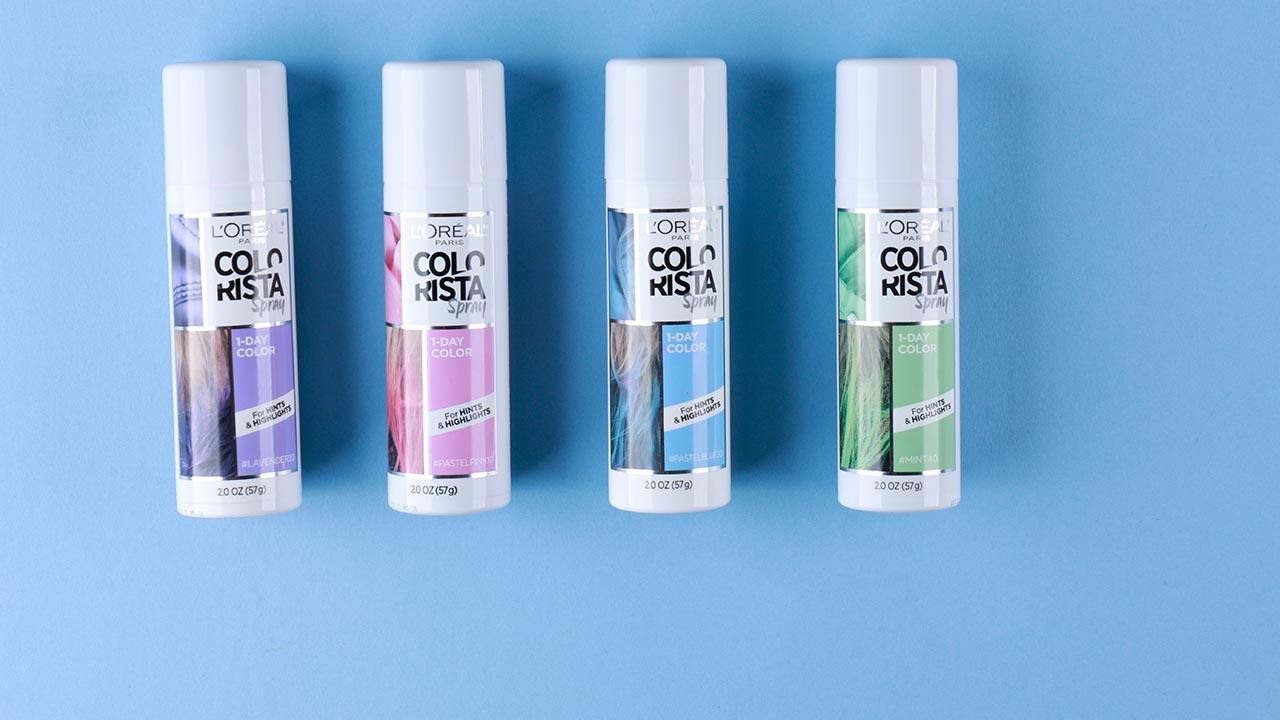 Once upon a time rainbow hair was a statement in and of itself. Nowadays, that allover over the top hair color trend has been molded and shaped into everything from hidden rainbow hair to rainbow roots, and, most recently, prism roots. Much like their bold hair color counterpart rainbow roots, prism roots embrace a multicolored root look to bring attention top and center. The only difference is, instead of bold hair colors, prism roots combine all the prettiest pastels for a truly the real look that's fit for everything from festival season to the everyday—pending your job is cool with it. Worried your career may not be the place of time for multicolored hair? No worries, with the right hair color products and techniques you can still get in on the look temporarily. Here, we show you how!
HOW TO CREATE TEMPORARY PRISM ROOTS
Don't let your job's perception on creativity keep you from experimenting with the season's hottest hair color trend—just use temporary hair color, like the L'Oréal Paris Colorista 1-Day Spray, instead. When trying to embody the hair color that's currently trending, use our temporary hair color sprays in Pastel Lavender, Pastel Mint, Pastel Pink, and Pastel Blue. If you're feeling like being a bit different, feel free to add a few bold hair colors into the mix or giving your whole head of hair an allover spritz of glitter spray for an especially fairytale-ready hair color. When you're ready to make your prism roots go away, just hop in the shower and shampoo your hair.
HOW TO CARE OF PRISM ROOTS
If you're only able to create a short-lived prism roots hairstyle, it's business as usual in the shower — shampoo, condition, and rinse. However, if you're opting for a permanent hair color—which we recommend enlisting the help of a professional for—be sure to take a closer look at your hair care routine. Color-treated hair requires a special level of commitment and care to keep it in tip-top condition. Follow the five tips below and caring for your permanent prism roots will be easier than you could've ever imagined.
1. Switch to a system of shampoo, conditioner, and hair mask that's specially formulated for color-treated hair
It's time to break up with your old shampoo, conditioner, and hair mask. Instead, try using a system formulated for colored hair, like the L'Oréal Paris EverPure Repair & Defend Shampoo, L'Oréal Paris EverPure Repair & Defend Conditioner, and L'Oréal Paris EverPure Repair Remedy Balm.
2. Turn down the heat
Taking a hot shower might feel great, but it's not exactly the best thing in the world for your hair. Super-hot temps can strip your strands of essential oils, leaving hair dry and dull-looking. Not what you want when you have prism roots!
3. Use heat protectant
Love hot tools? Who doesn't! If you find yourself wanting to blow-dry, straighten, or curl your prism roots hairstyle, just make sure to use a heat protectant, like the L'Oréal Paris Advanced Hairstyle SLEEK IT Iron Straight Heatspray, first.
4. Let your hair air dry
You don't have to use heat tools to style your hair. For those days when you want a break or are in a rush to make it out the door on time, air dry your hair. After hopping out of the shower, reach for a wave-enhancing hair spray, like the L'Oréal Paris Advanced Hairstyle AIR DRY IT Wave Swept Spray, and apply it towel-dried hair to add shape and texture to your strands.
5. Visit the salon for a gloss
There's nothing worse than noticing that your prism roots have started to dull. But hitting up the salon to get a gloss can help keep your prism roots looking shiny.
Love the look of prism roots but craving something even more colorful? It's time to consider dousing your whole mane in a gorgeous hue. Our article, How to Do Rainbow Cereal Hair, will show you how.
Discover more tips & tricks
Keep your skin happy
See all articles
Shop Featured Hair Care products
Discover More