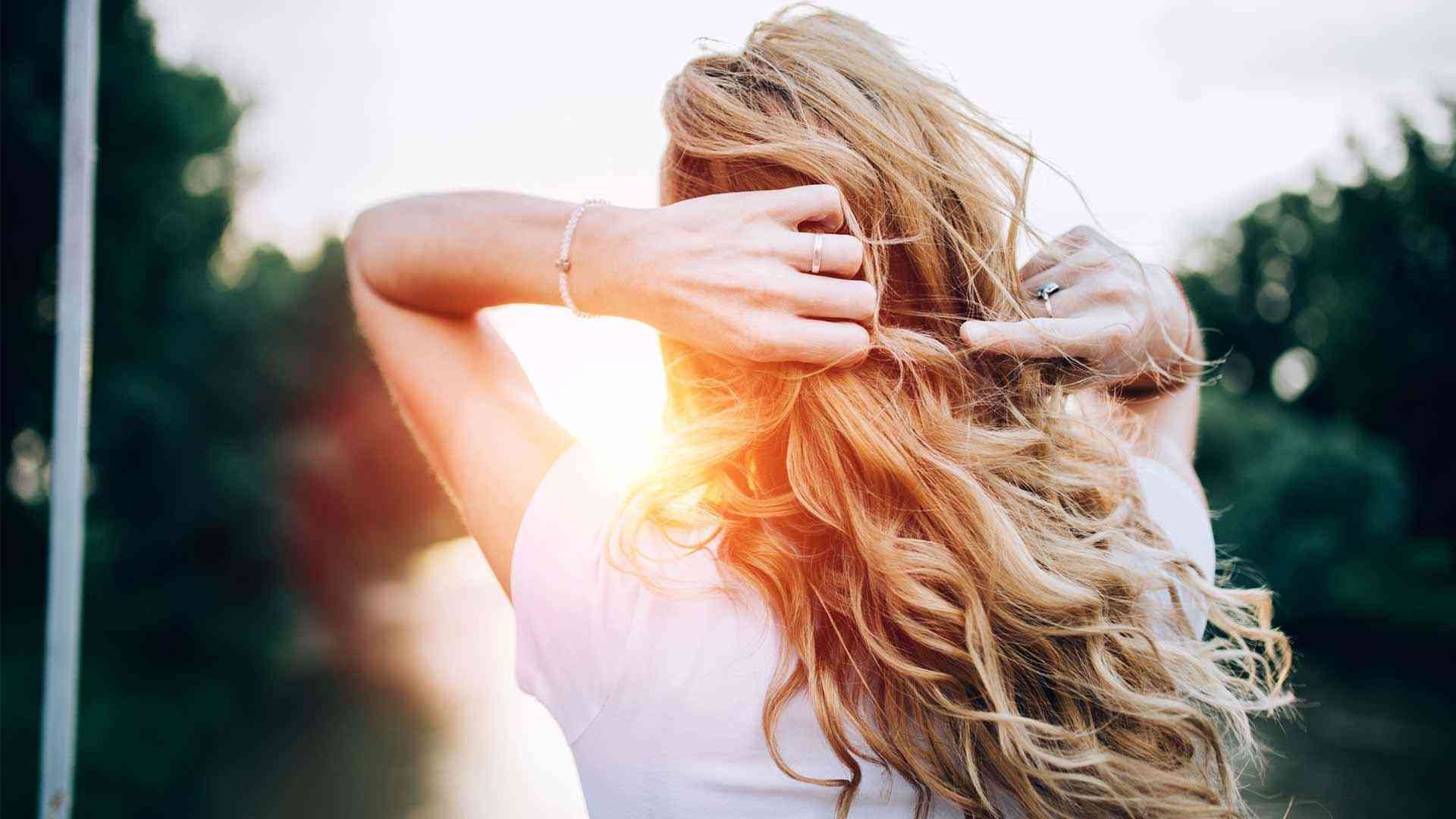 hair color trends
The 26 Best Summer Hair Colors for 2020
Ah, summer, 'tis the season for super-cute mini dresses, beachy waves, and plenty of happy hours after work. In addition to switching up your wardrobe and your everyday routine, why not make a change to your summer hair color, too? Whether you want to opt for natural-looking balayage highlights or take a risk with something bolder like silver hair or mermaid hair, there are plenty of summer hair colors to choose from. Ready for a fresh summer look? Below, we're sharing 26 summer hair trends, so you can have your best summer hair for 2020.
1. BRONDE BALAYAGE
Of course, our first summer hair color idea has to be bronde balayage. The trick to getting a gorgeous bronde balayage color? It's all about creating the perfect mix of blonde and brown by adding a mix of multi-toned highlights to your base color for a lived-in, natural look.
Balayage can be a pretty tricky technique, so make sure to look for a colorist who specializes in it so that you're happy with the end result. This trend requires bleaching, so if you're starting with a dark base, it's important to manage your expectations. The darker your current hue, the longer it will take to get lighter strands.
2. SILVER
Silver was one of the hottest hair colors of 2019—and that still holds true for summer 2020. If trends are what you're all about, you can't beat this bold hue. Plus, one of the best things about it is that you can try out silver strands in a multitude of ways, whether you're looking for a permanent hair color or something that will wash out after just a day.
Get the look: L'Oréal Paris Superior Preference Fade-Defying + Shine Permanent Hair Color in Soft Silver Blonde, L'Oréal Paris Féria Multi-Faceted Shimmering Permanent Hair Color in Silver, or L'Oréal Paris Colorista Hair Makeup 1-Day Color in Silver Blue
3. PEACH
The thought of warm weather has us feeling just peachy. If you feel the same, perhaps you'd like to express yourself with a pretty peach hair color! This pastel hue is as perfect as biting into a ripe, juicy peach on a hot summer day.
4. CORAL
Another hot color for 2019, coral hair, couldn't be better suited to summer 2020. This red-orange hue embodies two of our favorite things about the season: warmth and fun, bright colors!
5. MINT GREEN
Give your mane a minty fresh makeover by giving a mint green hair color a try. This trend certainly isn't for the faint-hearted, but for those who love to make a statement with their 'do, it doesn't get bolder!
6. CREAM BLONDE
This pale blonde hue can be customized to flatter just about anyone, so if you've ever considered going blonde, this may be your cue! The color involves a combination of lowlights and highlights that add dimension and depth to this nude blonde hair color.
Get the look: L'Oréal Paris Superior Preference in Natural Blonde
7. SUN-KISSED AUBURN
Redheads are having a moment—and just in time for summer! This multi-tonal hair color features a rich auburn base complemented by, as you may have guessed, sun-kissed highlights.
Get the look: L'Oréal Paris Féria in Rich Auburn True Red
8. DIP DYE
Don't want an all-over hair color change? Not a problem! For just a touch of color, consider dip dye hair. This coloring technique involves dyeing just the ends of your hair, leaving the rest its natural hue. When you want to part ways with your colored strands, all you have to do is snip, snip!
9. FACE-FRAMING HIGHLIGHTS
Like we said, sometimes a whole head of color just isn't your jam. We feel you! If you still want a color boost without dyeing your entire head, opt for soft, face-framing highlights to amp up that quintessential beach babe vibe. The thin, well-placed highlights can help add an understated multi-dimensional effect from roots to ends.
Get the look: L'Oréal Paris Colorista Bleach Highlights
10. MAGENTA
Ready to go bold? If you want a trendsetting mane, one of our favorite summer hair color ideas is magenta hair. This vibrant, pink-meets-purple hair color is sure to turn heads this summer.
11. MYTHICAL MERMAID
For another bold option, you can go all out and add as many colors as possible to your hair. The end result? A mermaid mane. Embrace the obsession with all things mermaid and unicorn with the help of a few temporary hair color sprays.
Get the look: L'Oréal Paris Colorista 1-Day Spray in Pastel Blue, Pastel Lavender, and Pastel Mint
12. UNDERLIGHTS
Speaking of a colorful mane, perhaps you love the idea of rainbow hair but aren't sure if you're ready to commit to an all-over change. Underlights are the perfect option for your summer strands, as they allow you to color the underneath layer of your hair in an array of colors that will only be seen when you wear your hair up. It'll be your little secret!
13. SMOKED MARSHMALLOW
Platinum blonde hair with dark roots has been a must-have look for a few seasons now, and there's no sign of it going anywhere. The bright white strands are the epitome of cool-girl style. Pair them with just enough exposed root for a lived-in, carefree look, and you've got smoked marshmallow hair. Going platinum blonde is a major change (especially if you're starting out as a brunette), so keep in mind that it takes a lot of work to achieve and maintain. Still, we think it's worth it for this stunning color!
Get the look: L'Oréal Paris Féria in Absolute Platinum Extreme Platinum
14. PASTEL BLUE
Are you a fan of soft, pastel hair colors? Who isn't? We happen to think summer is the perfect time of year to try a pastel hue, so why not give an all-over pastel blue hair color a go? Just keep in mind that this light shade will likely require bleaching your strands prior to applying your pastel blue hair dye.
15. ASHY BROWN HAIR
Want to cool down the summer heat? We can't say this hair color will help you survive the warmer weather, but the brown hue will certainly add a cool touch to your beauty look. Piqued your interest? Read our article on How to Get Ashy Brown Hair.
16. LAVENDER
It's safe to say we're not over soft, pretty hair colors. As a matter of fact, lavender hair happens to be one 2020 summer hair color idea we can't get enough of! You don't have to limit yourself to an all-over color, either. There's plenty of options, which you can learn about in our article, Lavender Hair Is Trending and We're Sharing 8 Ways to Wear It.
17. SOFT PINK
Keep your head in the clouds with this creative, cotton candy-like hue. As celebrities and beauty bloggers make their way through all the colors in the rainbow, it's become clear that soft pink tresses are one way to really rock the unnatural hair color trend. Equal parts girly and edgy, this pale color could be the perfect finishing touch to your laidback summer look.
Get the look: L'Oréal Paris Colorista Semi-Permanent Hair Color in Soft Pink
18. HONEY BLONDE
They say blondes have more fun, and perhaps you'd like to put that theory to the test. While there are plenty of beautiful blonde hues, we happen to be partial to a warm, honey blonde hue for summer. The color reminds us of the golden hour when each summer day is coming to an end.
19. ROSE BROWN
We think brunettes have a pretty great time, too! Rose brown hair is proof enough. This hair color trend features a brown base with rose gold touches throughout for a warm, dimensional hair color. It's a great option for those who aren't quite ready to commit to a full head of rose gold hair.
Get the look: L'Oréal Paris Colorista 1-Day Spray in RoseGold or L'Oréal Paris Colorista Hair Makeup 1-Day Color in BronzeAuburn
20. SAND
Another blonde hair color option, it's safe to say this color was made for summer—after all, it's inspired by the beach! Sand blonde hair involves adding ashy blonde highlights throughout a light brown base for a dimensional, yet subtle blonde hair color. Sounds pretty, right?
21. DENIM
You count down to summer to have the chance to slip into a pair of cut-offs, so why not let your favorite wardrobe choice inspire your next hair color? The denim hair color trend is all about mixing an array of blue hues together to create a customized color depending on what type of wash you want to emulate.
Get the look: L'Oréal Paris Féria in Downtown Denim
22: COPPER RED
Ready for another red hair color idea for summer? Embrace copper to add a touch of warmth to your overall look, and you won't be disappointed.
Get the look: L'Oréal Paris Féria in Power Copper
23. BABY BLONDE
Want to go full-out blonde with your summer hair? It doesn't get much better than a baby blonde hue. This shade of blonde is nearly platinum, but has more warmth throughout. The light blonde hair color, when done right, will have strangers and friends questioning if you've been a natural blonde all along.
24. JEWEL-TONED HAIR
Who doesn't love some jewels? From ruby to sapphire to emerald, jewel-toned summer hair colors are totally in—and we can't get enough.
25. NEON HAIR COLOR
There's no better time to rock neon shades than the summer, and that holds true for your hair. Trust us, if you love having all eyes on you (in a good way), you'll want to hop on this trend.
Get the look: L'Oréal Paris Colorista Hair Makeup 1-Day Color in Neon Green, Neon Yellow, or Neon Pink
26. COLOR-CHANGING HAIR DYE
This season is known for summer flings, which reasons that it's not the time of year to make a major commitment. If you're struggling to tie yourself to just one hair color, maybe color-changing hair dye is the answer. Want the full scoop on this trend? Here's What You Need to Know About Color Changing Hair Dye.
HOW TO TAKE CARE OF YOUR NEW SUMMER HAIR COLOR
Now that you have your summer hair planned out, it's time to learn about what you should do to help keep your hair looking and feeling its best all season long, from changing how you shower to using the right hair styling products. Follow along with these steps!
1. SHOWER SMARTLY
It's time to kiss piping hot showers goodbye! It turns out that hot water can strip your hair of essential oils, which can cause it to feel dry. So, the next time you bathe, turn down the dial and do so in lukewarm temps. Hey, it's summer, so this will hopefully feel like a refreshing treat after a day spent in the heat!
2. SWAP OUT YOUR REGULAR SHAMPOO AND CONDITIONER
When you dye your hair, it's important to use a system of shampoo and conditioner formulated for color-treated hair. Try the L'Oréal Paris EverPure Repair & Defend Shampoo and L'Oréal Paris EverPure Repair & Defend Conditioner. Lather the shampoo into wet hands, then gently massage it onto your hair and rinse. Follow up by applying the conditioner and leaving it on for one to two minutes, then rinse out.
3. ADD A HAIR MASK TO YOUR WEEKLY HAIR CARE ROUTINE
Does your color-treated hair feel like it needs a little extra conditioning? Once or twice a week, use the L'Oréal Paris EverPure Repair Remedy Balm. After shampooing, apply the hair mask and leave it on for three to five minutes, then rinse.
4. OPT FOR AIR DRYING
Let's be real: Do you really want to blow-dry your hair in the middle of a heatwave? Nope, we thought not! That doesn't mean you have to sacrifice your style, though. Embrace your hair's natural texture this season and still look great. To get defined curls, apply the L'Oréal Paris Advanced Hairstyle CURVE IT Elastic Curl Mousse throughout towel-dried hair, scrunch, and let your strands air dry.
5. USE A HEAT PROTECTANT IF YOU DO USE STYLING TOOLS
On some occasions, you still may want to heat style your strands during the summer. In those cases, make sure to apply a heat protectant first to help protect your strands. Try the L'Oréal Paris Advanced Hairstyle SLEEK IT Iron Straight Heatspray.
6. HELP PROTECT YOUR STRANDS FROM UV RAYS
Yep, the sun's UV rays can fade your color, so throw on a floppy sun hat before you go outside. Bonus: You'll look super-stylish! Or, if you prefer showing off your hair color, just be sure to spritz hair with the L'Oréal Paris Elnett Satin Hairspray Extra Strong Hold with UV Filter for Color-Treated Hair.
7. BE CAREFUL WITH CHLORINE
You've probably heard that chlorine can turn hair green, and according to the American Academy of Dermatology, it can have damaging effects on hair. The AAD recommends wetting and conditioning your hair before swimming as a method of protection.
And there you have it! Whether you decide to take the hair color plunge by dyeing your hair a pastel pink, denim blue, or sun-kissed auburn shade this summer, we hope you enjoy playing with your new hue! Now, to style your updated 'do, check out our article, The Best of Both Worlds: 31 Half-Up Hairstyles to Try.
Discover more tips & tricks
Keep your skin happy
See all articles
Shop Featured Hair Care products
Discover More