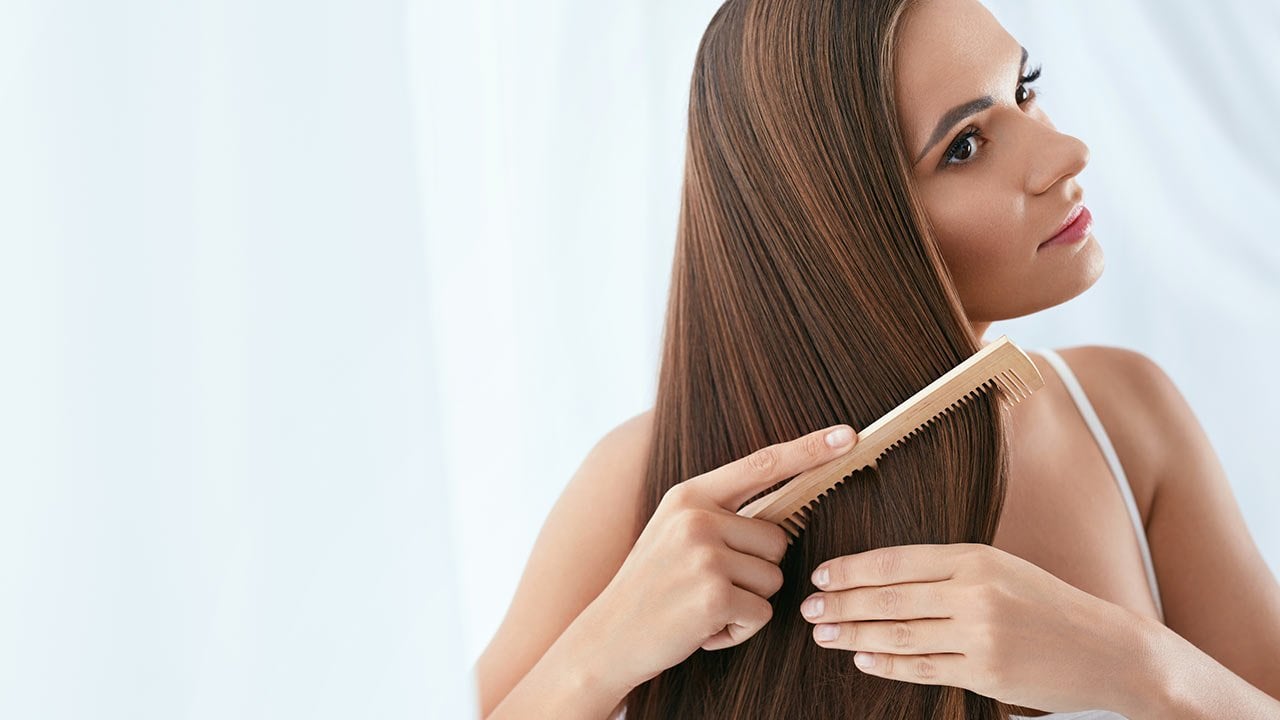 Have you ever been so frustrated by tangled hair that you were tempted to simply cut out the knots? Knotty hair can make you do crazy things, but we recommend holding off on picking up your scissors. You can rescue your hair and untangle your tresses without resorting to a DIY haircut that's sure to end in tears. With the help of lots hair detangler, conditioner, a hair mask, an updo, and other assorted hair care tips, you can learn to detangle matted hair a totally sane way. Read on to learn how to get how to detangle hair and prevent knots in the first place for silky strands that don't come anywhere close to resembling a rat's nest.
HOW TO DETANGLE HAIR
First thing's first: When it comes to detangling knotty, matted hair, there are different methods you can use depending on the state of your mane—meaning whether it's wet, dry, etc. Of course, the most important thing is to get rid of those pesky knots and tangles without hurting your strands. Wondering, "How do you untangle badly tangled hair?" Take note of the following to learn the answer and find out how to stop hair breakage from occurring in the process. Remember: Detangling your hair shouldn't negatively contribute to your level of hair damage!
HOW TO DETANGLE WET HAIR
Did you hop out of the shower only to realize your strands are knotted and tangled? There's no need to fret! With the help of a hair detangler spray, you'll be knot-free in no time. Here's what to do.
Step #1. Spritz on detangler. Reach for our best hair detangler, the L'Oréal Kids Burst of Sweet Pear Tangle Tamer for All Hair Types, and spritz it throughout your mane.
Step #2. Grab a wide-tooth comb. Using a wide-tooth comb, gently begin to brush your strands from ends to roots. This will help to avoid any hair breakage! When you get to your knots, be especially gentle.
Step #3. Spritz and repeat. If you find you're still having difficulty getting out a knot, apply more hair detangler to your mane and repeat the process. Little by little, you'll make progress!
HOW TO DETANGLE DRY HAIR
As for dry, knotty hair, you can actually treat it in the exact same way as a wet mane, as long as your detangler spray states it works on both wet and dry hair (like our best detangler spray). The detangler will help moisten your locks, making them easier to detangle. So, follow the steps above and get to detangling!
HOW TO DETANGLE NATURAL HAIR
If you have natural hair, detangling is a whole other ball game. You've likely found that your knots get even knottier thanks to your curly texture. No need to stress, however. The key to detangling natural hair is going to be to practice lots of patience.
Step 1. Spritz away. Start by spritzing your mane with your hair detangling spray as you normally would.
Step 2. Section your hair. Rather than going straight for detangling, you'll want to divide your natural mane into smaller sections. This will make it much easier to detangle your curly strands. Use a rat tail comb to create anywhere from four to eight different sections depending on your mane's thickness and length.
Step 3. Comb, comb, comb. Use a wide-tooth comb to gently detangle each section, starting at your ends and working your way up toward your roots.
Step 4. Repeat. Did we mention the importance of patience? Take your time detangling section by section, spritzing more product on as needed.
HOW TO DETANGLE HAIR WITHOUT A DETANGLER
So, you've come face to face with some seriously knotted hair—but there's no hair detangler in sight! If you find yourself asking "How can I detangle my hair without a detangler?", here's what you need to do.
Step 1. Dampen your hair. Like we mentioned earlier, moistened strands are much easier to detangle than dry strands. Dampen your mane using water in a spray bottle or (even better) with some leave-in conditioner.
Step 2. Grab your wide-tooth comb. You guessed it—begin to comb through your mane, working your way from your ends up.
Step 3. Repeat, repeat, repeat. Continue the process of spritzing and combing until your mane is tangle-free!
10 HAIR TIPS TO PREVENT TANGLED HAIR
Phew! Now that you know how to detangle your hair, you may be wondering if there are tips to prevent tangled hair in the first place. Below, we're sharing 10 hair tips for doing just that.
KNOTTY HAIR TIP #1: BRUSH BEFORE WASHING
If your hair is super-knotty, taking a shower can make things worse. Of course, that's no reason to disregard hygiene. The solution is to brush out knots before you wash your hair. While you wait for the water to warm up, carefully brush your hair. Instead of brushing from roots to ends, which can put unnecessary stress on your strands, start at the bottom and work your way upward.
KNOTTY HAIR TIP #2: FOCUS SHAMPOO ON THE SCALP
You've shampooed your hair countless times but are you sure you know how to do it? As it turns out, shampooing your strands isn't as foolproof as you may have guessed. You know to saturate your hair with water and work the shampoo into a lather, but there's slightly more to it. Instead of massaging the shampoo through the entire length of your hair, you can focus the product on your scalp. Since your scalp is where most of the oil and debris will be, you'll still end up with clean hair, but it will likely be less knotty. The action of shampooing can form knots, but most knots appear in the length of your hair—not right against the scalp.
KNOTTY HAIR TIP #3: COMB CONDITIONER THROUGH STRANDS
Skipping conditioner to save a bit of time may seem reasonable, but trust, it could be the cause of your terribly tangled hair. That's why it's time to make conditioner your new best friend. Every time you wash your hair, after you rinse out the shampoo, load your locks up with lots of conditioner. Once your strands are thoroughly coated with conditioner—especially where your hair tends to get knotty—comb through your hair with a wide-tooth comb. Not only will you get out any lingering knots, but combing your hair will also help evenly distribute the conditioner. As for what to cleanse and condition with, use an ultra-moisturizing hair care system. Try pairing the L'Oréal Paris EverCreme Deep Nourish Shampoo with the L'Oréal Paris EverCreme Deep Nourish Conditioner.
KNOTTY HAIR TIP #4: ADD A HAIR MASK TO YOUR ROUTINE
Using conditioner doesn't negate your need for a hair mask. Once or twice a week, you'll want to pamper your mane a little more than usual with a hair mask. After shampooing, apply the L'Oréal Paris EverCreme Renourishing Butter. Leave the hair mask on for three to five minutes, then rinse.
KNOTTY HAIR TIP #5: GENTLY SQUEEZE HAIR DRY
Rubbing your hair with a towel may seem like the fastest way to remove excess water—without blasting your hair with a blow-dryer—but it doesn't do your mane any favors, even if it is a heat-free drying method. The reason being, the repeated rubbing can create even more knots. If you still prefer to skip blow-drying your hair, gently squeeze water out of your hair with a cotton T-shirt, not a towel. Or, if you'd like to give blow-drying a try, use a heat protectant and a vented brush to help prevent damage and knots at the same time.
KNOTTY HAIR TIP #6: SLEEP WITH AN UPDO
Partial to sleeping with your hair down? Unfortunately, that could be causing your hair to get knotty! When you move around while you're asleep, your hair can tangle—and that's not a good thing to wake up to. To save yourself the trouble of removing knots in the early morning, try pulling your hair up before bed. A quick low bun, held with a soft elastic to avoid creasing, should do the trick. (Here's more on How to Protect and Sleep on Your Hair.)
KNOTTY HAIR TIP #7: SWITCH TO A SILK PILLOWCASE
How you sleep can play a part in how knotty your hair is in more than one way. In addition to the way you wear your hair at bedtime, you have to consider what you're sleeping on. Yep, your pillowcase could be to blame for those knots! Thankfully, a simple swap can help. Replace your regular cotton pillowcase with a silk one. Not only do they look super-chic, but they're good for your hair and your skin. Win, win!
KNOTTY HAIR TIP #8: ROCK LOTS OF BRAIDS
Do you love braids? Well, here's another reason to wear one: They keep knots at bay. When your hair is plaited, it can't move around and get tangled. So, start putting your fishtail and French braiding skills to use more often.
KNOTTY HAIR TIP #9: ACCESSORIZE WHEN IT'S WINDY
Wind is a notorious cause of knots. In order to survive windy weather without ending up with a completely matted head of hair, you'll want to rely on accessories. Wearing a scarf or a hat can make all the difference in how your hair fares in the wind.
KNOTTY HAIR TIP #10: GET REGULAR TRIMS
If you notice that your hair only gets knotty at the ends, it's a sign that you're in desperate need of a trim. Getting the occasional half an inch or inch of hair snipped off can help prevent knots and keep your hair looking healthy.
Of course, we have to admit, knots aren't all bad. Here's How to Do the Perfect Top Knot.
{ "@context": "https://schema.org/", "@type": "WebPage", "speakable": { "@type": "SpeakableSpecification", "cssSelector": ["speakable-content"] }, "url": "https://www.lorealparisusa.com/beauty-magazine/hair-care/damaged-hair/how-to-detangle-knotty-hair" }
Discover more tips & tricks
See all articles
Shop Featured Hair Care products
Discover More
{ "@context": "http://schema.org", "@type": "BreadcrumbList", "itemListElement": [ { "@type":"ListItem", "position": 1, "item": { "@id": "/", "name": "Home" } } , { "@type":"ListItem", "position": 2, "item": { "@id": "https://www.lorealparisusa.com/beauty-magazine", "name": "Beauty Magazine" } } , { "@type":"ListItem", "position": 3, "item": { "@id": "https://www.lorealparisusa.com/beauty-magazine/hair-care", "name": "All Things Healthy Hair" } } , { "@type":"ListItem", "position": 4, "item": { "@id": "https://www.lorealparisusa.com/beauty-magazine/hair-care/damaged-hair", "name": "Damaged Hair Care" } } , { "@type":"ListItem", "position": 5, "item": { "@id": "https://www.lorealparisusa.com/beauty-magazine/hair-care/damaged-hair/how-to-detangle-knotty-hair", "name": "how-to-detangle-knotty-hair" } } ] }