all hair types
Your Guide to Oh-So-Shiny-Looking Hair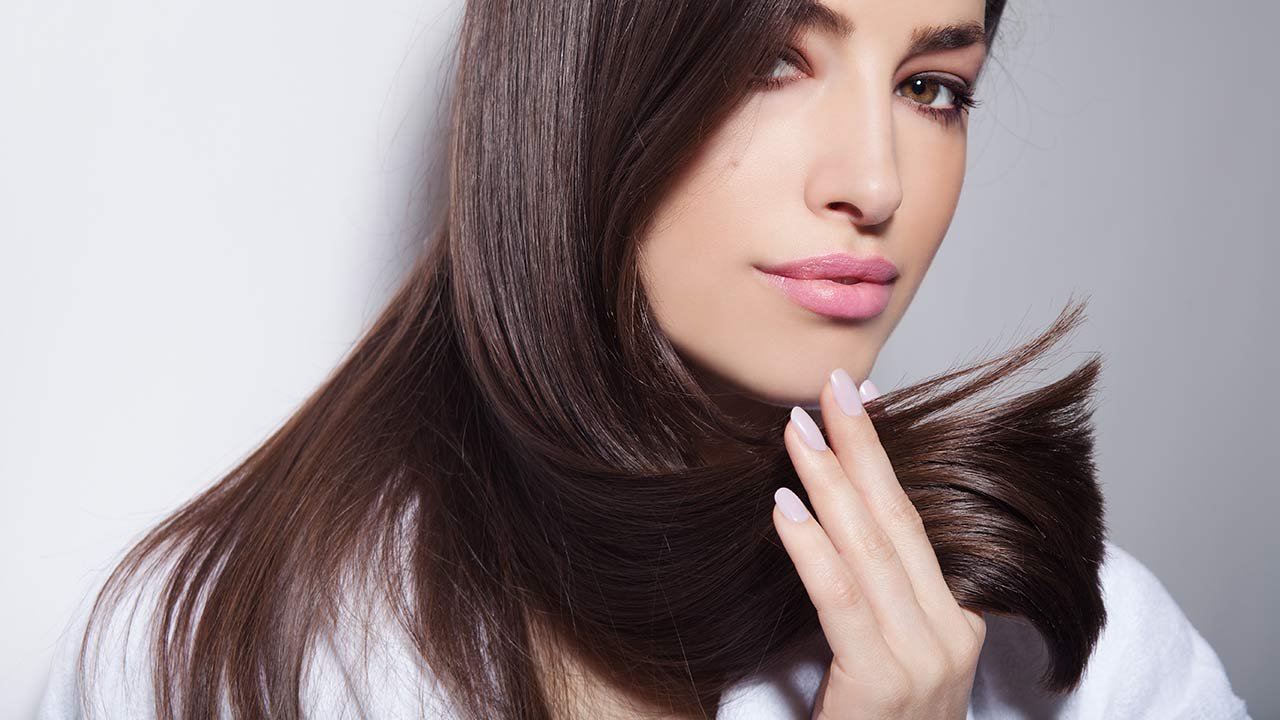 When it comes to your hair, we bet it's safe to say that getting shiny-looking strands is one of your top goals. And, we'd guess that you'd try just about anything to achieve that look. Luckily, there are quite a few products you can add to your routine—and easy tips you can follow—to get the gleaming locks you've always wanted. Hair seeming a little bit lackluster? It's time to change that! Consider this your guide to nabbing dazzling-looking hair. Shine on!
1. Try a New Shampoo and Conditioner
If your locks look a little sad, it's time to make them happier by switching up your hair cleansing routine and reaching for a different shampoo and conditioner the next time you shower. Try the L'Oréal Paris EverSleek Keratin Caring Shampoo, which is sulfate-free and formulated with sunflower oil. Follow up with the L'Oréal Paris EverSleek Keratin Caring Conditioner.
2. Rinse With Cool Water
We get that bathing in hot water feels amazing, but it turns out this habit is not so great for your skin or hair's appearance because it can dry you out. Now, that doesn't mean you need to take an ice bath (brrr!), which would not be fun at all. Just lower the temps a little and top your hair off with a (quick!) cool rinse the next time you shower.
3. Pat, Don't Rub, Wet Hair
Treating your hair gently is key! When you hop out of the shower, wring your hair out with your hands and then pat or blot it dry with a towel (remember to be gentle!). Whatever you do, do not vigorously rub your tresses. All that friction can lead to frizz and potentially even breakage. Yikes!
4. Don't Overdo It With Your Brush
Yes, we know that brushing your hair can help it to look smoother—but you really can have too much of a good thing. So, keep brushing to a minimum and use a boar bristle brush, which can help to smooth strands.
5. And Don't Wash Your Hair Too Much, Either
The less you wash your strands, the less chance you have to strip your hair of essential oils that are responsible for leaving your locks looking as shiny as can be. Of course, on the flipside, you don't want your hair to look extra greasy. Keep a bottle of dry shampoo in your bathroom so that you can refresh your hair in between washings. Try the L'Oréal Paris Hair Expert Extraordinary Clay Dry Shampoo. Shake the can well, then spritz it onto oily roots (make sure to hold the can six to eight inches away from your head!). Lightly spray the dry shampoo through the rest of your hair, and brush it through. Dirty hair, don't care.
6. Use a Hair Serum
Frizzy hair got you down? Don't worry! Add a hair serum to your beauty routine, like the L'Oréal Paris EverSleek Frizz Finish Oil-In-Serum. The lightweight serum is formulated with argan oil and sunflower oil to help tame frizz and flyaways. Apply one to two pumps evenly through damp or dry hair from your mid-lengths to your ends and style as usual.
7. Style Your Hair Without Heat
It's time to give your locks a much-needed break! Put down the blow-dryer, curling iron, and flat iron, and air dry your hair instead. Use a styling cream, like the L'Oréal Paris Advanced Hairstyle AIR DRY IT Undone Style Cream, to enhance your hair's beautiful natural texture—no heat styling required. Apply the styling cream to clean, damp hair, evenly distributing it from roots to ends with your fingers. You can also apply a tiny bit of styling cream to dry strands.
8. Get a Trim
What better way to make your hair look shiny and smooth than by getting a gorgeous new haircut? Call up your salon to book an appointment with your stylist—you've got one pretty new 'do, coming right up!
Discover more tips & tricks
Keep your skin happy
See all articles
Shop Featured Hair Care products
Discover More