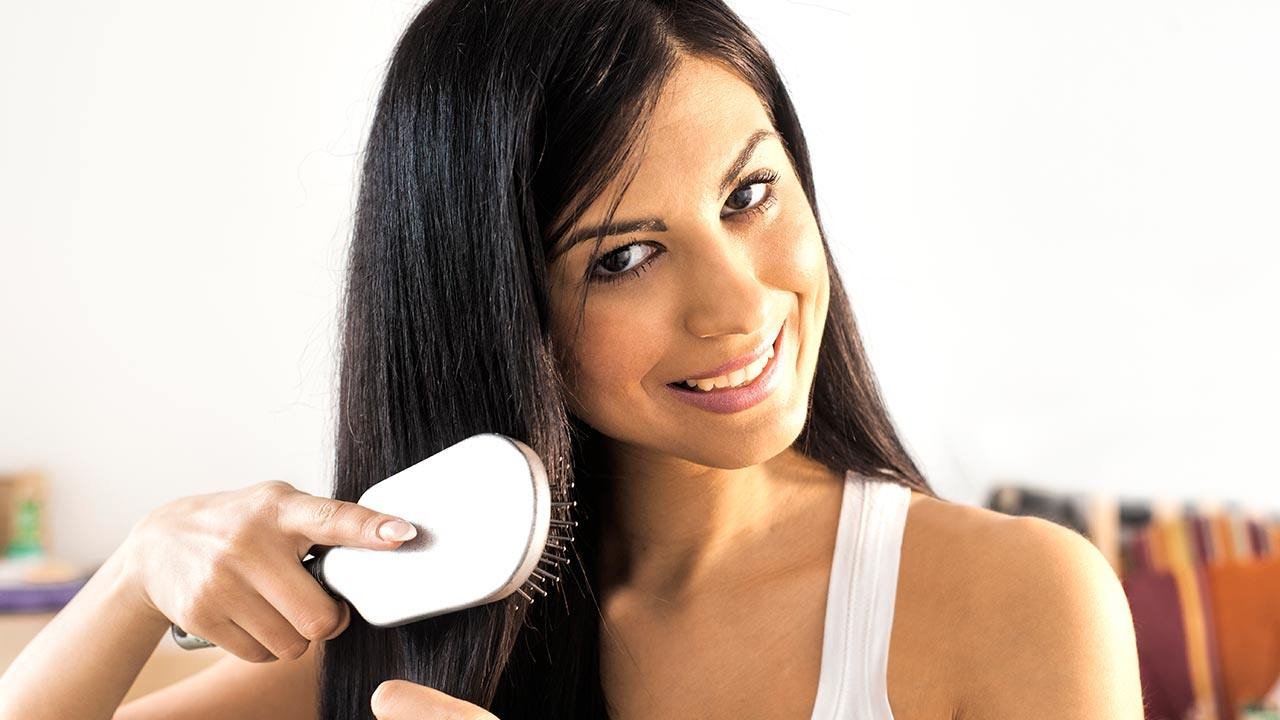 all hair types
6 Hairstyling Mistakes You Could Be Making
As fuss-free and mindless as styling your hair may seem, there's a lot of room for error—even without you noticing what you're doing wrong. But whether you're drying your hair improperly, styling too soon after hopping out of the shower, or using too many styling products, these little mistakes could all end up spelling disaster for your hair. It's all good, though—these hairstyling mistakes are all really easy to fix. Keep reading to learn about the most common goofs people make when styling their hair and what to do instead. Happy styling!
Hairstyling Mistake #1: You Brush Through Wet Hair
After you shampoo and condition your hair in the shower, is your brush the first item you reach for? Not so fast! Your hair is at its most fragile when it's wet, so you should try to avoid brushing through it. If you tend to have tangles, spritz on a detangling spray when you get out of the shower and comb—not brush—through your strands.
Hairstyling Mistake #2: You Start Blow-Drying When Your Hair Is Sopping Wet
The sooner you start blow-drying your hair, the sooner you can get done with the whole process, right? Well, it turns out that's not really the case. When you blow-dry sopping wet hair, it can take quite a while to fully dry your mane. And you know that excessive use of heat styling can lead to damage—so the less time you can spend blow-drying the better. Ideally, you'd wait until your hair is almost completely dry on its own before whipping out your blow-dryer. Before you do blow-dry, make sure to apply a heat protectant, like the L'Oréal Paris Advanced Hairstyle BOOST IT Blow Out Heat Spray.
Hairstyling Mistake #3: You Use Way Too Many Products
We totally understand that when you're blow-drying your hair, you may want volume and smoothness—but that doesn't mean you need to go overboard with the styling products. In addition to a heat protectant, just pick one that addresses what you're trying to do so as not to weigh hair down. For example, do you want to help manage frizz? Then use the L'Oréal Paris Advanced Hairstyle SLEEK IT Frizz Vanisher Cream on wet hair before blow-drying. Are waves what you're after? Spritz the L'Oréal Paris Advanced Hairstyle TXT IT Tousle Waves Spray onto damp hair and blow-dry with a diffuser.
Hairstyling Mistake #4: And You Use Way Too Much of Them
When it comes to styling products, a little can really go a long way. In addition to not overdoing it with the number of products you use, you should also be sure to not use too much because this can also weigh your hair down.
Hairstyling Mistake #5: You Don't Use a Flat Iron with Heat Settings
Does your flat iron just have an on and off switch? Put it down—it's time to start using one with a dial to adjust temperature. Everyone's hair texture is different—so the temperature that works to straighten one person's hair might not work as well for another. When it comes to flat ironing your hair, you should try to use the lowest heat setting you possibly can while still only having to pass the tool over a section of hair once. Oh, and when it comes to sections, bigger isn't better. Stick to flat ironing one inch sections of hair so that you won't find yourself continually having to go over the same section over and over again. (Remember: Excessive use of heat tools can lead to damage!)
Hairstyling Mistake #6: You Don't Visit the Salon Nearly Enough
If you haven't called your stylist in a while, it may be time to pay him or her a visit! Getting a haircut is the only way to get rid of dead ends—plus, isn't it so fun to be pampered for a couple hours at the salon? Use this as an opportunity to try a trendy looks-good-on-everyone haircut, like a lob.
Discover more tips & tricks
Keep your skin happy
See all articles
Shop Featured Hair Style products
Discover More