all hair types
Do You Need Anti-Aging Hair Care Products?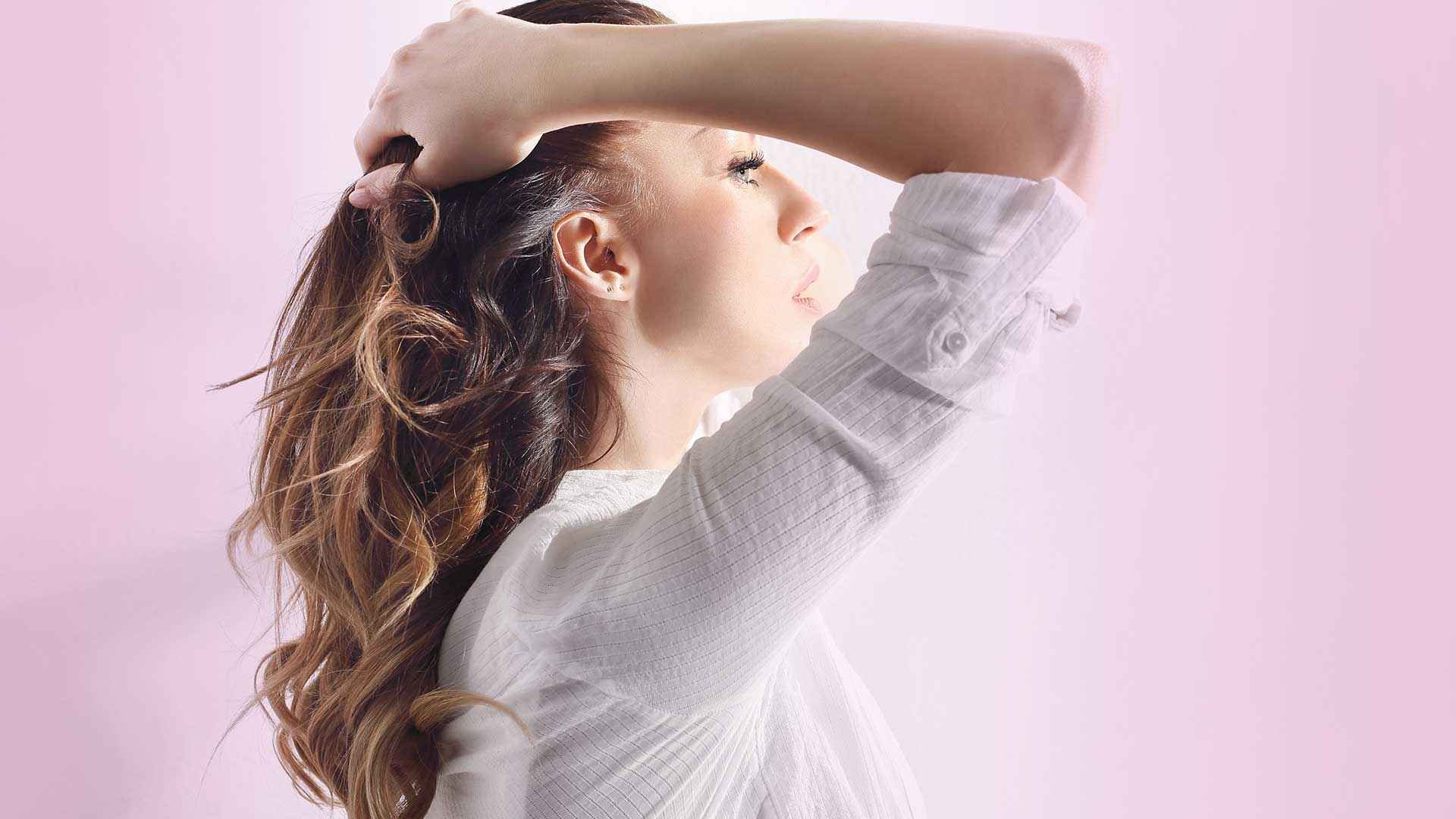 We know that as we age certain changes are bound to happen. And while many of us focus on preventing and treating fine lines and wrinkles on our skin, we may forget that hair actually shows signs of aging, too. Whether it comes in the form of brittle, dry strands, thinning or spots of gray in your mane, rest assured that there are steps you can follow to slow down the process of aging. Ahead, we've rounded up anti-aging shampoos, conditioners, treatments and serums to help keep your hair looking glossy and youthful.
Anti-Aging Hair Care To Restore Strength
Weak strands can be a sign of aging and can make the hair appear less full. The loss of hair strength typically happens as we age and can be genetic or a result of heat damage over time. Either way, to restore some strength your hair might have lost over time, add a system like the L'Oréal Paris Elvive Dream Lengths Restoring Shampoo and the L'Oréal Paris Elvive Dream Lengths Repairing Conditioner to your routine to help your strands remain strong. This duo is formulated with fine castor oil and vitamins B3 and B5, which are known to repair damage and detangle hair to prevent further breakage.
Anti-Aging Hair Care To Repair Bonds
Hair is made up of proteins, which can break down as we age, so it's important to find a treatment that helps increase strength and flexibility while sealing broken strands. Enter the L'Oréal Paris Elvive Total Repair 5 Protein Recharge Treatment. This leave-in cream works to recharge the hair and repair damaged bonds so that hair stays soft and resilient. To use, apply a small amount to your hair after washing and style as you normally would.
Anti-Aging Hair Care To Moisturize Strands
One of the most tell-tale signs of hair aging is lack of moisture, which leaves hair dull, dry and brittle. In order to moisturize strands and bring them back to life (and keep them that way!), we recommend using moisturizing products to hydrate and nourish frail hair, like the L'Oréal Paris Elvive Dream Lengths 8 Second Wonder Water Lamellar Rinse Out.This conditioning water can be used in the shower as an extra layer of moisture after washing. We also recommend using an oil serum, like the L'Oréal Paris Elvive Extraordinary Oil Treatment to make sure hair stays healthy, thick and lustrous. The formula includes a blend of oils and botanical extracts to hydrate and nourish the hair without weighing it down.
Anti-Aging Hair Care To Stimulate Growth
Nothing reverses aging hair like new hair growth. To stimulate hair growth, it's especially important to give the scalp a detox. Over time, dead skin and oil accumulate at the roots, causing a blockage and preventing re-growth. To combat the build up on your scalp, turn to the L'Oréal Paris EverPure Sulfate-Free Scalp Care + Detox Scrub. Formulated with apricot seed and menthol to remove build up and treat a dry, flaky scalp, this invigorating treatment is safe for all hair types, including color-treated hair. Use once a week before shampooing.
Anti-Aging Hair Care To Combat Frizz
With frayed hair usually comes frizz. Keep broken strands looking youthful and use the L'Oréal Paris Smooth Intense Frizz Taming Serum to reduce frizz and lock in shine. To use, either apply a small amount to dry hair to tame flyaways or to damp hair after showering to keep hair feeling silky and moisturized.
Photo: Shutterstock
Next: How to Fake a Facelift with Concealer

Discover more tips & tricks
Keep your skin happy
See all articles
Shop Featured Hair Care products
Discover More