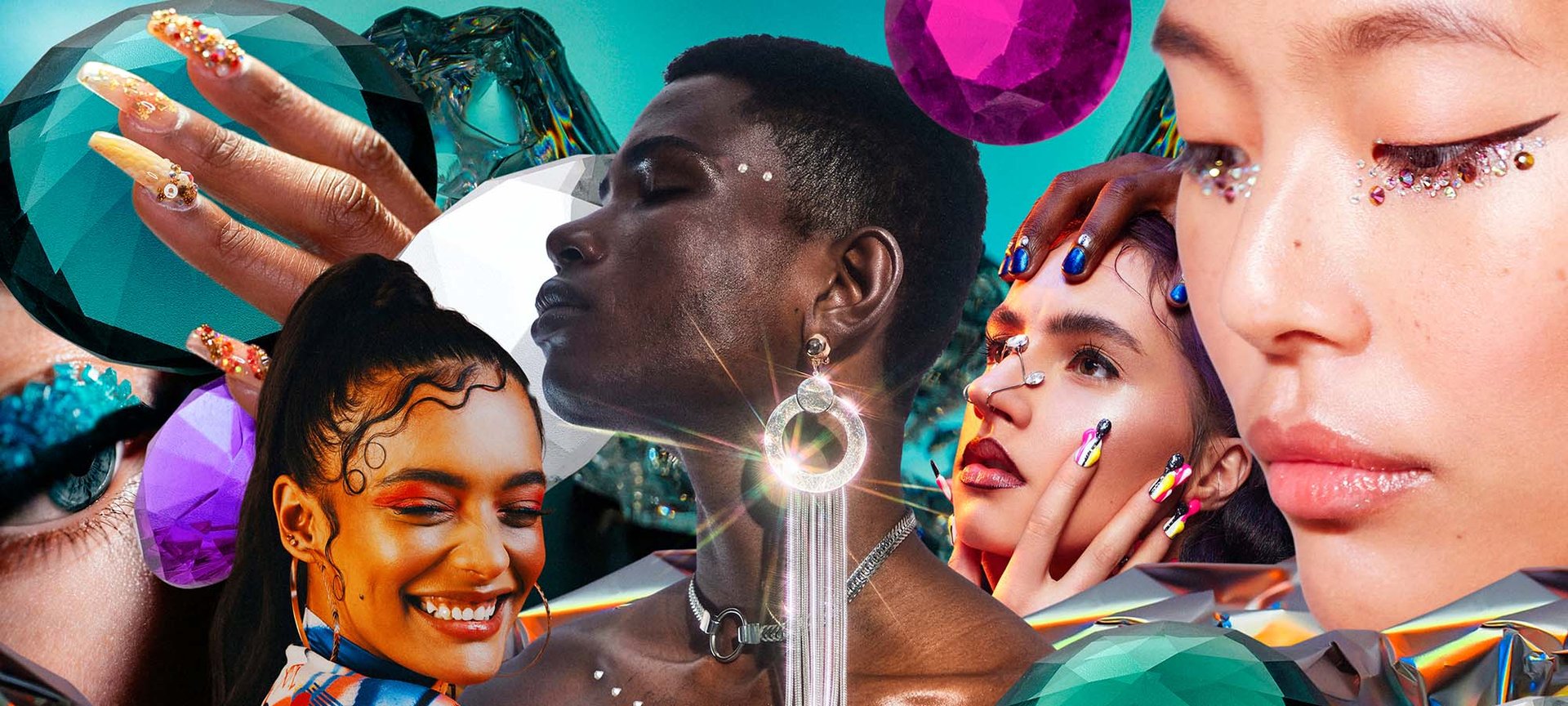 beauty trends
15 Biggest Pinterest Beauty Trends For 2022
Say bye bye to skinimalism and hello to embellishments.
If you've ever gone searching for the biggest beauty trends, chances are you found yourself down the rabbit hole that is Pinterest. The visual inspiration platform has easily become one of the most popular social media heavyweights for scoping out the latest and greatest in beauty. With more than 400 million monthly visitors and more than 300 billion pins saved, it's no wonder we look to the platform to inform what beauty trends we can expect to dominate our timelines. When it comes to the Pinterest Predicts Trend Report, there are always a bunch of standouts to note. To save you hours of endless scrolling , we've gone ahead and compiled that list for you. Check out these 15 pin-worthy beauty trends to keep on your radar for 2022, according to Pinterest.
1. Crystal Eye Makeup
While the beloved winged eyeliner and cat eye (and her little sister, kitten eyeliner) will always have a spot in our makeup repertoire, they'll have to make room for crystal eye makeup in the new year. Whether you choose to make it subtle or go with an over-the-top style, this look is all about adding sparkly embellishments to your eyes. You might want to add makeup glue to your stocking stuffers wishlist this Christmas!
2. Tooth Gems
In step with the sparkly embellishments trend, even teeth will get blinged-out this time around. If you're from the South, namely Texas, then you've likely seen your fair share of tooth gems. It's a trend that reemerges to hit new levels of popularity every few years. For those who love to add the shiny little accents to their chompers whenever it speaks to their hearts, it's simply a classic style.
3. High Puff Hairstyles
Thanks to the new Pinterest hair pattern search feature it's even easier to find inspiration for your next natural hairstyle, like the high puff ponytail that'll be a must-have in 2022. With more and more women embracing their
natural hair
textures, high puff hairstyles will be on the rise — literally and figuratively. Just be sure to nourish your curls and coils with the right
hair care products
. Reach for the
L'Oréal Paris Elvive Dream Lengths Curls Moisture Push Shampoo
and
L'Oréal Paris Elvive Dream Lengths Curls Moisture Seal Conditioner
, made specially for curly hair, with hyaluronic acid and castor oil.

4. Shaved Head Dye Design
We love an edgy, alt hairstyle and in 2022 the shaved head is going to take it to another level. Combining three looks in one, the shaved head dye design lets you play with color, design and the buzz cut or undercut all at once. Talk about a look that offers dimension! If you're not a skilled stylist or colorist we say save the drama for your reality shows and go see a professional if you dare to don this style.
5. Short Hair Mohawk
The year 2022 will bring a number of throwback styles back into our lives, including this beloved punk-era signature look. The best part: In 2022, mohawks will take on all types of colors, textures and lengths. And while short hair mohawks will rule your social media feeds, there will be so much variety in those styles that you'll rarely notice that they're all in the same category. Get ready to become a double-tap master.
6. Mullet Hairstyle
Timid trimmers may want to cover their eyes for this one because the mullet will be big in 2022, according to Gen Z pinners. Whether it's a new haircut after a bad breakup or just a big change for the sake of making one, the old '80s "business in the front, party in the back" hairdo is reclaiming its throne as the funky cut to sport. With cell phones getting larger, vinyl records growing in popularity and vintage TV being repurposed it only makes sense that the mullet makes its comeback now.
Editor's tip: The 2022 mullet won't be your Uncle Jesse's — with lots of twists on the style emerging as of late, including the pixie mullet (mixie) and shag mullet (shullet), no two mullets have to look alike.
7. Octopus Haircut
For a more unchartered hairstyle trend to try in 2022, make an octopus haircut your go-to. This layered look features longer hair underneath shorter strands with an obvious demarcation in the contrast (versus a shag where the layers blend in). Think of the transition from the body of the octopus to the tentacles. If the prairie skirt were a hairstyle this would be it. It's bold, it's unique, in some ways it's bizarre and it's for that person that wants a head turning mane at all costs.
8. Space Buns
For a hairstyle that's fun but a bit more subtle than the aforementioned, try space buns. The princess-inspired hairdo works for any hair type or texture, and can even be done on short hair with the right extensions. All you need is a few elastics, some bobby pins, the L'Oréal Paris Advanced Hairstyle LOCK IT Weather Control Hairspray and our tutorial, How to Do Space Buns and you'll be on your way to becoming someone's pinned festival hair inspiration in no time.
9. Short Natural Hairstyles
Simply put, natural hairstyles are breathtaking and they slay in any length. According to global data collected from October 2019 through September 2021, short natural hairstyles have had a search increase of more than 185 percent. How's that for dominating your timeline? It'll come as no surprise when awards season hits that we're bound to see more TWAs, natural mohawks, big chops and high top fades on the red carpet.
11. Geode Nail Art
If you're scratching your head at this one, trust us, you're not alone. It's not like everyday calls for an occasion to discuss geode rocks — that is, until now. These rocks with crystal lined cavities are absolutely beautiful, which makes sense why one would want to recreate their patterns as
nail art
. Minerals give actual geodes their colors, and with different enchanting hues to choose from we're likely going to see this nail art trend have some staying power.

12. Aurora Nails
Unlike geodes, aurora nails are as ungrounded as they come — in fact, they get their pattern from the skies. But just like geode nail art, their designs are stunning and colorful and will take treasured hands to create. Inspired by the lights of the aurora borealis, this creative nail art will continue to spark enthusiasm (and conversations) year-round.
13. Galaxy Nail Art
If stargazing isn't really your thing you may change your mind after you come across the right galaxy nails. In 2021 we saw celestial-inspired nail art take off and in 2022 it will have an even bigger footprint on our social feeds with larger constellations and more colors on a variety of nail shapes. Now may be a good time to book a standing appointment with your favorite nail tech — their schedule is about to get quite busy!
14. Unique Dermal Piercings
It may be difficult to apply makeup after getting a piercing, but that's not stopping folks from getting punctured in the name of body art. Dermal piercings (piercings that lie on the flat surface of the body and stay in place via a dermal anchor underneath the skin) are just another way to bring on the bling in 2022. They look like small jewels on the surface of the skin and are often placed on the chest, the back of the neck and even the temples. Sure, a dermal piercing is no $24 million forehead diamond, but it can look just as pretty while saving you some serious coin — and probably pain.
15. Pearls
While Pinterest's report cites pearls as more of a fashion trend than a beauty must-have, we all know that the two often go hand-in-hand. If pearlcore is the name of the game with dresses, accessories and decor, then we can expect to see the iridescent accents make their way onto nails and makeup looks, and into hairstyles. Remember the pearl embellished edges era? We've been waiting for those bejeweled baby hairs to become a thing again. Excuse us while we go add a dozen packs of bobby pins to our virtual shopping cart and wait for 2022 to usher in this fun trend.
Next: 7 Y2K Beauty Trends That Are Making A Major Comeback
Written by: Shalwah Evans, Photo Credit: Courtesy of Pinterest
Discover more tips & tricks
Keep your skin happy
See all articles
Improve your routine
Show your new look more love:
makeup