eye makeup
5 Ways to Wear Crystal Cat Eyeliner
Take your cat eye to another dimension.
March 25, 2022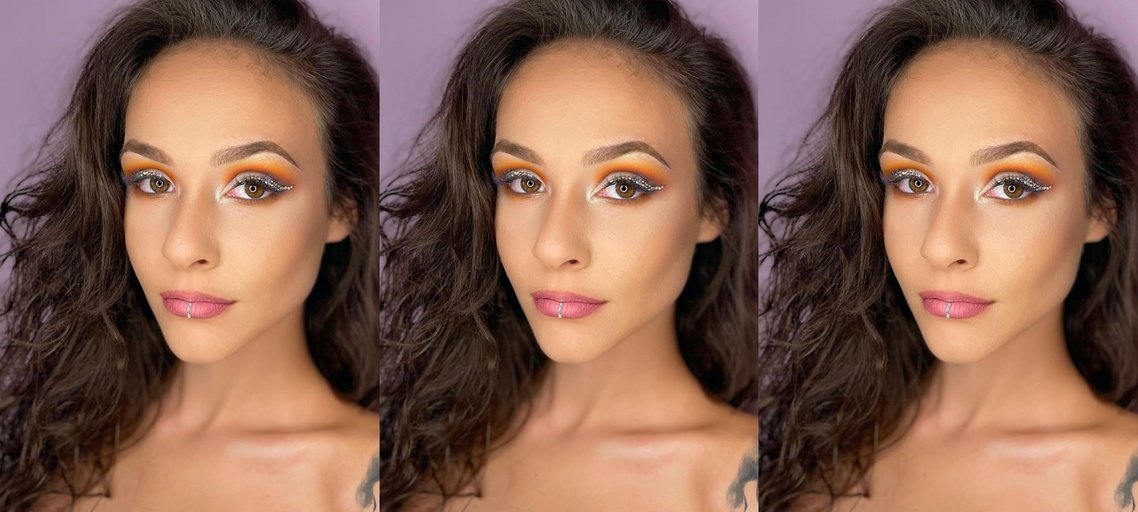 If you're active on Instagram or TikTok, chances are you've seen that crystal-studded makeup looks are taking over — for good reason. The addition of tiny crystals can turn just about any makeup look into something dramatic and eye-catching, so there's no wonder why everyone seems to be doing it. To get some inspiration before putting together a crystal cat eye makeup look of your own, keep scrolling. Ahead, we've rounded up some of the most glamorous (and creative) crystal cat eye makeup looks.

How to Add Crystals to Your Cat Eye Makeup Look
Since working with crystals is different from wielding a liquid or pencil eyeliner, mastering a crystal eye look requires practice and patience. Aside from imparting a euphoric effect to your eye area, crystal eye looks allow for creativity and customization, so no stress if your final product doesn't turn out the way you planned — two looks are the same.

Where to Apply Crystals on Your Eyelids
According to experts at L'Oréal Paris, you should apply the crystals wherever your eye protrudes, or goes forward, the most. Think about where the light hits your eyes and apply the crystals there. With that in mind, find the most glamorous crystal eye makeup looks we could find on Instagram, below.
Crystal Cat Eye Makeup Look Inspiration
1. Tons of Tiny Crystals
Anytime you're creating an eye makeup look that you want to last, it's absolutely vital to start the process with a primer. Not only can primer help even out skin for a smoother application, but it can also help your eye makeup last throughout the day, which is especially important when trying to prevent crystals from falling off. All you have to do is blend a tiny dab of primer onto each lid and let it dry before applying any shadow.

2. Single Crystal
A single crystal, when centered underneath your iris, lights up the rest of your look. Amp up the bright eye vibe by dusting a gold metallic shimmer eyeshadow (like the L'Oréal Paris Infallible 24Hr Eye Shadow in Eternal Sunshine) from your lash line to just past your crease with a fluffy eyeshadow brush. Using a fluffy brush, as opposed to a dense one, will help you create a shimmery wash of color, whereas denser brushes can sometimes overdo it.

3. Accent Crystals
If you have oily eyelids and are worried about the crystals slipping and sliding, try placing them around the eye area instead of on the lids. In this look, crystals are used to accentuate an already fierce black cat eye, which you can easily recreate at home with the L'Oréal Paris Infallible Flash Cat Eye Liquid Eyeliner.

4. Colorful Crystal Cat Eye
Take a feline-shaped eye makeup look up a notch by adding colorful crystals to the mix. We love how this crystal eye look features pastel pink gems, which is perfect for spring and summer. To define the look even more, try lining your waterline with a white or silver eyeliner, like the L'Oréal Paris Infallible Pro-Last Waterproof Pencil Eyeliner in Silver.
5. Under-Eye Crystals
If you have hooded eyelids, you might be worried you won't be able to take part in the crystal cat eye makeup trend. Don't worry, you totally can — it's all about creating an invisible sense of depth. Using an eyeshadow that dries down in a taupe or brown color and an eyeshadow brush, you can create the appearance of a higher, more sunken eye socket. By using this sculpting technique, you can create the illusion of non-hooded eyelids.

Alternatively, if you don't want to change the appearance of your hooded lids, you can simply place your crystal embellishments near your bottom lash line. They'll still create a standout makeup look that you'll be proud to boast on your timeline.
Discover more tips & tricks
Keep your skin happy
See all articles
Improve your routine
Show your new look more love:
makeup