beauty trends
15 Beauty Tips for Upgrading Your Routine This Spring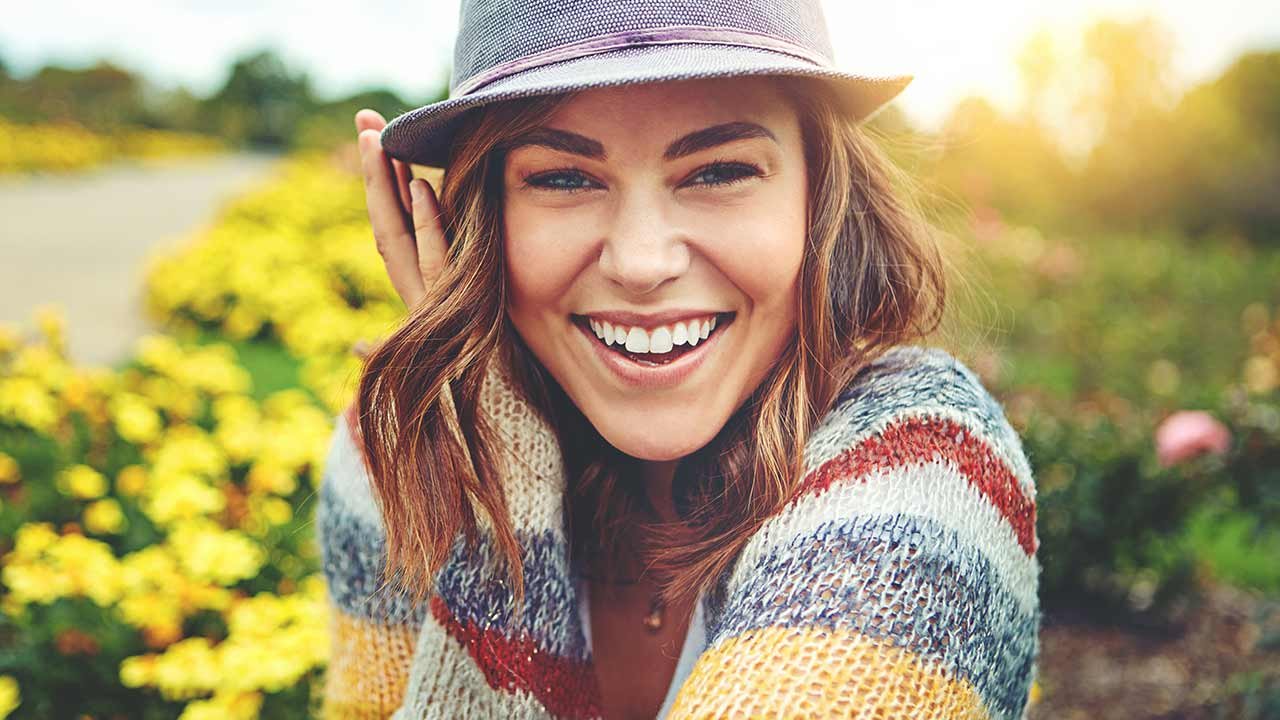 Winter is winding down, which means that warmer, sunnier days are just around the bend—and let's be real, we can't wait! After months of enduring brisk winds and bitter temperatures, our beauty routine needs a serious revamp. In spring, it's all about lightweight moisturizers and foundations, bright makeup colors like fuchsia and teal, and messy, undone hairstyles. That means you can put away your heavy creams and nude makeup for the time being. It's time for a beauty overhaul! Covering skin care, hair care, and makeup, we've got 15 beauty tips to help put a little spring in your step. (Plus, stay tuned for a sweet deal on some of our favorite spring must-haves!) Happy spring!
SPRING CLEAN YOUR SKIN CARE ROUTINE
No joke: Cold winter weather can do a number on your skin. Thanks to the low moisture levels in the air, your skin may feel drier—and look duller—than usual. Come spring, though, you may be able to get away with using a lighter moisturizer—but you may also want to start using skin care products that can help brighten the look of your skin. To help you upgrade your skin care routine for the warmer season ahead, follow the skin care tips below, and your complexion will thank you.
1. Switch your facial cleanser. Regardless of the time of year, cleansing your skin twice a day is always a good idea. If you're looking for a facial cleanser that you can use on the go (let's say you're planning for a spring break getaway), it's time to get familiar with micellar water. Micellar water is a French-favorite, no-rinse gentle cleansing option that is powered by tiny micelles—oil molecules—that act as a magnet to lift dirt, oil, and makeup up and away from the skin.
Try the L'Oréal Paris Micellar Cleansing Water Complete Cleanser for Normal to Oily Skin, which purifies and mattifies or the L'Oréal Paris Micellar Cleansing Water Complete Cleanser Waterproof – All Skin Types, which intensely purifies. Just saturate a cotton pad with the micellar water of your choice and wipe it across your face.
If you have a bit more time to dedicate to your cleansing routine, consider adding the L'Oréal Paris Pure-Clay Detox & Brighten Cleanser or the L'Oréal Paris Pure-Clay Exfoliate & Refine Cleanser to your skin care routine. Both of these clay facial cleansers are formulated to remove dirt and impurities from skin's surface without over-drying.
2. Step your hydration game up. When it comes to giving your skin the TLC that it needs, hydration should always fall at the top of your to-do list. And of course, you don't want to miss a beat once spring rolls around. Show your skin some extra attention with the help of the L'Oréal Paris Revitalift Derm Intensives 1.5% Pure Hyaluronic Acid Serum, which is formulated with pure hyaluronic acid. After using, skin looks refreshed and visibly plumped, while wrinkles are reduced with continued use.
3. Swap your heavy cream for a water-based moisturizer. While the bustling winds and constantly dropping temperatures of winter may require you to use a heavier moisturizer, springtime is all about shedding the heavy layers—yes, even when it comes to your skin care. So, when it comes time to pick a new moisturizer for the new season, consider trying a water-based one. The L'Oréal Paris Hydra Genius Daily Liquid Care for Normal/Oily Skin, L'Oréal Paris Hydra Genius Daily Liquid Care for Normal/Dry Skin and the L'Oréal Paris Hydra Genius Daily Liquid Care for Extra Dry Skin provide long-lasting hydration, making them prime picks.
4. Add peel pads to your nightly skin care routine. Are you so over dull skin? Girl, us too! The solution could be as simple as adding one more step to your nighttime skin care routine. The L'Oréal Paris Revitalift Bright Reveal Brightening Daily Peel Pads are formulated with glycolic acid to help exfoliate dead skin cells on skin's surface. The pads can immediately make skin look brighter while helping skin look more even with continued use over time. After cleansing, gently smooth a pad over your face.
One thing to keep in mind when heeding this advice is that alpha hydroxy acids (like glycolic acid) can increase your skin's sensitivity to the sun; so be sure to apply a broad-spectrum SPF of 30 or higher in the morning before sun exposure (don't worry, we've got you covered with a skin-protecting product pick a little further down!).
5. Introduce your skin to face masks and face scrubs. After a long, cold winter, your skin may be feeling (and looking) less than radiant. One of the best ways to revive winter skin is by exfoliating with a face scrub and using a face mask a few times a week. To try these methods out for yourself, try one of our sugar scrubs: the L'Oréal Paris Pure-Sugar Nourish & Soften Face Scrub, L'Oréal Paris Pure-Sugar Purify & Unclog Face Scrub, or the L'Oréal Paris Pure-Sugar Smooth & Glow Face Scrub.
For your face mask, use the L'Oréal Paris Pure-Clay Clarify & Smooth Face Mask, L'Oréal Paris Pure-Clay Mask Clear & Comfort Face Mask, L'Oréal Paris Pure-Clay Detox & Brighten Face Mask, or the L'Oréal Paris Pure-Clay Exfoliate & Refining Face Mask.
6. Slather on a moisturizer with SPF. Wearing broad-spectrum SPF is a skin care must year-round—even on rainy spring days. That's because—hate to break it to ya—you can still get burned on cloudy days. Sunscreen should be the last step in your skin care routine—after cleansing and moisturizing—but you can opt for a moisturizer with SPF to save time.
The L'Oréal Paris Revitalift Bright Reveal Brightening Day Lotion SPF 30 is formulated with glycolic acid, vitamin C, Pro-Retinol, and broad-spectrum SPF 30. Apply it 15 minutes before going outside, and toss it in your tote so that you can reapply every two hours. Oh, and don't forget the sunglasses! Whether you're a cat eye or aviator kind of gal, it's time to start rocking your favorite accessory whenever you're outside.
GIVE YOUR MAKEUP BAG A MAKEOVER
While you don't necessarily need to chuck your winter makeup faves, spring's a great time to make room for brighter colors and products with a luminous finish so that you can match your face to the lifted spirits of the season. From foundation to highlighter, stock up on some of our warm weather-approved makeup must-haves.
7. Try a luminous-finish foundation. Bye, bye matte formulas! The L'Oréal Paris Infallible Pro Glow Foundation will transform your dull winter skin into a radiant visage. Simply squeeze some of the foundation onto a makeup blender, like the L'Oréal Paris Infallible Blend Artist Foundation Blender, and bounce it onto your skin.
8. Get your lashes to really stand out. There's no denying that we love mascara-coated lashes, but there's also no denying that not all mascaras are created equally. That being said, when you're looking to ramp up your lash appeal, reach for a tube of the L'Oréal Paris Voluminous Lash Paradise Mascara in Blackest Black for full and beautiful lashes.
9. Embrace bright pink lipstick. Of course, red lips will forever be a classic—and nudes will always be a go-to as well. But for the perfect springtime pout, nothing works quite as well as a bright pink lip. Need some inspiration? Try the L'Oréal Paris Colour Riche Shine Lipstick in Glazed Pink or L'Oréal Paris Colour Riche Matte Lipstick in Matte Mandate and get ready to pucker up!
10. Dust on some blush. Want to create a gorgeous rosy springtime flush? Add the L'Oréal Paris True Match™ Blush to your arsenal. Available in 12 unique shades, there's something for everyone. For a natural-looking flush, apply blush to the apples of your cheeks (and make sure to smile while doing so!)
11. Be a glow-getter. While a solid highlight is acceptable any time of year, a gorgeous glow is especially pretty during spring. As the weather warms up and flowers begin to bloom, you're sure to fit right in with the fresh springtime vibes if you use the L'Oréal Paris True Match™ Lumi Glow Amour Glow Boosting Drops.
If you want to skip the foundation and go for an all-over glow, add a tube of the L'Oreal Paris True Match™ Lumi Glotion Natural Glow Enhancer to your vanity. The skin care-meets-makeup product is every dewy skin-lover's dream come true.
REBOOT YOUR HAIR FOR SPRING
Now that you've refurbished most of your beauty routine, don't forget your hair! Why not try a totally new way to refresh your hair (hello, hair treatments!) and use the warmer weather as an excuse to take a break from the heat tools?
12. Try a sulfate-free shampoo and conditioner. Spring clean your hair care routine by reaching for a sulfate-free system of shampoo and conditioner this season. Give the L'Oréal Paris EverPure Repair & Defend Shampoo and L'Oréal Paris EverPure Repair & Defend Conditioner a go.
13. Add a hair treatment to your routine. Sometimes your mane needs a little extra oomph to look its best. And while a solid hair care routine is a great place to start, every now and again, it'd be smart to give your hair a treat. The L'Oréal Paris Elvive 8 Second Wonder Water Lamellar Hair Treatment works wonders to transform your strands into a silkier, shinier, more healthy-looking mane in no time. Powered by lamellar technology, this liquid rinse-out treatment targets damaged areas of hair and forms small and very organized thin layers called lamellars that help smooth strands without a weighed down feel. Perfect for all hair types, you can't go wrong with giving this treatment a try.
Editor's tip: Want to revamp your beauty routine and get a deal in the process? Pick up four of our spring beauty essentials—Lash Paradise in Blackest Black, Revitalift Hyaluronic Acid Serum, Colorista Silver Spray, and Wonder Water—for 15% off on Amazon.
14. Add some color to your strands. Since spring is in full swing, now is a great time to take your look up a notch with a touch of shimmer in the hair color department. Reach for the L'Oréal Paris Colorista Hair Makeup Temporary 1-Day Hair Color Spray in Silver to get playful with your color. Just imagine how beautiful your locks will look in the sun! Best of all, if you're game for exploring other colors, this offering washes out after one day!
15. Air dry your hair. Give your flat iron, curling wand, and blow-dryer a break when the seasons shift, and air dry your hair instead. Spring is the perfect time to embrace your hair's natural waves and curls (if you're able to add a flower crown to your look, even better!). After towel drying your hair, add an egg-sized amount of the L'Oréal Paris Advanced Hairstyle CURVE IT Elastic Curl Mousse and scrunch to create soft and bouncy curls.
And there you have it. You're officially ready to change up your beauty routine for spring. If you're still looking to make more changes, consider mastering How to Create a Waterfall Braid.
Discover more tips & tricks
Keep your skin happy
See all articles
Shop Featured Skin Care products
Discover More