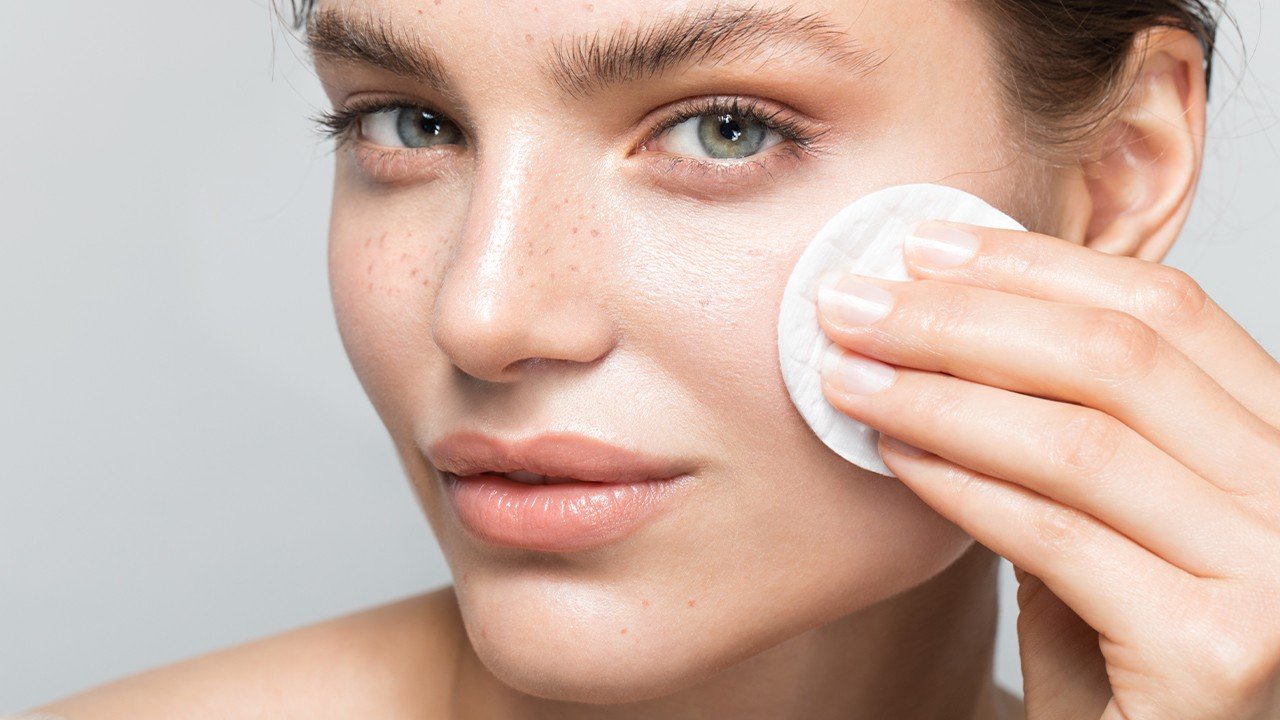 skin care essentials
What Is Astringent and How Does It Differ From Toner
If you're a skin care addict like we are, chances are you're familiar with most popular skin care ingredients you come across. That being said, there's always room to learn about something new or become familiar with a product you may not have otherwise looked into. The product on today's agenda? Astringent! You've likely heard this term floating around forums and social media, but if you find yourself wondering what the definition of astringent is, you've come to the right place. Below, we're sharing the details on what astringent is, the truth about astringent vs. toner, and more.
WHAT IS ASTRINGENT?
So, what is astringent? Put simply, astringent is defined as a water-based cleanser (so, yes, astringent is antibacterial)—but a much stronger, more potent cleanser. For that reason, it isn't meant to replace your traditional face wash. The astringent definition can also be an adjective that means 'to cause the contraction of skin cells.' How does that relate to the product at hand? Well, astringents are formulated to remove excess oil from your skin and tighten pores. While you can't actually shrink your pores, like so many wish they could, you can make them appear smaller, and that's part of the appeal of using an astringent. Consider astringents to be the perfect option for those who need an extra-deep cleaning or are all about pore-minimizing products.
ASTRINGENT VS. TONER: WHAT'S THE DIFFERENCE?
Wondering what the difference is between astringent and toner? While both products are water-based cleansing options and may look similar thanks to their liquid consistencies, the two vary significantly in their formulas. As we mentioned, astringents are potent. This is partially due to the fact that they're formulated with alcohol. Toners are typically a much gentler alternative, as they don't have to contain alcohol.
The purposes of astringent and toner also differ. Astringents are centered around pore cleansing, while toners can have a variety of uses. There are hydrating toners, exfoliating toners, illuminating toners, and so on. You can use both astringent and toner in your routine, or you might find one or the other is better suited to your skin.
WHO SHOULD USE ASTRINGENT?
Since astringents are formulated with alcohol, they have the tendency to dry out your skin. For this reason, astringents are best for those with oily, acne-prone skin. They work to reduce the oils and residue that could be causing unwanted breakouts.
On the other hand, those with sensitive or dry skin should steer clear of astringents because of their drying quality. As a general rule of thumb, toners are suitable for all skin types, whereas astringents should be used with caution and in moderation based on your skin's needs. As for whether you can use astringent every day, the same rules apply. If you have oily skin, you can use one in both your morning and evening routines. If you have sensitive skin, you'll be better off avoiding daily use.
HOW TO USE ASTRINGENT IN YOUR SKIN CARE ROUTINE
Think astringent is a product worth adding to your daily skin care regimen? Here's how to put one to use!
STEP #1: CLEANSE YOUR COMPLEXION
First, you'll want to use a traditional facial cleanser. Since you likely have oily or acne-prone skin, consider looking for a cleanser formulated for your skin's needs, like the L'Oréal Paris Micellar Cleansing Water Complete Cleanser Waterproof - All Skin Types. This micellar water is gentle on your skin while removing makeup, dirt, and excess oil in one step, leaving skin looking purified and clear. Saturate a cotton pad and wipe it over your face.
STEP #2: GRAB YOUR ASTRINGENT
Next up: The product of the hour! Saturate a cotton pad with your astringent, and gently wipe it over your face to deeply clean and purify your complexion. Yes, it's that easy!
Editor's note: Considering trying a witch hazel astringent. You can read all about the ingredient in our article, What Is Witch Hazel and Should You Use It?.
STEP #3: APPLY MOISTURIZER WITH SPF
Like we mentioned, even though astringents are great for removing excess oils and residue from your complexion, they have a tendency to be a bit harsh on your skin. When all is said and done, finish your skin care routine with a moisturizer with SPF. Lucky for you, we have a few star options to choose from.
L'Oréal Paris Age Perfect Rosy Tone Broad Spectrum SPF 30 Sunscreen: This daily face moisturizer for mature skin contains imperial peony and SPF 30. After use, skin is hydrated, soft, and appears healthier and more radiant.
L'Oréal Paris Revitalift Triple Power Day Lotion SPF 30: This anti-aging moisturizer contains Pro-Retinol, vitamin C, hyaluronic acid, and SPF 30. The formula helps reduce wrinkles, firm, and brighten. The result? Skin that feels smoothed, softer, and refreshed.
L'Oréal Paris Revitalift Bright Reveal Brightening Day Moisturizer SPF 30: Formulated with glycolic acid, vitamin C, Pro-Retinol, and SPF 30, this moisturizer helps to reveal brighter skin, correct uneven skin tone, and reduce the appearance of wrinkles.
Next up: Now that you're familiar with astringent, perhaps you'd like to learn about another popular skin care product. Head over to our article, What Is Salicylic Acid?, for another lesson.
Discover more tips & tricks
Keep your skin happy
See all articles
Shop Featured Skin Care products
Discover More