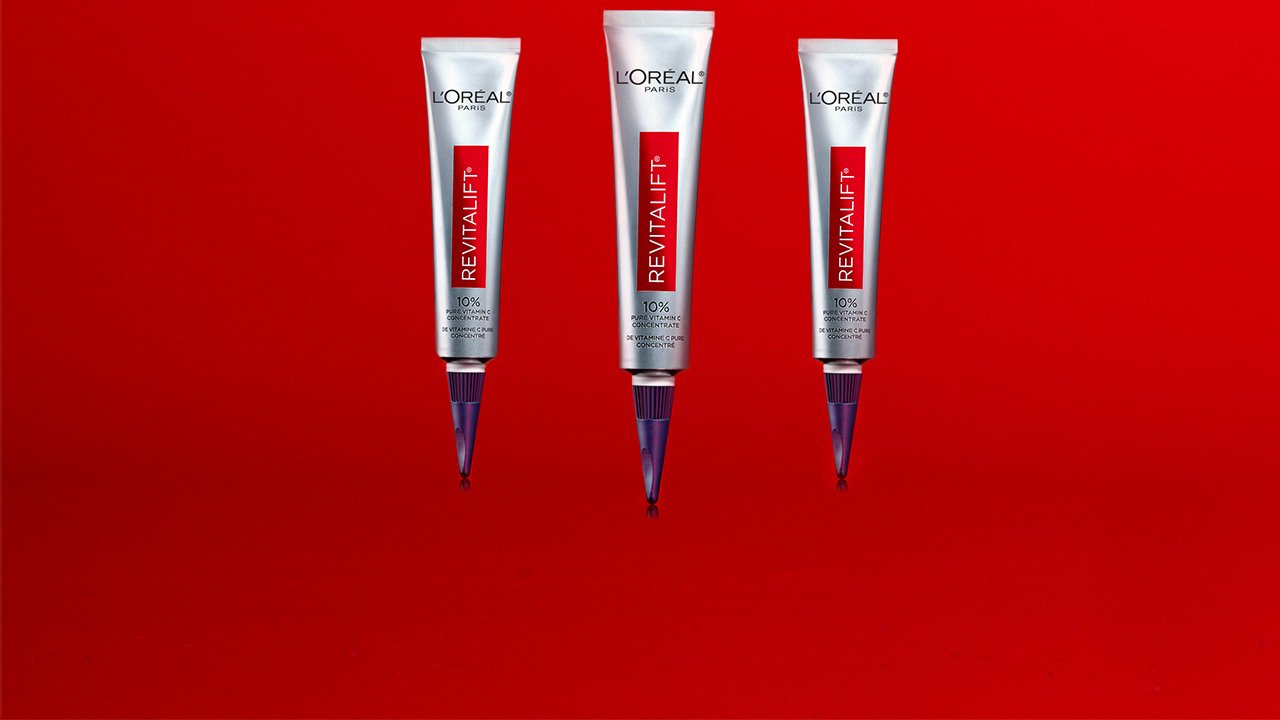 skin care essentials
L'Oréal Paris RevitaLift Derm Intensives Vitamin C Serum Review
If you're a huge skin care junkie like we are, you're likely looking for new skin care products to add to your skin care routine. And if you know what's good for you, you aren't just searching for any old products, but ones formulated with vitamin C. Vitamin C is a natural antioxidant that has multiple skin care benefits and is just begging to be part of your daily routine. To incorporate vitamin C into your skin care routine, introduce your skin to the L'Oréal Paris RevitaLift 10% Pure Vitamin C Serum, which is part of L'Oréal's Derm Intensives line. Here's a breakdown of everything you need to know about this derm-validated vitamin C serum.
L'Oréal Paris Vitamin C Serum REVIEW
Wondering what exactly it means that our vitamin C serum is derm-validated? Well, L'Oréal went a step beyond having dermatologists recommend the serum, instead, giving an advisory panel of dermatologists access to go behind the scenes and validate the products that make up the Derm Intensives line. Selected based on their skin care expertise, the highly respected derms audited and validated the line, doing their part—in conjuction with L'Oréal's research and scientific knowledge—to make it the best it could be by dissecting testing protocols and results from independent clinical research facilities. The end result? Potent solutions, like the 10% Pure Vitamin C Serum.
Now that you know about how the serum (and the entire Derm Intensives line) came to be, let's talk product. Our derm-validated serum will leave your skin visibly brighter and more radiant in just one week. After only two weeks, this serum will help visibly reduce the appearance of fine lines and wrinkles. The serum also aids in reducing hyperpigmentation, improving clarity, and evening skin tone. The formula is made of key skin care ingredients including 10% pure vitamin C and hyaluronic acid. To maximize the vitamin C purity, the serum is formulated using Anhydrous Technology (without the use of water) and in controlled conditions to limit its exposure to oxygen. Even better—the packaging of this serum is an air-tight, easy-to-use tube made from aluminum that will help prevent the product from degrading. As if that wasn't enough to sell you on the product, the formula is fragrance-free, paraben-free, mineral oil-free, dye-free, allergy tested, and non-comedogenic.
HOW TO USE L'Oréal's Vitamin C Serum
So, you're totally getting on the vitamin C serum bandwagon—but how do you use one? Here's how to incorporate our vitamin C serum into your daily skin care routine.
STEP #1: CLEANSE YOUR SKIN
Just as with any skin care routine, the first thing you want to do is cleanse your skin of any impurities. Use the L'Oréal Paris RevitaLift Radiant Smoothing Cream Cleanser to gently exfoliate, nourish, and boost the radiance of your skin. The anti-aging formula will leave your skin looking brighter and more refined. To apply, moisten your face before gently massaging the cleanser onto your skin allowing it to create a rich, soft lather. Rinse thoroughly with lukewarm water before moving onto the next step.
STEP #2: USE THE VITAMIN C SERUM
Once your skin is cleansed, it's time to apply your vitamin C serum. To apply, simply smooth a pea-sized amount onto your face every morning and evening. A slightly warming effect is completely normal. Your skin will be left feeling smoother and looking more vibrant.
Editor's note: Think there's room in your routine for one more serum? If you said yes and are in need of an extra dose of hydration, a hyaluronic acid serum sounds like just what you need. Incorporate the L'Oréal Paris RevitaLift Derm Intensives 1.5% Pure Hyaluronic Acid Serum—also part of the Derm Intensives line—into your routine by applying two to three drops to your face and neck before your vitamin C serum. In addition to providing hydration, the serum will visibly plump your skin allowing it to appear younger.
STEP #3: APPLY A FACIAL MOISTURIZER
To complete your skin care routine, grab a moisturizer with SPF. Try the L'Oréal Paris RevitaLift Triple Power Day Lotion Moisturizer SPF 20. This luxurious, lightweight moisturizer will not only hydrate your skin but also help protect it from the sun's harmful rays. The formula, which contains Pro-Xylane, improves the appearance of wrinkles and dark spots with continued use over time, while brightening and evening skin tone. To apply, gently smooth the moisturizer over your entire face. Be sure to apply as directed and reapply at least every two hours if you're using it for sun protection, in addition to taking other sun protection measures.
If you prefer to keep your sunscreen separate from your moisturizer, try using the L'Oréal Paris RevitaLift Triple Power™ Intensive Anti-Aging Day Cream Moisturizer before your sunscreen of choice. This luxurious, lightweight moisturizer, which is formulated with hyaluronic acid, is trusted by women all across the United States—as evidenced by the recent #RevitaLiftChallenge where over 10,000 women tried the day cream, saw results in just one week, and when polled afterward, shared they trusted the product and would continue to use it.
Got vitamin C on the brain? Here, we answer What Can Vitamin C Do for the Skin?
Discover more tips & tricks
Keep your skin happy
See all articles
Shop Featured Skin Care products
Discover More